Provenance / Global
Creature comforts
Fashion brands are taking ownership of their supply chains and keeping an eye on the animals that provide their materials. We meet the menagerie contributing to the world's wardrobes.
For all the fashion industry's talk of transparency, information about the origins of our clothes only goes so far. We can discover where things are sewn, what fabrics they are sewn from and, at a push, the name of the factory in which it all happens. But we want to go right to the start, to get down and dirty on the Australian farms and Mongolian plains where Merino sheep and cashmere goats graze. Meet the fuzzy folk behind the materials that make up your wardrobe.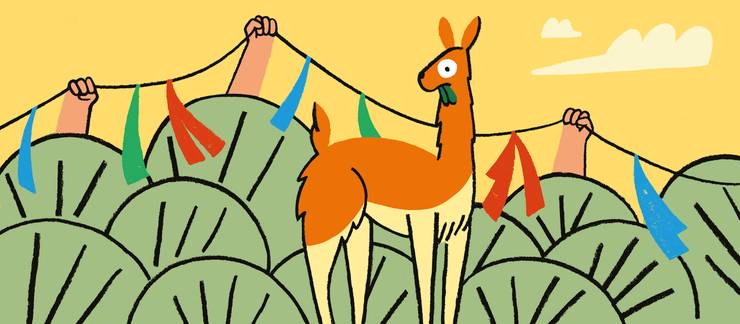 The vicuña, a cousin of the alpaca and a dainty slip of a thing, is covered in hair so fine that the Incas called it "the gold of the Andes". When the Spanish invaded in the 16th century the Incas relinquished their actual gold but burned their stash of vicuña hair, so adamant were they that their conquerors should not enjoy the material.
The hair of this swan-necked camelid – which is found mostly in Peru and Argentina – is by far the finest and most valuable fibre in the "noble" materials category, which includes cashmere and mohair. Its coat is so sumptuous, in fact, that it nearly killed the animal off: the vicuña was widely poached and in the 1970s, when it was on the brink of extinction, trading of all vicuña hair was banned.
Yet the past 20 years has seen Peru's government team up with textiles company Grupo Inca and Italian materials titan Loro Piana to stage an ambitious rehabilitation plan. Numbers have leapt from a global population of 50,000 in the 1990s to 350,000 today. "Bringing this animal back is a conservation success story," says Alonso Burgos Hartley, genetic development manager for Grupo Inca.
The plan has centred around reinstating the ancient Incan herding ceremony of chaccu as the only way in which vicuña fleece may be collected – and as the only time humans may interact with the animals, which cannot be tamed. Once a year, in June, indigenous communities gather early in the morning high up in the Andean plateaus, armed with colourful flags. They link arms and, over a six-hour period, encircle the shy animals, ushering them towards netted areas where they are shorn.
The rules of shearing are strict and a government official is ever-present. "A vicuña can only be shorn every two and a half years. Only males can be shorn because it's impossible to tell if females are pregnant and the process could harm an unborn baby," says Kiyoshi Inoue. He is the co-founder of The Inoue Brothers, a menswear label that produces a handful of vicuña jumpers and scarves on request, and he travels to the Andes every year to participate in the chaccu. Once it's collected the Peruvian government sells the fleece to the three companies that can process it – including Loro Piana and Grupo Inca – and, significantly, all proceeds go directly to the indigenous communities.
Quantities are breathtakingly small: each vicuña renders about 170g of fleece every two and a half years, whereas an alpaca produces 2.5kg annually. The stuff is like gold dust – and its peerless quality means it attracts gold-like prices. At The Inoue Brothers (whose clothes are manufactured by Grupo Inca) a jumper goes for up to €7,000. The material's scarcity only fuels the intrigue surrounding this bashful South American mammal. "The good thing about vicuña is that is has this mystique," says Inoue. "It is the most exclusive animal fibre in the world."
Facts & figures:


Largest producer: Peru
Largest buyer: Italy
Price per kilo: Up to €486
Cashmere goat
Mongolia
Kidding around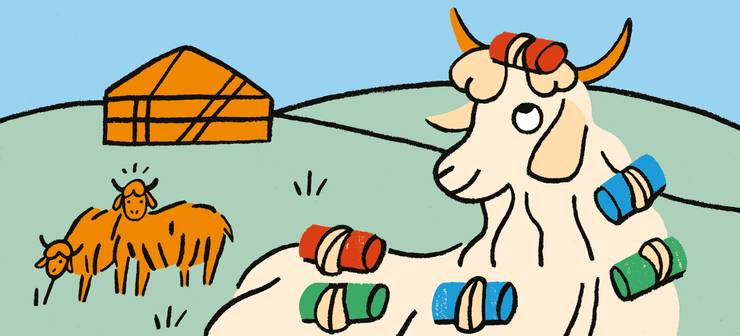 It's just before dawn in northern Mongolia and Kidney Bean, a small kid goat who's been feeling a bit run-down lately, is woken by an alarm. Batbold, her 18-year-old herder, kept Kidney Bean in his felt yurt last night to shield her from the elements. After a quick stretch the kid heads out to graze alongside her posse of sheep, yaks and 199 fellow cashmere goats.
Kidney Bean is one of 58 million goats reared by Mongolia's nomadic herders. The nation supplies 50 per cent of the world's cashmere and its industry is worth €1.39bn.
"Goats are like children to the herders," says Una Jones, CEO of Sustainable Fibre Alliance, which connects breeders with fashion brands and supports cashmere sustainability on the ground by training young apprentices in land management. "Herders will stay up all night to look after the goats if they need to."
Goats are combed once every spring and spend the rest of their days roaming. "It's important for the goats to have a happy life," says Jones. "If humans don't look after themselves their hair suffers. Goats are the same." Once combed the longer, coarse fibres are removed and the cashmere is cleaned by herders before being flown around the world.
The industry faces considerable issues. Most Mongolian cashmere ends up in China, where it is mixed with other harvests and spun into threads, so unless brands buy directly from herders the wool can't be traced. The process of mixing threads – called carding – is where value is added; herders suffer financially because they are not able to do this themselves.
For these reasons, Scottish knitwear company Johnstons of Elgin works with the sfa and funds its training programmes. Johnstons buys its cashmere from breeders such as Batbold. "Our livelihoods depend on cashmere so we have a responsibility to protect the herders," says CEO Simon Cotton, who travels to Mongolia twice a year. His company brings in 60 per cent of the UK's cashmere fibres and, as well as its own line, manufactures for Burberry and Chanel. "We're looking for quality. Mongolian cashmere is the best for knitwear."
Facts & figures: 


Largest producer: China & Mongolia
Largest buyer: China
Price per kilo: Up to €69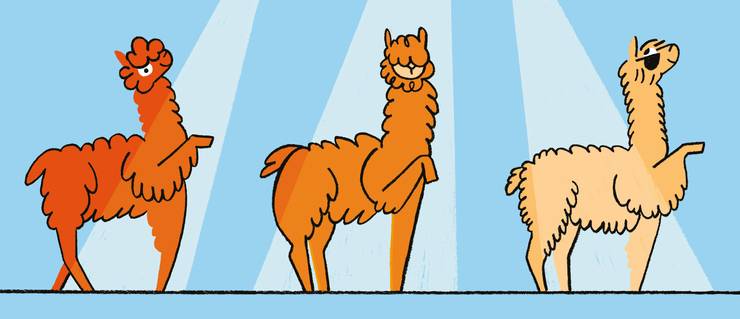 It all began with Champagne and Truffles – two unexpected presents – in celebration of David Preston's 50th birthday. Four years later Karl Lagerfeld, Giorgio Armani and Miss Moneypenny joined the party. What could be mistaken for the menu and guest list of a fancy dress bash are in fact the names of David and his wife Anila's alpacas.
Within a few years the Prestons went from being London-based lawyers to alpaca farmers in southwest England's remote Exmoor National Park. They haven't looked back. Today the British Alpaca Fashion Company has 105 alpacas grazing in its fields, with 15 little ones on the way. Somerset may seem an unlikely place for this South American species, which is mostly farmed in Peru, but alpacas have been bred in England since the 19th century: Queen Victoria kept a small herd at Windsor.
Once a year the animals are shorn and friends help to collect the fleece. Then the fibre is sorted by quality and colour before being washed, combed and spun into yarn. "If we want to live sustainably we have to be transparent. I try to bring that awareness to people," says Anila, who works with a number of emerging brands.
One of the buyers is Permanent Collection, a line of womenswear, accessories and homeware founded by Mariah Nielson and Fanny Singer in 2016 to counter fast fashion. "As soon as we touched British Alpaca Fashion's samples we knew we wanted to work with them," says Nielson. "These alpacas are something else. My favourite has to be Sebastian. He's absolutely adorable with his long fluffy grey ears."
Facts & figures: 


Largest producer: Peru
Largest buyer: US
Price per kilo: Up to €14
Merino sheep
Australia
Fine fettle
Life isn't so bad if you're a superfine Saxon Merino sheep on Achill farm in New South Wales, six hours from Sydney. You and your 9,999 bleating cronies are moved from one paddock to another twice a week to ensure you have fresh grass to gorge on. In winter, if you're a pregnant ewe, you are fed supplements. When it rains after shearing season you're brought into a warm shed. You have thick, bone-white 17-micron wool – and your owner is the biggest luxury menswear brand on the planet.
Ermenegildo Zegna snapped up a majority stake in the 2,500-hectare estate in 2014. "Investing in a farm was something we'd had in mind for a while," says Paolo Zegna, chairman of the family-run Italian company. "My parents have had a relationship with Australian wool farmers for many years. But when we were in Australia for the 50th anniversary of the Zegna trophy [to celebrate the country's best wool farmers] we thought, 'Now is the time we turn this into a reality.'"
The brand has always carefully monitored its production line – it owns its mills and factories in Biella, Italy – but buying the first link in the chain was significant. "What we found interesting about Achill was that it was owned by a father and son," says Paolo. "Their family had been growing wool for six generations. We didn't just want to buy a farm: we wanted to work with them. We were always connected to farmers. Now we have become one of them: we understand their problems because we are facing the same things. It's a more complete way of exercising our control – although I couldn't shear a sheep myself," he adds, chuckling.
Zegna is not the only luxury giant to see the benefits of having proprietary control over the supply chain: Hermes owns a silkworm farm in Brazil and Louis Vuitton has a crocodile estate in Australia. Shoppers are increasingly concerned with provenance and, by buying farms, brands can be sure of exactly what is going into their clothes.
But it's about more than owning deeds to the properties. Achill only produces a small quantity of wool – not enough to satisfy Zegna's demands – but the brand uses the property as a lab of sorts. "What we buy from Achill is a drop in the ocean [relative to our total imports]. But it's a drop that we analyse: knowing Achill's wool helps prepares us for selecting products from other farms," says Paolo, who visits Achill twice a year and has monthly calls with Charlie Coventry, the son who now runs the farm.

The Zegna company has long produced textiles for other designers but for now Achill's wool is reserved for its own clothing. "We are keeping it for ourselves."
Facts & figures:


Largest producer: Australia
Largest buyer: China
Price per kilo: Up to €31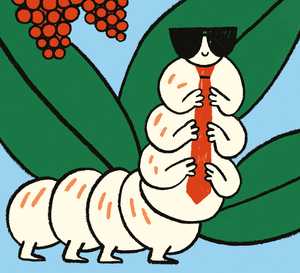 Silkworm
Swizterland
Smooth sailing
"Silkworms will only eat leaves from the mulberry tree," says Ueli Ramseier, who produces raw silk on his estate near Bern. The farmer and textile engineer has always been fascinated by silk and its manufacturing process. He started breeding silkworms in 2009 as part of a quiet movement to bring silk farming – an industry dominated by China and Brazil – back to Switzerland. "In 1856 there were 560,000 mulberry trees in south Switzerland," he says. "Swiss silk production goes back 750 years."
Today the silk cycle begins in Padua, northern Italy, where Ramseier buys batches of silkworm eggs. These hatch into larvae that crunch their way through mulberry leaves before spinning silk cocoons around their pupa. It's this delicate structure that is taken and spun into raw silk.
It's a fragile process fraught with technical challenges. Ramseier heads up Swiss Silk, a collective of farmers and textile companies who pool their knowledge. "We are still on a steep learning curve," he says.
The collective creates 300 sq m of silk per year, which it sells to Weisbrod Zuerrer, a traditional Swiss textile and accessories company, and Carpasus, a young Zürich menswear brand that uses it for classic ties.
Ramseier says that there is a lot of demand for Swiss silk but it's a question of perfecting the process before they can increase capacity and spin a bigger global network.
Facts & figures: 
Largest producer: China
Largest buyer: Italy
Price per kilo: Up to €430