Destination / Sydney
Crowning glory
We get a tour of a box-fresh – and very welcome – new hotel opening in sunny Sydney.
Above the roofline of a brick building on Commonwealth Street in Sydney's Surry Hills sits a surreal, two-storey copper crown-like extension. The contemporary structure was added to what was once the outpost of the Hollywood Paramount Picture Studios but which is now the Paramount House Hotel, a regal new hospitality venture in a city that's short on fresh hotels.
The hotel sits within the historic building, which is already home to Paramount Coffee Project, a collaboration between the site's owner and developer, Ping Jin Ng, and Russell Beard and Melbourne-based Mark Dundon. Together the trio runs the coffee shop as well as a string of other café projects, and Beard and Dundon travel extensively while sourcing beans. And now they have a hotel too. "We wanted to build a place where you feel at home and looked after," says Beard. "Our best experiences have been hotels that gave us a sense of place." Dundon agrees: "Service and attention to a guest's needs are as important to us as the room."
The pair tapped architect Jeremy McLeod of Melbourne practice Breathe to design the place. McLeod has previously designed their cafés, coffee-roasting spaces and the duo's respective homes in Sydney and Melbourne. "None of us had worked on a hotel before though; this is everyone's first foray into the business," says McLeod.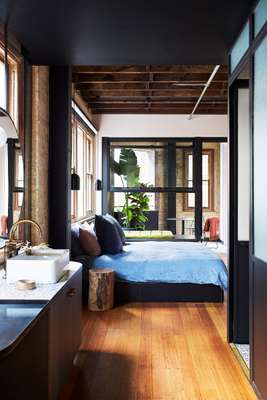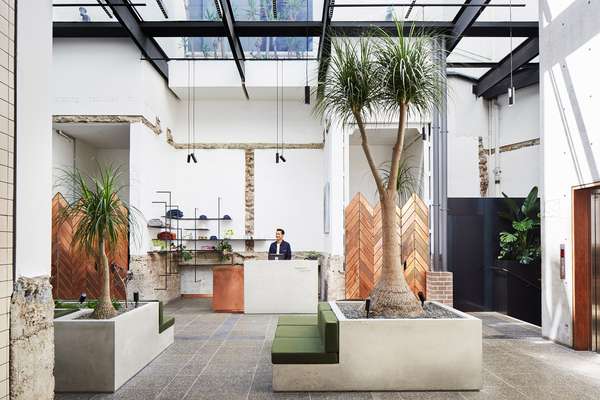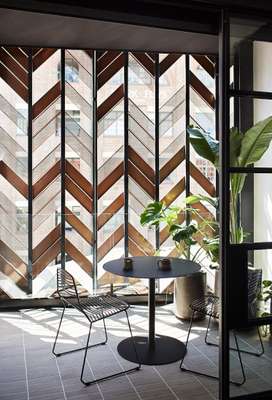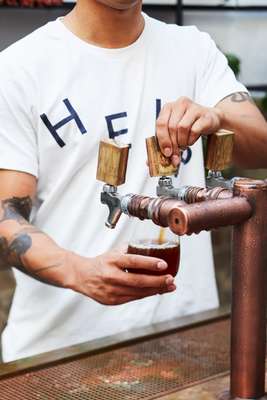 "Because we've worked together a lot, this was a project designed by friendly committee. As a client they had an incredible level of authorship," he adds. "I fielded calls from all three partners and I presented more than 10 rounds of drawings before we settled on final plans."
The site is a complicated jigsaw of heritage buildings. Number 76, a 1920s warehouse (and once a Paramount Studios film-storage unit) became the hotel but two additional storeys were added. On the ground floor will sit restaurant Poly, a sister restaurant to Chippendale's Ester; above, 29 guest rooms are spread across four floors. On the rooftop, a garden with views across the city includes a workout space.
Beside the four-storey hotel lies the grander Paramount House. Built in 1940, it served as the studio's southern-hemisphere HQ, complete with a screening room in the basement. That building holds Paramount Coffee Project, a bar and a cinema. An adjacent wing is home to a co-working outfit, The Office Space, where hotel patrons can access desk space or a meeting room.
"The challenge was to make two heritage buildings, housing multiple businesses, feel like one," says McLeod. "We had to find a way to sew them together yet still give the hotel a sense of independence."
Each room has a unique interior and most have outdoor space. "We had a policy that any architectural element or artefact we uncovered had to be made into a feature," says McLeod.
Plump Jardan sofas, bold textured rugs and wall hangings soften the concrete walls, recycled timber and tiled floors. The bathrooms feature terrazzo walls; in some suites Blackbutt timber has been fashioned into vast Japanese-style baths.
"Each room is a little apartment with its own personality," says Dundon. "I am hoping that guests will find their favourite. Stay 29 times and have 29 different experiences."
paramounthousehotel.com
On-site extras
Now you're booked in, it's time to explore what the rest of the renovation has to offer. Here are a few tips to get you started.
Work
The Office Space
Need to answer a few emails or host a quick conference call? Rent a desk or a meeting room in the smart surroundings of this well-designed space.
theofficespace.com.au
Coffee
Paramount Coffee Project
Coffee, breakfast and lunch are covered by the Paramount hotel's founders' initial premises in the area. The coffee is sublime and the menu is unfussy and comforting too.
pcpfx.com
Gallery
China Heights Gallery
Visit this winsome white-walled affair, which is one of the city's leading lights on the contemporary-arts scene.
chinaheights.com
Lunch
Poly
Chippendale's fêted Ester restaurant launched this charming spin-off here in 2018. Expect a similarly sumptuous spread with a rightful emphasis on Aussie wines.
ester-restaurant.com.au
Drinks
Golden Age Cinema and Bar
A flick and a tipple, anyone? Enjoy both within the cosy confines of this art deco gem in the basement.
ourgoldenage.com.au