Defence / Global
Defence
Briefing
Historical narratives in Poland, fighter-jet revenue in Sweden and the US marines branch into radio.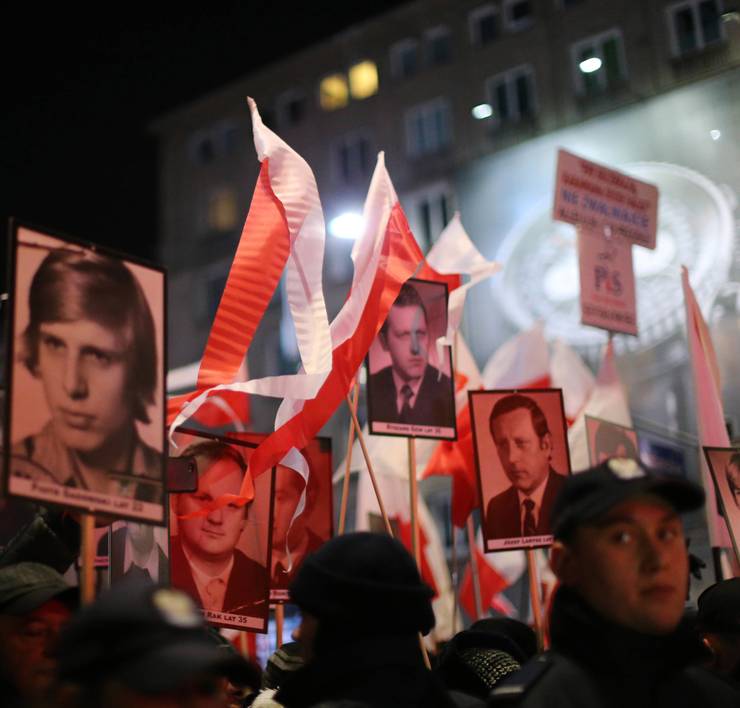 Choose your battles
Military titles —
Poland
A new law in Poland will see selected officers who served in the military between 1943 and 1990 stripped of their rank, including those who fought the anti-communist resistance. Wojciech Jaruzelski, Poland's last communist ruler, who declared martial law in 1981 and died in 2014, will posthumously lose his general stars – as could Miroslaw Hermaszewski who in 1978 became the first (and so far only) Pole in space. Defence minister Mariusz Blaszczak of the governing right-wing Law and Justice party (pis) says the law will "restore normalcy and justice". Yet Poles' broader response has been mixed. Fewer than one in four (23.5 per cent) support the law while half oppose it (49.4 per cent) according to a poll.
"It is hard to defend communist generals, hence the law has a historical and moral justification," says Michal Szuldrzynski, a columnist for leading daily Rzeczpospolita. "Still, this should have been done 29 years ago [when communism collapsed]. The trouble is that lately pis has only been dealing with history. It knows that this referring to the past is one of the main [ways of legitimising] its actions." Indeed, Poland would be better served by a government that focuses on its present and future problems, rather than one intent on creating a historical narrative that suits them.
---
Conflicting ideals
Manufacturing —
Sweden
Saab is still most commonly associated with vehicles that embody the stereotypical virtues of their native Sweden: innovation, practicality and friendliness. Though Saab no longer builds cars it still makes defence materiel. Notably fighter jets, most prominently the Gripen.
Saab has reported revenue for 2017 as up 10 per cent on 2016, running to nearly €3.1bn. "Sweden has a strong tradition of military manufacture," says Elisabeth Braw of the Atlantic Council. "It dates back to the Cold War when Sweden, which wasn't part of an alliance, felt it needed a strong domestic defence industry so it wouldn't be dependent." Sweden's qualms regarding war limit Saab's marketing though. "The government has to approve every deal," says Braw. "There is no point in even trying with Saudi Arabia, for example." All that said, Saab is pushing ahead with adapting the Gripen to perform from aircraft carriers.
---
Flanking manoeuvre
Agreement —
UK & Georgia
Relations between the UK and Russia are at the lowest point they've been this century but the UK is beefing up ties with Vladimir Putin's neighbour. In March it signed a deal with Georgia – a nation that fought a war with Russia in 2008 – that strengthened and extended the defence co-operation agreement that the two countries first signed in 2017. The deal, which will last through 2019, will see bolstered defence education and participation in international exercises between the two nations' forces.
---
Aerial combat
Communications —
USA
The US Marine Corps is looking to get into the broadcast business. In March, the Marine Corps Information Operations Center, which runs the branch's psychological operations, began looking into "acquiring what is essentially a radio station in a box": mobile transmitters that will allow marines to set up and start broadcasting from the frontline. Far from broadcasting re-runs of This American Life, the Corps hopes to use these stations as a means of gaining support from civilians and spreading dissent among enemy combatants on the battlefield. There is no telling what would be broadcast but the proposed acquisition is aimed at bringing information warfare to smaller ground units, a contrast to traditional operations which happen at a much loftier heights – like the anachronistic but surprisingly still popular practice of dropping leaflets.