Food & drink / Global
Food
&

drink
Briefing
Rare champagne in a snug space in Riga and a recipe for baked feta with honey and dill dressing.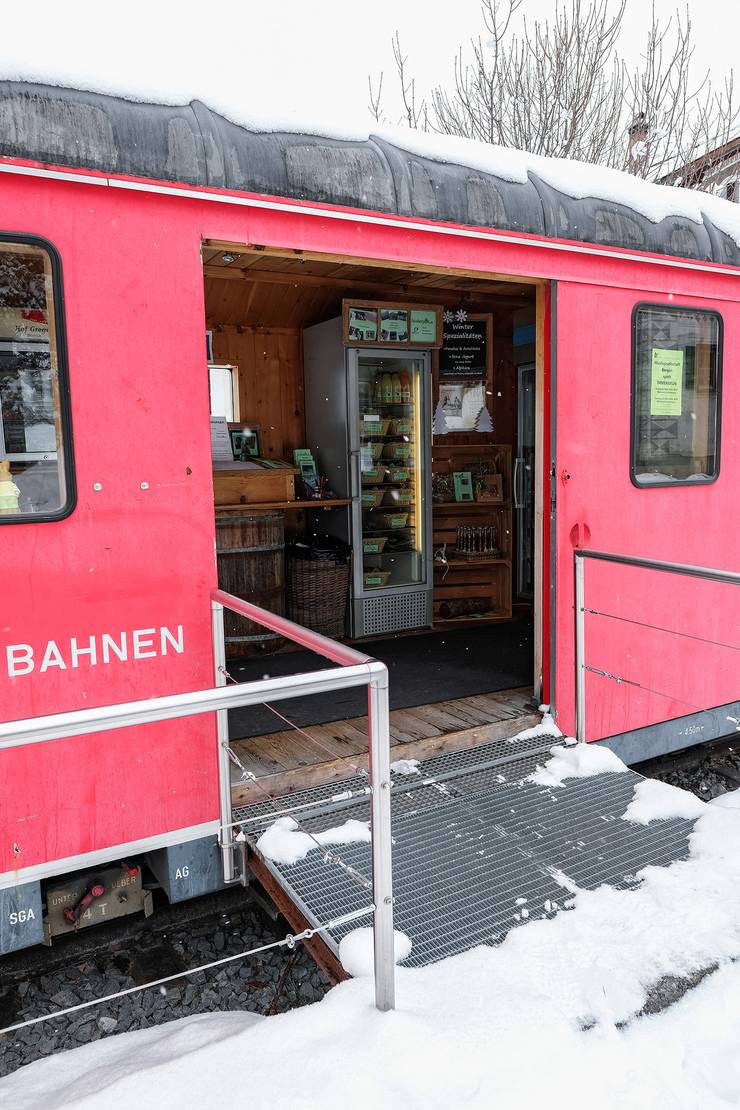 Lädeli
Bergün, switzerland
Across Switzerland, Germany and Austria, honesty shops are numerous in remote areas that don't justify the presence of staff. But the one we spotted recently, at 1,400 metres above sea level in Bergün, Switzerland, is an especially charming example. Riet Schmidt, his wife Franziska Amstad and their neighbours sell local delicacies in a retrofitted railway carriage.
In 2012 they replaced the old hut that stood here with an old railway car that now houses organic cured meat and homemade yoghurt. Fitted out with Swiss pine that keeps the goods temperate, the shop is next to a hiking path at the entrance to the far-flung village.
bioberguen.ch
The driving force behind Dublin's Bastible, chef Barry Fitzgerald and his partner, graphic designer Claire-Marie Thomas, have brought their skillsets to this comely new venture. Headed by chef Grainne O'Keefe, Clanbrassil House offers mostly Irish produce: think cod and chorizo, homemade sausages and onglet steak. The charcoal grill is the centrepiece of the kitchen and main dishes come with a waft of smokiness. "We want to provide a fantastic local restaurant that people return to regularly," says Thomas.
clanbrassilhouse.com
This former pub is everything a bistro should be in terms of comfort and liveliness. Dating from the 1870s, it has iron lacework along the exterior and exposed brick walls inside. Three hospitality veterans run the show: sommelier Mark Protheroe, chef Steven Nelson and front-of-house Joe Durrant. Together they create a dining experience that is familiar but better than most. Expect smart waiters carrying plates of mozzarella-stuffed courgette flowers and calamari with bone-marrow dressing. You can also buy wine to take away.
the-recreation.com
Meals Are Delightful
Tokyo
Marumitsu, a maker of ceramic tableware since 1950, has a new home in Tokyo. Meals Are Delightful sells the brand's plates and bowls, plus linens and glasses. Home cooking is on the restaurant menu while cookery lessons and sessions on table presentation are held in the studio upstairs.
marumitsu.jp/mad
Out: [Tokyo]:One pasta dish, one wine and one champagne: that's all that's on offer at Out. Australian Sarah Crago, brother Tom and Melbourne restaurateur David Mackintosh came up with the idea when they shared truffle pasta with a glass of brassy red while listening to Led Zeppelin. "We wanted to take this concept to the extreme," says Sarah. Designed by architect Ryu Kosaka, the 13-seat space revolves around which truffles are in season.
out.restaurant
Every detail of this snug space has been overseen by UK practice Studioilse. The dramatic lava-stone bar anchors the room, while swivel stools, armchairs and soft-leather banquettes create pockets for intimate gatherings. The bar embodies the vision of its owner, Santa Zamuele, a sommelier with a penchant for champagne.
"It's an obsession, to get away from the notion that champagne only means luxury and exclusivity," says Zamuele. Good thing, then, that Magnum's cellars are stocked with more than 5,000 bottles, from rare vintages to those that are more accessible and easy on the palate – and the wallet.
lemagnumbar.com
Kang Gi-min was on a year-long trip around the world in 2012 when he discovered just how diverse beer can be. Using his savings from three years in the South Korean army he took over Bens Harbour, a craft-beer bar in Busan, in 2017. Kang isn't just the owner: he also creates recipes for a few excellent beers that two Korean breweries produce for his bar.
+82 51 518 3771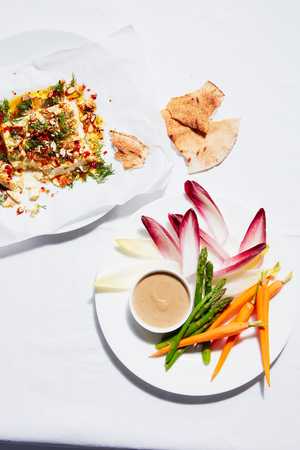 Recipes —
Midori House
Baked feta cheese with honey & dill dressing
Serves 2 to 4 as a starter
Ingredients
200g block of feta cheese
Dressing
1 garlic clove, finely chopped
1 medium-sized red chilli, finely chopped
15g almonds, roughly chopped
Zest of ½ lemon
1.5tbsps runny honey
2tbsps olive oil
Freshly ground black pepper
10g dill, finely chopped
2tbsps pomegranate molasses
Warm flatbread or baguette, to serve
1. Preheat the oven to 200c (180c fan).
2. Lay a sheet of baking parchment on a baking tray. Place the whole feta on the baking paper then sprinkle with garlic, red chilli, almonds and lemon zest, and drizzle with honey and olive oil. Finish with the black pepper.
3. Bake in the preheated oven for 15 minutes.
4. Remove from the oven, scatter with the dill and drizzle with pomegranate molasses. Serve straight away with your choice of bread.
---
Bagna cauda (anchovy & garlic dip) with crudités
Serves 4 to 6 as a starter
1 large garlic bulb (about 12 cloves)
200ml whole milk
60g anchovies from a jar, chopped
100ml extra virgin olive oil
65g unsalted butter, softened
1tbsp sherry vinegar
1½tbsps fresh lemon juice
For crudités
150g baby carrots, peeled
100g asparagus tips, blanched
140g mixed red and green chicory
1. Cut the whole bulb of garlic in half horizontally and place in a small pan with the milk. Simmer over the lowest heat until the garlic becomes soft; this takes about 30 minutes. After 10 minutes of cooking, press and release the garlic from the skin (it should come out easily) and discard.
2. When the garlic is soft enough to mash, remove the pan from the heat and mash it in the milk. Tip the mixture into a food processor, add the chopped anchovies and olive oil, and blitz until smooth.
3. Put the mixture back in the pan on a low heat. Add butter, sherry vinegar and lemon juice and mix until the butter melts and the mixture is smooth. Serve warm with crudités.