Property / Global
Meet the neighbours
A sense of community is part of the business model for these urban real-estate developments.
Every May we celebrate the smartest practitioners and exemplary developments pushing the envelope across the global property sector. The industry is often criticised for being too mercenary and, indeed, there is a lot of bad development. But there are happier tales to tell too and they're often neglected. In this section we profile the people investing in landmark projects and highlight the properties – from commercial to residential via retail – that make a genuine contribution to their neighbourhoods and cities.
Galika Human Estate
Brussels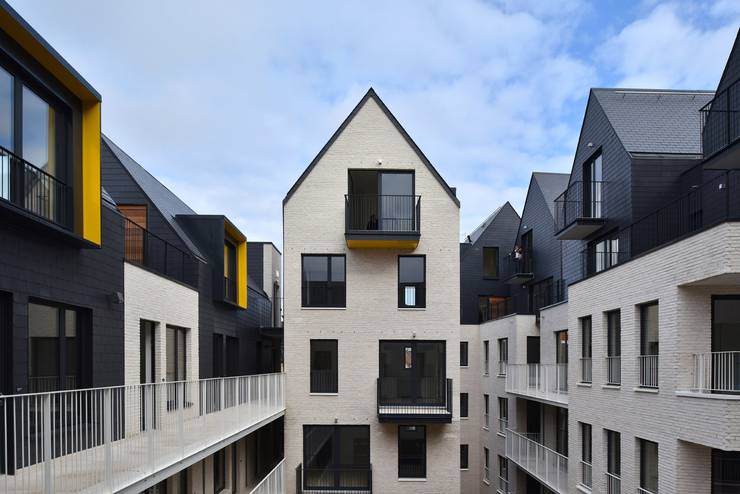 The medieval backstreets behind Brussels' Grote Markt were demolished in the 1960s, leaving a brownfield site that baffled planners for five decades. But last year the area, within a Unesco-protected zone, was finally reimagined as a residential neighbourhood by developers Galika Human Estate.
Using white bricks, bluestone cobbles and pitched slate roofs, the narrow buildings reinvent lost alleyways. Named Îlot Sacré (Holy Island), the mix of student digs, three-bed flats, townhouses and shops creates a close and diverse inner-city community. "It's based upon the historical urban fabric and recreates a pedestrian network that repairs the neighbourhood," says Galika Human Estate's ceo Anne-Catherine Galetic.
An architect and urban planner, Galetic founded Galika Human Estate a decade ago in the hope of challenging the finance-led approach to real-estate development.
galika.be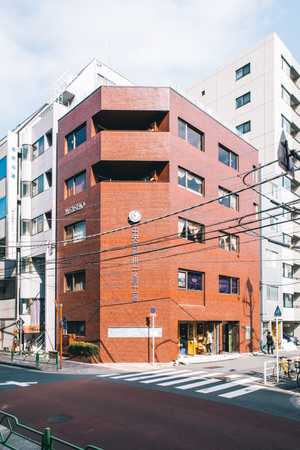 Eiichiro Owada didn't know much about real estate when he persuaded his uncle not to tear down a former printing factory and office in Shinkawa, one of Tokyo's old neighbourhoods. It was late 2016 and Owada, an architect, had a suggestion: gut the five-storey Meisho Building, improve its earthquake-resistance and leave the rest to him. "I felt it still had potential," he says. It helped that his proposal saved his uncle nearly half the ¥100m (€760,000) rebuilding cost.
The Meisho Building reopened in December with a ground-floor café and gallery space as well as a mix of residences, shops and small workshops. "We left the interior unfinished to save on costs," says 31-year-old Owada, "and recruited creative people who could customise a barebones space and raise the building's value."
Owada runs architecture firm Soi with his wife, Konami Inoue. They live and work rent-free on the fourth floor in exchange for managing the building but other tenants are encouraged to use their kitchen, bathroom and workspace. "We're experimenting with blurring our public and private lives," says Owada. "Our neighbours in the building hold meetings here so we get to meet people from other walks of life."
Owada and Inoue have made an effort to bond with the community. They pinned up a map of the neighbourhood in the gallery so people could mark their favourite spots, and since February they have organised a monthly Sunday market with the building's tenants. "We hope people can come here to find out about a neighbourhood that's not well known," says Owada. "We want the community to benefit from our being here."
soi-a.com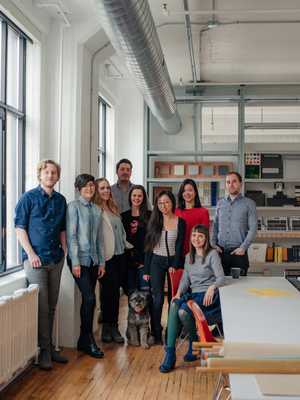 The cranes dotting downtown Toronto are signs of a rapidly growing city. But not all developers and designers feel that towering structures are the best solution to its housing needs. "Large towers are a kind of citadel. They're self-contained communities," says architect Roland Rom Colthoff, founder of Raw Design.
But shifting towards mid-rise housing isn't so simple: it's harder to make a profit and receive planning approval. Yet developers such as Neilas Inc (now Storey Living) have championed alternative housing models and Raw's knack for mid-rise residences has made it a coveted partner.
Neilas's Cube Lofts – a block of 21 residences designed by Raw and built in 2013 – saw a surge of interest in mid-rise as a means of improving density while maintaining the vitality of the city's streetscapes. "They bring people back to neighbourhoods," says Colthoff.
rawdesign.ca
Q&A
David Ruddick
Executive VP of leasing, Westfield
Los Angeles
While a shifting retail landscape has shuttered shopping centres across North America, in 2017 Westfield poured billions into maintaining existing properties and breaking ground on others. In 2019, the company's $1.1bn (€892m) revitalisation of Westfield Valley Fair in California will come to fruition as the development reopens. David Ruddick explains why Westfield is able to adapt to a changing climate, despite the industry's uncertain future (and with a much-watched marriage to Unibail-Rodamco imminent).
How has retail changed over your career?
Our business was easy when I entered it 20 years ago. There was little devoted to brand plans or the curation of retailers. In North America or Australia centres differed but not dramatically.
How has Westfield adapted?
If you ask us now, "Do you have a formulaic approach to development?" The answer is no. We analyse lifestyles, what's important to the community and then create the environment. We want to resonate through activity and culture – and that gives us our commercial benefit.
How have you continued to tap the Californian market?
At Century City in LA, health and wellness – things we wouldn't have talked about years ago – are at the forefront. You work out, you go for food and these complementary places are building an ecosystem. Rather than people driving 20 minutes to each service, we're bringing them together. In Silicon Valley, Valley Fair is where fashion meets technology. It's completely different by design but resonates equally. You have to localise your thinking to attract the community.
What does the future hold?
I don't think scale is important to retailers anymore. It's about importance. Best cities, best markets. That's at the core of our behaviour so the growth we see is to our existing portfolio and making these centres bigger, better and more relevant.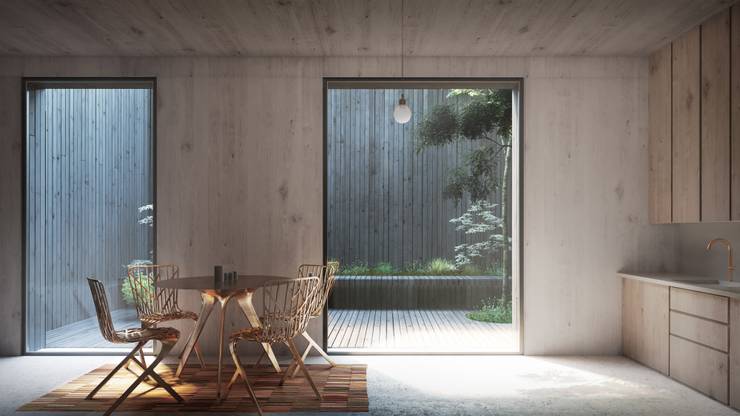 Solving London's housing shortage with pleasing architecture and speedy construction is the aim of this new property venture. Cube Haus wants people to install its prefabricated, modular, energy-efficient homes on their unused space. That could be a garden, garage, a rooftop; any brownfield site from 47 sq m will be considered. "Our approach is to create a portfolio of sustainable modular homes that can be reconfigured depending on the size of the site," says co-director Philip Bueno de Mesquita. "Urban densification with high-design values."
Cube Haus has a collection of homes designed by four London architects: Adjaye Associates, Faye Toogood, Carl Turner Architects and Skene Catling de la Peña. The biggest will have the same floor area and local price as a two-up, two-down terraced house, while landowners receive a percentage of the final market value.
cube-haus.co.uk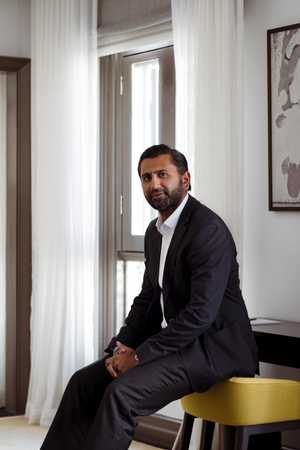 Ashish Manchharam
Singapore
In Singapore's pricey and profit-driven property market, Ashish Manchharam is a rare breed. The real-estate company he founded in 2014, 8M, has a portfolio consisting entirely of low-slung terraced "shophouses". They're scarce in the city-state, better known for its shiny new towers.
Manchharam has good reason to be attached to these properties: he was born in one, within an enclave of immigrant merchants, into a family that once traded in textiles. Having grown up playing in the alleys around the shophouses, he observed first-hand how they subsequently became popular for food, drinks and retail businesses looking for unique spaces.
"You're able to create a destination but only if you curate the right tenants," says Manchharam. He cites Amoy Street – 8M's first buy and now one of Singapore's hottest drinking and dining streets, with seven ground-floor restaurants – as an example. He has since netted 31 properties worth more than sgd400m (€247m) in total. He is now filling a gap in the market for long-term accommodation for business travellers: the well-designed 20-room Ann Siang House opened in March.
8mre.com.sg
Nightingale Housing
Melbourne
The arrival of Nightingale 1 in Melbourne's Brunswick in December marked the success of a new property-development model in Australia – without developers. The five-storey, 20-apartment building, designed by Breathe Architecture, features a ground-floor retail space and communal rooftop gardens. It follows the principles of the German Baugruppe, where a group of people come together to develop homes on a shared piece of land.
"Most developers would go to the bank, get a big loan, try and sell 60 per cent of their apartments and then start building," says Nightingale Housing's business-development head Lola Digby-Diercks. "We've got ethical investors and we don't start building until all the apartments are sold, so there's little risk in terms of financing."
The unconventional funding model – with a cap on profits and limits to costs such as marketing – allows Nightingale to sell homes below Melbourne's steep market rates. The model also makes environmental and social considerations. For example, 20 per cent of the apartments are for public servants such as teachers and nurses, and each development is limited to 40 apartments.
Nightingale Housing has begun licensing its model to other Australian architects. There are 11 more developments in progress, bearing the Nightingale moniker, with six more next to Nightingale 1, forming a village.
nightingalehousing.org
Moving on up
Counting the cost
If you're a CEO planning on transferring your HQ to a new city there are hundreds of things you need to consider. Obviously one of them is how much it will cost to lease office space in your new base but it's also important to know how much it will set back your employees to find good homes. The number-crunchers at global real-estate company Savills have shared the latest data from their ongoing Live/Work Index with us, which measures accommodation costs per worker in leading cities worldwide. These are the top 10 most expensive cities in the world, when you combine office and residential property costs – ones to avoid or reassuringly expensive?
---
New York
Residential property cost per employee: $84,265
Office property cost per employee: $29,298
Total percentage change since 2016: 3.4 per cent
Hong Kong
Residential property cost per employee: $62,986
Office property cost per employee: $45,231
Total percentage change since 2016: 2.7 per cent
London
Residential property cost per employee: $65,843
Office property cost per employee: $30,040
Total percentage change since 2016: 6.3 per cent
Tokyo
Residential property cost per employee: $66,685
Office property cost per employee: $15,437
Total percentage change since 2016: 11.4 per cent
San Francisco 
Residential property cost per employee: $48,783
Office property cost per employee: $16,429
Total percentage change since 2016: -0.1 per cent
Dublin 
Residential property cost per employee: $53,770
Office property cost per employee: $7,304
Total percentage change since 2016: 19 per cent
Dubai
Residential property cost per employee: $50,180
Office property cost per employee: $10,736
Total percentage change since 2016: -9.8 per cent
Amsterdam
Residential property cost per employee: $51,607
Office property cost per employee: $8,646
Total percentage change since 2016: 29.6 per cent
Paris
Residential property cost per employee: $44,672
Office property cost per employee: $14,043
Total percentage change since 2016: 14.7 per cent
Beijing
Residential property cost per employee: $40,699
Office property cost per employee: $16,249
Total percentage change since 2016: 7.2 per cent