Retail / Netherlands
Sales force
Ever innovative in its approach to stock, shops and staff, Pauw has now diversified to dominate Dutch high-fashion retail.
The designer and retail magnate Madeleine Pauw is sitting at an enormous desk overlooking an enormous courtyard in the enormous office building she owns in central Amsterdam, doing a million things at once. She reads us a letter from Queen Maxima and King Willem-Alexander thanking her for designing the bridesmaids' dresses for their wedding in 2002. She shows us swatches of leopard-print silk and checked wool from her new womenswear collection. At some point she points out the Céline bangle on her wrist ("a favourite item"), picks up a sumptuous cashmere coat she has designed and gestures to a scroll of paper on the wall upon which she has scrawled a motto for her and her 140 dedicated employees to heed: "Time is the ultimate luxury and people want a higher return on investment of their precious time. You need to give them a reason to be in your shop!"
There's always a lot going on for the Dutch fashion maven, who is softly spoken, at times excitable and has the authoritative air of someone who gets things done. Today she cuts a diminutive figure in an all-navy uniform. She is dwarfed by her son and business partner Christiaan – who shares his mother's patrician nose, golden locks and quiet confidence but stands at a towering 1.9 metres – and by her office surrounds. There are stacks of lookbooks and account folders, and racks and racks of beautiful clothes. Many of the items are designed by her; others are by European maestros such as Dries Van Noten and Sofie D'Hoore.
All are waiting to be dispatched to the network of multibrand shops that Madeleine and, now, Christiaan run across the Netherlands. The Pauws have quietly built a luxury empire in their homeland: today they own 25 womenswear and three menswear shops across 17 cities and villages, from Amsterdam to the quaint northern town of Laren. They are perhaps Europe's most unassuming luxury-fashion family and their work is a masterclass in how to capture a nation's bricks-and-mortar scene.
"It's all happened so naturally, almost by accident," says Madeleine, recounting the origins of Pauw over beef carpaccio at a nearby café. Yet "accident" makes it sound as if it happened overnight, rather than over the course of 70 years. The first store was opened by Madeleine's parents in Amsterdam in the late 1940s; it sold classic "ladieswear" and Madeleine worked the shopfloor as a teen. She and her sister took over in the 1970s and introduced high-fashion labels. Over the following decades Madeleine cemented her status as the queen of Dutch retail, importing more and more designers that hitherto had only been found in Paris or Milan.
Madeleine evidently has a deep love of fashion. She is a rare example of someone who has mastered the art of both retail and design. A self-taught designer, she launched her women's collection in 1988, making her clothes – double-breasted coats, patterned jacquard skirts – from luxurious Italian materials. "For me it starts with the fabrics, and the most important thing is for my clothes to be flattering, to make women look elegant," she says. Many retailers have in-house lines but this is a brand in its own right: until recently she sold her designs to retailers including Isetan in Tokyo and Saks Fifth Avenue.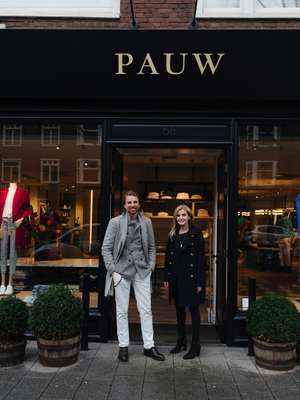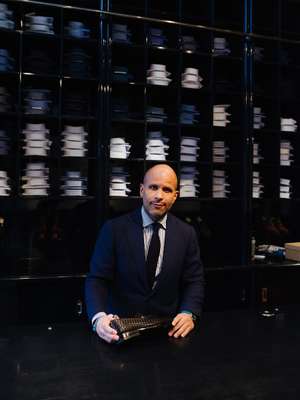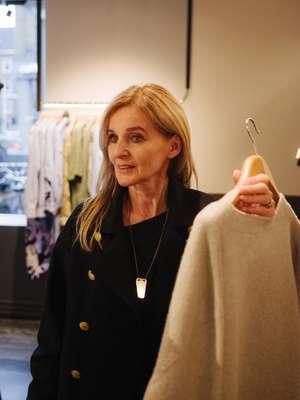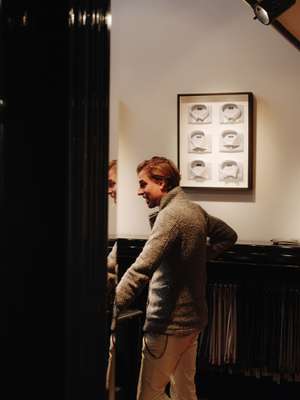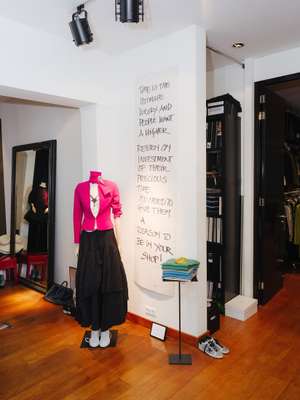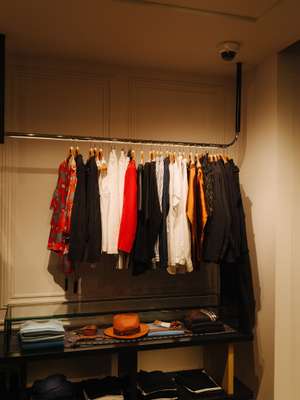 Her passion for clothes reveals itself most clearly in a shop setting, where she springs into action, negotiating the space like a magpie with too many shiny objects to consider. "Oh, I love this," she coos, reaching for a Sofie D'Hoore cardigan hanging in a wood-panelled Pauw shop in Amsterdam's Oud-Zuid district. The jumper slips off its hangar and, while Madeleine is scooping it up, she spies a pair of leather Sartore boots: "Oh, have you seen these?" Pieces from two of her favourite new brands – a poncho by Italy's Alanui and a knitted bag by Spain's Guanabana – are also brandished.
It is Madeleine's hawk-like eye for spotting talent that has made her a retail trailblazer. More than anyone else here she has introduced shoppers, especially women aged 30 to 50, to non-Dutch designers. "Along with Barneys, I was the first stockist of Dries [Van Noten] in the world," she says, adding that she discovered the Belgian's work in a small London showroom in the 1980s. She recounts other brands, big and small, that she has brought to the Netherlands: Comme des Garçons, Kenzo, Sofie D'Hoore, Aspesi, Odeeh, Woolrich, Harris Wharf London. She bases her purchases on instinct – "I don't know what I'm looking for; I want to be surprised by a collection" – and exclusivity is crucial. "If a brand is already here we usually avoid it."
These days the list of brands she stocks is more varied than previously: Pauw made its name selling dressier pieces for older women but the company has diversified, moving into menswear and, most recently, casualwear. Today it is divided into three strains of shops: Pauw (womenswear), Pauw Mannen (menswear) and Pauw Luxury Denim (more casual designs, for women and men).
The Pauw Mannen flagship in Amsterdam is run by Christiaan Klein-Pauw and Daniel Meul, and it's lined with blazers and shirts from Italian labels including Orazio Luciano and Loro Piana. Its clients include the Netherlands' most prominent CEOs and it has become as much a pioneer in its field as the womenswear shops. "When I think of global trends in tailoring, Japan is first and then Pauw and then Milan and Paris," says Marco Pagani, creative director at Orazio Luciano. The fact that Pagani pinpoints a specific retailer, rather than a city or country, as the leader in Europe seems remarkable. The Pauw team stays ahead by visiting the heart of the tailoring industry on a near-weekly basis. "Last year I flew to Italy 30 times. We go to Pitti Uomo but for discoveries we go to small tailors in Naples," says Meul. "Once a brand is at Pitti it is already discovered," adds Christiaan.
When asked about the key to Pauw's enduring success, both Madeleine and Christiaan speak of "adaptability". They own 100 per cent of the company and make business decisions together, often over the phone (sometimes after a squabble). It allows them to be nimble, unencumbered by the need to run things past a board. This flexibility was evident in the move into the casual sector. "We launched Luxury Denim [in 2013] because people are dressing in a more relaxed way; we gave it a different name so that customers know it's a departure from our other shops," says Christiaan.
Other changes are more superficial. Shop interiors are regularly made over and outposts are opened whenever mother or son encounters a burgeoning area. "We like neighbourhoods with a grocery store and a wine shop, not big shopping streets. If we are thinking about opening somewhere we will go there for the afternoon to sit and watch people," says Madeleine. By opening in suburbs rather than on high streets, Pauw avoids excessive overlap between different shops' clientele (especially in Amsterdam, where it has nine outposts). The vast majority of its customers are residents, not tourists. "We think this idea of neighbourhood shops is the future," says Madeleine.
Of course, there are peculiarities of the Dutch market that make this unique operation possible. It's rare that a high-end multibrand retailer dominates a city or nation in this way (United Arrows in Tokyo is an example on a larger scale). Rent is fairly inexpensive in the Netherlands, which makes widespread expansion feasible. More importantly, there's a big pool of potential customers. "There are only 17 million people but it's a wealthy country, so a large proportion of the population can afford to shop at our stores," says Christiaan.
Other factors are equally pivotal to Pauw's success. "Product first" is a catchphrase recited by retailers ad nauseam but few execute it as well as Pauw does. There are no "experiential" features tacked on to its shops; they are unfussy spaces with stock covering every surface. It is anti-minimalist but also fashion for purists, undiluted by homeware or coffee bars.
Its dedication to products is absolute: the Pauws work with brands to tailor pieces to the measurements of Dutch people, who tend to be long and lean (Dutch men are the tallest in the world). "Fit is the most important thing. I try on every piece I buy, and Christiaan does the same for men. I carry two silver measuring tapes with me at all times and I will tell – no, ask – brands to make back-lengths longer or sleeve cuffs wider," says Madeleine. One suspects "tell" was more apposite. Don't let her quiet demeanour fool you: Ms Pauw is a tough taskmaster. Yet the shop's reputation and the scale of its orders (it buys as many as 100 pieces in one style) means brands are willing to meet her demands.
Pauw is "experiential" when it comes to one thing: customer service. Many of its 120 shop assistants have been working at the company for more than a decade; each employee that monocle encounters is well-versed in the stories of brands and details of production and materials.
The Pauws build a collegiate atmosphere by hosting company-wide events. Each season they stage an in-house fashion show in which shop assistants walk the runway dressed in new-season stock (Madeleine is stylist). "It familiarises employees with the new collections and shows them combinations we like, to give them an idea of how to put things together on customers," says Christiaan. "It happened just there last week," adds Madeleine. Now back at her desk, she gestures to the courtyard outside, which is carpeted with pebbles and lined with fir trees. "Many of these people have been with us for 25 years. It makes for a healthy company. We are like a family."
Top stocked brands on Pauw:
Sofie D'Hoore:
"Ms Pauw is decisive and buys like no other client. She has an incredible flair for selecting strong styles. She is quite inimitable."
Roberto Compagno, Slowear
"The Pauw team is made up of incredibly competent people who are cultured and untiring. They have an extreme attention to detail."
Jörg Ehrlich, Odeeh:
"I always try to get our sales team to join the order appointment with Pauw. Madeleine has a defined vision about what her community of women wants. I always leave those meetings with more knowledge than before."
Marco Pagani, Orazio Luciano:
"Pauw's style is like Italian 2.0. Their way of mixing brands pushes boundaries but is always suave. They were the first retailer outside Japan to believe in our product."
---
Number of shops:
28
Busiest shops:
Amsterdam, The Hague and Rotterdam (women); Amsterdam (men)
Bestselling designers:
Dries Van Noten, Pauw, Sofie D'Hoore (women); Cesare Attolini, Orazio Luciano, Slowear (men)
Packaging:
Christiaan worked with Amsterdam design firm Delux to rejig the packaging: the new bags in "Pauw blue" (a deep navy) with gold detail are made from biodegradable paper with a "velvety" feel.
Shop design:
For the past four years Pauw has worked with Amsterdam architecture studio Framework to design its interiors. "We make the floor a key point in the design and stay away from embellishments," says Christiaan.