Politics / Zimbabwe
Same difference?
Zimbabwe has a new leader who's talking reform and wooing foreign investment. Is the rhetoric enough to reverse the country's economic crash and restore international relations?
"Foreigners don't understand why we're excited about where we are," says Trevor Ncube, the energetic 55-year-old owner of Zimbabwe's three main independent newspapers. "But for us, this is chalk and cheese." In the boardroom of his media company AMH, which sits incongruously among shuttered factories in an industrial Harare suburb, Ncube recounts how in December, after 15 years of flitting between the Zimbabwean capital and Johannesburg, he sold his South African media interests and returned home for good. So far it's not a decision he regrets.
Last November, after 37 years of Robert Mugabe's iron-fisted rule that saw corruption, repression and ruinous fiscal policies bring Zimbabwe to the brink of economic collapse, tanks rumbled into Harare. Soldiers placed the president and his wife, Grace, under house arrest. A few days and many demonstrations later, Mugabe resigned. His ousted former VP, Emmerson Mnangagwa, now the new leader of ruling party Zanu PF, was sworn in as the nation's president.
In the capital, relief at Mugabe's departure is still palpable. Although repressive laws are yet to be officially repealed, the new president has made promises that, if enacted, could restore investor confidence and spur a reversal of economic fortunes.
In the meantime Ncube says that citizens are enjoying the lifting of "a suffocating dead hand" that for decades had clamped the country in fear. Once-ubiquitous roadblocks, where corrupt police officers would demand bribes, have disappeared. And access to those in power has improved: in January it took Ncube less than 48 hours to set up a meeting with the new president. "I was impressed by the sense that he is serious; he wants to make this country work," he says. "I think this man might surprise us."
Still, there are plenty of reasons to be wary. Having fought alongside Mugabe in Zimbabwe's war of independence in the 1970s, Mnangagwa, now 75, has close links to the country's security forces. His cabinet features military figures in key positions and allegations that he had a hand in Gukurahundi – a massacre of 20,000 civilians by the army in the early 1980s when he was serving as state security minister – refuse to go away. And so, notwithstanding his promises to break with the past, many fear that Mnangagwa offers more of the same. Ncube, however, is giving the new president the benefit of the doubt.
Zimbabwe is a "ruin that needs to be rebuilt", he says. "There is a realisation that for the government to create jobs and economic recovery it needs to engage with the international community" – which had long been appalled by Mugabe's election-rigging and persecution of opposition activists.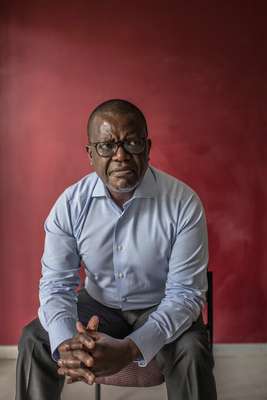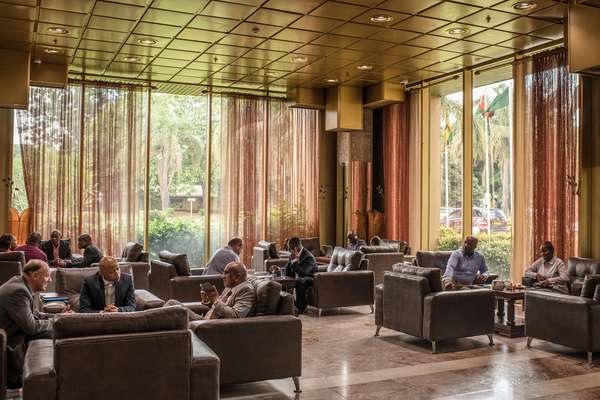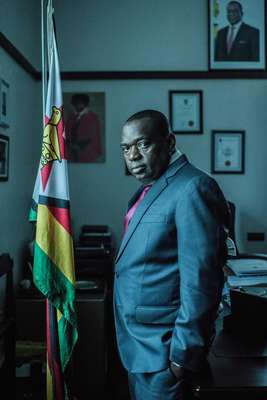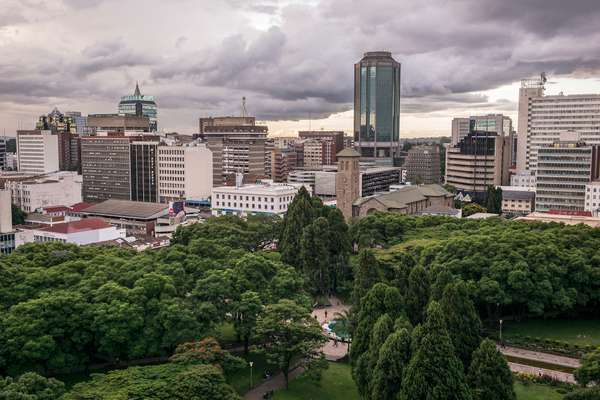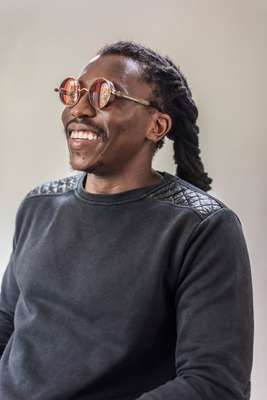 There are already signs of change. Where Mugabe favoured fiercely anti-western rhetoric, Mnangagwa attended the World Economic Forum in Davos in January, declaring: "Zimbabwe is open for business." It's a message that SB Moyo, Zimbabwe's minister of foreign affairs and international trade, is helping to push. A former soldier who appeared on state TV in November to announce that the army's presence on the streets was "not a military takeover of government" – Mugabe's subsequent surrender has been wryly referred to as "the non-coup" ever since – Moyo comes across as a man more used to fatigues than the suits he now dons.
In his corner office in the colonial-era Munhumutapa Building, a presidential portrait takes pride of place.
Moyo describes "a new investment ethos" in Zimbabwe that will make it easier for foreigners to do business. He envisions "a robust regime of property rights", a less-cumbersome tax structure, investment in infrastructure and a crackdown on corruption. "Happily Zimbabwe's land-reform programme, which had precipitated a fallout with the West, is now concluded," he says, referring to Mugabe's confiscation of farms owned by white Zimbabweans.
Moyo says the new government recognises the need to compensate farmers who lost their land. It will also respect bilateral investment treaties that guarantee to protect foreign investments. The government is establishing an investor help centre, and tax breaks and incentives will be offered to export-oriented companies setting up shop in three new Special Economic Zones. Moyo says the government is also encouraging inward investment from the Zimbabwean diaspora. This re-engagement is already bearing fruit: an investment group of Zimbabweans living abroad, in partnership with the state-owned South African transport company Transnet, is investing €324m to help turn around the beleaguered railway system. It was Mnangagwa who finalised the deal.
Over lunch at the Queen of Hearts, a restaurant in Highlands – one of the suburbs where Zimbabwe's elite work and play – James Mushore, founder of the country's first indigenous-owned merchant bank, NMB, is cautiously optimistic. Mushore, who has known Mnangagwa for three decades and now works as a financial adviser, says: "I've always found that he's kept his word. He's very decisive."
But he admits that Mnangagwa's business-friendly rhetoric hasn't yet filtered through to people actually running things, such as the registrar of companies or the revenue authority. Corruption is systemic. An anti-graft body exists but it lacks teeth.
With 200,000 graduates pouring out of schools every year, new jobs will only be created if Zimbabwe succeeds in bringing in outside investment. And as the foreign accents in the lobbies of Harare's top hotels suggest, "there's an awful lot of interest", according to Mushore. About €1.2bn a year is needed to upgrade and expand infrastructure that has suffered from decades of neglect – a potential boon for foreign construction and engineering firms. There are rich mineral deposits and Zimbabwe's fertile soils make it ideal for agriculture. But Mushore knows that turning around the economic situation hinges on political reform. Investors will only start signing cheques once Zimbabwe's relations with financial institutions have been restored – and this depends on the elections in July being declared free and fair.
Back in Harare's downtown, opposition leader Nelson Chamisa greets monocle in his office as thunderclouds gather outside the window. Following Morgan Tsvangirai's death in February, Chamisa has become the acting president of Zimbabwe's largest opposition party, MDC-T. Sat in front of a giant painting of himself wearing a Stetson, the smooth-talking politician says that, in spite of optimism, "there's been an exit of the dictator but not of dictatorship. There hasn't been any structural, institutional, legislative or constitutional reform."
Ensuring that the government enacts such reforms will be difficult. Although Chamisa has been involved in politics for more than a decade, the 40-year-old lawyer will struggle to replace Tsvangirai, who was seen by many as the best way to unify the fractious coalition of opposition parties that form the MDC Alliance.
What's more, opposition politicians complain that Zanu PF mouthpieces such as the Zimbabwe Broadcasting Corporation and state-owned newspapers continue to take a partisan line. The Electoral Commission is required to be neutral and yet its new head has been accused of soliciting a bribe. And while the constitution grants the right to vote to all adult citizens, the government is insisting that those outside Zimbabwe will have to return if they want to register for the election. That could disenfranchise between 300,000 and 400,000 voters, many of them opposition supporters. "Mnangagwa will introduce reforms but he's not going to reform himself out of power," says Samm Farai Monro, who founded online youth platform Magamba Network with fellow comedian and spoken-word artist Tongai Makawa in 2007. "Right now it's a honeymoon period: he's the guy who's not Bob. But for us – as activists, satirists – we need to hold them accountable."
Monro and Makawa have seen journalists, including a colleague, arrested under Mugabe. Although Mnangagwa might end up showing more respect for free speech, Monro says that Zanu PF remains "aware of the online space and how it can be [used] for dissent and mobilisation". There is draft legislation that "conflates cyber-crime with blogging", giving the state powers to confiscate journalists' and activists' computers and hard drives.
Zimbabwe is at a crossroads. If Mnangagwa is true to his word the new president could go down in history as the man who saved his country, launching it on a path towards prosperity and peace. If he isn't, Zimbabwe's spiral of oppression and decline will continue. As Makawa says, "The proof is in the pudding."
Why I left
Comment
By Georgina Godwin, presenter Monocle 24
In 2000, after my colleagues won a court case challenging the Zimbabwean government's monopoly of the broadcast media in the country, I resigned on air from my job hosting the drive-time show on the Zimbabwe Broadcasting Corporation. That evening saw me crawling around on a tall building trying to set up an aerial to start a new station to give citizens an alternative to government propaganda. But it was shut down within a week by presidential decree, and the boots and rifle butts of the police.
The next year was one of complete upheaval, politically and personally. The opposition Movement for Democratic Change was formed and the country voted against constitutional change in a referendum, which the government ignored. Declared an "enemy of the state" I left for the UK to start up the station again on short wave, broadcasting into Zimbabwe from London. This was meant to be for six months, until the elections, which we were sure would sweep the opposition to power. That vote and all subsequent polls were marked by violence, gerrymandering and fraud. And, 17 years later, I still haven't returned home.
Now that Robert Mugabe has gone I hope that positive change will come to my country. Ironically this will be one election that the ruling Zanu PF party will not need to rig. Voters believe that Emmerson "The Crocodile" Mnangagwa has delivered them from Mugabe – a win is assured. There is some optimism that things will now improve. I, too, want to be positive. The new regime – which is the slightly reconstituted old regime – has promised to stamp out graft and, having made their money already, perhaps they will. But I'm cautious: when I call former colleagues in Zimbabwe and ask them to comment, they still use pseudonyms out of fear.