Retail therapy / Global
Shop, read, listen
Briefing
A French bag brand in Mexico City, a touch of Paris in Singapore, the smartest reads for your tote and charming accessories for the home.
Expanding its UK presence, Venetian menswear company Slowear has opened its third – and largest – shop, spread over two floors on the King's Road. "Chelsea is a great choice for us: we choose neighbourhoods that have a community," says CEO Roberto Compagno, whose father founded the firm in 1951. The latest space contains an expanded collection of knitwear, trousers, outerwear and shirts, all made in Europe using Italian materials, and introduces cosmetics. "We're anti fast-fashion," says Compagno.
slowear.com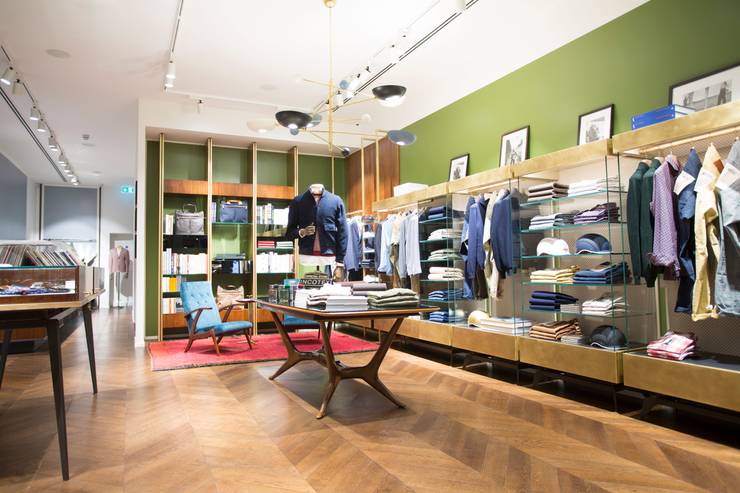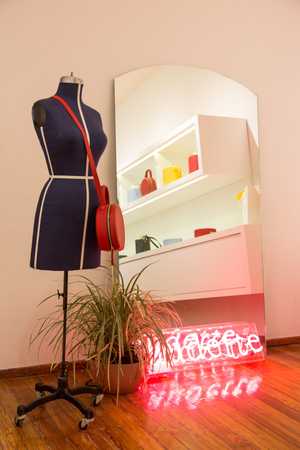 Parisian couple Aude Jan and Charles Gout moved to the Mexican capital to launch a bag label in 2016. Jan was already experimenting with saddlery in Paris and, after studying at Universidad Nacional Autónoma de México, set up shop in a former accountant's office that she now shares with a jeweller and swimwear brand.
"As a Frenchwoman in Paris you think everything's already been done but it's a 'yes' culture here," says Jan. The focus is on women's handbags, which are all made in Mexico City; they riff on 1960s nostalgia, with simple shapes and plenty of colour.
audette-shop.com
"We had a strong feeling that men today can enjoy both beer and herbal tea, football and cooking, good spirits and nice candles," says Romain Jourdan, co-founder of Les Raffineurs, a pop-up shop that promises to cater for all of the above and deliver to Parisian apartments within two hours of purchase. As well as fine olive oil, crisp cotton shirts and sturdy Filson bags, the platform also offers workshops on knife-making or truffle foraging in the French countryside.
After three years in the business, Les Raffineurs is looking for permanent digs. "We have a pop-up in Le Marais and think that connection with our customers is priceless," says Jourdan. "Our next step will be to open a large and beautifully designed shop in our city."
lesraffineurs.com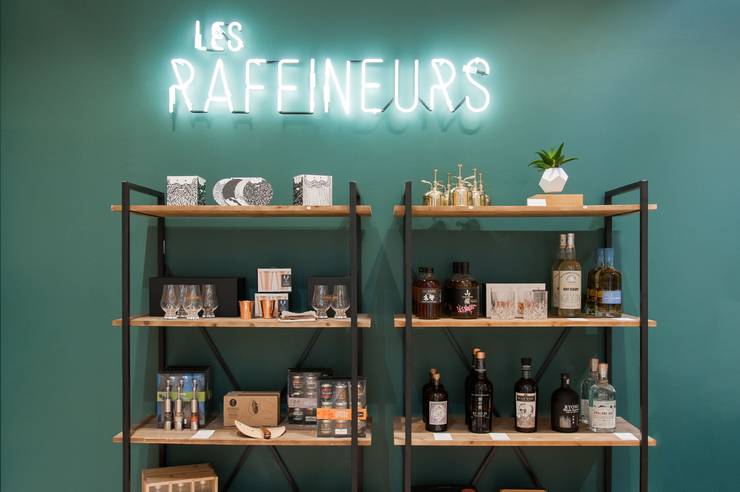 French restaurant Merci Marcel's retail space in Singapore's Tiong Bahru is a find. Founders Marie Charlotte Ley and Antoine Rouland stock cheese (flown in weekly), wine, jam and tea by European independent and small-batch makers, next to Parisian label Izipizi's eyewear and tableware from Falcon. There's a whiff of the cafés of Le Marais and Montmartre, including printed lampshades from Antoinette Poisson and canvas artwork from Singapore-based French artist Gabriel Dufourcq.
mercimarcel.com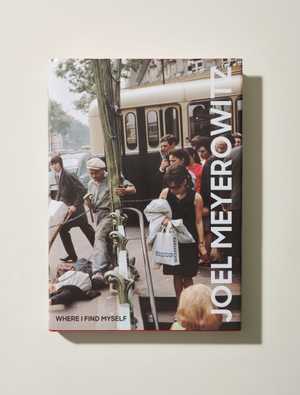 5. 
Where I Find Myself
Joel Meyerowitz
With a career spanning the early 1960s to the present day, this is the first major retrospective of shutterbug Joel Meyerowitz's fine work. Presented in reverse chronological order and framed by Meyerowitz's thoughtful words, this title is an engrossing journey in time and style.
laurenceking.com
6. 
The Book of Chocolate Saints
Jeet Thayil
This epic novel is a fictionalised memoir of the English-Indian poetry scene of the 1970s and 1980s. A poet's progress towards salvation, damnation, perhaps ambiguity: in any case it is a wild trip.
faber.co.uk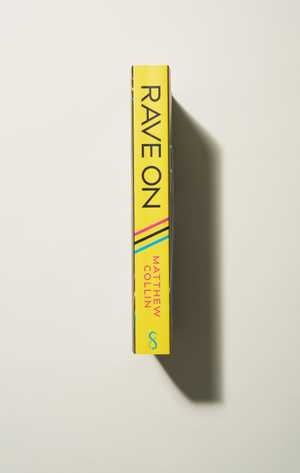 7.
Rave On
Matthew Collin
A timely deconstruction of the interests and influences shaping international dance music – but with all the fun left in. This genre was all about DIY culture, illegal raves and the underground rising up but became corporate and corralled into Vegas hedonism by the business-class pillhead set. Thankfully this is both an intoxicating field trip and a well-argued word to the wise on (not) selling out.
serpentstail.com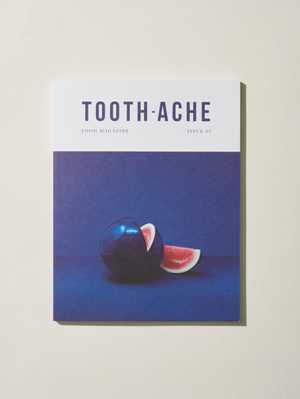 8. 
Tooth-Ache
Edited by Nick Muncy
Chef-turned-publisher Nick Muncy knows how to make delicious things – and things delicious – and in his own words "naively" thought that starting a food magazine was going to be easy. Despite the pitfalls of being art director, designer and editor in chief, his gamble has paid off with this toothsome title.
toothachemagazine.com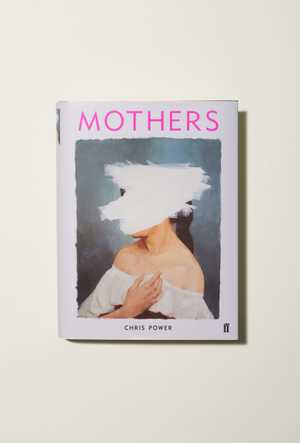 Limits, borders, routes and crossroads: men and women beyond their comfort zones having to pick a way and getting all transgressive, frisky and drugged in locations from Mexico to Exmoor. Chris Power's tales buzz and crackle and his plots satisfy and appal.
faber.co.uk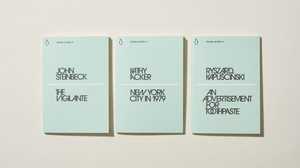 10.
Penguin Moderns
various authors
Penguin has delved into its capacious archive to produce a comely new collection of pound-a-pop flick-throughs, which celebrate modern literature in all its charm and oddity.
penguin.co.uk
Beer sommelier Christian Klemenz founded this small brewery in the heart of Bamberg in northern Bavaria back in 2011. Having already won an award for its bottle design in 2014, the brand is once more reinventing the identity of three of its most popular brews with the help of Swedish design studio Bedow. Farmer, Mayflower and Saison have all received an update with bold typographic labelling, printed with hot-foiled geometric shapes.
st-erhard.com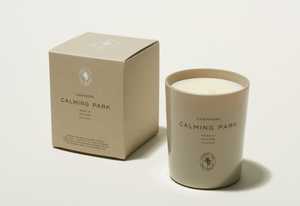 Forging harmonious tones extends to both music and scent with DJ Olivier Rohrbach's Swiss brand Calming Park. His first fragranced candle, Cactus, was launched back in 2006 and combines notes of aloe vera and sage to create an overall woody musk. Spa de Provence, the collection's fourth instalment, captures the notes of fig and orange blossom and mixes them with the floral nuances of mimosa and jasmine that hint at the sensation of a summer on the Côte d'Azur.
calmingpark.com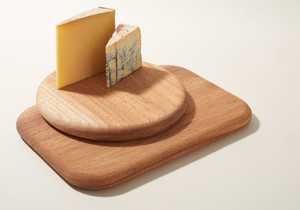 13.
Chopping boards
Rocksalt Living 
London-based homeware brand Rocksalt Living's Forest collection of chopping boards, which come in both rectangular and circular form, make for elegant and sturdy counter-top companions. Handmade in Greece of solid Niangon, this sustainably sourced wood from Ghana boasts water-repellent qualities and its smooth texture and colour serve as the perfect backdrop for mounting a cheese board.
rocksaltliving.com; lafromagerie.co.uk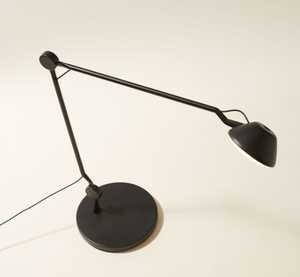 14.
Desk lamp
Fritz Hansen
The smooth, fluid curves and matte finish of Danish industrial designer and architect Anne Qvist's lamp – which come in black, white or blue – are matched by its dimmable soft glow, while the wire is cleverly hidden within its stem. It's also possible to wallmount this desktop delight.
fritzhansen.com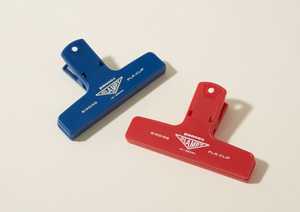 Founded in 1994 in Fukuoka, Hightide has become one of Japan's most celebrated creators of colourful stationery – usually functional, low-priced riffs on retro classics. Its small but perfectly formed Clampy range features chunky clips with which to neatly stash together papers, be it the manuscript of your latest masterpiece or the notes on your board report.
hightide.co.jp; scp.co.uk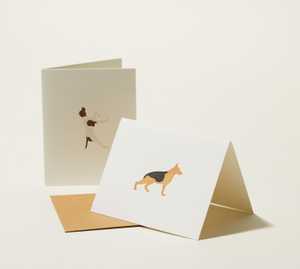 16.
Greeting cards
Loyal Supply Co
Printed on a restored letterpress in Somerville, Massachusetts, these canine cards are the creation of Kimberly and Ryan Habbyshaw, the design duo behind the shop-cum-design studio Loyal Supply Co. Their own dog Huckleberry inspired the collection of missives, which feature breeds ranging from dachshund to bulldog.
loyalsupplyco.com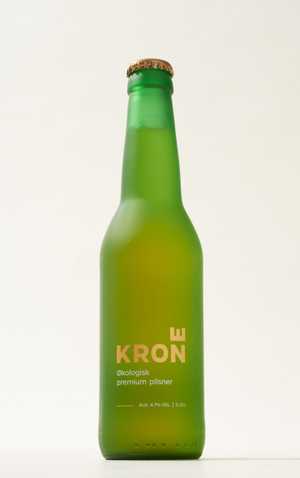 A new beer brand from the north boldly bearing the name Krone, Norwegian for "crown", has teamed up with creative agency Creuna to design a refreshingly good-looking array of matte-coloured cans and frosted-glass bottles for its organic series. Choose from a premium pilsner, IPA or pale ale; they're simple and tasteful in design and content.
creuna.com