Observation 1 / South Tyrol
Turning heads
Once you've spotted one you can't stop – there's one on a Brooklyn warehouse roof, another in an alpine meadow. Sinister and mean, these plastic owls have become a global design success by doing one thing well: scaring the crap out of other birds.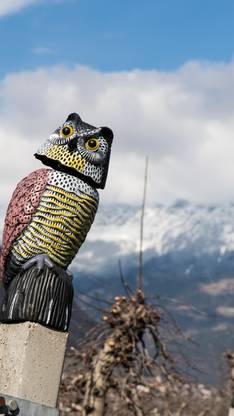 From apartment-block balconies to lettuce farms, owls are watching. Their heads might be bobbing but their feathers won't ruffle. With their static plastic bodies, owl-shaped bird-scarers have found their way into gardens and onto buildings from London to LA and, in doing so, have become a global design success with a simple promise: to scare the hell out of crapping pigeons and crop-raiding birds.
There was a time when pointy spikes and poison were the go-to solutions for pigeons. But these days impaling and torturing have lost their market appeal. "Consumers no longer want to harm animals," says Matthias Mairhofer, co-owner of his family's gardening-tools company. "Years ago pigeons would be killed; now people understand they just have to be pushed away."
When Mairhofer's parents founded the company in 1985 in the South Tyrol town of Lana, they dealt mainly in shears for the apple orchards of this mountainous northern Italian region. Over the decades the product list grew and with it the business's reach: now there are about 3,000 items in the catalogue, including the owl decoy.
"We've been making them for the past four years and the market keeps growing," says Mairhofer. Every year he sells 15,000 of them to garden centres and shops around Europe. And with many city dwellers now tending their own urban vegetable patch, the potential for expanding his spooky flock seems positive.
"Of course they work!" says Mairhofer. "Although in order to do so truly, they should be kept in rotation with our eagles and hawks. Otherwise pigeons get used to them." Vehement online comments about the owls' merits (or underwhelming performance) clog e-commerce websites that sell almost identical versions by many different companies. Those manufacturing this growing flock have picked a plucky business opportunity.
Even if their owls are fallible, Mairhofer maintains that their soft approach is best. "We've never produced chemical products," he says. "We've always aimed at defending nature. It's in our DNA. The mountains have a great impact on us and teach us a lot of things."
On your marks, get set... pack!
by James Chambers
Moving house in Hong Kong, with its combination of cramped apartments and tiny lifts inside pencil-thin high rises, would be a Herculean effort were it not for the city's world-class movers. Watching the spectacle unfold first hand you feel it's high time that this feat was recognised as an Olympic sport.
The clock starts when a couple of sinewy men turn up on the 28th floor: within a few whirlwind minutes everything is wrapped in industrial cling film before being carted off to the van. It may not be flash but, like a lot of things in Hong Kong, it sure is effective. The movers' tea would still be brewing in the UK – the industry equivalent of pre-race stretching – in the same time it takes this furniture to travel to a new building on the 41st floor (where it arrives in place and intact). Throwing in a water feature adds extra drama. Residents swapping central city life for the beaches of Lamma and other outlying islands get to see their worldly goods piled high on an old-fashioned Chinese fishing boat or sampan.
Given this logistical prowess and the deep pool of technical skills in Hong Kong, it's perhaps no accident that the city's first billion-dollar start-up happened to be in the moving sector: Go Go Van, a vehicle-hire option for Hong Kongers who fancy having a crack at moving themselves. Transporting furniture and boxes may not seem glamorous but in Hong Kong you can strike gold.