How I manage / USA
Blue-sky thinker
An aeronautical eureka moment helped Michimasa Fujino relaunch the stalled Honda Aircraft project – and its HA-420 is now the private-aviation industry's most sought-after jet.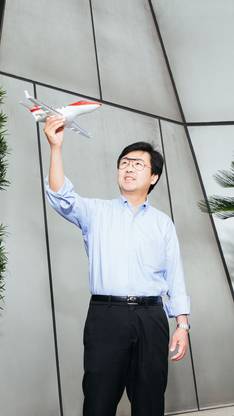 The accessories that Michimasa Fujino wears offer a clue to his calling in life: a Rolex Sky-Dweller and a pair of black-rimmed Ray-Ban spectacles personally modified from the brand's Aviator sunglasses. Fujino has always been an aviation fanatic. Growing up in Hirosaki, a city near the northern tip of Honshu island, he used to throw paper aeroplanes out the window of his family's fourth-floor apartment. Today he is the president and ceo of Honda Aircraft, the US-based aviation arm of Honda Motor Company.
Founded in 2006, after 20 years' secret research, the wholly owned subsidiary's first (and thus far only) product is a light business jet that seats six passengers. The HondaJet HA-420 was a latecomer to the up-and-down world of private jets – the first delivery was in 2015 after almost 30 years in development – but it has had an iPhone-style impact on the industry, wowing designers, picking up awards for technical innovation and upsetting the market leader.
Last year HondaJet overtook Cessna to become the highest-selling model in its class. "Our goal is to be the number one light-jet company," says Fujino, cradling a miniature model of the HA-420 like a baby – which, for him, it is. The Honda veteran has been working on the company's foray into aviation since the programme was set up in 1986.
Industry bragging rights have come thick and fast since the HA-420's launch. At the end of last year the US conglomerate GE kept hold of its Honda jets while scrapping its entire stock of Gulfstream and Embraer jets. Then, in February, Honda Aircraft announced its biggest order to date: 16 planes for a French air-taxi company replacing its current fleet of 15 Cessna Citation Mustangs.
For Fujino, however – who's meeting monocle in Shanghai, where he's marketing the jet to Asian buyers – neither company is a typical customer for the entry-level aircraft, which carries a relatively modest $4.9m (€4m) price tag: "A HondaJet buyer is generally the owner of a small to medium-sized business, one who is running the company. They understand the importance of efficiency and time."
The 100th HondaJet rolled off the production line in May. Fujino oversees 1,800 staff in Greensboro, North Carolina, a big increase from the 40 he started with in 2006 (yet still a fraction of the Japanese multinational's 212,000 workers overall).
As such, the 57-year-old has had to adapt his management style, from knowing every employee to now speaking directly to department heads. Nonetheless he still likes to get down on the shop floor "to understand their reality". His senior team is seven Americans, with two Japanese and three Europeans. This cultural blend provides a positive mix: "Americans might not pay as much attention to detail as the Japanese but once a goal is set they have the power to achieve."
Greensboro's casual corporate culture is a world apart from Honda's Tokyo headquarters. "Every time I make a business trip to Japan I have to change," says Fujino, whose corporate suit is today paired with a buttoned-down grey shirt and no tie. "I shouldn't say that," he adds, laughing.
In spite of Honda Aircraft's physical separation and diminutive size, the plucky "start-up" is having an outsized effect on its enormous parent. The HondaJet is now being touted as the Honda Motor Company's flagship product. After all, a sleek, state-of-the-art aeroplane arguably embodies the corporate tagline – "The power of dreams" – more than a family sedan idling on the suburban school run.
Indeed the HondaJet has finally realised the long-held dream of Honda's late founder Soichiro Honda, an aviation enthusiast who piloted planes into old age but died before the r&d department could develop a commercially viable plane. Fujino was working on the secret aviation project at the Tokyo HQ when he had his one "meeting" with the man himself, standing at a urinal when this elderly man wearing a flowery Hawaiian shirt walked in. "My boss told me never talk to Mr Honda about the aeroplane project because he was crazy about planes and would cancel his retirement if he knew we were doing aircraft research." Fujino kept quiet. How much is Fujino an engineer and how much a designer? "Probably 50-50," replies the aeronautical engineering graduate who joined Honda from Tokyo University, originally intended to design sports cars. "I wanted to design advanced aeroplanes that catch people's eye – [the HA-420] is a flying sports car."
1984 Joins Honda r&d straight out of university
1986 Transfers to the US to work on plane research. His outbound journey was the 26-year-old aviation fanatic's first ever flight
1996 Honda cancels its plane project
1997 After coming up with the innovative engine idea, Fujino persuades board members to restart the project and conducts four years of research
2001 Returns to the US to establish a permanent base
2006 Incorporates the Honda Aircraft
company
2015 Launches the HA-420
The jet's single biggest innovation is the position of its two engines above the wings. Fujino's lightbulb moment came in 1997 when he was at home in Tokyo following the termination of the aviation project's first attempt at flight. Four years later he was back in North Carolina establishing a permanent base and today his lauded technical achievement contributes to a long list of best-in-class specifications, from acceleration and cruising speed to a roomier cabin, a quieter ride and greater fuel efficiency.
Honda Aircraft's patent on the engine-over-the-wing design runs out next year. So what new projects are his team working on? Fujino doesn't mention any specifics but one is likely to be a commercial aircraft. "Designing and certifying commercial aircraft is one of the most difficult things because these planes have very high safety requirements."
And on a personal level? Fujino's career to date has been consumed by the HondaJet; a plan to take his pilot's licence has been on hold for three decades and the father of three grown-up children has now parked it until retirement. He would like to design a sports car and a watch, another personal passion. But his thoughts are moving towards a professorship. "If I have the opportunity I want to be able to convey my experience to the next generation."
1.
What time are you at your desk?
I'm sharpest at night and often stay up late to finish my work, so in the morning I have to run into the office.
2.
Where is the best place to prepare for leadership? MBA school or on the job?
On the job. The real world presents challenges rarely found in a classroom. I also get knowledge from industries outside of aviation to enhance my perspective.
3.
Describe your management style.
I always push myself to achieve more and I try to use that same challenging spirit to lead my team. My role is to move the organisation towards higher goals.
4.
Are tough decisions best taken by one person or by a group?
Strong leaders seek the input of the group and at the same time they are willing to make the difficult decisions.
5.
Do you read management books?
No, history books. Many lessons from history can be applied to management.
6.
What's your key management advice?
Go to the source to gain a real understanding of the situation before making decisions.

7.
To whom do you tend to go for advice and guidance?
A range of personalities. I find value in diversity because it helps me calibrate my thought process.

8.
What do you find to be the most difficult part of your job?
Conducting business on a global scale and covering multiple time zones. It doesn't allow much time to spend with my family.
9.
Is it OK for employees to disagree with you or should they toe the line?
Disagreement is natural and of benefit if constructive. But once a decision is made a team must pull in the same direction.
10.
If you could fix one thing about your company, what would it be?
As my company continues to grow, red tape is beginning to emerge.