Food & drink / Global
Food
&

drink
Briefing
Food finds from London to Montréal, plus a restorative recipe.
Everyone is talking about the whole-roasted turbot at Brat, the new wood grill and wine bar from Tomos Parry (of Kitty Fisher's fame) that has upped the dining stakes in Shoreditch. But the fleshy white fish isn't the only reason to head to this east London gem: the meat-and seafood-heavy dishes sailing from wood-fired oven to table are packed with flavour. Grilled bread with anchovies, roast duck, beef chops, smoked potatoes; this is simple stuff cooked to perfection. An impressive wine list from London's Noble Rot and a light-filled dining room round out the experience.
bratrestaurant.com
What started as a test kitchen for a larger drinking-and-dining venture by Shanghai architecture firm oha quickly garnered a following for its sumptuous small plates. The izakaya-style restaurant is headed by Kiwi chef Blake Thornley. Order the smoked farmhouse pork and the mountain-style chilli chicken – both crowd favourites that have secured spots on an otherwise seasonally shifting menu.
ohashanghai.com
With the ambition of elevating Québécois-French menus on Canada's west coast, St Lawrence opened in Vancouver in 2017, on Québéc's de-facto national holiday St Jean Baptiste Day. "St Lawrence is about French food seen through the eyes of a Québécois chef," says Michael Ziff, the restaurant's general manager, of its head-chef and co-founder JC Poirier. The food includes specials such as quail leg in puff pastry, cod with seasonal vegetables and mille feuilles with chocolate and coffee cream. "We've created a sense of authenticity that has resonated with people here," says Ziff.
stlawrencerestaurant.com
Lipsi: [Greece] Lipsi is perhaps the best-kept secret in the little-known Dodecanese islands of Greece, which boast about 700 inhabitants. On a plot of land surrounded by the Aegean Sea, four hectares of vines produce wines such as Aposperitis, a dessert wine made from sun-dried grapes, and the Psilante, a fruity, semi-dry rosé perfect for long lunches.
lipsiwinery.com
Schooled in classic New York Italian joints such as Lupa and Del Posto, chef Erin Shambura is now causing a stir with new space Fausto. Go for a simple starter of poached egg, mixed mushrooms and toasted farro (a wheat grain) and follow up with a primo of pasta: try the tortellini with sweet potato, parsnip, nutmeg and walnut, a take on northern Italian tortelli di zucca mantovani.
faustobrooklyn.com
Celebrated small-plates restaurant and wine bar Le Grand Bain has produced outstanding bread since opening in 2017. Now chef Edward Delling-Williams has opened a bakery next door headed by Japanese-born chef Sayaka Sawaguchi. In addition to Le Petit Grain's signature sourdough, here you'll find reinvented French viennoiseries, as well as lamingtons and cinnamon rolls.
lepetitgrainparis.com
In Melbourne, most Korean restaurants serve the same list of crowd-pleasing dishes, namely bibimbap, fried chicken and barbecued meat. Sommelier-turned-chef Peter Jo, however, is championing a new approach. His inner-city spot Shik takes inspiration from the food his South Korean parents served to him as a child, along with recipes he collected while travelling. The menu includes pig-skin terrine, pickled perilla leaves and mussels with soy sauce.
restaurantshik.com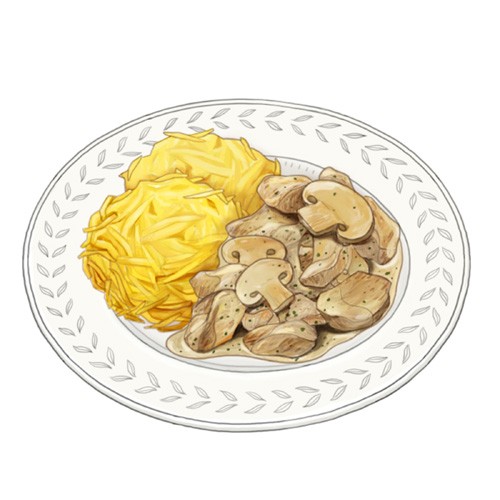 Destination restaurants and new openings are all well and good but what about when airlines and rail operators turn out a dish that hits all the right notes? Our itinerant editors have jotted down three of their favourite refills that we'd heartily encourage you to try at home.
SBB train switzerland 
Zürich-style veal
Serves 4
2-3tbsp clarified butter
800g veal steaks, sliced thickly
1tbsp flour
¾tsp salt
Pinch of black pepper
1 onion, finely sliced
200g champignon mushrooms, sliced
100ml white wine
250ml double cream
1tbsp corn flour
100ml chicken stock
10g flat leaf parsley, chopped
Sea salt and black pepper, to taste
Rösti, mashed or new potatoes, to serve
1.
Preheat the oven to 60c, or its lowest setting. Melt 1tbsp of butter in a frying pan. Add a third of the veal and cook on high heat for about four minutes, until it's browned. Keep warm in the oven while you cook the rest. Add the rest of the browned veal to the dish, stir through the flour and seasoning and return it to the warm oven loosely covered with foil.
2.
Once all the veal is cooked, reduce the hob heat and dab any excess frying fat from the pan. Add another tablespoon of butter, then the sliced onions and mushrooms, and sauté gently for 5 minutes.
3.
Add the white wine to the pan and bring to a simmer, then pour in the double cream. Mix the corn flour with 2tbsp of stock, then add that, and the rest of the stock, to the pan. Stir and bring to a boil, then reduce heat and cook for another 2 to 3 minutes. When the sauce is a good consistency, add the warm veal and half the parsley. Heat the meat, taste for seasoning, then serve with rösti or potatoes. Sprinkle the remaining parsley and serve.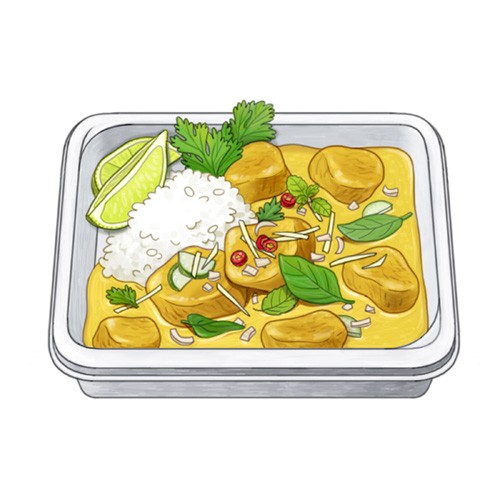 Finnair
Yellow lamb curry
Serves 6
Curry
2tbsp ghee or vegetable oil
1kg boned stewing lamb or mutton
150g yellow curry paste
800ml coconut milk
100g powdered palm sugar or brown sugar
6tbsp fish sauce
4tbsp oyster sauce
To serve
Handful each of coriander, mint and Thai basil leaves
20g ginger, julienned (as finely as possible)
Half small cucumber, de-seeded and cut into thin strips
4 small red chillis, finely sliced
Dried shallot flakes
3 limes, cut into wedges
Rice
1.
Heat 2tbsp ghee or oil in a heavy-bottomed pan, then brown the lamb in batches and put it to one side. Add the yellow curry paste to the pan and cook it in the oil and fat, stirring often, until it starts to reduce and change colour. Tip in the coconut milk, add the sugar, fish sauce and oyster sauce and mix. Cook on a low heat for about 2 hours, until the lamb is soft but not falling apart. Top up with water during cooking so that the meat is always submerged, then reduce it to a thick sauce at the end of cooking.
2.
Make a neat mound of rice on each plate – you can use a small rice bowl to shape it. Spoon lamb curry alongside it and top with fresh herbs, the cucumber and ginger, shallot and red chilli. Add a lime wedge to each plate and serve more of all of the toppings in small dishes on the table.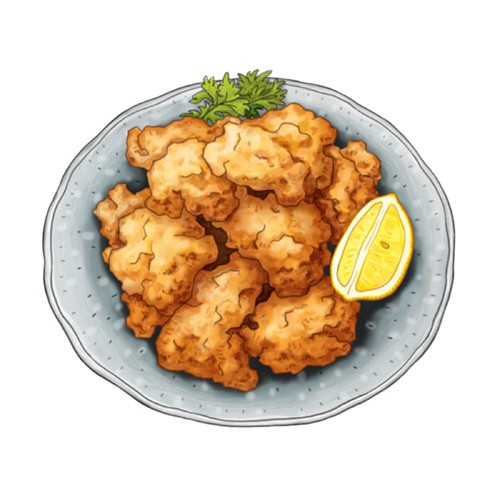 Ana lounge, Haneda
Chicken karaage
Serves 2
Chicken and marinade
3-4 (250g) skinless, boneless chicken thighs
2tsp salt
200ml water
1tsp mirin
Seasoned flour mix
100g plain flour
30g strong flour
1tbsp mixed fresh herbs
1tsp garlic powder
½tsp black pepper
½tsp ground ginger
½tsp chilli powder
¼tsp salt
¼tsp allspice
¼tsp nutmeg
Milk mix
120ml milk
2tbsp corn flour
1 egg
1 litre vegetable oil
1 lemon, cut into wedges, to serve
1.
Cut each thigh into 3 bite-sized pieces. Put into a bowl with water, mirin and salt, mix and put in fridge for 1 hour.
2.
Finely chop herbs and mix together. Add 1 tablespoon of this to a mixing bowl, then add all seasoned flour ingredients and stir together.
3.
Make a paste with spoonful of milk and cornflour. Add rest of milk and egg and whisk together in a mixing bowl.
4.
Heat the oil to 160c in a large saucepan. The oil shouldn't come more than halfway up the side of your pan.
5.
Take chicken out of fridge. Pat dry with kitchen towel and toss it in seasoned flour so that it's covered. Shake off excess flour and put to one side.
6.
Dip chicken pieces into milk mixture, then into flour again. Carefully put them into the hot oil. Cook for 5 minutes, until light golden brown and cooked through, then scoop out using a slotted spoon. Drain on kitchen paper and turn oil temperature up to 180c. Cook again for another 2 to 3 minutes, until dark golden brown and crunchy, then drain again on kitchen paper and sprinkle with sea salt flakes. Serve hot, with lemon wedges.