Observation 1 / Japan
Groomy kind of love
Pooch pampering has been taken to a whole new level in Japan. We head to the country's largest dog show, where competitive groomers have their clippers at the ready.
Wes Anderson's Isle of Dogs may have just hit cinemas around the world but inside Tokyo Big Sight exhibition centre an even more whimsical pooch-themed spectacle is afoot. The three-day Japan International Dog Show is not the only dog event in Japan but it is the largest: thousands of hounds – from shibas to akitas, dobermans to borzois – are marching into this fair on the Ariake waterfront.
Most of these canines are used to the attention by now and are wholly unbothered by their owners' incessant brushing and blow-drying. But in one corner, a pack of humans in yellow aprons is looking particularly nervous. They are the country's 120 top trimmers, who have battled through tough regional tournaments before qualifying to compete in the 37th National Trimming Championship. This is the big final: their dogs have been allowed to grow their hair for three months for the occasion.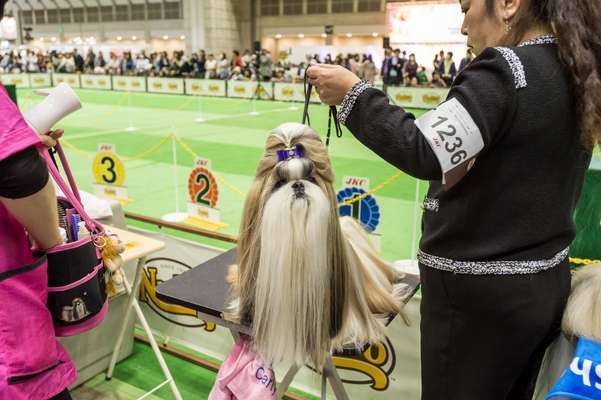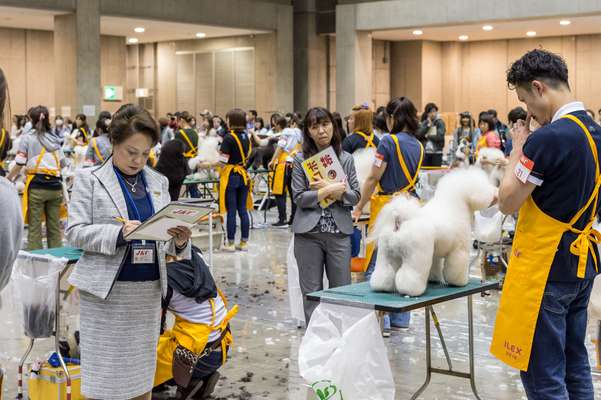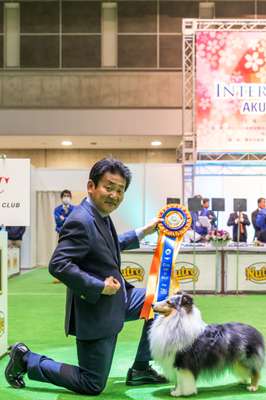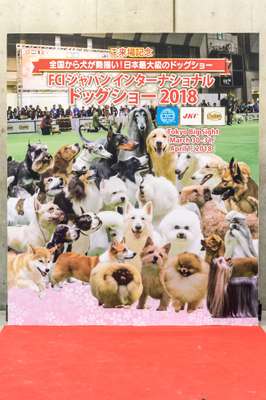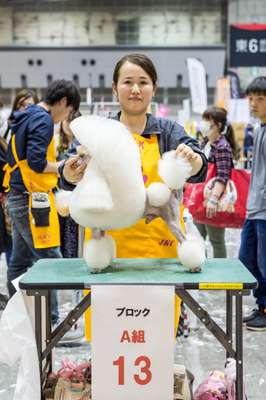 Dog-grooming has long been a Japanese mania. "My father placed the first dog-grooming advertisement in Japan in a magazine 63 years ago," says Takaaki Fukuyama, a lecturer at Yamazaki University of Animal Health Technology. Yet today, as more and more young couples decide not to have children, dogs are becoming a family surrogate; the result is an unlimited devotion to furry companions. "Japanese people want to spoil their dogs and also love to be fawned over by their dogs. It's a uniquely Japanese phenomenon," he says.
Around the country there is no shortage of grooming schools, dog salons and spas, as well as shops selling clothes, buggies, organic shampoo and plenty more. "The idea of grooming pet dogs doesn't really exist in Europe yet," says Yuji Ueda from the Japan Kennel Club, the organisation that's putting on the event alongside the Fédération Cynologique Internationale. In Asia, however, it's a trend that's spreading quickly: the Asia Grooming Federation was formed in 2014 and now connects people in Japan, South Korea, Taiwan, China and Singapore.
The grooming textbook is translated into all member states' languages but the original text is in Japanese, proving that Japan is setting the standard when it comes to the coiffing of dogs. "Japanese trimmers are winning competitions around the world," says Fukuyama. "It's a bit like bonsai. Basically, they're seeing how far they can push it."
At noon a huge track-and-field Seiko clock starts counting down. Poised dogs are standing perfectly still as the two-hour race to get the perfect haircut begins. Judges walk up and down the rows of toy poodles, wire fox terriers and miniature schnauzers. "We check the way trimmers treat their dogs, not just the finished haircut," says Masashi Oyama, the general manager of Japan Kennel Club. Contestants also get marks on effective use of tools, procedure and precision. "Dog salons in Japan create countless fashion hairdos today but here contestants need to give a standard haircut for their dog's respective breed." Some pooches enjoy the treatment so much that they end up falling asleep while they are standing.
When time's up the Top Gun theme starts booming in the background. Today's award is bestowed upon Rie Kozuki, a teacher at Shikoku Sunshine Grooming School. "This means a lot to me," she says, in tears. Kozuki works with her own poodle and before winning she'd promised that this attempt (her 10th) would be her last. Her poodle's razor-sharp 'do showed her outstanding skills but the judges had a soft spot for the care that went into her performance. "I couldn't have achieved this without my dog."
Word in your ear
Austrian commuters have the final say
by Kimberly Bradley
Ride any train on the ÖBB (Österreichische Bundesbahnen, or Austrian Rail) and you'll hear it: a female voice announcing the arrivals, departures, rerouting and delays of trains in both Austrian-German and English. It's the voice of Chris Lohner, an Austrian actress in her seventies who has announced for the öBB for nearly 40 years. In that time her voice has become a source of comfort for Austrian passengers.
But just how important her voice is became clear in the early 2010s. Lohner recorded her first announcements in the 1980s but many had become obsolete, so an automated computerised voice was used instead. Austrians were horrified, not only because they missed Lohner's lilt but also because the new voice spoke in high German, not melodic Austrian-German.
So the öBB brought Lohner back into the studio to record 15,000 new sentences. Her voice now smooths the rough edges of nearly every commute and the öBB has the rights to use it "for all eternity". When it comes to customer loyalty, that's just about long enough.