Cosy corner / Seoul
Lee Byung-hun: Mr Sunshine
When the crowds thin out, South Korea's most in‑demand leading man likes to enjoy some downtime at his favourite restaurant.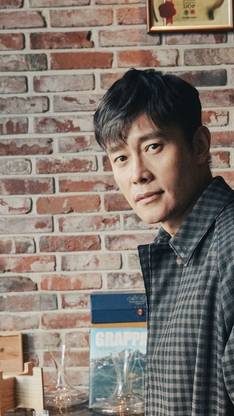 Whether he's appearing at a surprise cinema event or strolling the streets of Seoul, Lee Byung-hun is always mobbed by fans. The screaming scrum follows him everywhere so it's little wonder that the South Korean actor likes to find a secluded spot when he dines out. "I try to eat at home but once or twice a week I go out and have dinner and drink some wine with my friends," he says, seated in the back room of The Kitchen, an Italian restaurant in Gangnam-gu. It's a relatively public space for one of the country's most recognisable faces but the lunch rush has passed and the kitchen is officially closed. There are, it would seem, perks to knowing the owner.
Lee has been described as the South Korean Brad Pitt and the comparison is not without merit. Both mix good looks with serious acting chops and enjoy similar levels of domestic fame. Nowadays BH, as he is known to friends, likes to stay close to his home in Gangnam-gu, a southern district of Seoul. Born and raised in the South Korean capital, he cemented his links to the neighbourhood last year when he danced in a music video for his close pal Psy.
His softly spoken English is perhaps at odds with his string of Hollywood action roles, from t-1000 in Terminator Genisys to one of the gang in 2016's remake of The Magnificent Seven. A forthcoming South Korean TV drama in which he plays a 19th-century US soldier has forced him to rehearse an American twang. Due for release this summer, Mr. Sunshine is Lee's first TV series for nine years and certain to be the most-watched K-drama of 2018. The script was penned by Kim Eun-sook, writer of smash-hit Descendants of the Sun.

"I thought to myself, 'If I do a TV series, it should be with Eun-sook. She's got talent and she writes very good dialogue so I want to make those lines my own'," he says.
Lee got his first acting break by accident: he was a French literature university student when his mother's friend convinced him to audition – successfully – for a television series. The closest he had come to the industry previously was a fleeting idea of managing a theatre, seeded by a childhood spent watching plays. He still fondly recalls the smells of crowded 1970s playhouses, where 600 standing audience members would pack a 200-seat venue.
As his career nears its 30-year mark he feels he still has more to achieve; being the first Korean actor to win an Oscar is one dream. But while he is no longer typecast in Asian roles, he has struggled to break out from action movies in the US – a genre that attracts few Academy awards. For now, when Mr. Sunshine wraps, he is content with finally taking some time off. "I've been working non-stop for three or four years. I think I need some rest," he says. "But we never know what will happen."
1970 Born in Seoul
1991 Makes TV debut in drama Asphalt my Hometown
2006 Establishes own talent agency
2016 Becomes the first Korean actor to present an Oscar
2017 Appears in "I Luv It" music video with K-pop singer Psy