Aviation / Perth
Radical departure
To create an aircraft cabin and transit lounge to suit the longest of all long hauls, Qantas turned to an innovative designer prepared to go the extra mile.
For an industrial designer, a commission from an airline is a mixed blessing. It's a great privilege on the one hand but a daunting challenge on the other. Case in point: Australian flag-carrier Qantas's brief to Sydney-based designer David Caon for its ultra-long-haul flight from London to Perth. Caon was tasked with creating an entirely new fit-out for a Boeing 787 Dreamliner, which had to be highly functional while lightweight and comfortable. The second component of the project was to create a new transit lounge at Perth International Airport to ease the pain of the 17-hour flight.
"Every aspect was a challenge, right down to making the teacups for the flight," says Caon, who has quietly taken on the mantle of his former employer Marc Newson as Qantas's go-to industrial designer. "Customers wanted bigger cups while Qantas wanted lighter cups, and the porcelain couldn't be any thinner. But we managed to make a bigger and lighter cup by reducing the design's profile. We took a bird's-eye view of the whole system and modernised everything, piece by piece."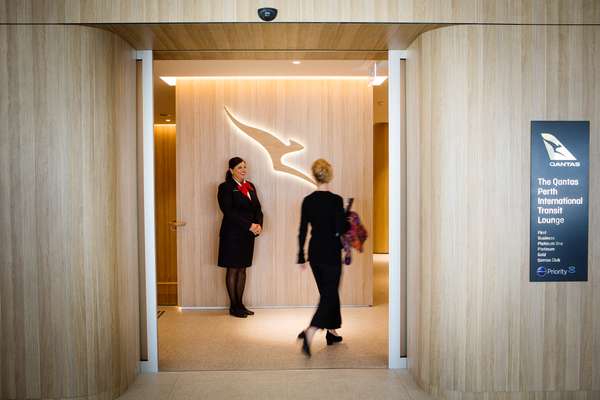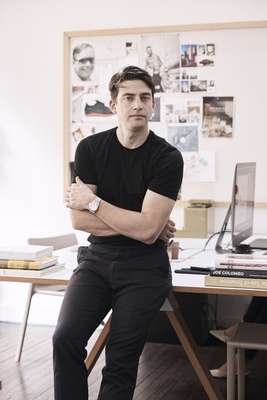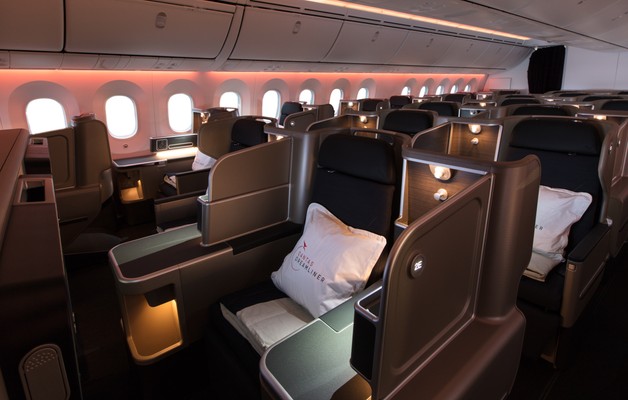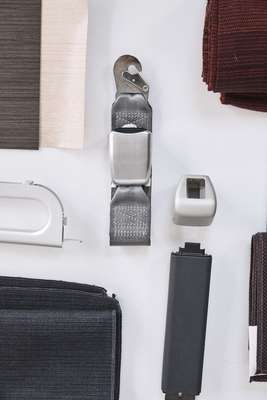 The minimalist inflight bone-china crockery, designed in partnership with Aussie chef Neil Perry and made in Japan, was one of the project's more tactile achievements. The crockery's lightness contributed to an 11 per cent weight reduction compared with previous in-flight tableware, saving about 535,000kg of fuel annually.
Other innovations were less concerned with the balance sheet. "This aircraft has fully adjustable lighting," says Caon. "Part of our process was visiting Boeing in Seattle and designing lighting scenarios that help people go to sleep or create the right ambience for dining." The Dreamliner's smart lighting system is tailored to help the body clock adjust to the only commercial flight connecting Europe and Australia. "This involved a lot of research, thinking about lighting scenarios for 17 hours of flying," he says.
Science was at the forefront of Caon's brief from Qantas and light was proven to be the best antidote to the inevitable jetlag. It's for this reason that bleary-eyed customers stepping off the plane in Perth are greeted with a sun-flooded transit lounge. "Creating a lounge that is both outdoors and indoors provides a great burst of natural light and fresh air for arriving customers," says Phil Capps, head of customer product and service development at Qantas, noting that chefs grilling Aussie sausages on outdoor barbecues also stimulate the senses. "All the elements of the design, combined with the food on offer, make you feel as if you're not really part of the travel process and help the body either transition to the local environment or prepare for a 17-hour flight," says Caon.
A soft colour palette and some light materials add to the calming nature of the lounge, while showers boasting a "light-therapy" system help further with post-flight readjustment. A wellness clinic offering 15-minute stretching classes confirms this as the world's healthiest airport lounge. Caon notes that it's no surprise that Qantas has gone above and beyond by adding these nuances to its design brief. It is, after all, synonymous with smart design, from its witty advertising campaigns in the 1960s to its future-thinking lounges by Marc Newson.

"As designers we're given freedom by Qantas," says Caon. "Of course there are hurdles to overcome and you can't just throw design at the brief as it's about safety and certification too. But design is the key problem-solving tool."