We get toasty in Vienna, fawn over Brazil's suited, booted football squad and consider how fashion-forward Saudi Arabia truly is. Meanwhile, where is the best place to get branded bags? It's totes Milan.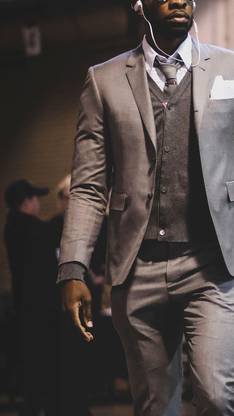 Sporting a fine outfit is a good show of confidence for travelling athletes. In the US, designer Thom Browne has made dove-grey suits for the nba's Cleveland Cavaliers. Meanwhile, the Brazilian national football team is stepping up its fashion game for this year's World Cup in Russia. Ricardo Almeida, one of Brazil's top menswear designers, has created a slim-fit navy number adapted for the players' bodies (think lots of thigh and little waists). The German team – kitted out by Hugo Boss – will have some serious competition now.
---
There's a market for nostalgia in music, as evidenced by continually rising vinyl-record sales – 2016, for example, saw sales hit a 25-year high. With that in mind, a handful of cunning Chilean record labels are cashing in by rewinding to the days of the humble cassette. Imprints such as Lunar Tapes are finding success by reviving this format, which is famously easy to produce and distribute (and, crucially, cheaper to buy than records). Tapes may have obvious shortcomings in sound quality but the vintage attraction of the magnetic strip remains strong.
---
In 2014, Manner, the Viennese company known for its square Neapolitan wafers, reconfigured its factories in the Hernals district to increase energy efficiency. Now, in co-operation with utility company Wien Energie, Manner's extra oven heat is being fed into a 3.5km stretch of the grid to supply energy to 600 houses and businesses in the immediate vicinity.
---
What are the main takeaways from this year's Salone del Mobile? Design inspiration for some, sure, but for most it's a year's worth of free tote bags. Back in the days of paper press releases, being offered a carrier bag was synonymous with lugging kilos of pamphlets around. But now that usb sticks have replaced paper, the tote has been turned into a marketing canvas. If you want to spot whose stand is the year's crowd-pleaser, look no further than the central walkway of the fiera: in-the-know visitors here proudly sling their Arper, Magis and Molteni & C numbers over their shoulders as if they were Célines or Pradas. No publicity beats a good tote when it comes to touting wares.
---
Opinion: Fashion's forward march
Walking a fine line
It may have been a big step forward but Saudi Arabia's first fashion week revealed how far the kingdom still has to go.
In April, editors and buyers gathered to watch models strut down glossy runways. Yet this wasn't Milan. There were no men, paparazzi or front-row "influencers". Instead there were abayas, desert storms and a gilded tent in Riyadh. Saudi Arabia was hosting its first fashion week.
Organised by the Arab Fashion Council, it's the latest example of the kingdom becoming more liberal under crown prince Mohammad Bin Salman (MBS), who in the past year has reopened cinemas and announced that women will be allowed to drive. The catwalks were filled not with abayas but long dresses. While women here don abayas in public they wear other clothes underneath and in private. And it seems they now have more freedom with public outfits: MBS recently said that women can wear whatever they please providing it is "respectful". Expect the market for "modest fashion" – ie. not abayas but covered dresses – to explode.
The event was seemingly a good soft-power move. Fashion, after all, is synonymous with creativity and liberalism. But that's the thing: the fashion industry thrives by being modern, breaking down stigmas about gender and sexuality and picking up on trends in how young people live. Against this backdrop, Riyadh's event revealed just how behind the kingdom is.
The social-media ban was refreshing but it was also a step back in time: to the rest of the fashion world it was almost like it didn't happen. More pointed was the prohibition on men, which was so strictly enforced that male designers were not allowed backstage before their shows. It may have been a leap forward for the kingdom but, for the wider industry, it was sobering to watch.
March of the provinces
by Peter York
When I moved from a flat to a big house up the road in 1997, I painted all the walls grey. Practically all of them – I had a couple of blue bedrooms. I wanted that French air, the nice 16th-arrondissement look. I didn't mean to be self-consciously modern but the colour sort of was. It went well with the mix of things in my hall: a metal art deco console table, an 18th-century mahogany chair, a Lucite chair and 1960s photographs. The floor was made up of limestone slabs and there was a pair of repurposed Victorian street lamps acting as pendants. In the kitchen I had Shaker-style units with matte-black granite worktops and an American-style fridge. I look at the old pictures now and want to go back there.
I've been gone for four years and am back in another duplex. But I'm currently redoing a pair of houses that I let, which means new kitchens, jazzing up the bathrooms and repainting everything – which means grey walls all over. Well, practically, apart from a couple of blue bedrooms. Wooden floors in the kitchen, matte-black granite worktops and, of course, Metro tiles on the splashbacks.
Mainstream middle-class taste moves a little more slowly than you might think, especially in rentals. You can't risk the Shoreditch Lite look in north London. But there's been a recent ratcheting-up of the bland palette. Grey is the new magnolia. For years the letting agents told me that walls had to be "neutral" and that neutral meant the awful sort of pink-cream colour that most shade-cards call magnolia.
This time when I asked the agents whether I'm allowed to go grey, they said, "Oh, of course." I dare say if I ask them nicely about the carpets they'll let me have something a bit more organic-looking this time – 1993-style coir matting perhaps.