Manufacturing / Japan
Touch wood
Conde House is a sturdy presence in Japanese wooden-furniture manufacturing that's replanting its regional roots and retaining its traditional hands-on approach.
When flying into the Japanese city of Asahikawa, it's easy to see why timber has become such an important part of the economy. Dozens of rivers run through the city – the second-largest in northerly Hokkaido – and forested hills surround it. The area is synonymous with wooden furniture and the biggest manufacturer among the dozens operating in the city is Conde House, 50 years old this year and employer of 280 people.
Helmed by chairman Yuki Watanabe, an industrial designer who has been with the company for more than 40 years, Conde House has worked with an array of designers from Japan and beyond. These include Naoto Fukasawa, who designs the Kamuy and Yukar collections, and German designer Michael Schneider, who came up with one of the newest products, the Ten: a versatile dining chair that comes in combinations of plain wood, upholstery and resin. Legendary Japanese designer Riki Watanabe created a modern Windsor chair and chunky oak bench for the company, while one of the bestsellers is Runt Om, a small bistro chair created in 1973 by Swedish designer Sture Eng.
The attention to detail during production is impressive. The popular Wing chair, designed by Kiyoshi Sadogawa, has a curved back that is made from eight slices of oak. In the factory, pieces are sanded, hand-finished and checked to a degree that few makers would bother with. "Only the human hand can detect wafer-thin gaps," says Watanabe. The upholsterers, who work with textiles and leather, are among the most experienced employees (one has been at Conde House for 49 years). Yet even with all this know-how, 5 per cent of pieces are rejected at the final checking stage. "Japanese customers are extremely fussy," says Shungo Iijima from the International Division. "Sometimes too much: they notice every flaw."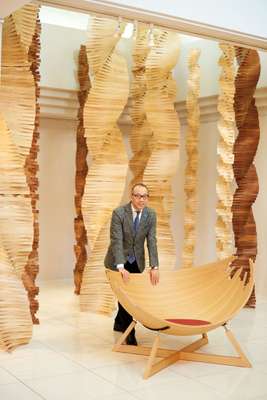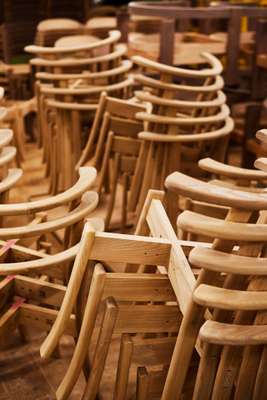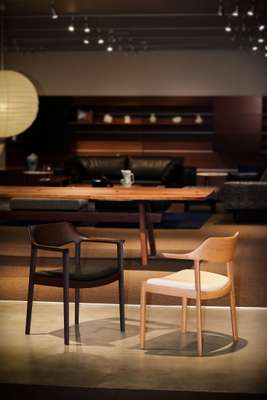 One small factory building is dedicated to repairs and to making Ippongi tables that are handcrafted from solid planks with their grain and imperfections on show. One 3.6-metre-long beauty in walnut is priced at ¥1.1 million (€8,300); another in oak has beautifully crafted rosewood dovetails, a Japanese speciality.
The quality of Conde House's furniture is second to none but one thing that had been missing – from here and other Japanese manufacturers – was a concerted effort to use more Japanese wood. It's long been a contradiction that three quarters of Japan is forested and yet most sizeable furniture-makers are using imported wood. The reasons are complicated but largely come down to high labour costs and the relative cheapness of the imported version.
Four years ago the Asahikawa Furniture Industry Cooperative (AFIC) – a group of more than 40 Asahikawa wooden-furniture makers of which Conde House is the largest – set up its own response to the problem: Koko no ki no kagu, or "Furniture using wood from here". Hokkaido is particularly forested but the mix of trees here differs from the rest of Japan. Beyond Hokkaido, 70 per cent of Japanese trees are conifers; in Hokkaido only 52 per cent are conifers and the rest are broad-leafed trees, which means that Hokkaido has substantial stocks of birch, oak and ash (in order of volume) that are all perfect for making furniture. "Hokkaido is the place to be if you want to work with hardwood," says Watanabe.
Of all the ash used by Conde House, 95 per cent now comes from Japanese trees and the ratio of wood from broad-leafed trees is rising rapidly, up from 27 per cent in 2014 to 37 per cent in 2017; this year it should jump to 40 per cent. Overall, one third of the company's output in 2018 will be made using wood from the area, far more than any other big furniture-maker in the country.
The company's forward-thinking founder Minoru Nagahara started planting trees 25 years ago. Another 40,000 white oaks have been planted since 2000 as part of an AFIC initiative; planting days are a group effort – 400 people turned up to help last year – followed by a barbecue. Nagahara spent a few years working and studying in Germany and Scandinavia in the 1960s and his ideas set Conde House on an innovative path. The company is always refining its techniques and improving production. There is also an effort to waste less and the factory is heated with discarded wood chips.
"One of our strengths is the best combination of craftsmanship and cutting-edge technology," says Conde House president Tetsuya Fujita. As the biggest manufacturer in Hokkaido, the company is influential; where it leads, others follow. It recently contributed to the AFIC's redesign of the Asahikawa Design Centre, a large showroom in town where manufacturers big and small can display their wares. Asahikawa also has its own design week in June, which brings in a crowd of buyers, journalists and producers. The support network is there even for craftsmen working on their own in the middle of nowhere.
"The Asahikawa strategy is threefold," adds Watanabe. "Using local materials is most important, as well as skilled labour and exporting outside Japan." At the heart of it all is monozukuri (craftsmanship) and a quality product that depends on good materials and great workers. "Even with advanced machines, working by hand is so important, particularly the sanding at the finishing stage."
Birch
Japan has 10 different types of birch, a flexible, low-density wood that's good for crafting into furniture and dries without warping. Its oils are resistant to moisture, making it good for shoe boxes. White birch is used for anything from furniture to disposable chopsticks.
Oak
One of the strongest Japanese woods, oak is ideal for construction and tools. Highly resistant to wear and corrosion, the wood's longevity makes it a popular choice for floors and furniture. Hokkaido's white oak is small but tough.
Ash
Strong but light, Japanese ash was often used for baseball bats, golf-club heads and tennis rackets. These days it is rarer and more expensive so it's used more often in furniture. It has a distinctive grain.