Affairs / Africa/Middle East
Africa/Middle East
Briefing
Morocco injects funds into its cities' medinas, Beirut gets some much-needed public space and Kigali's transformation into a university town.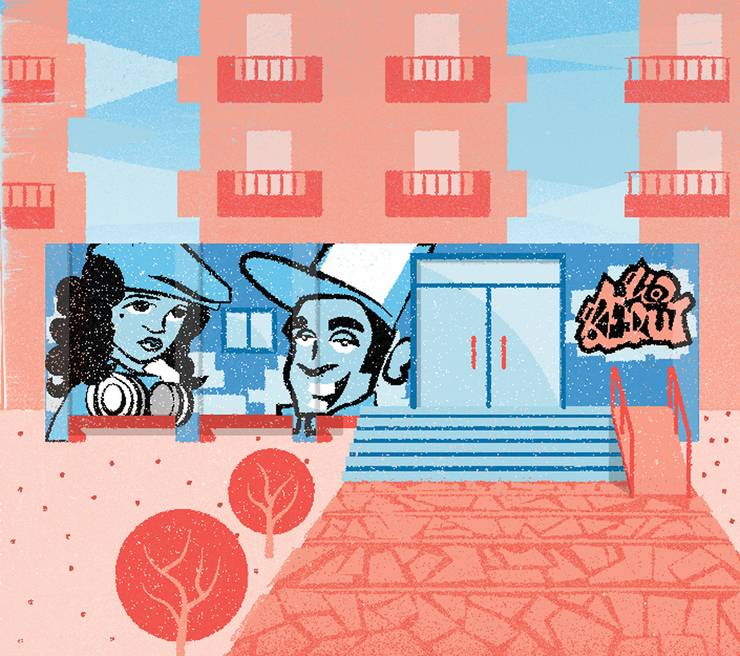 Herbaceous borders
Beirut —
Public space
On a small patch on the perimeter of Beirut, herbs, radishes and mint shelter behind freshly painted railings and smart upcycled garden furniture sits between crazy-paving pathways. A few months ago this urban garden was a junkyard, a resting place for rusting cars and rubble left over from the July 2006 war with Israel. In May it opened as Hona Beirut Café B Kaffak, a garden, cultural hub and café located between two communities divided along sectarian and social lines.
A dearth of public space in Lebanon's capital has done nothing to bring together such groups. Civil society campaigners estimate that just 2 per cent of the city is green space. Even supposedly public areas, such as the Horsh Beirut pine forest, are open only sporadically. "It has just become a place where you can take an Instagram photo of yourself and leave," says Gino Raidy, vice-president of March, the Lebanese NGO that runs Hona Beirut. "It's not useful for the city's population."
The garden and café, open to everyone regardless of sect or class, employs five local people and will hold workshops on skills ranging from gardening to video production. "There's no other place like this, where guys from the two districts can meet without religion or party [influence]," says Mohammed Ayash, 22, who volunteers at Hona Beirut. The project builds on March's work in the northern city of Tripoli, where men used to trade bullets across a street that split two communities. A café and shop renovation have employed former fighters and given them a sense of purpose. Regeneration of Lebanon's neglected public spaces won't cure its ills. But creating green spaces for real life rather than Instagram will pave the right path.
---
Q&A
Parks Tau
President, UCLG
Johannesburg
Parks Tau served as mayor of Johannesburg from 2011 to 2016, working to close the gap in living standards. As the president of uclg (United Cities and Local Governments), a Barcelona-based organisation working to increase the role of local governments worldwide, he is again pushing urban transformation.
What urbanism challenges does Johannesburg face?
As a result of apartheid policies we have a mono-functional city where residential areas are away from commercial and industrial spaces, and where the poor live on the outskirts and do not have access to adequate amenities. The city is also inefficient; its urban design puts the infrastructure under pressure.
You've spoken about inclusive urbanism before – how does this apply to Johannesburg? By developing urban policies that bring people closer to opportunities but also bring opportunities closer to people.
What do you hope to achieve with the UCLG?
One of the key challenges is the localisation of the global agenda in terms of the UN's Sustainable Development Goals. Establishing a localised hub is critical because 65 per cent of these UN goals will only be achieved through active participation by local government.
---
Age-appropriate behaviour
Morocco —
Heritage
Preserving centuries of heritage is not an easy task, so the news that Morocco is investing more than €300m into its historic medinas is a welcome surprise. Announced by King Mohammed VI in May, this push for urban renewal will bring new housing, restore the characteristic souks and create new madrasas (schools) in the walled cities of Fez, Casablanca, Marrakech and Rabat.
The capital has long been committed to sustainability and will receive added investment to develop greenery. Casablanca has also been allocated €69m to refurbish dilapidated buildings, while Marrakech will be the recipient of a cultural boost, with investment in new tourist and religious tours. It's heartening to see investment in these historic centres that actually serves residents.
---
Desk bound
Kigali —
Development
Smart cities know that education is an investment worth making. While Kigali's Innovation City looks more like a construction site than a collection of university campuses, that won't be the case for much longer. The largely government-funded development is set to become an innovation hub, home to world-class learning institutions that will train some of Africa's brightest minds – who will help revolutionise the continent. It will also have an impact on the city itself, stemming brain drain and attracting talent and research funds.