At the front / Global
Editor's letter
We live in stormy times but sometimes a crisis is a good opportunity to change tack and set a new course. How about Zürich, Hamburg or Fukuoka? The captain of our ship weighs up the possibilities.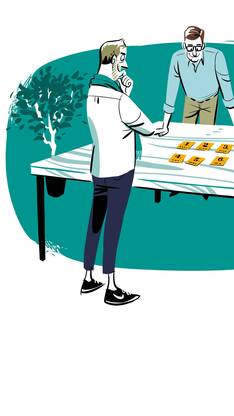 Imagine for a moment you live in a country that feels increasingly alien to you, your family, your friends and your overall worldview. Let's pretend that the country you've called home since birth has suddenly decided it's going to drift off out into the ocean without a compass, charts, a capable crew or seaworthy ship. As you've grown accustomed to your homeland muddling through and making the best of things, at first you resigned yourself to the fact that everything was going to work out alright and somehow, someone would have the good sense to keep the vessel tethered in a safe harbour. Unfortunately, things don't quite turn out that way and while the ship is still berthed it's also taking on water, crew members are deserting and there's a mild sense of panic due to a lack of leadership and a sensible plan. When friends say they're considering radical alternative plans and start venturing out to look for greener pastures you also get that dreadful sinking feeling. Do you side with most of your countrymen and elect to ride it out or do you consider your options and start thinking about a life in a new land?
When we launched our Quality of Life Survey back in 2007 the world seemed a saner, more sedate place. This magazine hit the shelves at the right time and the consumer markets were in good health. One year later came the collapse; much of the world went into financial free fall and suddenly nothing felt stable – particularly the business of publishing a global, English-language magazine.
Despite the challenging climate, however, monocle managed to make its market as ad budgets were being slashed and many of our readers were being laid off from financial firms, consultancies and public-sector posts. Amidst all of this turmoil a curious thing happened – we continued to grow and we made a unique connection with our international audience. While it certainly wasn't great for thousands who suddenly found themselves without a daily gig to go to, it also gave the newly under-employed a moment to take stock and figure out what they wanted to do. On our editorial floor it also offered up a chance for us to help inspire our readership with stories of entrepreneurship, cities and towns that were full of opportunities and benchmarks for fresh business ideas from all corners of the globe.
As our home market lurches from one crisis to another and the US offers little in the way of long-term fiscal or moral leadership, we're in a similar place to where we were a decade ago when legions of talented people stood back and decided they were going to get off the ship and launch their own ventures. This time around people are willing to give up the financial stability of a job that might be secure in London or Chicago and look elsewhere for a city that fits with their political, cultural and business outlook. Since the UK opted to the leave the EU there's been a steady stream of queries from British and American readers asking for recommendations about where they might set up a new base while they wait for things to stabilise or leadership to change.
For this 12th edition of our survey we've altered our metrics ever so slightly to assess liveability from the perspective of long-time residents as well as newcomers. We've also tried to look through a lens that considers how cities function for an individual or family ready to start afresh and how much is on offer in terms of connectivity and start-up opportunities. While the candidates are largely the same, this year sees no US cities in our top 25 and a few of our Japanese cities drop in the rankings – in part because Japan's biggest cities still have some work to do when it comes to cutting bureaucracy and making it easier for people to get in and out of the country. A city like Fukuoka, for example, is perfectly positioned as a hub close to Shanghai, Taipei and Hong Kong but it needs the support of Tokyo to speed up immigration queues and also cut down on paperwork for the entrepreneur who wants to swiftly set up a business and get his family and colleagues settled.
While our top five speak for themselves, if you were to call us today and ask where we'd look for a new apartment and office space we'd tell you we're feeling good about Paris and are optimistic that Emmanuel Macron's labour reforms will eventually take hold. Lisbon continues to solidify its position as an attractive, sunny base with a talented population. And if you don't mind the clouds and a bit (a lot) of rain then Hamburg is also a city that offers a superior quality of life and straddles both the Nordic and Mitteleuropean worlds. Of course, you will have noticed by now that we've voted for Zürich and so far are happy with the choice. Mind you, they could also do with making it easier to set up a business and also rethink how companies need to function and operate – particularly in the f&b and retail space. I can tell you more if you join us at our Quality of Life Conference at the end of the month. Until then, all the best for the summer ahead and we're back with another round of summer newspapers in August. Thank you for your support.