Fashion / Global
Fashion
Briefing
A new shop in Monaco and a countdown of the best sunglasses to pick up this summer.
"Pleasure is a serious matter," says Annick Ducros, co-founder of the new multibrand shop Monaco Marine, located on the waterfront near Monaco's main harbour. "And when you are on your boat you feel free, like the world is your playground."
Ducros should know a thing or two about the pleasure life on a boat can bring. Her husband, Michel, established Monaco Marine as a boating company in the 1990s. Now, Ducros is peddling luxury wares to the sailing set with a retail space. With its sandblasted walls and terrazzo floor, the interior is a big departure from the industrial goings-on in the nearby shipyard. But the geographical placement of the shop – removed from Monaco's luxury strips – makes perfect sense. "All the boats dock here at the pontoon; this is the first glimpse of Monaco that tourists get. Off the boat and straight into the store."
Luxury brands are capitalising on the strength of Monaco's tourist trade: Hermès reopened its flagship in June, while Goyard and Hublot have recently set up shop. "We are not a resort like St Tropez; we have a constant flow of big boats," says Ducros. "Ninety per cent of major boats travelling in this area during summer will dock."
The shop stocks designs from brands including Parisian womenswear label CristaSeya and men's beachwear brand Frescobol Carioca. "We have everything you could ever need to be near the sea, whether on a boat, the beach or just on the shore," says the shop's buyer Larissa Griers, who is also tasked with rolling out exclusive collaborations.
"We have beach towels that you can pack in your L/Uniform bag, with the best panama hats to shade you as you read from our selection of books inspired by the sea," says Griers. "You'll be ready for the beach."
14 Quai Antoine 1er 98000, Monaco
---
A great city's secret weapon
By Jamie Waters
My most vivid "I love London" moment came after I had been living here for several years. I was standing in a café when a posse of fashion students from Central Saint Martins rolled in. Their clothes were suitably daring, with rips and acid washes and oversized fits. As is often the case when you encounter fashion students, there was something energising about them and what they represented: boundless imaginations, freewheeling spirit.
Whether they're in London, Tel Aviv or Tokyo, fashion students have an outsize impact on the cities they call home. You feel their presence because they are wellsprings of sizzling creative energy. Indeed, so is the fashion industry generally. Fashion thrives on being modern and liberal, breaking down stigmas and tapping into trends in how young people live.
In keeping with these liberal associations, we tend to perceive an audacious outfit as shorthand for unbounded thinking – and as indicative of a city that encourages such thinking. When you pass a girl in a furry fuchsia dress in Brooklyn or an east London guy in experimental Comme des Garçons garb (New York and London are the homes of unfettered dressing), a jolt of energy can ripple through you. Their attire suggests that anything is possible, that one can wear – and not just wear, but do – whatever one wants.
Take away fashion from a city and you lose an awful lot. Bulldoze luxury drags and you forfeit thousands of tourists and imperil economies. Abolish colourful dressing and you rob a place of wonderful people-watching and youthful bravura. Walking around London and seeing only sensible dressers would be a very sad thing indeed.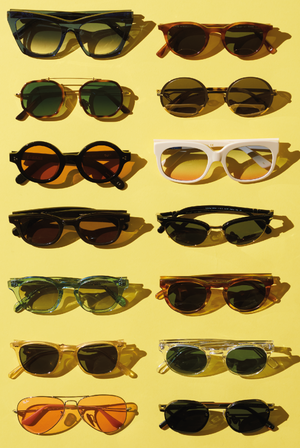 Nothing says summer like a new pair of shades. Your sunnies are the easiest way to stand out from the pack when you're hitting the beach so it's important you get them right. The current trend is for super-narrow lenses that barely cover your eyes but we're not sold on that look; we still think it's tough to top a bigger, rounder frame. Here are our picks of the season: from young brands such as Australia's Epøkhe to Italian giants Ermenegildo Zegna.
Top to bottom, left to right:
(1) Saint Laurent ysl.com
(2) LGR lgrworld.com
(3) Epøkhe epokhe.co
(4) Lewis Fredericks lewisfredericks.com
(5) Oliver Peoples oliverpeoples.com
(6) Mr Leight mrleight.com
(7) Ray-Ban ray-ban.com
(8) Poente poenteeyewear.com
(9) Mykita mykita.com
(10) Gucci gucci.com
(11) Persol persol.com
(12) Ace & Tate aceandtate.com
(13) Finlay & Co finlayandco.com
(14) Ermenegildo Zegna zegna.com