Food & drink / Global
Food
&

drink
Briefing
Food finds from Atlanta and Amsterdam, plus how to make a crab and quail egg salad.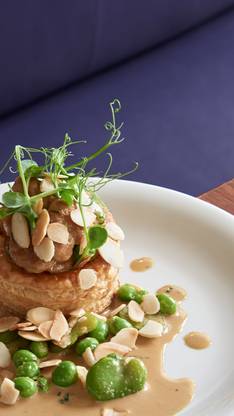 The Duke of Richmond
London
"I'll do anything that doesn't need a certificate. But anything that requires a decision I'll get someone else to do," says Peter Oldroyd, with a smile. He's stood on the second rung of a step-ladder refitting a cloud-grey blind at the just-opened The Duke of Richmond pub in East London's Hackney. Peter has been pitching in throughout the six-week fit-out of his son Tom Oldroyd's fetching second restaurant. Tom, a young chef who has worked with restaurateur Russell Norman, could count this as his eleventh restaurant but technically it's the second off his own back, after the 2015 opening of his small (and almost universally adored) Oldroyd on Islington's Upper Street.
It's a rainy late-May afternoon when monocle visits and the team in the kitchen, helmed by Rory Shannon, is prepping for dinner service. Although the weather outside is inclement the mood within is sunny. Tom's father is rifling through a toolbox, while his partner Meryl Fernandes, who led the venue's seemly design, is giving the place a patient once-over before opening. Although the pub has been freshened up, Tom and Meryl didn't want to alter its DNA. "We had to put our stamp on it but it's still a pub with a dining room," says Tom with a genial grin. His smile doesn't slip an inch when asked about the dour headlines about pub closures across the UK. "Pubs are closing. So are cafés and restaurants. But better pubs are opening too. We never talked about the negatives and are quietly confident."
Despite the revamp, the pastel-hued space remains a boozer (in the best sense of the word) but with contemporary touches such as Belgian vases bedecked with faces and elegant low-hanging pendant lights that lend the spot an airy feel. The floorplan is roughly divided into two spaces, a pub and bar and a sit-down restaurant that's skirted in pistachio-green paint and flanked by a few deep-blue banquettes. There's also an outside terrace that seats a further 30 – perfect for when the weather picks up.
Then there's the food. Although the new venture has inherited Oldroyd's knack for fair prices and magnanimous portions, the flavours here are more Gallic than his previous, broadly Italian, venture. Chef Shannon has also, in Tom's own words, "pushed" the young entrepreneur to make more from scratch in the kitchens behind and beneath the premises (the butter, sourdough and puff pastry are all produced on site). Tom also hints that the extra kitchen space will be handy for growing an outside catering business.
The dishes themselves are an unpretentious riff on the setting, which might seem like a throwback had they not been so artfully updated: think sweetbread lamb vol-au-vents with almond velouté and burgers with frites béarnaise. Elsewhere on the menu, the whole roast duck with picholine olives, crab soufflé with bisque and comté brioche, and Entrecôte à la Bordelaise all conspire to confirm Tom's deft touch.
As we leave, a few minutes shy of a packed dinner service, Tom's father Peter is taking a breather on a stool and might, if you'd wandered in, look like just another punter. "This area needs an accessible pub with good food," says Tom. "A place where you can just pop in and be comfortable." Luckily for the 'hood, that's just what he's cooked up.
thedukeofrichmond.com
Hidden in a narrow alleyway off the busy Rue de la Porte Dijeaux sits the best coffee bar in Bordeaux. Arthur Audibert left the business world back in Paris to immerse himself in speciality coffee – a rather slow-to-develop scene in filter-coffee-loving France. L'Alchimiste introduced Bordeaux to the best single roasts, all the way from Ethiopia, as well as heirloom beans from Panama.
alchimiste-cafes.com
This culinary concept space headed by Enrique Olvera boasts an open kitchen that welcomes chefs for residencies. Handpicked by Olvera himself, chefs host pop-up dinners, cooking workshops and talks, which are open to the public (but in limited numbers considering the demand).
teo.casa
Designed by brother and sister Justin and Bettina Hemmes, alongside Kelvin Ho of Akin Creative and stylist Amanda Talbot, the Merivale group's newest pub refit overlooks Collaroy Beach, north of Sydney. The food is a simple take on beachside fare. Try the salad of hot-smoked ocean trout, shaved sprouts, boiled egg and sprouted grains and apple cider vinegar.
merivale.com
This unassuming wine bar is a stellar addition to the quiet end of Singapore's otherwise rambunctious drinking and dining haven Club Street. Chef-owner Keirin Buck, from Aussie barbecue joint Burnt Ends, serves unfussy small plates that range from baked-daily sourdough bread and house-cured charcuterie to melt-in-your mouth cedar jam and foie gras on toast. They are meant to be shared and paired with sommelier and restaurant manager Josée Yeoman's choice of tipple.
lebonfunk.com
Harry's Fine Foods
Seattle
A tumbledown corner shop in Seattle has been brought back to life as Harry's Fine Foods: a neighbourhood café and restaurant run by up-and-coming chef Julian Hagood. With an emphasis on fresh seasonal ingredients, Hagood serves generously heaped portions of US classics, such as whole Idaho trout and organic chicken with asparagus. His culinary creations are best washed down with one or two of the on-point house cocktails.
harrysfinefoods.com
This petite wine bar is run by Sicilian sommelier Paolo Belluardo and his Maltese business partner Julia Ripard, who looks after the food. The menu is often centred around Ripard's perfect homemade loaves, dressed with the likes of scrumptious salsas of Maltese peas or sardines (netted nearby, of course). Since opening in March, Cru has become a firm favourite with Valletta's artsy crowd. Drinks here are best enjoyed outside on the small bar stools in the steep car-free Triq Santa Lucija, which leads down to the waterfront and harbour beyond.
cru.com.mt
Sisters Victoria and Sarah Parish were immersed in coffee culture having grown up in Guatemala but moved via the US to Seville. Since 2015 the pair have imported beans into the city working with several European importers. While most bars in Seville still serve small, espresso-style coffees that are drunk swiftly while at the counter, Torch has introduced a slower way of enjoying an Aeropress or v60. The coffee bar boasts an industrial feel and its high windows look out onto the Avenue Paseo de las Delicias and nearby Guadalquivir River.
torchcoffee.eu
Ludwig Van Restaurant
Vienna
This smart bistro opened in Beethoven's former home in 2017. Chef Walter Leidenfrost serves modern takes on Austrian classics such as old cow that comes grilled, braised or tartare, and superb kaiserschmarrn (shredded pancake). Dark wood lines the dining room but culinary combinations are new, unusual but inspired (chocolate cake is served with beetroot, horseradish and mascarpone cream).
ludwigvan.wien
Small coffee growers are the priority here, with beans courtesy of farms in Brazil, Peru and Burundi and more. Although ideal for a quick pick-me-up during a busy day, this is also a great place to settle in with a frothy cappuccino, an oven-fresh pastry and a book (it provides all but the latter). It does, however, stock a wondrous coffee-flavoured ice cream for balmier days.
lotsixtyonecoffee.com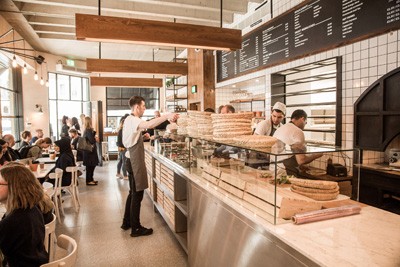 The Lebanese Bakery
London
Two years after opening their first space in Beirut, brothers Samer and Bassam Chamoun have opened a second in London. Nestled between theatres in Covent Garden, The Lebanese Bakery serves manousheh flatbreads from a traditional basalt-rock oven. "This dish is strongly rooted in our heritage," says Samer, an architect who honed his skills working for Zaha Hadid. The bakery offers classic toppings alongside more contemporary flavours.
thelebanesebakery.com
Charleston-based magazine Garden & Gun is dipping its toe into the culinary scene. Here chef Mike Lata and Adam Nemirow serve a modern take on classic Southern US fare – think boiled peanuts and grits alongside the likes of kohlrabi and pâté. The bar serves a mean Mint Julep too.
gardenandgunclub.com
Q&A
François-Régis Gaudry
Food critic, L'Express newspaper and radio host, France Inter
France
François-Régis Gaudry is a food critic for L'Express newspaper and a radio host on France Inter (see page 129 for our feature on French radio). His latest project is a spin-off of his show On va déguster. The bestselling encyclopedia of the same name takes a humorous and scholarly look at French food.
What is the concept behind 'On va déguster'?
Food is an entire world with a culture unto itself: it is connected to history, geography, the sciences, botany, religion, and everything in between. We explore all aspects on my radio show On va déguster so I decided to turn it into a book.
You're looking at history and controversy, not just food?
Cuisine is considered seriously in our country. An extensive body of literature has codified it for centuries. In the southwest of France, for example, the people of the towns of Carcassonne, Toulouse and Castelnaudary have been fighting over what constitutes a proper cassoulet since the 17th century.
Its 432 pages include profiles. Who are some of its more surprising characters?
We include US writer Jim Harrison for his passion for traditional French cuisine and French author Victor Hugo, a man who was able to eat a lobster complete with its shell.
Is a lot of French knowhow around food is being lost?
There's a paradox in France: haute cuisine is dynamic, the training systems are some of the best in the world and the Michelin-starred restaurants are fully booked but this elitist part of French gastronomy has often overshadowed our food culture.
The book explains how to open a bottle of champagne. Don't French people have that covered?
The opening of bottles of champagne is the leading cause of eye injuries in our country. French people need to improve.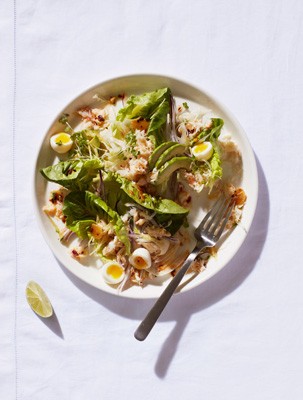 Crab & quail egg salad with crispy chilli oil
Recipe –
Midori House
Serves 4
Ingredients
150g crab, white meat only
12 quail eggs
2 avocados, peeled, cut in half, thinly sliced
4 baby gem lettuce, leaves separated
1 fennel bulb, thinly sliced
½ red onion, thinly sliced
Salad cress or any other micro leaves
1 thumb-sized piece of ginger, finely cut into matchsticks
Chilli oil
25ml sunflower oil
½tbsp chilli flakes
2 garlic cloves, sliced
1 spring onion, finely sliced
25ml sesame oil
1tbsp peanuts, roughly chopped
1tsp light brown sugar
¼tsp sea salt
Juice from 1 lime
Sea salt and crushed black pepper
Sourdough bread and butter, to serve
1. Firstly prepare the chilli oil. Tip the sunflower oil, chilli flakes, garlic and spring onions into a pan. Heat over a medium-low heat to slowly infuse the flavour of the ingredients into the oil. This should take about 5 minutes or until the garlic becomes a light golden colour and crispy. Remove the pan from the heat. Add the sesame oil, chopped peanuts, sugar and salt and mix until they dissolve.
2. For the quail eggs, prepare a large bowl with ice. Then boil water in a small pan over a medium heat, place the eggs in a large ladle and gently lower into the hot water. Cook for 2 and a half minutes. Lift the eggs out of the pan and carefully drop them into the iced water. When cool enough, peel and slice in half.
3. Arrange the lettuce leaves, fennel and red onion on a serving platter then scatter the crab, avocado, baby cress, chopped ginger and quail eggs. Add the lime juice to the chilli oil then drizzle over the salad and season. Serve with toasted sourdough bread and butter.