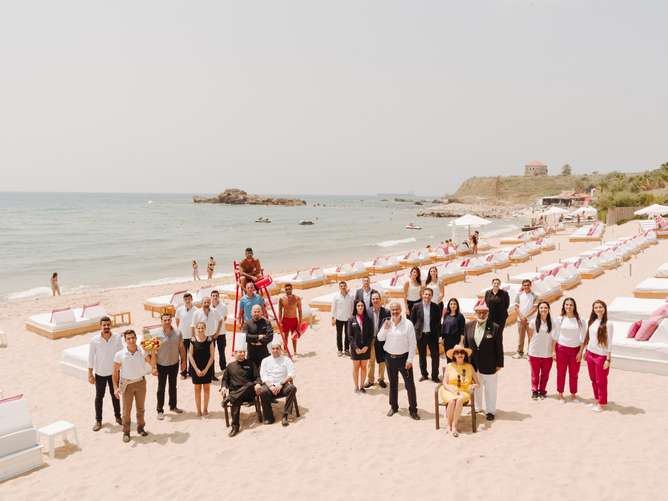 Based: Byblos, Lebanon
Established: 2003
Guest capacity: 5,000
Staff in summertime: 900
When Roger Eddé returned to his native Lebanon from 20 years of political exile in the late 1990s, he had a couple of plans up his sleeve. The first, a Silicon Valley-style technology city for Lebanon, was halted by Syria's Assad family, who controlled the country at the time. The second entailed a revival of his home region just north of Beirut. Eddé wanted to hark back to Lebanon's pre-civil-war days, when businessmen would meet on the Mediterranean shores to strike deals. "I thought the best way to go about it would be to put Lebanon back on the map for tourism," he says.
That idea came to fruition in 2003 when he opened Eddésands Resort in the seaport of Byblos. A lawyer, financier and real-estate developer, Eddé chose Lebanese architect Galal Mahmoud and Iranian architect-cum-urbanist Mansour Saminipour to create a 120,000 sq m complex, which includes a beach, a spa, seven restaurants and five swimming pools. Today, waiters serve cocktails to a mostly Lebanese clientele, conversing in a mix of Arabic, French and English, as is the norm in this Christian-majority area.
Other than carrying out routine checks on proceedings, Eddé comes to his resort every day for his quotidian swim. Rather than the pool, he opts for the sea: here valets hand out canary-yellow towels to visitors as a team of attendants comb the sand beach. While the resort's palm trees were shipped from Egypt, the fuchsia bougainvillea plants are taken from the garden of Eddé's home, where he lives with his American wife Alice. Given the couple spent their summers in exile on the French Riviera, Eddé wanted to recreate an Antibes atmosphere back in Lebanon. "'If I stay here,' I thought, 'I have to ensure a quality of life that is no less than what I had in the south of France.'"
---
Roger Eddé
Founder, Eddésands Resort
Born into one of Lebanon's most storied families, Roger Eddé trained as a lawyer at St Joseph University in Beirut in the 1960s before becoming a financier, developer and entrepreneur. He brokered deals between US and European construction firms and the countries of the Gulf before turning to exile in France as Lebanon descended into civil war. One of the most vocal opponents to Syrian rule in Lebanon (which ended in 2005), he owns several plots of land in Byblos and its surrounding region, stretching up to the ski resorts that sit about 1,000 metres above Eddésands, and has also overseen the renovation of Byblos's old souks. His wife Alice Eddé comes from Saint Louis, Missouri. She married Roger in Lebanon in the 1970s and has lived and worked in the country since the couple's return from exile. She owns a boutique in Byblos souk, where she sells fashion and home accessories made in Lebanon.