Bed alert / Global
Travel
Briefing
From a manor next to Thomas Jefferson's Virginia plantation to an off-grid pad out in the Swedish stix, here's our round-up of new openings and places that have made their way onto our discerning hospitality radar.
Down on the farm: Casas de Catuçaba
São Paulo
Part of Fazenda Catuçaba, a sprawling former coffee farm situated in a forested area in São Paulo state, Casas de Catuçaba comprises a series of villas dotted across the area's wild landscape. It's a mishmash of styles, with an 1840s colonial mansion used as the main hotel and a striking newer edifice dubbed the Modernist's Country Home, designed by celebrated Brazilian architects Marcio Kogan and Lair Reis from Studio MK27.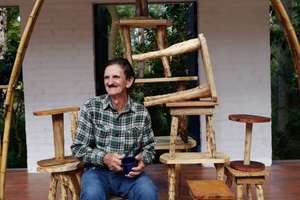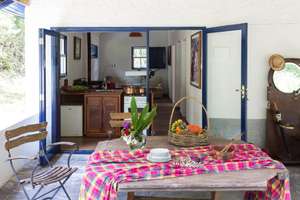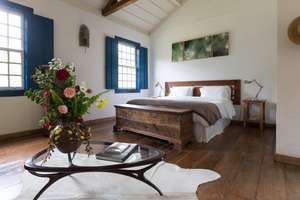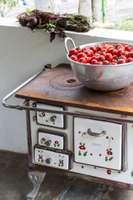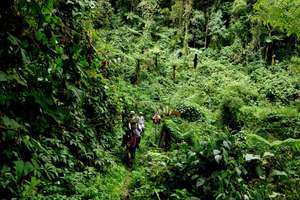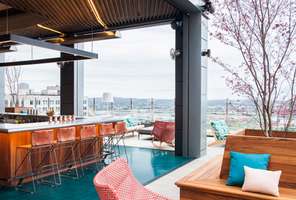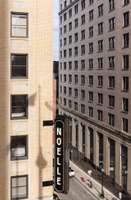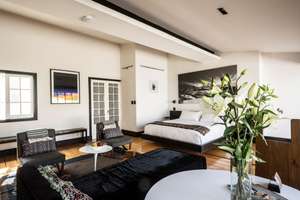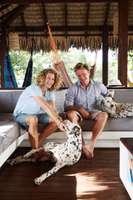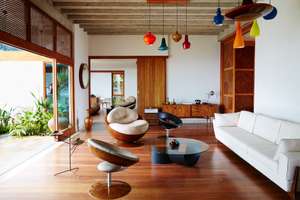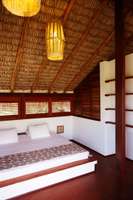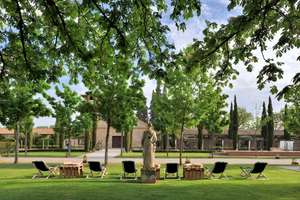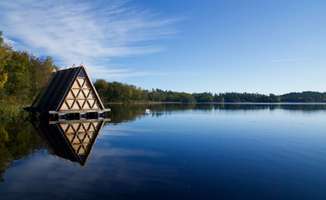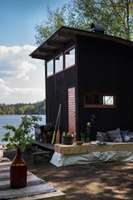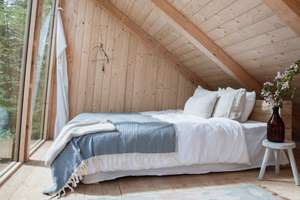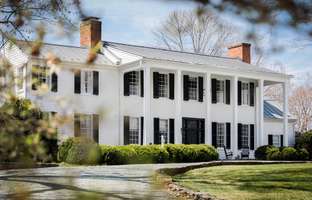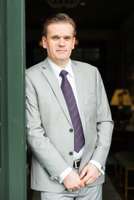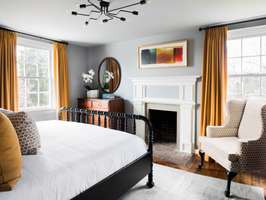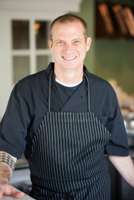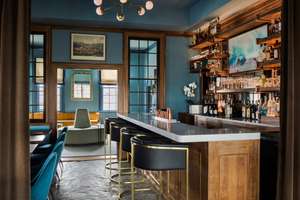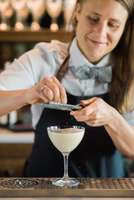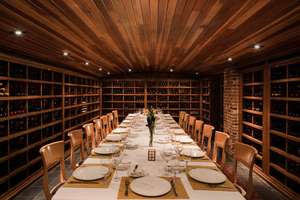 Tastefully knitted into its surroundings, the front of the terrace is a long deck with stunning views over the landscape. We like the smaller "Minimod" properties, too. They are teeny compared with the other spaces but are excellent for an undisturbed stay that's perfectly at one with nature.
casasdecatucaba.com
The angels did say: Noelle
Nashville
Built in 1929 in the historic Printer's Alley neighbourhood, this pile has been recreated by a team of local architects, designers, chefs and artists intent on preserving its heritage. Brimming with gorgeous restored terrazzo-style floors and original fixtures, Noelle embodies its past while still being a decidedly contemporary affair.
noelle-nashville.com
Team spirit: Hoteles de Barrio
Mexico City
When Mexico City's visitor numbers tumbled after the 2017 earthquake, 10 hotels rallied together to support one another. They all share a belief in offering visitors authentic experiences rather than sleep-and-leave tourism.
Guests are encouraged to book nights (or participate in activities) at more than one hotel so they get to explore different parts of the metropolis. Options include Roma Norte's three-bedroom La Valise, San Rafael's sustainable bed-and-breakfast El Patio 77 and Hotel Carlota in Cuauhtémoc (the biggest in the group, with 36 rooms).
hotelesdebarrio.com
Home inn: Signau House & Garden
Zürich
We've had our eye on Zürich a lot of late (we have a guidebook to the city in the offing and a new office, shop and café in Seefeld). If you're in need of accommodation you can now rely on the tasteful surrounds of Signau House & Garden.
Taken over and renovated by a small consortium of friends, the charming eight-key affair was until recently a private home but has an ample garden and an added cinematic touch: a vast screen for film premieres and private parties.
For a full rundown of the best Swiss accommodation on offer (in Zürich, Geneva and Basel too) look out for our just-out book on this charming trio of Swiss cities.
6 Signaustrasse, 8006
All that prep for our forthcoming book (The Monocle Guide to Hotels, Inns & Hideaways, published by Gestalten) has us eyeing up the hotel groups on the move this summer. The Marriott Group and Ian Schrager's collaboration over the 1 Edition brand started in 2011 in Istanbul and it will see seven openings in 2018. Bodrum is next. Meanwhile there's a trans-Atlantic trade afoot as the London-based 2 Hoxton brand (which recently opened in both Amsterdam and Paris) opens four US properties in New York, Portland, Los Angeles and Chicago this year. Speaking of Amsterdam, the city's Spuistraat will host 3 Soho House & Co's doubtlessly darling 79-key opening.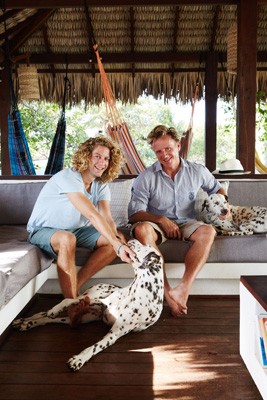 By George: Georges Hotels
Brazil
Pierre Bident Moldeva and Olivier Verwilghen are the owners of two stunning properties in Brazil. The first one, Chez Georges, is a 1970s modernist-style villa in the hilly district of Santa Teresa in Rio. Designed by mid-century Brazilian maestro Wladimir Alves de Souza, it has seven suites and a subterranean music studio beneath the swimming pool.
The second property, La Ferme de Georges, is in the village of Atins close to the Lençóis Maranhenses National Park with its 1,500 sq km of sand dunes. It's made with typical materials such as wood, brick and straw but the facilities are thoroughly modern.
georges.life
Good habits: Hacienda Zorita
Salamanca
Some 12km from Salamanca in northern Spain, this hotel and its farm were founded in 1366 as a hospice and residence of the local Dominican Order. What were once monk's cloisters are now elegant guest rooms with views over the rolling property, bordered by wizened oak, cork and cypress trees.
An olive grove and a vineyard help fill the hacienda's well-stocked cellars and the acorn-fed Iberian pata negra pigs add to the bucolic feeling. The larders are crammed with barrels of olive oil, wine and vinegar (produced on site) and 7,000 Iberico hams that hang from the ceiling. Two farm-to-table restaurants, a wine bar and a spa round out the delicious list of amenities.
haciendazorita.com
Back to nature: Stedsans
Sweden
Set deep in the Swedish woods, Stedsans (roughly two-and-a-half-hours' drive from Malmö) is about as off-the-grid as you get in Sweden. At this fairy-tale bed-and-breakfast, a collection of smart wooden cabins and bedouin tents, days begin with a sauna and dip in the lake and end with dinner in the woods.
There's no electricity, so food is smoked or cooked over fire. "Some ingredients are even harvested during the meal," says chef and co-founder Mette Helbæk. On weekends, guests can muck in with the cooking, which takes place around the fireplace in the old barn.
stedsans.org
Southern Belle: The Clifton, Charlottesville
Virginia
Charlottesville, Virginia, has long been a popular weekend escape for the overworked folks in and around DC. There's a sense, though, that the opening of the smart new Clifton hotel may tempt visitors from even further afield. Some 260km from Washington DC, and a shade closer to the state capital Richmond, the city is a quiet college town of smiley people with a generous sense of southern hospitality. The Clifton is on the outskirts of town among wooded rolling hills in the Blue Ridge Mountains. The vast estate originally belonged to Thomas Jefferson's daughter Martha and her husband Thomas Mann Randolph.
Tucked pleasingly away from town, the Clifton is not so far off the beaten path that it's a trouble to get to. The 20 guestrooms dot the historic property from the main manor house (built in 1799) to the carriage house, livery stables, farmhouse, and cottage.
It's not an entirely rustic experience, though. The rooms are by Blackberry Design Group and involve a mix of period, contemporary and mid-century. "Our main goal was to create a memorable destination that evolves as you go from a first-time visitor to a serial guest," says Jason Bell, director of design at Blackberry. "The introduction of pops of colour, textures and a more modern style creates a slightly unpredictable look."
The eclectic architecture leaves the space uneven and this is highlighted by the fact that no two guestrooms are the same. Our favourite is the "Law Office" in the garden cottage, a cosy number with exposed whitewashed bricks, a brick floor, private patio and even a little trail leading to the nearby Rivanna River. The rooms are also outfitted with custom lighting by Luke Cobbs and the soaps and toiletries are by Malin + Goetz.
The restaurant, 1799 (named for the year the manor house was built), takes up the book-lined library and spills out onto the manor's sun-filled veranda. It serves mid-Atlantic fare sourced from nearby farms and the Clifton's own garden. For an after-dinner drink, there's the Copper Bar and Lounge, with deep velvet seats and, as the name implies, a quartz and copper-topped bar. If a more refined tipple comes to mind, you can slip into the manor's well-stocked wine cellar. You can also drink in the scenery, of course. The property borders Jefferson's Monticello plantation and, when the weather is kind, you can even take a dip in the private lake.
the-clifton.com