Residence / Denmark
Cabinet of wonders
Poul Kjaerholm was one of the greats of Danish design. Here we visit his former home – a testing ground for many of his best-loved classics.
As the children of one of the most uncompromising and celebrated minimalists of Danish design, Thomas Kjaerholm and his sister were raised to keep their home (and driveway) very tidy. Every week their father, the late Poul Kjaerholm, would rake the granite pebbles in front of the house, leaving them as neat and smooth as possible. "There was nothing funnier than driving through it all afterwards and leaving brake tracks," says Thomas, laughing.
When Thomas, his wife and son took over the modest-sized beach home north of Copenhagen eight years ago, they moved into something of a national treasure. In 1960 his parents – Hanne and Poul – fell in love with a plot of land situated on the strait of Øresund. Hanne, a prominent architect, drew up her plans for a simply formed Japanese-inspired house. Poul, who had graduated as a cabinet- maker a few years earlier, began to think about furnishings, creating a wish-list of pieces to fit within its timber and brick walls. In the years to come many of the pieces, developed specifically for the house, would go on to become classics of the Danish modernist movement.
Most models of Poul's furniture (today manufactured by Danish furniture brands Fritz Hansen and Carl Hansen & Søn) have a home here, including a glass-and-marble dining table, a desk in Oregon pine and Poul's most famous work: the PK22 lounge chair. The elegant piece was developed a few years before the house and catapulted the Dane to global success, winning him the Grand Prix at the Milan Triennale in 1957 (and helping to fund the building of this lovely home).

The PK22's construction – angular and simplistic yet comfortable and appealing – reflects the Kjaerholm style, which differs greatly from Danish contemporaries Hans J Wegner, Arne Jacobsen and Børge Mogensen. Firstly, Poul had a preference for steel instead of timber, making his furniture probably the coldest, aesthetically, of all the work produced by the great Danes. "Steel's constructive potential is not the only thing that interests me; the refraction of light on its surface is an important part of my artistic work, " he wrote. "I consider steel a material with the same artistic merit as wood and leather."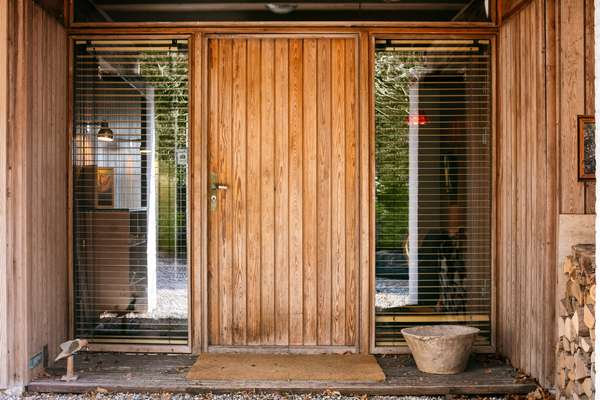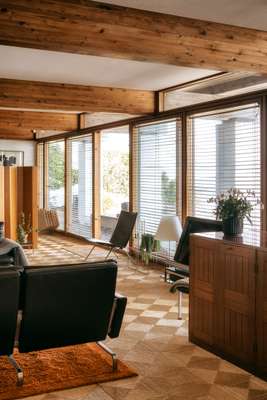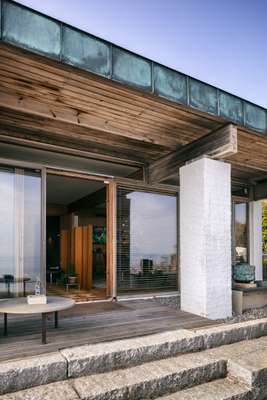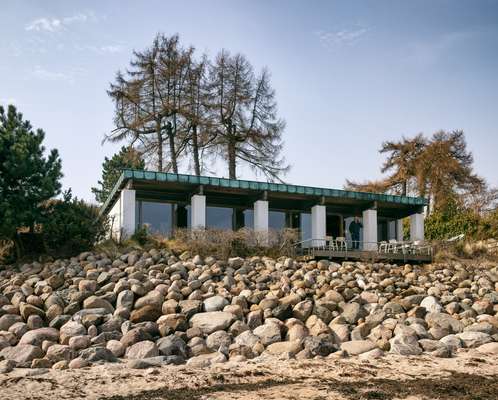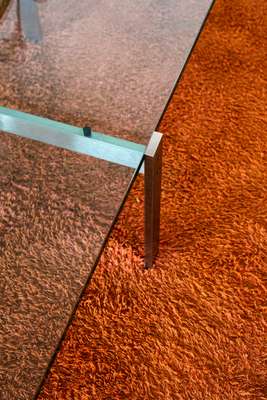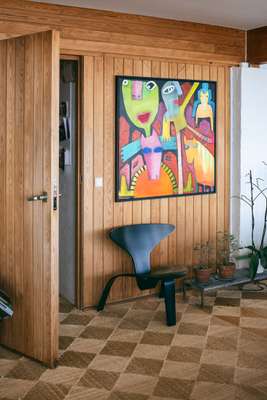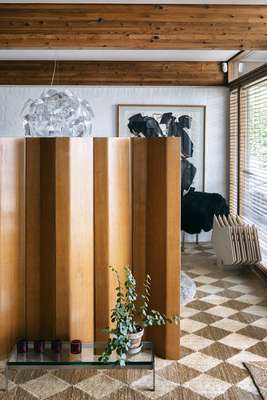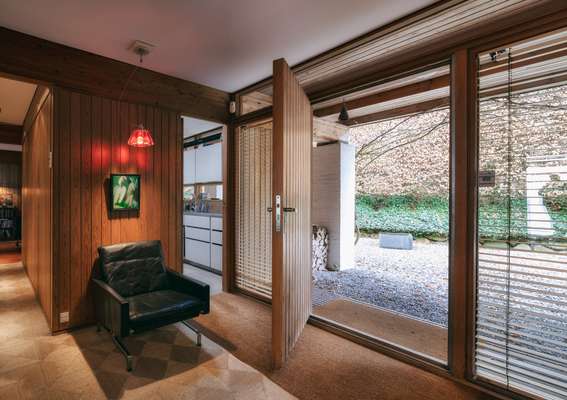 Secondly, while other designers of the era would refine their ideas through thousands of sketches, Poul made few, instead spending days tinkering with the physical elements of the furniture, paying tremendous attention to how the materials came together. In the spirit of his biggest influence, master of minimalism Mies van der Rohe, Poul always tried to simplify, making every detail – from nuts to bolts – visible and part of the furniture's appeal. "Kjaerholm had an artistic aim with his furniture," says Danish design scholar Thomas Dickson. "That's probably why many Danes find his works a little too cold. They miss the hygge."
Hygge or not, and in spite of its minimalist construction, the Kjaerholm residence reverberates with lived-in warmth. Built on an east-west axis to maximise sun exposure and views across the vast strait, the materials it employs have aged gracefully. All of its extensive timber work – from panels to doors – stand untreated, looking sturdy and sound even though they've been darkened by the sun over the years. The heart of the house is the common room, a lengthy combined dining and living area running the entire width of the building. It connects the house with the sea through large panoramic windows and a wooden deck on the outside. Though Thomas remembers his childhood home as being carefully organised, there was always plenty of room for boisterous parties and visits from family and friends. "When my parents went out, my friends and I used to play hockey in the living room," he says.
One key feature of the residence is its floors. Covered in a duotone woven seagrass carpet, they provide a soft contrast to Poul's favourite materials: steel, leather, glass and stone, which all feature in the furniture. What makes Poul's brand of furniture so popular, says Thomas, is "first and foremost the timelessness".
He would know. Today he operates a Copenhagen furniture shop specialising in his father's work. The furniture's appeal spreads well beyond Denmark too. When Apple needed new chairs for its shops worldwide, hundreds of Poul Kjaerholm PK22 lounge chairs were bought. When the Museum of Modern Art in New York refurbished several galleries, they choose his stringent daybeds with a satin brushed stainless-steel frame and black nubuck leather upholstery. "We still have young people coming to our shop who eagerly wish for a lounge chair made in the 1950s," says Thomas. "I find that quite moving."
Back at the residence, Thomas and his family have had to do just a few interior modifications to keep the place feeling like a home, rather than a museum. Replacing a pair of two-seater PK31 sofas with three-seaters in chrome, steel and black leather was one of the small tweaks."If my parents came by today they would probably say that the new couches are too big," says Thomas. "But they are perfect for naps."
And the pebbles in the driveway? Well, Thomas has recently invested in an electric air-blower. The contraption keeps the house's entrance maintained with a precision that would definitely have gained his father's approval.
Made in Denmark:
After graduating as a cabinet-maker from the Danish School of Arts & Crafts in Copenhagen in 1952, Poul Kjaerholm became a pioneering representative of international functionalism, though he was still deeply rooted in the Danish furniture tradition. Besides working as furniture designer and architect, he was a teacher and professor at the Royal Danish Academy of Fine Arts. Today Fritz Hansen and Carl Hansen & Søn hold the reproduction rights to his furniture.