Defence / Global
Defence
Briefing
Mexico's murder rates, Ethiopia's navy, Russian troops' uniforms and Poland's plea to the US.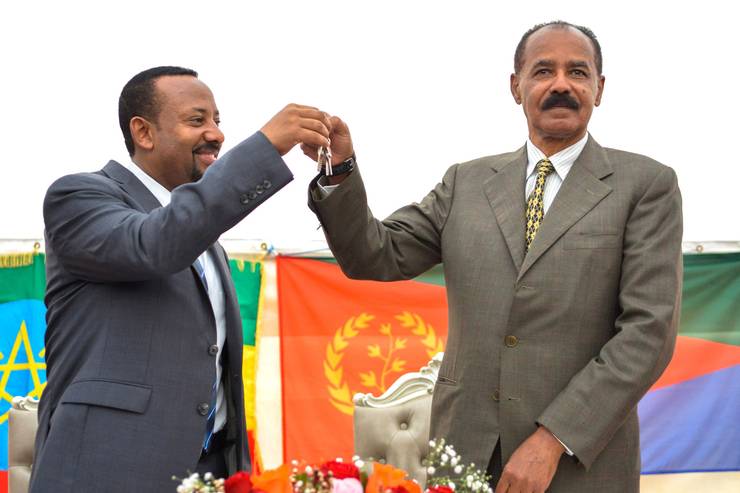 Plenty of land ahoy
Ethiopia —
Navy
Ethiopia's new prime minister, Abiy Ahmed, does not lack ambition. More timorous leaders might consider a lack of coastline a barrier to becoming a naval power. Not Ahmed, who has announced that he wants the flag of his landlocked nation to fly on the high seas.

Ethiopia does have some naval heritage to draw upon. Before its waterfront region of Eritrea became an independent – and eventually hostile – nation in 1993, Ethiopia fielded a maritime force. Several of its ships were lost in the climactic years of Eritrea's war of independence in the late 1980s and early 1990s; others were abandoned in Yemen, or seized by Djibouti in lieu of unpaid harbour dues. The Ethiopian navy was formally disbanded in 1996.
In reconstituting it, Ethiopia must address the crucial issue of where its ships – when it acquires them – will sail from (the recent rapprochement with Eritrea notwithstanding, military co-operation may be a stretch). Ahmed has agreed port access deals with Sudan and Somaliland, and Kenya is also a possibility, but the likeliest port will be Djibouti's. It's through there that 95 per cent of Ethiopia's exports and imports pass, where Ethiopia's commercial shipping is based and to which Addis Ababa is connected by a new railway line. Djibouti is increasingly becoming a hub for other military powers too, including the US, Japan, France and China.
"It's not exactly a regional arms race," says Ahmed Soliman, research fellow with the Africa Programme at Chatham House. "It's more an environment of mostly co-operative competition. But Abiy Ahmed does want to build Ethiopia's capacity for the future – there are evolving threats in the area, which Ethiopia wants to involve itself in tackling. After a period of introspection, it's looking outwards again."
Are you shore about this?
The lack of a coastline is a technicality to these landlocked nations, which are prepared for water-bound warfare regardless.
Bolivia: The splendidly named Armada Boliviana has nearly 5,000 personnel, and a small fleet of craft that patrol Lake Titicaca.
Paraguay: Said nation not only has a navy but also a naval-air arm, a marine corps and a coastguard, which patrol the country's vital river network.
Uganda: The marine wing of Uganda's Peoples' Defence Forces patrols the lakes around the country's borders. In July it exchanged fire with the navy of the near-landlocked Democratic Republic of Congo on Lake Edward.
Mongolia: The country's navy consists, in its entirety, of the tugboat Sukhbaatar III and its crew of seven.
Driving force
Mexico —
Murder rates
Mexico's president-in-waiting, Andrés Manuel López Obrador, steps up in December. One of his first jobs will be bringing the country's spiralling violence levels under control; last year murder rates were the highest since records began in 1997 but have already been eclipsed this year. Sales of armoured vehicles are soaring as a result: about 3,300 of them are expected to sell in the country in 2018 according to the Mexican Automotive Armor Association, beating the previous record set in 2012. With an average of 80 murders per day, it's easy to see why they'd find a home here.
---
Dressed to impress?
Russia —
Uniforms
Despite the enormous fanfare of Victory Day in Russia – which marks Nazi Germany's capitulation on 9 May 1945 – for decades Russian troops have paraded in uniforms that differ little from their daily outfits. But the military recently decided to smarten up with new pageant uniforms that closely resemble those worn on the very first Victory Day parade.
The attire, adorned with sashes and fine embroidery, has been in the making since 2008, when the Ministry of Defence ordered uniforms that would cite Russian history and look appropriately grand. But given that they take inspiration from those worn in 1945, they are also a reminder of Stalinist oppression and imperialist Russia. "Every country likes to look back at its glorious past," says Mark Almond, director of the Crisis Research Institute. "But revivals of the great episodes of the Russian past are uncomfortable for its neighbours."
---
Preventative measures
Poland —
Russia response
On 10 July a Russian special-forces team parachuted onto the country's remote island of Gogland in the Gulf of Finland to execute a mock invasion. Among Russia's European neighbours, Poland has appealed to Washington to place more troops on its soil and offered to fund a permanent base. "The only thing that can stop Russia is credible deterrence," says Tomasz Smura, head of research at think-tank Casimir Pulaski Foundation. But with the US administration not keen on spending money on Nato, Poland shouldn't hold its breath.