Fashion / Global
Fashion
Briefing
A nod to the older model, plus artistic scents and new jackets for your autumn wardrobe.
When opening his second Paris shop, French accessories designer Isaac Reina tasked young Belgian architect Bernard Dubois with creating a space that would reflect the style of Reina's minimalistic leather wares. The result is a stark white room punctuated by angular tabletops made of natural leather.
Reina's brand aesthetic is what he calls "anti-design" and his architectural training continues to influence his collections, which are stripped of all unnecessary detail. "Our major supplier for leather is in Alsace. I like to use quality materials to retain focus on the simple design of the bags. It's about function and practicality," says Reina of his totes and backpacks, which are handcrafted in his Paris atelier and take about five hours to make. "Design nowadays is too complicated."
isaacreina.com
Q&A
Michel Parmigiani
Founder, Parmigiani Fleurier
Switzerland
Swiss watchmaker Michel Parmigiani got his start restoring historic timepieces before setting up his own maison in 1996. While the Fleurier-based company produces its own watches, restoration remains at the heart of its business.
What's your take on the state of the industry?
We've seen positive signs in the high-end, high-craft sector. However, the general industry – that's not to say us – suffers from surplus stock. If something looks promising, everyone produces too much of it. It's a big issue.
Has 2018 been a good year for you so far?
Yes, across the range, though the more mechanically sophisticated pieces – such as the Type 390 from the Bugatti collection – have proved particularly successful.
What advice would you give other watchmakers?
Products with a certain charm mustn't be overproduced, because that risks making high-end watch-making banal. One should be somewhat parsimonious; if something isn't rare, it isn't interesting.
Have you noticed classic makers change their approach to appeal to a younger clientele?
Yes but younger clients can be equally interested in their father's or grandfather's watch, because a timepiece is a question of emotional attachment. There are lots of consumer-driven gadgets with no longevity. One needs to decide what market one is in and stick to it.
What are your biggest markets?
Switzerland, but Southeast Asia – which has younger clients – has also shown great interest.
Tell us about restoration.
It's the essence of our enterprise, a trove of wisdom. It allows us to understand watchmaking from its very conception. The oldest we've restored is a renaissance table clock from Germany: hexagonal and made entirely from metal.
parmigiani.com
"I've always been fascinated by the smell of things, both natural and manufactured," says Paul Schütze. In 2014 the London-based music composer and artist infused his photography exhibition with a scent that evoked "old and damaged books". "Everyone wanted to have it," he says. Schütze and his partner Christopher Rickwood have launched a collection of five scents, designed by Schütze and made in a Cotswolds lab. Pick up one of the cheery bottles at Liberty or Beast in London.
paulschutzeperfume.com
Carrying Colour
UK & sierra leone
After learning traditional fabric-weaving during a trip to Sierra Leone (where his father is from), London-based artist and designer Duval Timothy created small-batch textiles that nod to the culture of Freetown, the capital. "We design and create our own woven fabrics, made by hand on traditional tripod looms by weavers in Sierra Leone," he says. These vibrant textiles are then turned into Salone Scarves.

Timothy's brand Carrying Colour sells a range of clothing and accessories. The Country Cloth kimono blends traditional Sierra Leonean gowns with Japanese kimono sleeves; bright Boss hats are handmade in Timothy's London studio.
carrying-colour.myshopify.com
As the season turns it's time to invest in a new jacket. Here are some choice models, from a Fendi blazer to a veste de travail by Le Mont St Michel.
Fendi, Italy (womenswear)
fendi.com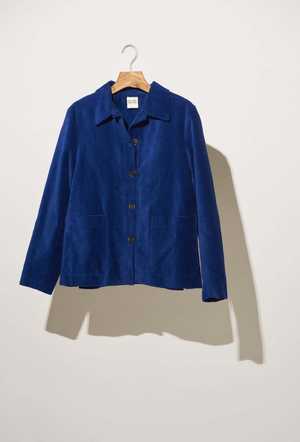 Da/Da, France (womenswear)
dadaparis.com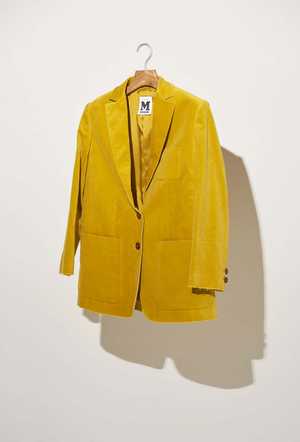 M Missoni, Italy (womenswear)
m-missoni.com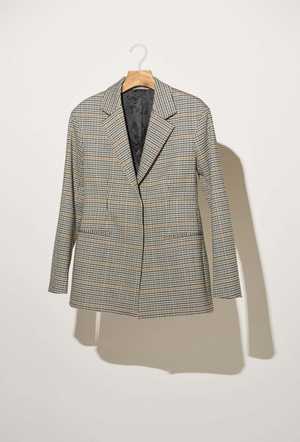 Arket, Sweden (womenswear)
arket.com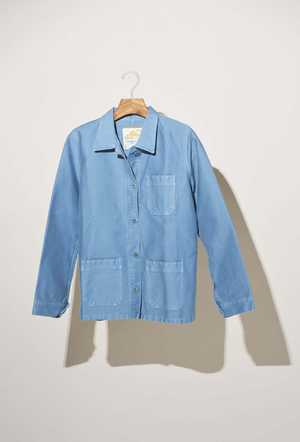 Le Mont St Michel, France (unisex)
lemontsaintmichel.fr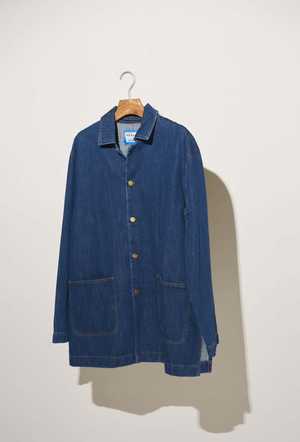 Acne Studios, Sweden (menswear)
acnestudios.com
A mature investment
by Jamie Waters
As we went to press on this issue, a fashion magazine landed on my desk that caught my eye. On its cover, in place of the usual teen, was an older woman in a floaty dress and green heels. Inside were lovely shoots in which models wore clothes by Dries Van Noten and rising talents including Rejina Pyo. They accessorised with silver hair and the odd wrinkle.
Renaissance, launched in Sydney last year, is aimed at women over 40 and exclusively features models aged 40-plus. "There are wonderful magazines targeted at women between 18 and 35 but older women are a little ignored," says founder and editor in chief Mikella Lowe.
Of course this is not the first time a mature woman has headlined a fashion shoot. The Gentlewoman regularly features stately ladies and in 2015, Céline recruited then 80-year-old Joan Didion; other luxury campaigns starring seniors followed.
But too often, grey-haired models are brought in just to make a splash. Renaissance is possibly the first high-end fashion publication that is committed to the silver set, both as readers and featured subjects.
Its focus seems sensible: women over 40 enormously powerful luxury consumers. Yet there is something noticeably absent from Renaissance: ads. It's only four issues old but one can assume, and Lowe confirms, that its silver slant is part of the reason for the advertising vacuum.
That's because the luxury industry thrives on aspiration, on "selling dreams", as Lowe says, and youth remains the ideal state. Would a 50-year-old be more likely to buy a bag toted by an elegant 50-year-old or a fresh-faced 20-something? Industry logic says the answer is the 20-year-old but is that unequivocal?
I'd be surprised if Renaissance's shot of Xandra van Rooijen, a mature beauty recalling Robin Wright, didn't compel readers to purchase that Acne Studios coat. An element of relatability to the person on the page can woo customers too.