HQ audit / Melbourne
Folk's festival
Drinks brand Capi has an HQ that's more than it seems: it's a place of work and play where unloved office furniture has made way for quality design pieces and works of art inspire all the brands under its roof.
Pitzy Folk has always understood the importance of taking risks. Since the Austrian-born entrepreneur migrated to Melbourne in the 1970s he's gambled on a range of ventures, from running a string of cafés to launching Capi, a boutique beverage brand that uses no preservatives. For most people, keeping track of such a varied portfolio would be a challenge but Folk has found a simple solution: he has created a three-storey headquarters where he can work side by side with the start-ups in which he's invested.
The space is located inside a defunct telephone exchange in Melbourne's inner south and has a design that embodies Folk's passions: it is filled with art, quality furniture and places to entertain. "I believe that if you are surrounded by excellence you work much better," he says. "It's stimulating."
Sydney-based interior designer Tamsin Johnson is responsible for the office's layout. A close family friend of Folk, she can still remember the trepidation she felt when she was brought onto the project. At the time the space had only just been bought and was a muddle of fraying carpet tiles and flimsy partitions. "I thought it was a bit of a dump," she says. "But I could see the potential."
The transformation she led took six months. Natural light now streams through the building onto the pale oak floors. The low ceilings, which once served to hide a muddle of cables, have been removed, creating a feeling of airiness. At the centre of the first floor stands a large kitchen where an in-house chef works daily. There's also a bar in the basement. It provides a space to entertain clients and throw staff parties. "I wanted to create somewhere people would be excited to go to work each day," says Johnson. "At the same time, though, it needed to be functional."
In numbers:
Founded: 2012
Number of people working from Pitzy Folk's office: 50
Number of Capi bottles produced each year: 9 million
Office floor space: 1,520 sq m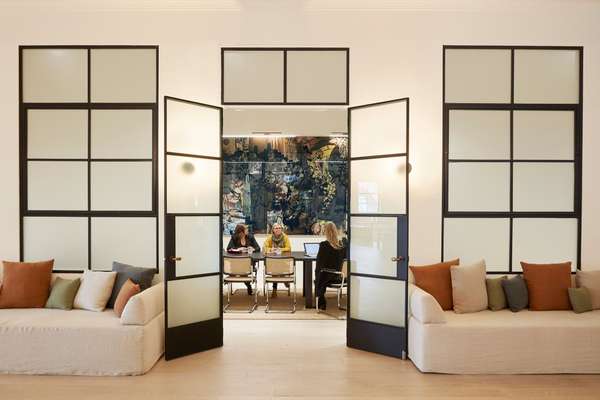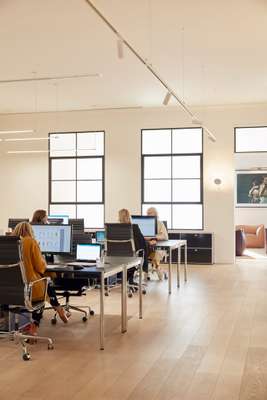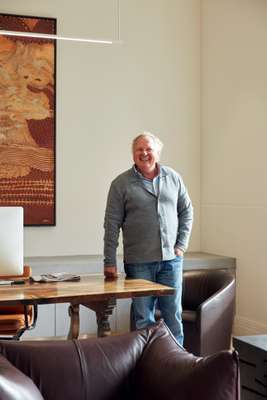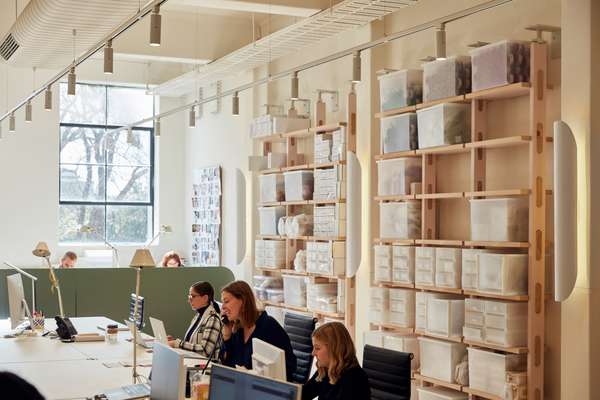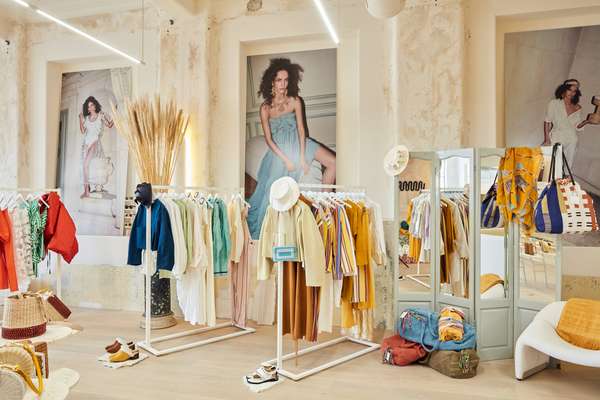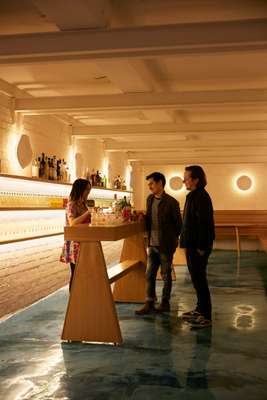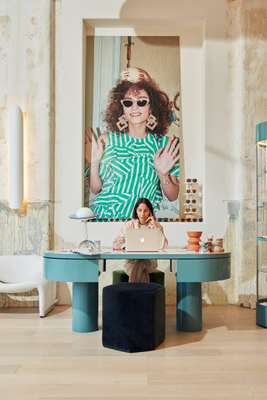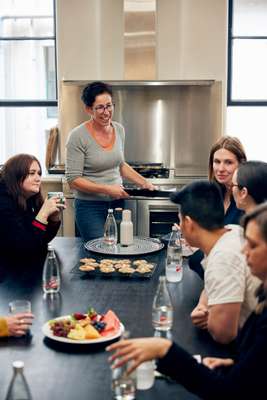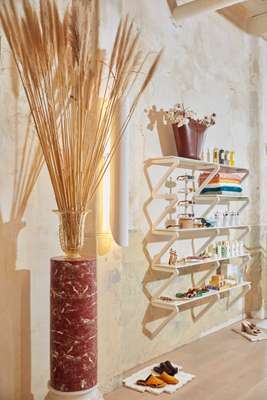 Private and collaborative spaces
Balancing act
Throughout the design process, Folk's brief was deliberately broad. One thing he was adamant about, however, was having a mix of both private and collaborative working environments. The request shines through in Johnson's final design; the area in which Capi's staff work is open-plan but sits near a cluster of sectioned-off meeting rooms. Strategically placed couches give staff members the opportunity to hold informal brainstorming sessions. "There is the versatility to be able to work in different spaces," says Johnson. "The reality is that people often just need their own zone."
The office's mix of shared and secluded spaces has been particularly helpful for Folk's daughter, Lucy, who runs a jewellery company and has recently opened a retail space on the lower level. "I get so much support and mentoring from my dad but I also like to be private," she says. "It was something I was initially a bit worried about because I wouldn't say our family is shy. It's worked out well though."
Katy Barfield has also benefited from the building's layout. She's the founder of Yume, a social enterprise that connects hospitality businesses to food producers with excess stock. The business, in which Folk is an investor, occupies a space near Lucy's retail operation. "It's so nice to be able to sit down and interact with other people here," says Barfield. "A big thing is also having the angel investor nearby. If we hit a roadblock, it is so good being able to have a chat."
Food for thought
Belly laughs
Locating Folk for advice is usually easy: he has a private office that overlooks a small patch of greenery on the building's northern perimeter. At the centre of the room is a marble coffee table surrounded by brown leather sofas. Nearby a line of storage closets disguises the entrance to a private bathroom, which contains an infrared sauna. "I find it quite relaxing to sit in there after work," says Folk. "It cleans the pores."
There is a desk in Folk's office but most of the important work gets done at a long table lined with Marcel Breuer dining chairs. It's here that regular business lunches occur. "Getting to know someone is so much easier if you share a meal with them," says Folk. "There's wine and conversation and you can assess if you really want to do business with a person." The menu can vary widely. Occasionally, though, Folk will provide his chef with seafood he has caught himself. "I'm a mad fisherman. The ocean is my happy place."
Once a week, all the workers in the office come together to share lunch. It's one of the many ways that Folk has tried to cultivate a tightknit culture. "If you don't have a strong team within your business, you will have trouble," he says. "A lot of it comes down to generosity. The more attractive I can make the place for people, the happier they will be. The happier the people are, the better the business is."
Pitzy Folk has built a workplace that reflects his winning approach to business. The layout puts a premium on staff wellbeing and offers a refreshingly casual atmosphere to visiting clients. The exterior may be bland but Tamsin Johnson's tasteful interior design more than compensates. Her choice of furnishings proves the long-lasting benefits of buying into high-quality craftsmanship; many of the pieces are made to last decades and offer a level of comfort that is sure to positively impact productivity.
An ample provision of private and communal space ensures that staff are able to work in isolation or swap ideas with colleagues. The complex's many socialising areas are particularly clever, although the bar on the basement level feels under-utilised. It's easy to imagine the blue-resin floor filled with punters if the space was open to the public on a regular basis.
The power of connection
Style and substance
Folk's belief in being generous to his workers is also evident in the furniture. Rather that cutting costs, Folk has invested in quality brands, such as USM, that have a reputation for durability. Many of the light fittings also come courtesy of local designer Anna Charlesworth. "It's not good me sitting in a palace when everyone else is on flimsy chairs," he says. "That happens too often in the corporate world."
That said, nothing about the office feels ostentatious. Folk has little time for status symbols that serve no purpose. His main objective is to create a working environment to which he feels deeply connected. "I was recently at the office of a big bank that had an original Picasso and Greek statues," he says. "No one knew anything about them. It was just opulence with no relationship to the environment."
By contrast, most of the artworks that are displayed in the offices of Capi come from creators who Folk has followed for a long time, including Josh Yeldham, Bill Henson, and Saskia (Folk's other daughter), whose works take up most of the wall space. The few statement objects that are dotted around all have personal significance. Near the reception desk, for example, sits an operating table laden with bottles of Capi. "I can't remember where I bought the thing but I once sent out a party invite with me lying on it," says Folk.
Brand experience
Cause and effect
The decision to place such an unusual object near the entrance to the office communicates more than humour – it shows Folk's rare talent for branding. For him, it is important that the building leaves an impression on visitors. "With Capi, we want to present ourselves as premium, creative and innovative," he says. "We can't afford to have a crappy showroom with six bottles on a table."
The office's location also factors into the marketing equation. It's in the suburb of Windsor and near Chapel Street, one of Melbourne's most vibrant shopping strips. Folk knows the area well: earlier in his career he set up one of his first cafés here. He doesn't appear to find any satisfaction in the symmetry though; he's more focused on how he can use his new office to tackle the challenges ahead. "People sometimes talk to me about the good old days and I reply that I can't remember them," he says. "I'm not big on looking back. It's not where I'm going."