Food & drink / Global
Food
&

drink
Briefing
Best bites from Shanghai to Montréal and a recipe for nduja, chilli & tomato bucatini.
Montréal's good taste, in both food and design, is on display at a flurry of new openings – and the most anticipated comes from the team behind Joe Beef. While Vin Mon Lapin marks the group's first venture outside the Little Burgundy neighbourhood, chef Marc-Olivier Frappier doesn't stray far from what made its predecessors work: Québécois produce, usually plucked from nearby Jean-Talon Market. Sommelier Vanya Filipovic's excellent selection of natural wines is also worth raising a glass to.
To the south in Le Plateau is Hanhak Kim and Hiroshi Kitano's Bistro Otto, an outpost of what Kim calls Japanese "homestyle cooking" (albeit with obvious French influences). The large plates, such as miso-marinated salmon served with house-made tofu, hit the mark squarely.
In Griffintown, chef Paddy Cheang heads up the kitchen at Perles et Paddock; here asparagus and rhubarb sit alongside unusual plate fellows such as sea urchin from Gaspésie. It's all served under a vaulted skylight, the beauty of which belies the space's former life as a garage.
vinmonlapin.com; 11 438 383 4700; perlesetpaddock.com
Little Catch started as a European-style fishmonger before spawning into one of Shanghai's first poké joints. Three years later, the two sisters behind it are part of a northbound migration of bars and restaurants to the less pricey Jing'An district.
The new Little Catch recently opened on Yanping Road. This spot has higher ceilings, an open kitchen and a more industrial feel. The sisters intend to sell more bagels and sandwiches, although their spicy Scottish salmon poké continues to net the most fans.
littlecatchshanghai.com
Prague's Manifesto Market mingles street food, DJ sets, film screenings and workshops inside 27 shipping containers. Among the offerings are Argentinian fodder at Gran Fierro (led by Michelin-star recipient Miguel Nicolas Innella), gourmet burgers and beer by The Craft, two new outings by Asian favourite Sasazu and a creative take on the Czech open-face sandwich by Chlobicek. Grab a seat on the rooftop and watch the trains pull in and out of nearby Masaryk Station.
Dishes to try:
From Yazu Tiger prawns with a ginger-and-lemongrass marinade.

From Chlobicek traditional sandwich of beef tartar, pickles, capers, egg yolk and parsley.

From The Craft The Rock-lette burger and beer from Raven (a Pilsen microbrewery).
The ground floor of this tall building was renovated with a Victorian bar brought from Belfast and flooring salvaged from a church in Cavan in 2017. The pub downstairs (all studded banquettes and walnut tables) has a pleasingly strict no-TV (and strangely for Ireland) no-music policy to encourage conversation, which is invariably about the quality of the seasonal food and sharp cocktails. Upstairs are three more bars, each with a menu devised by head chef Stephan Ryan of Peruke & Periwig (also worth a visit).
theluckyduck.ie
Vicafe just opened its sixth space, this time on Zürich's boisterous Bahnhofstrasse. It quenches a longstanding thirst for decent coffee on a busy corner near the main train station.
All four La Marzocco Strada AV machines can be spotted chugging in unison to keep the crowds caffeinated. The interior (complete with a weathered wooden ceiling) has the feel of a vintage train carriage, while waiting customers are always served by their own barista. The coffee itself is roasted outside Zürich, while the fresh apricot croissants ensure that the journey to this station-side gem will be a sweet one.
vicafe.ch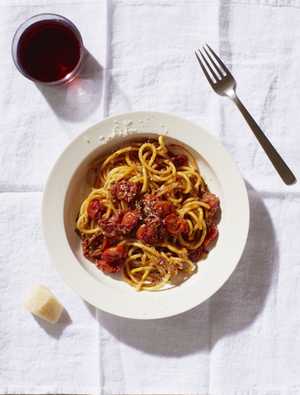 Nduja, chilli & tomato bucatini
Recipe —
Midori House
Serves 4
Ingredients
4 tbsps extra virgin olive oil
4 garlic cloves, thinly sliced
2 tsps chilli flakes
100g nduja*, torn into bite-size pieces
½ fennel bulb, thinly sliced
1 small white onion, finely chopped
400g cherry tomatoes
2 tsps sherry vinegar
400g bucatini
Parmesan cheese, grated, to serve
1. Heat 2 tbsps of olive oil, garlic and chilli flakes in a frying pan over low heat and cook until the garlic becomes aromatic, then add the nduja and cook for a few minutes, or until it starts to melt and deepen in colour. Remove from the pan and set aside.
2. Heat the remaining 2 tbsps of olive oil in the same frying pan, add onion and fennel and cook over medium heat until softened. Add the nduja mixture back in to the pan, along with the cherry tomatoes. Cover with a lid, and cook for 5 to 10 minutes, or until cherry tomatoes start to break down.
3. While the tomato sauce is cooking, fill a large pan with salted water and place over medium heat.
4. When the tomato sauce is nearly ready, the tomatoes have cooked down and the liquid has reduced slightly, add the bucatini to the boiling water and cook according to packet instructions.
5. When pasta is cooked, drain and add to the tomato and nduja sauce and toss well.
6. Divide the pasta between four plates, season and serve with grated parmesan.
* Nduja is a spicy, spreadable pork sausage originating from Calbria in Italy, available at Italian delicatessens and good supermarkets. If you can't find it then substitute with good-quality cooking chorizo.
Bricolage Bread & Co
Tokyo
The bread of Shinobu Namae's childhood was white and fluffy and topped with cucumber and mayonnaise. The bread that Namae, the executive chef of L'Effervescence in Tokyo, now wants to make for residents of the Japanese capital is very different: hard-crusted but a soft, and tangy on the inside thanks to fermenting wholegrain flour.
These loaves sit alongside croissants, buns and pastries at Bricolage Bread & Co, the shop and restaurant that Namae and Osaka-based baker Ayumu Iwanaga opened in Tokyo's Roppongi Hills neighbourhood in June. Both Namae and Iwanaga are trained in the ways of French cuisine but, whenever possible, they use homegrown produce. While the butter is shipped from France, the flour, mugwort, matcha and spelt – an ancient grain – come from Japan, while the coffee is roasted in Tokyo by Fuglen. "We are using the same high-quality products as L'Effervescence and we often deal directly with farmers," says Namae.
For his first foray outside of the fine-dining sector, Namae hired Tokyo-based Gram to design the shop's inviting interior. The takeaway bakery boasts exposed wooden beams and antique lampshades; the dining room is filled with dried flowers and old cabinets. Its worn floorboards were rescued from a century-old house that was being demolished.
The menu was a collaborative effort: Iwanaga's thick slices come with Namae's signature dehydrated-tofu-and-sour-cream spread and some variation of meat or fish, such as horse mackerel with pickled greens or beef ragout and caciocavallo.
An idealist, Namae wants Bricolage's labour practices to have a positive influence on bakeries in Japan. Instead of working through the graveyard shift, staff arrive at 07.00 to prepare for the restaurant's 09.00 opening. They mostly make large loaves because it means they spend less time in the kitchen, says Namae, who was inspired by the Tartine Bakery in San Francisco and bakeries in Paris, Copenhagen and New York. "We want this to be a relaxed, fun place to work," he says.
Judging by the long queues, Namae is onto something but he isn't interested in expanding. "We would never open another Bricolage," he says. "I want this place to grow, to become better."
bricolagebread.com
Justin Bazdarich, the man behind pizza joint Speedy Romeo, has a fresh venture in a fresh-feeling neighbourhood. The warehouse-like Oxomoco in Greenpoint still has the wood-fired flare of the chef's pizzarias but turns out Mexican food instead.
It was clear from Speedy Romeo's side dishes and salads that Bazdarich had a lot more up his sleeve and here he serves inventive purple-corn tacos with beetroot and smoky salsa, and the crispiest of potatoes. The stand-out dish? Melt-in-your-mouth flatfish with avocado-basil salsa and toasted amaranth.
oxomoconyc.com
Hot to trot 
Somerset, UK —
Farming
"If you are buying quality meat, whether it is beef or pork, you really want a rare breed that is slow-grown," says Fred Price as he hops a fence that divides two fields of his West Country pig farm. Born and raised in west London, Price always had tender feelings towards his grandfather's farm in Somerset and in 2009 he made the decision to up sticks to take the porcine operation in a different direction.
He spent the following year visiting producers around the UK, where he saw everything from factory farms to homespun operations consisting of just a few pampered sows. "I've tried to cherry-pick all the good aspects across pig farming and put them into a system," he says.
The result is an approach that focuses on his parcel's diet, health and happiness. This is achieved by allowing his drove of 260 pigs acres of space in which to trot and a tailor-made diet of barley, beans, herbs and grasses that are grown on the farm. "When you give them this feed, which is much bulkier, with different ingredients, they literally forage through it," says Price. "It's better for them, it's better for my soil – and hopefully it will deliver a better-quality product."
Tamworth pigs are a rare breed that are famous for producing a long loin cut and being a good choice for charcuterie. But starting his farm from scratch has allowed Fred to rethink certain labels that have become commonplace for farmers and consumers. "Just because it is 'free-range' doesn't mean that it has welfare implications. It does generally but when you see farms in January, the pigs live in a bog without access to a fresh diet."
Price increasingly collaborates on how to make the most of the animals, sometimes coming up with new dishes that make use of parts that would have been wasted in the past (with Kiln in London, for one). It means that smaller farms such as Price's are able to thrive and offer the benefits to both the animals and consumers.
gothelneyfarmer.co.uk
Tinseltown is currently in thrall to Middle Eastern food. While in practice this can often just mean Israeli food, Arts District newbie Bavel pickpockets its influences and ideas from the Maghreb to the Levante and beyond. Flavoursome and colourful, the food from chefs and co-owners Ori Menashe and Genevieve Gergis (the latter focusing on pastry) is built around smaller plates that are best shared. Expect staples such as superb hummus and commendable kebabs but be prepared to be surprised by a tagine featuring Wagyu beef cheeks or a vanilla date crème brûlée. The plant-proud interior by Studio Unltd is a delicious addition too.
baveldtla.com