Inua / Tokyo
Height of taste
Japan's capital is home to a new restaurant from the team behind Noma. We tested the flavour of its aesthetic fusion.
The ninth floor of a Tokyo publishing office might seem an unlikely setting for what was one of the year's most anticipated restaurant opening but this is a city where world-class eating spots reside in windowless basements and on anonymous back streets. If anything this sunny spot has more going for it than many locations in Tokyo. It is here that Inua, an offshoot of Noma – René Redzepi's Copenhagen restaurant that has repeatedly been voted the world's best – has set up shop.
At 11.00, dinner prep is under way; in the open kitchen, German-born head chef Thomas Frebel is leading a crack team of young cooks. Some are crafting a desert using mini kiwis from Nagano; others are rinsing the robust tentacles of a Hokkaido octopus. The charcoal grill is being fired up, releasing a smoky fragrance that pervades the restaurant. Frebel has spent months travelling Japan meeting producers, looking for unique ingredients with which to surprise Inua's diners.
Regarding the location, Redzepi says that although Noma had many offers to open in Japan, this one from publisher Kadokawa Corporation – whose chairman, Tsuguhiko Kadokawa, is a Noma fan – was the best. "We could have been in a hotel but it would never have been like this," says Redzepi of the restaurant, which opened in late June. "Here we're free – we're not part of a hospitality group and we're not here to sell rooms. It's a very creative partnership." 
The design was in the hands of oeo Studio, the Copenhagen firm led by Thomas Lykke and Anne-Marie Buemann. The pair, who have worked on a number of projects in Japan, were charged with creating an interior that conveyed Noma's Nordic roots while acknowledging Inua's Japanese home. Noma's ceo, Peter Kreiner, called them 18 months before the opening. "We were sworn to secrecy, which can be difficult when you're working with a lot of collaborators," says Lykke.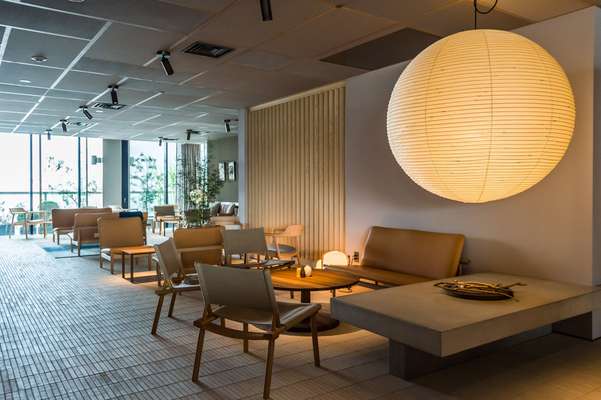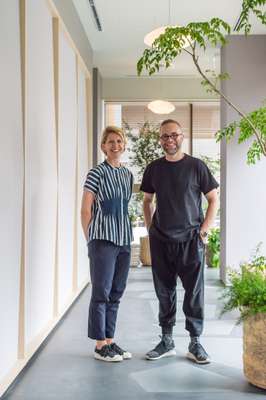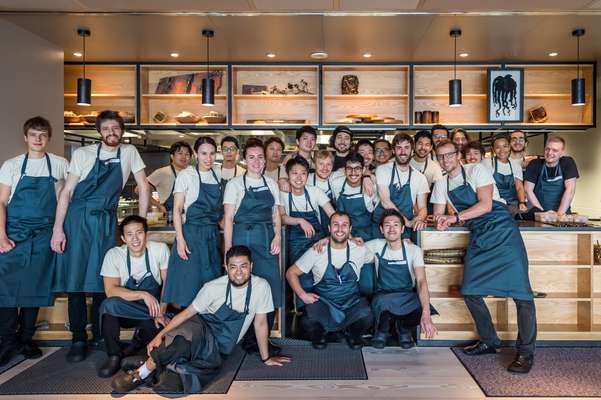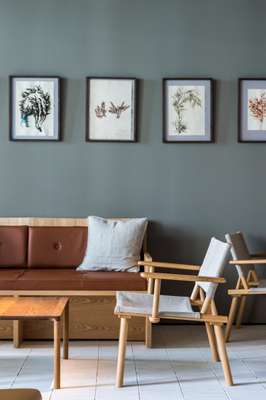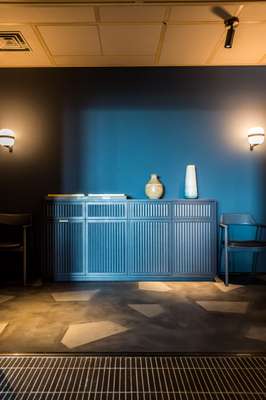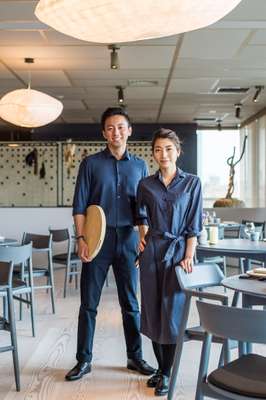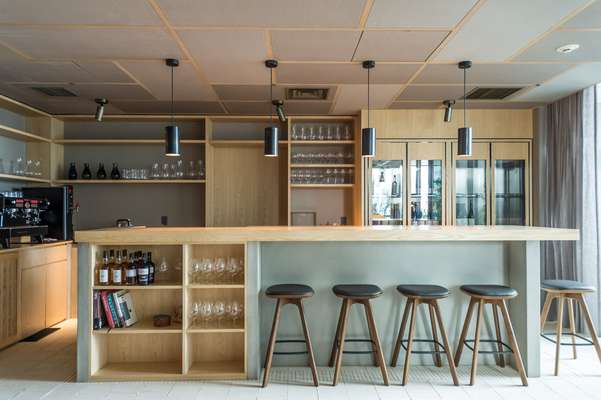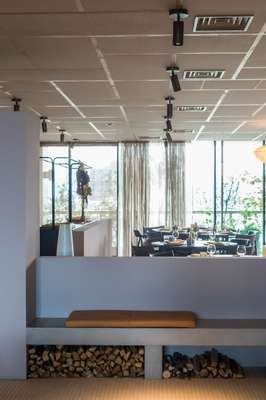 Transforming a floor of an office block into a restaurant presented design challenges. "When we first saw the room we realised we couldn't use anything that was in here," says Buemann. That initial assessment turned out to be correct. "Not a single surface is untouched," says Lykke. "Even the window frames [now black] are different. All that's left from the original room is the view." 
For diners, the journey to the restaurant starts via a leafy side entrance on the ground floor. A door opens on to a 30-metre-long corridor with hand-plastered walls and cloud-like lights by French artist Céline Wright. A compact lift zips diners upstairs to an interior that draws from both Scandinavia and Japan: a detailed blend of design, craft and function by a cast of collaborators stretching from Copenhagen to Tokyo.
Danish firm Dinesen supplied the Douglas fir flooring, while the ceiling is covered with fabric – woven to resemble tatami mats – from centuries-old Kyoto textile maker Hosoo. In the lounge area, where meals begin and end, Danish designer Finn Juhl's Japan Chairs sit alongside a giant Akari paper light by Isamu Noguchi. On the walls, dried seaweed – a gift from Japanese collector Masahiko Miyata – was framed in Denmark and carried back to Tokyo in Buemann and Lykke's luggage. There are giant ceramic vases by Danish potter Christian Bruun and wooden art pieces by 700-year-old carpentry studio Nakagawa Mokkougei.
The dining tables, made in Denmark, were designed for Inua by oeo with Danish brand Brdr Krüger. "Restaurants can be so uniform," says Lykke. "But we wanted this to feel softer and more organic." The dining chairs in the main room are designed by Naoto Fukasawa for two Japanese makers, Maruni and Conde House, and stained a bespoke grey.
"We worked with local materials from Japan in a Danish way so that there is a little twist," says Lykke. "Japanese guests might feel it's quite Nordic while Western visitors will sense the Japanese taste."
The lighting for diners is warm in tone and just bright enough to allow for the admiration of the food. The colour palette is on the deep side too. oeo tried out a selection of custom colours before settling on half a dozen. "Somehow Danish design got this reputation for using white, and bright colours," says Lykke. "But if you look back to Danish neoclassicism or Arne Jacobsen, they used really dark colours."
No detail was overlooked: Japanese potters created the tableware, while wicker table baskets come from Denmark and Norway. Some courses will involve a chunky Sami knife (they are tucked away in a drawer marked "daggers"). Frebel worked with a Japanese craftsman to perfect the custom-made wood-and-stainless-steel cutlery, trying different sizes, shapes and weights until it was just right.
Despite its detail, the interior serves as the perfect backdrop for the food. "The menu is based on Japanese-grown ingredients," says Frebel, who spent a decade at Noma. "On our travels in Japan we discovered that there are a lot of people growing amazing things, from the farmer with 100 types of chillies to a gentleman obsessed with citrus fruits who is even growing finger limes."
Redzepi, whose garlanded Copenhagen restaurant reopened this year in a new location by architect Bjarke Ingels, likes the unexpectedness of the Tokyo spot. "I think it's cool being on the ninth floor. To me as a foreigner, it's very Tokyo," he says. Frebel, who has the pressure of cooking for a discerning Tokyo audience, is sleep-deprived but happy. "The kitchen is as perfect as it could be," he says. "The only thing that could improve it would be if it opened to the sky."
Design menu:
1.
Japan chair and sofa, part of the Japan Series from 1953 by Finn Juhl, giant of 20th-century Danish design. Today, it's manufactured by One Collection on the Jutland coast.
2.
Custom-made pendant lamps by Kaikado, a Kyoto maker of metal tea caddies since 1875. oeo worked with Kaikado on the Japan Handmade Collection: modern pieces by a group of renowned Kyoto craft companies.
kaikado.jp
3.
Jari (Pebble) dining table, custom designed for the restaurant in three sizes by oeo and crafted by Danish studio Brdr Krüger. The company also made the Jari dining chairs in the private dining room. The collection will be available to buy.
brdr-kruger.com
4.
Dining chairs in the main room, by Japan's best-known product designer, Naoto Fukasawa: the Hiroshima for Maruni and the Kamuy for Conde House. oeo brought designer and makers together at Fukasawa's studio to choose the bespoke colour.
maruni.com; condehouse.com
5.
Bench in ash with a paper-cord seat designed by Gabriel Tan for Ariake, a Japanese brand founded by two makers, Legnatec and Hirata Chair, in Saga prefecture.
ariakecollection.com