Mansur Gavriel / New York
In the pink
Five years after launching its signature bucket bag, Mansur Gavriel is a complete fashion brand. We met its savvy co-founders for a tour of the label's sunny world.
On a humid New York afternoon the Mansur Gavriel shop in Soho is an inviting retreat, a mellow pink cave that feels more off-kilter than girly. The brand's signature leather bags and pared-down shoes sit in monochromatic arrays on blush shelves. Saleswomen float by in all-white uniforms looking like acolytes of a prim cult. Near the entrance there's a flower stall peddling odd specimens. It's catnip for selfie-takers. One wanders the floor cooing with delight, oblivious to the presence of actress Dakota Fanning, who is perched on a kidney-shaped banquette to try on a pair of silver sandals.
The celebrity in our midst only adds to the impression that this is more a movie set – so surreal that it must be staged – than a shop. That's no coincidence. When we meet the brand's co-founders and designers, Rachel Mansur and Floriana Gavriel, they're murmuring to one another, assessing their mise en scène like a pair of directors. Both used to work in film, television and commercials. "I think we're influenced by cinematic feeling," says Mansur. "There's almost a story to it. It's about building a world so that when you're in the shop you feel something."
The two thirty-somethings are opposites in many respects. Mansur is from Chicago and is fair-haired and more talkative; Gavriel is German-Italian, darker and quiet. Together they have created a business whose name has become shorthand for "meteoric success story". In 2013 they launched their brand with simple, approachably priced leather bags, including an instant-classic bucket bag so beloved by editors, buyers and influencers that it immediately sold out. Five years on they have scaled to a full-service fashion brand, with women's shoes and ready-to-wear, men's bags and, as of this autumn, a menswear capsule collection. Save for fragrances and eyewear, they now touch on every part of the fashion market. Along the way they've opened three bricks-and-mortar shops, including a concept shop in LA that also houses a café.
With no outside investment, though rumours swirl that they're considering selling a minority stake, they have grown to a 73-person business with 100 stockists worldwide. Owing to high demand and extremely low overheads early on, explains Mansur, they've been profitable since season one, when they poured their savings – which must have been considerable – into the fledging project. According to Business of Fashion, sources estimate that the company is on track to generate "well into eight figures this year".
In a short space of time then, these two art-school graduates with little real-world fashion experience (save Gavriel's post-college Lanvin internship) have built a mini empire and wooed thousands of style-conscious young women in the US and beyond. And they are showing no signs of slowing down.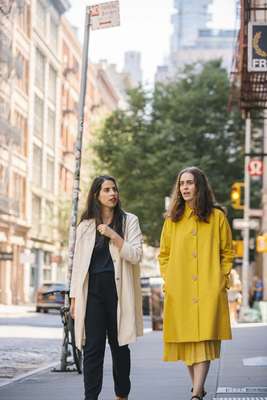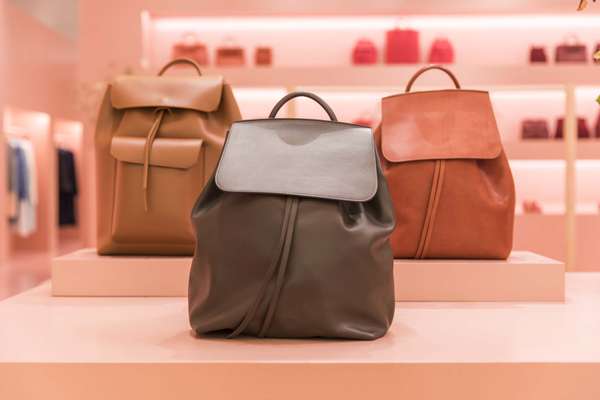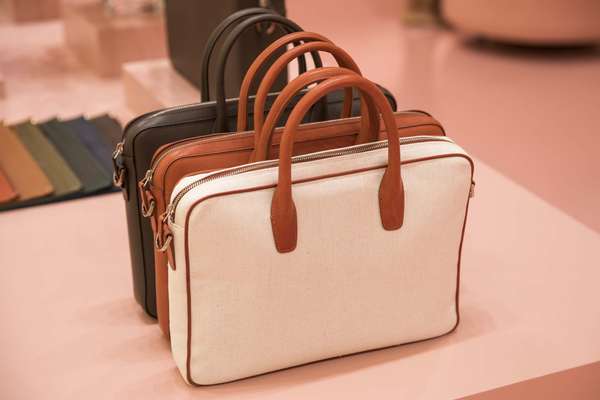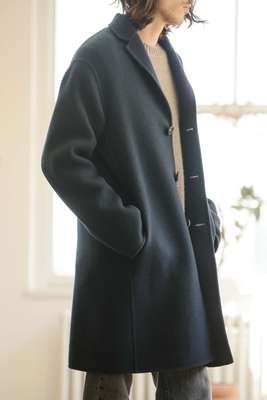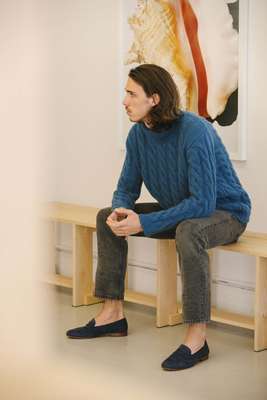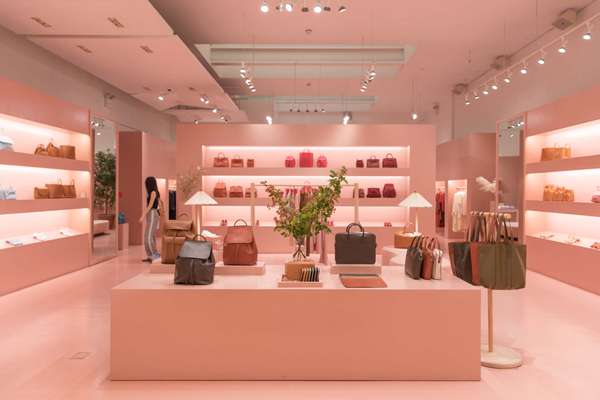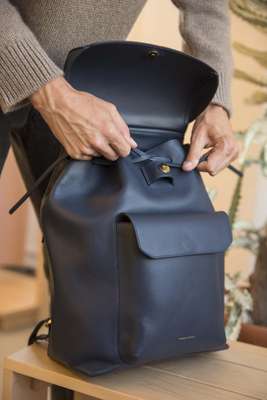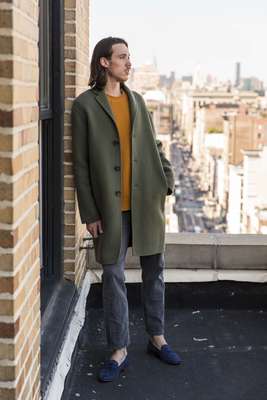 They decided to branch out into menswear, says Gavriel, because there was vocal demand from "friends, friends of friends and [existing female] customers". It was also a natural evolution. From the start they imagined Mansur Gavriel as a full constellation of products: a universe to fill out and perfect over time. Its growth has been rapid but they've been painstaking about each endeavour. "We've always added things slowly and let them grow organically," says Mansur. "It wasn't like, 'We have to have a full men's collection, show at men's fashion week and have a section of the store dedicated to men.'" A 20-piece capsule collection, by contrast, seems like a sensible way to enter the menswear market.
At their bright Tribeca studio, a model is trying on samples from the new line: chunky knits, soft wool coats and slipper-like loafers. The clean silhouettes are familiar from womenswear collections but come in dusky, masculine colours such as sage green and inky blue. There's no reason to think these pieces won't hold the same sophisticated-yet-practical appeal for millennial men as the brand's core products have for women.
Mansur Gavriel made its name as a sort of anti-fashion fashion brand, selling high-quality staples in vibrant colours at expensive but not decadent post-recession prices (hundreds, not thousands, of dollars). That bucket bag and the tote launched alongside it were sculptural, unfussy and barely branded, a reaction against what was then the norm: blinged-out soft-leather satchels that felt, says Mansur, "complicated and cheap". It was the right idea for the market at that moment.
The pair met in 2010 at a concert in LA (Gavriel was visiting from Berlin), hit it off and from the outset shared an "unwavering" vision of what they wanted their brand to be. "We thought a lot about not only aesthetics but this idea of loss of value in lower and mid-range-priced items," says Mansur. "You could only get nice things that were designer or more expensive. But 20 or 30 years ago you could buy nice T-shirts, nice denim; things that had decent materials and weren't precious. We always wanted material to come first."
That's why they started with bags. "We went to a leather fair in Italy and found what we think is the most beautiful vegetable-tanned leather you can get," says Gavriel. They spent time developing a way of bonding a coating to the interior of the bags – a pop of contrasting colour in place of a lining – and found a factory in Italy's Veneto region, where they continue to manufacture.
Before launching in 2012 they moved to New York and began cold-emailing boutiques. "Buyers immediately got it," says Mansur. When waiting lists accrued for their bucket bags they got a crash course in the fashion business. "We spent the next six months learning how wholesale works and how to get press." In 2014, they introduced e-commerce and a bricks-and-mortar shop in New York followed.

Having a physical presence has been an important brand-building exercise. "It's always hard to sell within a wholesale environment," says Mansur. "Brand is so many things: packaging, photography, the environment in which you sell the product, how the products sit next to each other, the merchandising. The bags have more meaning when they're in the context of a coat, a shoe or our café. We want to create a beautiful world for someone to enter and enjoy." They've even designed and manufactured much of the furniture for their shops and hope to sell it in the future.
It seems physical retail will be increasingly important. "[Our three shops are] just the beginning of our retail journey," says Mansur. The goal is to expand internationally. "We have so many different ideas for stores. We would love to open in key cities around the world. But we would also love to open in a secluded area where you can experience the surrounding nature."
There's something utopian about the way Mansur and Gavriel describe their business. More than clothing and accessories, they are selling a way of life: sunny, easy and refined. But if their products are exquisitely minimalist, so is their way of discussing them in interviews. They are reticent about outlining how they collaborate and speak about their designs mostly in abstractions: their colour palette is "intuitive"; they're moved by "landscape".
This vagueness has created a mystique around the brand that has arguably fuelled its popularity. (It has also, perhaps, left them more vulnerable to allegations of copying: in 2015, Maryam Nassir Zadeh claimed they ripped off her suede mules; earlier this year, Wendy Nichol accused them of stealing the design of her mini duffle bag. Mansur Gavriel issued statements denying both charges.) But if their process is somewhat opaque to outsiders, it makes perfect sense to the two designers, who share a strange sororal ease. "We have a connection," says Mansur. "Aesthetically we're very much in tune. It's very natural."
It's 17.00 and both women – mothers to young children – have a hard stop. They gather their things to depart the world they're creating together, presumably headed home to the ones they're making apart. But not totally apart: "It's beautiful," says Gavriel, referring to their partnership. "We're building a company together but we're also building our lives. Having children. Settling down. Making our homes beautiful. It's a nice feeling of not doing this alone."