Art / Palermo
Making a scene
Palermo's patched-up palazzos make the city the perfect backdrop to the stirring artwork on display at Manifesta, the roving biennale.
For many cities, staging a biennale is a shortcut to earning a new (and high-brow) cultural identity; a tried and tested model that usually yields results. But the spell doesn't always work: some towns lack a year-round arts backbone and, after the big event, remain stuck as art-world second-tier cities. Palermo believes it belongs in the former camp; that it has the cultural riches and contemporary edge for its biennale to reveal the city afresh to itself and the world.
"A biennale still makes sense when it is radically local," assures Manifesta's director Hedwig Fijen. As Europe's only roving art biennale, the Dutch-born event has touched down in several cities, from Zürich to Ljubljana and St Petersburg since its beginnings in 1994. Yet this year's decision to pick the Sicilian capital for its 12th instalment has been discussed more than its predecessors – perhaps because it took many by surprise. But, says Hedwig, "Whoever looks at Palermo finds it unique in its capacity to foster a coexistence of diversity."
At the very southern edge of Europe, closer to North Africa than to Rome, Palermo has often found itself at a nexus of global geopolitics – long before human traffickers' boats started crossing the Mediterranean. Migration, and the waves of people who have disembarked on its shores, have shaped this city and made it the complex place it is now. Having been colonised by the Phoenicians, Arabs and Byzantines, as well as becoming part of the Spanish-ruled Kingdom of the two Sicilies, over the centuries Palermo has been endowed with an impressively bountiful mixture of architecture – although many of those buildings have since been left badly neglected.
Manifesta's idea to open up some of Palermo's most beautiful (and crumbling) palazzos to the public is central to the event. Long-abandoned Palazzo Costantino, hidden in plain sight on one of the city's main crossroads, is being brought back to life thanks to installations by Jelili Atiku and Roberto Collovà. Scribbled with vandals' graffiti, the peeling walls of the medieval Palazzo Ajutamicristo now display a crystal-clear simulation of a US data farm by John Gerrard. The baroque Palazzo Butera plays host to Uriel Orlow's research into the impact of the mafia.
The locations' mesmerising charm means that the art occasionally takes a secondary role, allowing Palermo itself to become the true subject of this biennale. "We opened up new spaces so Manifesta becomes a device to intercept the city," says Ippolito Pestellini Laparelli, a partner at Rotterdam architecture firm oma, which has designed the biennale. The organisation also gave him the role of "creative mediator" (Manifesta's very culturally correct term for "curator") to emphasise the importance of public engagement.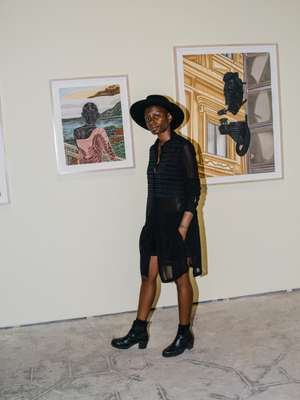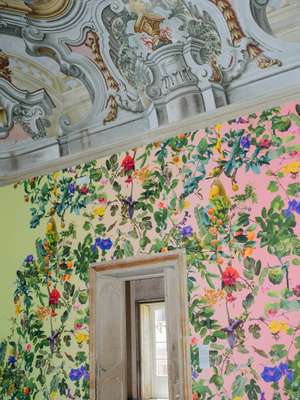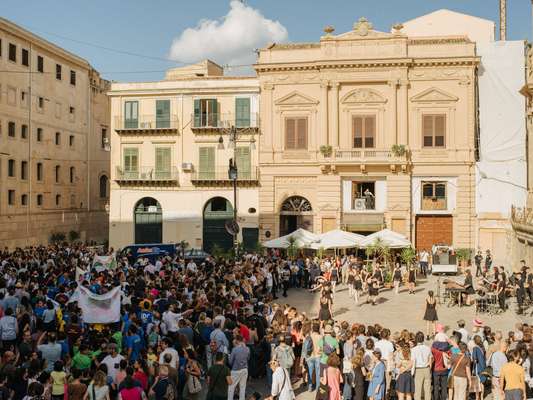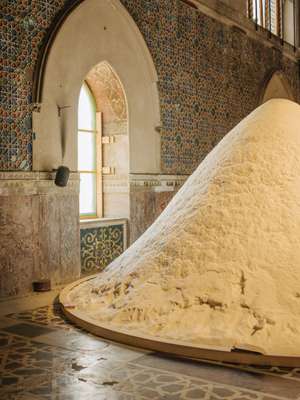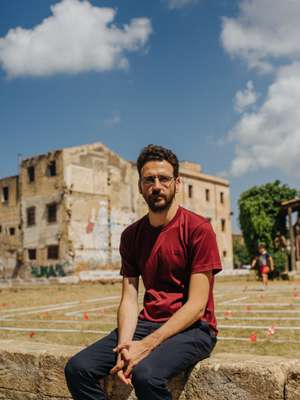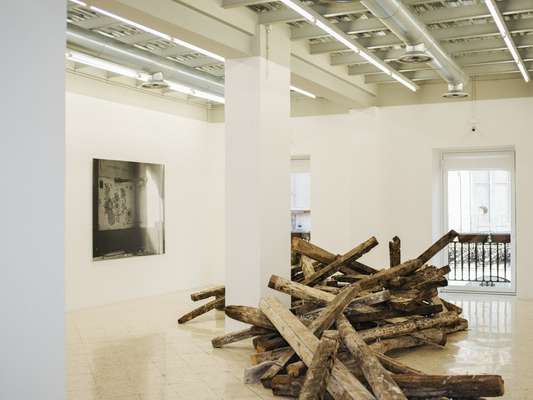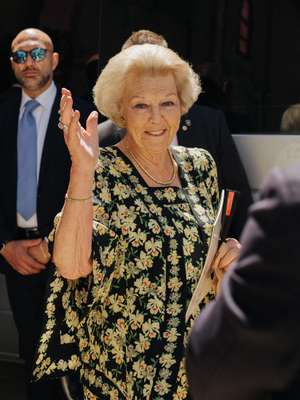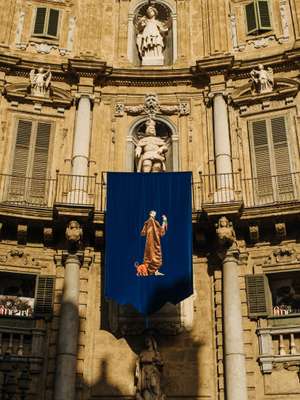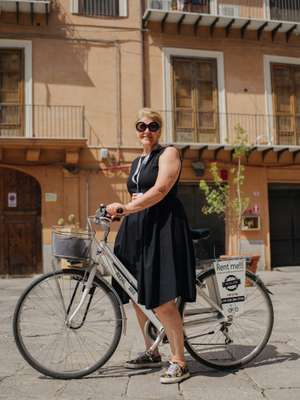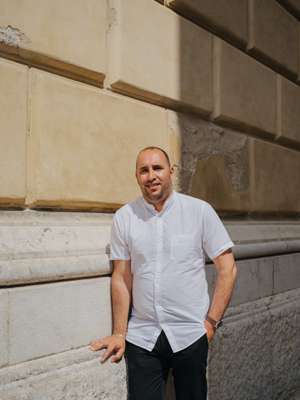 Bringing a Dutch arts institution into a city to uncover its potential has caused some upset, with posters appearing to protest against "Moneyfesta". Yet numerous cultural influences have always been key to Palermo's identity and this theme is picked up in many of the works displayed.
Inside the city's tropical botanic garden, Nigerian-American artist Toyin Ojih Odutola stands by her work: a pastel, chalk and pencil drawing depicting a man in a Sikh turban surrounded by African artefacts. "I think he is comfortable in this cosmopolitan world," she says. "I mean, what is wrong with being many things at once?" Although it's not clear whether the family looking at Chinese artist Zheng Bo's film (which features men in a forest making love to plants) feel as comfortable, the variety of people who have embraced Manifesta's presence give credence to Odutola's vision.
For its main hub, the biennale has picked another once-derelict, now beautifully restored gem on the expansive Piazza Magione: the 19th century Teatro Garibaldi. Only six years ago this very spot had been occupied by actors and directors keen to make use of the mothballed and cash-deprived space. Their battle was successful: city authorities agreed to revive the theatre. It is now central to Palermo's independent drama scene – a role it will resume after the Manifesta offices decamp.
Having been made this year's Italian Capital of Culture, Palermo has also been given access to central government funds, yet the city's cultural renewal could never have been achieved by money alone. Artists and entrepreneurs have engineered their own opportunities and this is why Palermo won't be left impoverished when Manifesta heads to its next destination.
Activists such as Valentina Greco, once the leader of Teatro Garibaldi's occupation, are at the heart of the process. "I think Palermo lends itself to research and artistic practice," says Greco. "The lack of major employers – or even of a formal infrastructure – makes Palermo the perfect residence for an artist."
The unruly yet relaxed nature of this city was attracting artists even before there were initiatives or venues to support them. "When we arrived there really was nothing here in terms of a scene," says artist Stefania Galegati, who moved to Palermo from New York 10 years ago with her partner, African-American musician Darrell Shines. In 2015 the pair started Caffè Internazionale, a bar-cum-cultural space in the historic centre that's staged gigs (featuring local and international talent), art talks and seminars. "We wanted somewhere for people like us to hang out," says Shines as he paces through the Caffè's live-performance space. "At first the locals didn't get it," he adds, remembering a neighbourhood that, a decade ago, felt less open-minded than it does now. "But something has happened since. Nobody is sure what that is – but it's definitely happening."
Marcela Caldas is another of the creatives who was drawn to Palermo by its bewitching power. After training as an architect in Bogotà, and having lived and practised in Barcelona, last year she heard that a small island off the city's coast was for sale. She jumped on a plane and decided to settle part-time in Palermo. Caldas and her team then set up a crowdfund to buy the island and turn it into a cultural playground. In a tribute to the island's name – Isola delle Femmine – they are only accepting donations by (or in honour of) women. A few months in, they have raised several hundred thousand euros of the €3.5m asking price.
The self-made spirit of Palermo's cultural milieu hasn't come without some scepticism. Arab-Israeli Adham Darawsha has lived in Palermo for 17 years and has been a two-time president of the Council of Cultures, a migrant-participation initiative set up by city hall in 2012. He is wary of how exclusive some of these initiatives can feel to most locals. "I sometimes have problems understanding some of these cultural events," says Darawsha, a doctor by trade. Yet even he admits that Manifesta has touched on an important nerve. "We are seeing how it is a generator, an engine for the city," he says. "It needs everyone to be involved to become a success." It's a lofty aim, although there's still a line-up of palazzo parties and VIP events that aren't open to all.
Yet as if to demonstrate the informal, can-do spirit of the biennale she runs, almost on cue director Hedwig Fijen cycles down one of the centre's picturesque streets and pulls up with a jolly ding of her bell. "I just met Princess Beatrix [former queen of the Netherlands]," she says, beaming. "I think it's safe to say she's in love with Palermo." From European royalty to local artists and activists, Palermo is captivating all those who experience the city. With an artistic enrichment that comes from its position at the centre of the Mediterranean, the Sicilian capital feels more relevant and worldly than ever.
1.
Orto Botanico The exceptionally lush planting of this botanical garden dating from 1789 is the perfect setting for the Garden of Flows section, where artists are invited to explore the idea of global movement.
2.
Palazzo Forcella De Seta A sumptuous interior in Moorish, gothic and romantic styles from the early 1800s plus views of the Mediterranean, are the backdrop to t thought-provoking works such as Patricia Kaersenhout's "The Soul of Salt".
3.
Casa del Mutilato
This stark rationalist building from the Fascist era was built as a tribute to the war-wounded. It is a poignant home to Cristina Lucas' "Unending Lightning", an installation charting the impact of global conflict.
4.
Palazzo Butera
Perhaps Palermo's prime palazzo, this building was recently acquired by collectors Francesca and Massimo Valsecchi, who are renovating its many halls and salons. Fallen Fruit's electric colour room is unmissable.
5.
Palazzo Ajutamicristo
Dating back to the late 15th century, this extraordinary Catalan gothic palace now hosts the Out of Control Room, which includes Peng Collective's fully functioning phone box installation "Call-a-Spy".
Manifesta 12 runs until 4 November