The Camp / France
Outside the box
A new space for collaborative thinking and creating businesses of the future is already producing fresh ideas.
"Imagine that it's a crossroads – a place where everyone can meet with each other," says Olivier Mathiot, non-executive president of The Camp, a new site for fostering unconventional thinking and socially minded entrepreneurship near Aix-en-Provence in southern France. Opened last autumn, one of its big ideas – and there are a bewildering number of them – is to encourage thought on what the future of business might look like. On this evidence it'll turn up looking immaculate – and have great weather.
Across a seven-hectare campus of workspaces, auditoriums and collaborative areas (complete with bar, restaurant and swimming pool), The Camp resembles an alien spacecraft that's just touched down amid woodland on the outskirts of town. But up close the sculpted concrete walkways and pod-like meeting spaces, all sheltered under a single metallic canopy, feel inviting and well judged. This is a place built with humans – or humanity, perhaps – in mind.
Mathiot speaks eloquently about the challenges that a facility like The Camp is designed to tackle, from France's youth unemployment rate to how older members of society are being left behind by technology's rapid ascent. "I think we need to put everyone around the table," he says. "Maybe those people could bring something to each other. You can't find solutions to problems by yourself."
Well, you can actually. But it does help to have friends on the case – and The Camp has many. Mathiot is candid about its hybrid model of funding and investment, courting the state, curious cities and huge global companies such as Accenture and Airbus to fund its footprint. "We have a sort of secret sauce where we mix private money, public money, individual dreams and the feeling that many organisations have: that they need to transform now because the environment is changing," he says.
Though collaboration might be The Camp's purpose, its original creation was the vision of one individual: entrepreneur Frédéric Chevalier, founder of consumer-analytics and branding group HighCo. Having overseen fundraising amounting to about €40m to build it, and €40m to initiate its programmes and operating costs, he died in a motorcycle accident just two months before his project was opened to the public. Chevalier also poured €12m of his own capital into realising his dream. "Frédéric wanted to create this space for people to connect," says Stéphanie Ampart, one of those now helping to continue his work. "This is an emotional project: we know why this place is here. It's not just because a man like that bought the land and decided to build something."
Today some of The Camp's permanent initiatives are a start-up accelerator and incubator programme, where growing businesses can refine their vision and gain insight from experienced entrepreneurs, and The Lab: a facility that connects those new business models with real-world infrastructure from regional authorities, creating collaborative projects focused on mobility, nutrition and quality of life. The site also hosts one-off workshops and events such as Hatch Europe, which is taking place while we visit, inviting delegates from around the world to share ideas.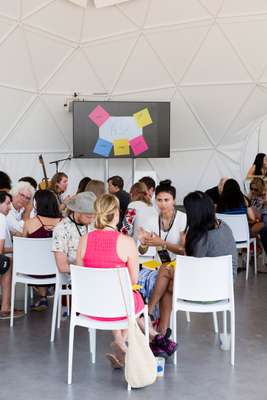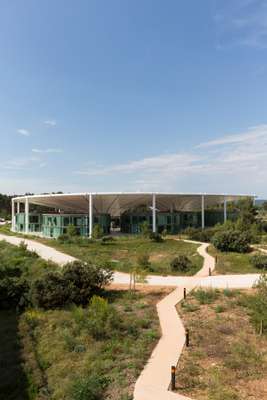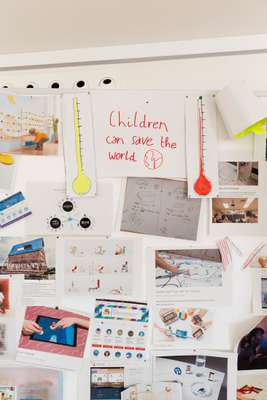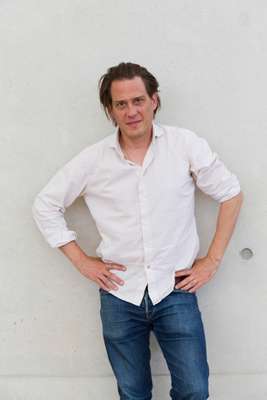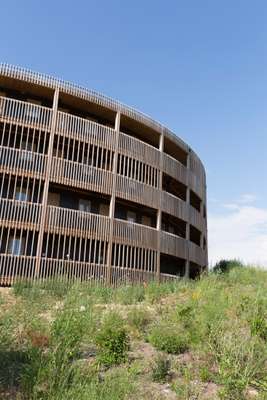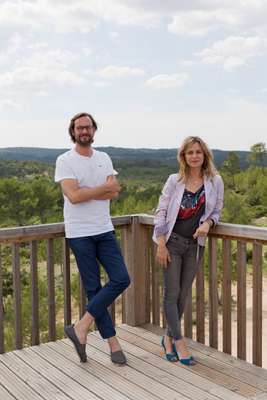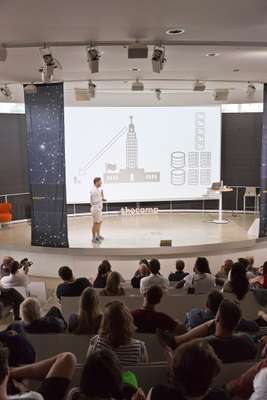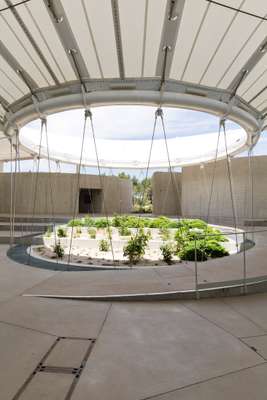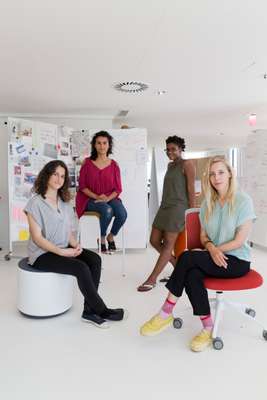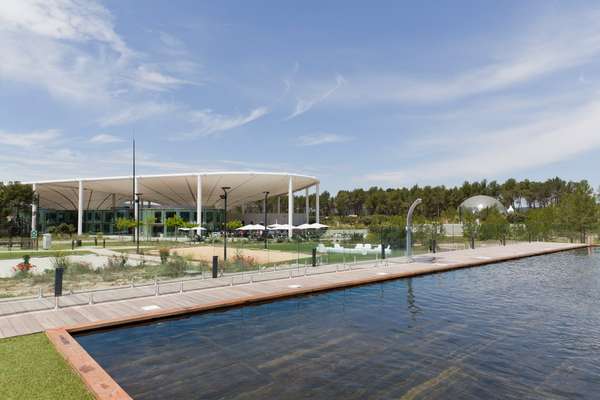 But the engine driving The Camp – ideas-wise if not financially – is its Hive programme: a six-month residency that allows 20 young thinkers and doers to live on-site (it has accommodation for up to 150 people), developing new models to overcome social challenges. During our visit we meet French mathematician and coder Claire Glanois, Namibian graphic designer Sandile Pazvakavambwa, French designer Léa Wlodarczyk and Brazilian fashion designer Aline Martinez Santos. They're working together on an idea that they hope might one day become a cultural-exchange programme between French children and refugees of the same age who are newly integrating into French society.
"For us it's very important to take out the label of 'refugee' or 'immigrant' and just let them be children," says Santos. When asked if the members of the group came here to fix the world or to build successful businesses, their answers are fairly evenly split. But there's also little concern about where that dividing line might lie.
Others taking part in the Hive programme work in industries that do not traditionally sit next to each other such as engineers, filmmakers, coders and artists. All of the Hive participants say the projects they're working on would not have happened had they not met individuals from other walks of life at The Camp. And, it must be said, many projects may never actually walk out of here either. Just months into its existence, a culture of "no wrong answers" is a luxury but the experience of broadening each others' horizons seems to be the pay-off for those involved. However, will any of these ideas ever return investment to the multinationals that are part-funding The Camp?
"The Hive scheme is crazy because you gather 20 people together without having any project defined," says French engineer Stéphane Garti. "This is the risk that they take – and what makes it unique I think." He met Colombian circus artist Daniel Amaya on the Hive programme. Together they are collaborating on a wearable technology brand called Wearkit.
Another facet of The Camp is its start-up accelerator overseen by Sofiane Ammar. "Everything is tested through experimentation," he says of the fledgling businesses that pass through. "And when they experiment with their product they go through a public institution or the private sector to test it. We are the platform that connects them."
As we sit in the afternoon sunshine, the real world seems far away. Yet Ammar, originally from Tunisia and who has worked in technology businesses around the world, seems to recognise that it's still a place that matters. "The programme is in English," he says, referring to The Camp's global outlook. "It was a big risk but we took this because the new generation of entrepreneurs' role is to expand their operations to other areas of the world. The position here near Marseille is very important: we have an open door to Africa and we also have these continental south European countries such as Greece, Italy, Spain and France that are culturally very adapted to this way of thinking."
He explains that one entrepreneur from India, Jaikrishnan R Pillai, has a business model and now a brand called Bovlabs that uses online blockchain transactions to enable energy sharing between individual users of a power grid – think eBay for electricity. When he brought the start-up concept to The Camp, it was coupled with a multi-stakeholder project called Solarcamp, a platform under development that it's hoped will soon help electric-vehicle users redistribute excess vehicle charge in an environmentally friendly way. Ammar says that he was unsure that the market was ready for such an idea but when Pillai brought it to The Camp, companies such as EDF, Renault, SNCF Gares & Connexions and more were quick to show interest and ask for proof of concept – they want to know if it'll work.
Concepts like Bovlabs will be tested in the real world with the help of Benoît Bailliart, director of The Lab. He explains the collaboration in a more French vernacular: "You drive to the bakery. You know you have enough energy to get back home, so you decide to redistribute your car's charge back into the grid – and you earn enough back to have a free piece of bread."
Elements of that idea exist in other businesses already but, like everything at The Camp, this project is about more than how much bread one business can make. Bailliart extends his analogy to the parking spots at the TGV train station. "You'll have 5,000 cars parked there. Imagine they're all plugged into the power grid. When the tgv train is leaving the station and requires that peak of charge, you can pump in the cars' energy. There's a real business case there to save money and use green energy at the same time."
The potential ramifications for joined-up thinking between emerging technology and traditional infrastructure (that may or may not include free delicious pastries) lie somewhere between profound and profane. But a light touch about The Camp's purpose is ubiquitous around the site; it's still a start-up itself and less than a year old. Therefore the team regularly admits, even celebrates, having no idea where the journey might lead. But they remember where it began.
"Every time somebody met Frédéric Chevalier it turned into two or three hours of discussion, even if you had just a 30-minute window," says Antoine Meunier, head of communications and media, a successful entrepreneur, one-time philosophy student and friend of The Camp's founder. "Frédéric was a strong believer in the power of places – and we were surprised that there were so few places in the world where you can think about the future," he says. "Once you're asking questions, 'what will it look like? How can my company prepare? How can I prepare myself?' There is no place for that. So this is a safe place to try. Even if you fail – so what? It's not so hard to do a little better."
It's still too early to know if innovations from The Camp will achieve widespread success – but there is certainly huge potential.
1.
Aix Smart Places
Quality-of-life metrics such as clean air, noise pollution, pedestrian traffic and lighting in Aix-en-Provence are being measured by The Camp, which has partnered Cisco and the Aix city hall. The data will then be communicated back to residents in creative ways – artistic projects in particular – to inspire thought and feedback on how to plan the city and improve public spaces.
2.
MedTrucks
Aiming to bridge the communication gap between healthcare providers, service operators and patients, MedTrucks is a start-up that has been developed in conjunction with The Camp's acceleration and incubation programme. The online medical platform could help better deliver healthcare to the right patient at the right moment, while improving efficiency and reducing costs.
3.
Wearkit
A collaboration between Colombian circus artist Daniel Amaya and French engineer Stéphane Garti, who develop wearable technology for performing artists. The process identifies future issues that might one day become essential need-to-knows for clothing manufacturers.