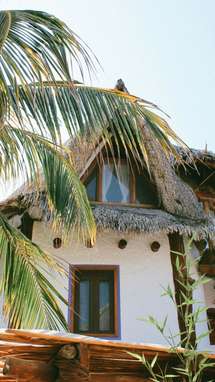 Under the Thatch
Isla Holbox, Mexico
Casa Las Tortugas
Located in the northern part of Mexico's Yucatán region, Holbox Island has been a well-kept secret for years. Casa Las Tortugas is its latest addition: a family-run boutique hotel inspired by the car-free island's raw natural beauty. Situated on the white-sand beaches of the Gulf of Mexico and surrounded by lush jungle, Casa Las Tortugas has 24 palapa-style thatched-roof rooms, alongside a restaurant serving regional delicacies and a Mayan-inspired spa. Built as a place for escape, the hotel's design merges elements of traditional Mexican design with a more contemporary flair. Each space is decorated with unique artwork, locally sourced ceramics, embroidered textiles and handcrafted linen.
holboxcasalastortugas.com
Home from home
Zealand, Denmark
Hotel Hornbaekhus
Hotel Hornbaekhus sits on the picturesque northern coast of the Danish island of Zealand. The homely wooden chalet is a sweet spot from which to take in the pleasures of the country's rugged landscape. Its 36 rooms are decorated by owner Suzanne Lajboschitz's furniture company

EEN

, which has added mid-century Danish and Swedish pieces, cheerful floral wallpaper and fabrics by Josef Frank and Gocken Jobs.
hornbaekhus.com
---
Greek odyssey
Mykonos
Katikies
With its latest outpost in Mykonos, Katikies has given the island's traditional Cycladic architecture a contemporary twist. Its 35 blue-and-white rooms and suites have beautiful balconies with views of the crescent-shaped beach of Agios Ioannis (one of the cosmopolitan island's more secluded spots) and the neighbouring isle of Delos, which is home to a significant archaeological site. The hotel's restaurant, Mikrasia, serves delectable Mediterranean food. After spending a day at the pool, recharge your batteries with seafood delicacies and an expertly mixed cocktail.
katikies.com
---
Sleeping pretty
Toronto
Kimpton Saint George
"We were keen to find the right location in Toronto," says Bertrand Mangeot, general manager of Kimpton Saint George, the San Francisco hotel brand's first foray into Canada. The 14-storey hotel, renovated by Mason Studio, opened in June and links the bohemian Annex with its upscale neighbour Yorkville. "The design was really about embodying the soul of the neighbourhood," says Mangeot, who collaborated with craftsmen to furnish the 188 rooms. Also involved were Toronto-based artists such as Tisha Myles, whose hand-painted mural greets guests at reception.
kimptonsaintgeorge.com
---
Simple pleasures
Beijing
Muji Hotel
For its second hotel (the first opened in Shenzhen) Japanese lifestyle retailer Muji has chosen a prime location in Beijing. The new 42-room Muji Hotel near Tiananmen Square offers guests respite from the bustle of the city, with architecture inspired by Beijing's once-ubiquitous hutong courtyards. The interior is kitted out with Muji's signature warm lighting, plenty of wood and plain, crisp linen. On the fourth floor there is a diner and on the ground floor a spacious 24-hour book lounge, along with a café. Plus, you can buy all the goods on show in the in-house shop.
hotel.muji.com
---
Green vision
Singapore
The Great Madras
A meticulous two-year renovation by creative agency Farm has transformed The Great Madras into a retro-inspired hotel, complete with a pool and 34 bedrooms. Hand-drawn wallpaper is paired with fetching furniture by the likes of Sydney-based firm Curio Design. With its barbershop and alfresco Catalan tapas bistro, this lovely hotel has quickly established itself as a hub in the lively Little India neighbourhood.
thegreatmadras.com
---
Up, up and away 
Shanghai
The Middle House
Swire Properties knows how to create a sense of arrival, whether you're ascending the escalator at the Upper House in Hong Kong or stepping into the courtyard at The Temple House in Chengdu.
The Middle House – Swire's fourth opening – is in the bustling Shanghai district of Jing'An. Here a discreet entrance gives way to bamboo-green tiling and a striking chandelier. The 111 spacious rooms, and 102 apartments next door, are served by three restaurants, with Café Gray Deluxe the focal point. This is Swire's second association with New York chef Gray Kunz and the roomy outdoor dining area is a pleasant option as Shanghai's skies become more blue.
themiddlehousehotel.com
---
Bohemian bolthole
Santo Estevao, Portugal
Fazenda Nova Country House
Opened by Tim and Hallie Robinson in 2012, Fazenda Nova Country House in eastern Algarve has just unveiled five new suites. "When we built the hotel we sectioned one wing off for our family but the time has come to provide more space for guests," says Tim. The 19th-century house is an old olive farm and is the ideal spot to disconnect. Its restaurant serves meals with ingredients from the estate. Even though it's no longer the Robinson's family home, it still feels like it.
fazendanova.eu
---
Q&A
Christoph Hoffmann
CEO, 25hours Hotels
Germany
25 hours Hotels launched in Hamburg in 2003; since then the group has opened 13 hotels around the world. We caught up with Christoph Hoffmann to learn more about his plans for the future of the business.
Why choose Düsseldorf for your latest opening?
We selected it because even though it's not as big as London or Berlin, it plays an important role in the region. The city also has a high quality of life and purchasing power – and it had no hotel that wowed me. Napoleon once rode through Das Tour's neighbourhood and it has a French touch, so we themed the hotel around the relationship between Germany and France.
What's next for the group?
We open in Paris in autumn in a 150-year-old property opposite the Gare du Nord. We'll also be opening hotels in Florence, Dubai, Melbourne and São Paulo, among others.
What attracted you to the hospitality industry in the first place?
I've always been fascinated by the legendary hotels of the world, such as Badrutt's Palace Hotel in St Moritz. Literary figures and travellers made them their homes and this bohemian lifestyle appealed to me. Many hotels nowadays are cookie-cutter products; they're soulless. We always wanted to create something modern and personal with a soul.
25hours-hotels.com