Diners / Los Angeles
Counter culture
LA's diners serve a healthy dollop of nostalgia but their architecture has modern relevance.
Los Angeles' old-school diners, coffee shops and family restaurants are cherished for their affordable food served by waiters who remember customers' names and backstories. But the affection for these venues is also down to the fact that they are an endangered species.
LA and its southern Californian satellites have never been renowned for their architectural longevity. In part due to the warm weather, buildings haven't had to be as heavy-set as their counterparts in colder climes, meaning thought hasn't always gone into posterity. And yet, in among the hotchpotch neighbourhoods of this sprawling city, there are plenty of mid-century dining holdouts – you just need to know where to look.
There's 1950s Hawthorn diner Chips, where brother and sister Nabil Soliman and Nawal Rofael (both doctors who share an office space next door) lunch every Friday at midday on the dot. At Pann's, just to the north of Chips, Richard Earl has been eating "religiously" since 1983; at Dinah's in Westchester, Al Bristo has been sliding into a breakfast booth for 40 years.
If there's an architectural style that looms large over this panorama of chicken-and-waffles and burgers – the staples of these establishments – then it's Googie. This mid-century design aesthetic came about thanks to American modernist architect John Lautner, in reference to a 1949 LA diner called Googies. Its futuristic feel – think the fantastical space-age take on modernism popularised by cartoon The Jetsons – went on to inform the most standout coffee shops in town. "They look like nothing else on the street," says Adrian Scott Fine, from advocacy organisation LA Conservancy, at his downtown office. "What's so special about them is how they draw your attention with their exaggerated forms. They looked wild when they opened and they look wild today too."
The zigzag shapes, angled roofs and colourful signs were all designed to appeal to passing motorists – but the design went beyond that. Googie tapped into the zeitgeist, casting off the gloom of the prewar age and expressing the optimism that came with the US's global leadership and prosperity. "You see the space-age movement in full effect," says consultant Adriene Biondo, a former chair of LA Conservancy's modern committee, explaining one of Googie's quirks. "You see the stars and the Sputnik fixtures and the glittery walls." Indeed, hovering above tables at Dinah's – which was designed by Jacob Tracht in 1959 – are reminders of Googie's galactic qualities: low-hanging, circular ceiling features that look like ufos.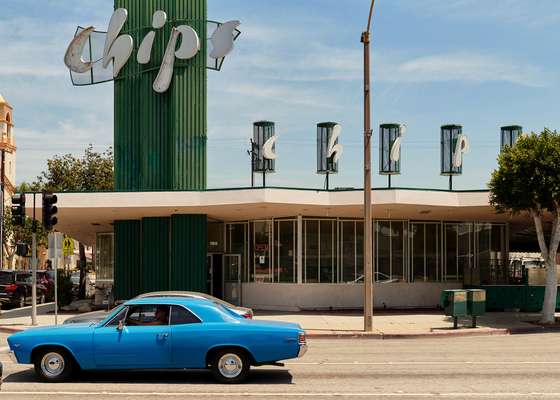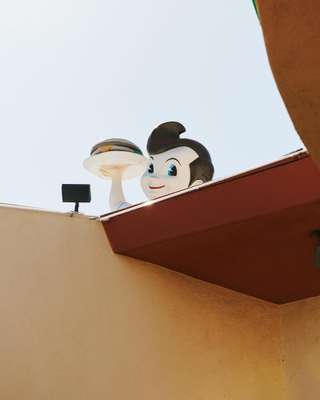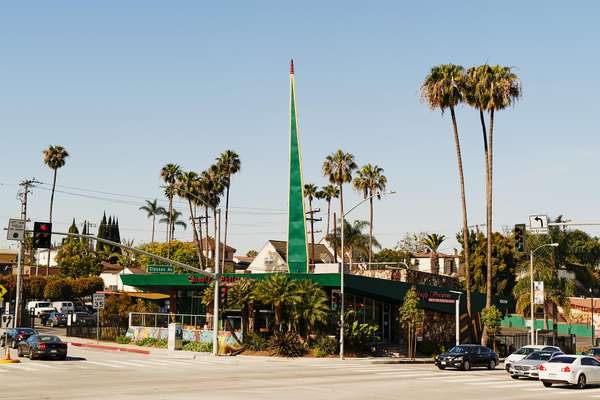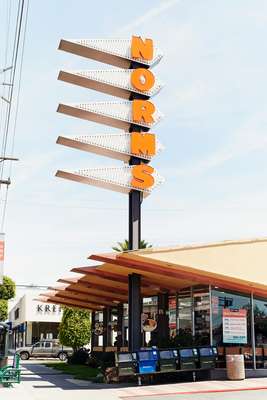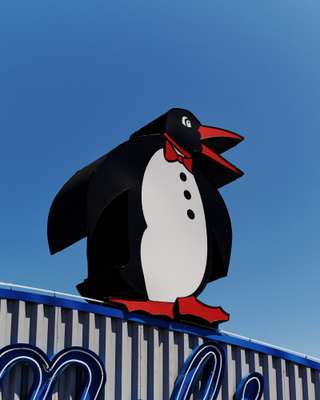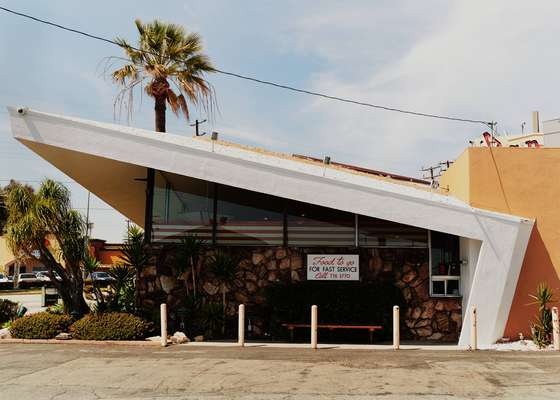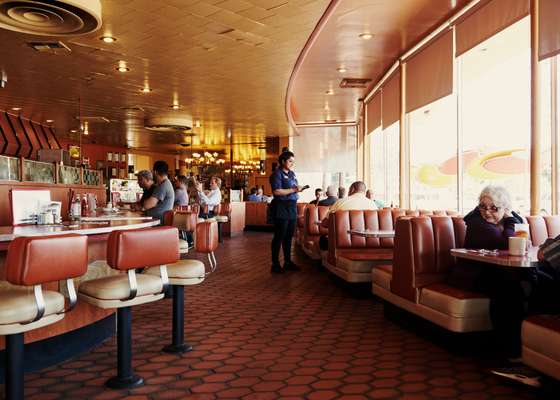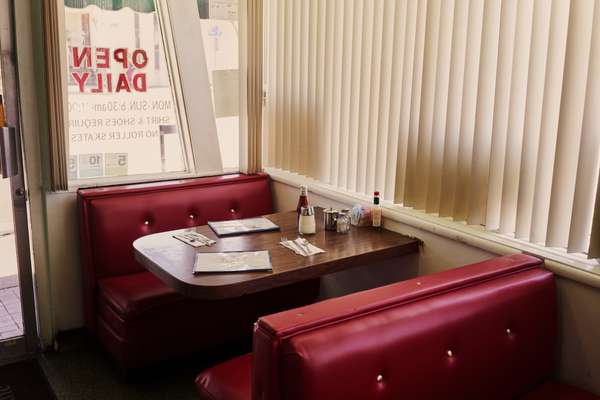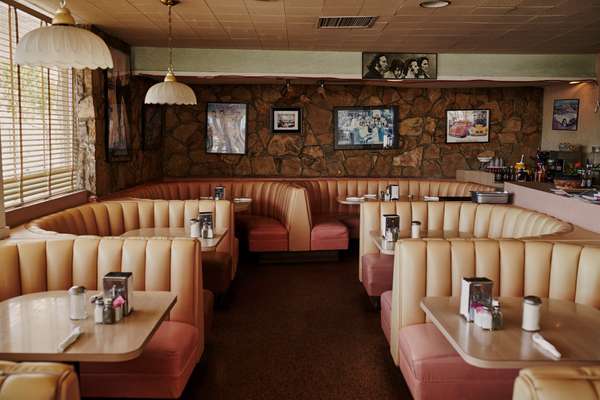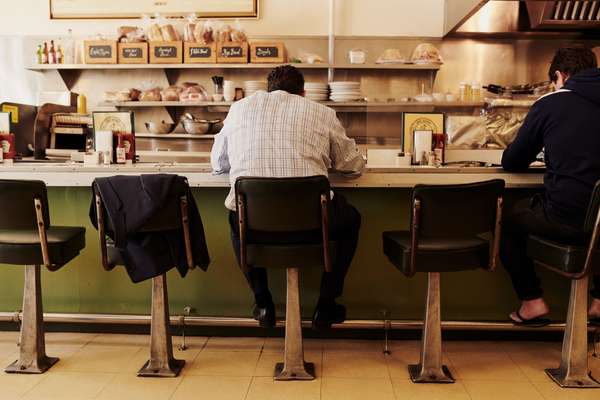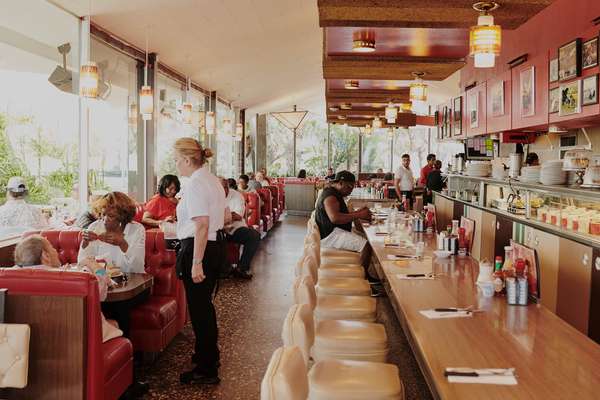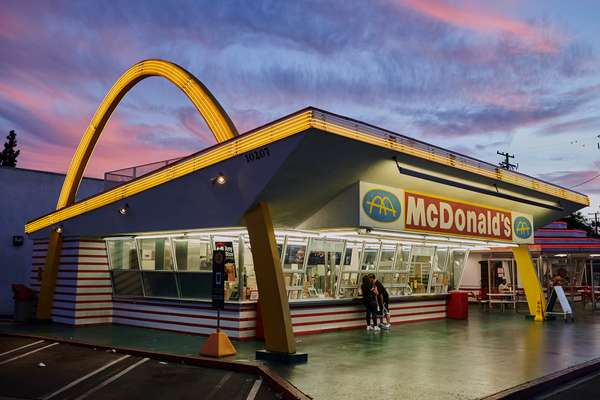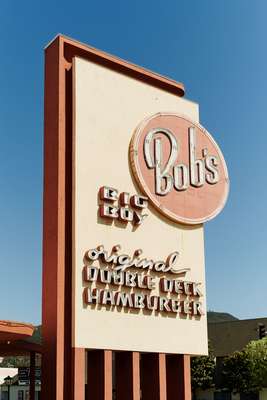 Googie was a style that ushered in a new form of restaurant altogether – and one that writer and preservationist Chris Nichols argues is a far superior breed to the prefabricated diner "wagons" popular on the east coast, as well as the shopfront dining counters of previous decades. Dressed in a button-down shirt and bow tie, he's sat behind a table at Astro, built in 1958 in the Silver Lake neighbourhood. It's his favourite coffee shop. "Think of an urban diner of the 1920s or 1930s, one that's tucked into the side of a building where there's no landscaping to speak of, no parking, no art." Then, pausing to point at the seating behind him, he furthers his point: "These are upholstered banquettes; you've also got terrazzo floors, custom fixtures, lavish, elaborate landscaping, artwork that tells the story of the family that built the place – it is so many levels beyond a diner."
Nichols has an encyclopaedic knowledge of the original colour schemes that the soffits would have been painted in, alongside other minutiae. His passion for the architecture is so intense that at one point he takes off his glasses and fights back tears. He'd begun talking about the ghosts of coffee shops past, razed in the name of so-called progress. "It's like losing a relative," he says. "It's completely tragic. I've been to a lot of these funerals over the years but I've stopped going."
Monocle comment:
Hospitality entrepreneurs should take a cue or two from the unique Googie architecture that sets these diners apart from the modern restaurants they neighbour. Too often in the US' franchise-dominated hospitality industry, individuality is driven out of the design brief in favour of the value engineering that uniform fit-outs offer. We praise those in hospitality who are willing to invest in architecture that presents the unexpected, rather than a brand-washed experience. Googie efforts never fail to raise a smile, proving that variety is the key ingredient when it comes to good dining.
In part due to the outsized influence of developers – who often see the value of the land rather than the merit of the building already there – many of LA's mid-century restaurants have either been demolished or are feeling the pressure. Norms in West Hollywood, built in 1957 and shaped like an angular tear-drop tipped on its side, was threatened with demolition back in 2015 but saved when the city voted to make it a "historic-cultural monument". But its struggles may not be over as the building's owner has been eyeing a possible development on-site, including the carpark.
Despite the uncertain future, places like Norms are protected by city heritage preservation laws first created in the 1960s. As the number of Googie coffee shops has shrunk, Angelenos have become more aware of their merits. As this has happened, the notion of protection has risen on the preservationists' agendas, pushing the buildings' causes at a local government level. The hold-outs, often run by successive generations of the same family, can now survive and prosper.
Googie gazumped:
Why was the Googie coffee-shop style so short-lived? Having kicked off in the late 1940s, by the 1960s it had evolved into what Chris Nichols calls "grand baroque monstrosities". A big reason for the demise was the mass expansion of fast- food chains that took many of the Googie coffee shop's ideas and reproduced them on a vast (and cheaper) scale. In those early days fast-food chains also copied what Nichols calls the "architectural integrity" of Googie coffee shops. That's apparent at the oldest remaining McDonald's (the third ever built) from 1953, located just outside LA and designed by Stanley Clark Meston.
From an architectural standpoint, when conversation in LA turns to coffee shops, the name of one firm always comes up: Armét & Davis. Sift your way through Los Angeles' mid-century greatest hits and you'll discover a&d was responsible for most of them, including Norms, Pann's, Johnie's and the Witch Stand (famous for its spire, which now functions as a health-food shop). Louis Armét and Eldon Davis are no longer alive so the firm is now run by Victor Newlove, who joined in the 1970s. While his clients these days are brands such as Burger King and Taco Bell, he admits there's something enchanting about Googie. "It was like a car showroom," he says. "The exterior and the interior were one and the same."
For Newlove it must be a heady feeling working on one of the firm's original Googie buildings again, this time as an adviser. He has been counselling on the reincarnation of the Penguin Coffee Shop, a classic a&d coffee shop from 1959 that went on to function as a dental surgery for 25 years. Recently Steven Weiss, the man behind the Mel's Drive-In chain, snapped up the lease, staving off a buyer who wanted to bulldoze the place. Newlove laments the fact that Weiss hasn't got the 1950s look quite right but there's little doubt that this is a big win for Googie fans.
"I looked at this location for 23 years; my wife Debbie kept saying, 'I'm praying you'll get it,'" says Weiss, flashing a Hollywood smile. He revived his father's San Francisco-born diner business in the 1980s and while he's a businessman through and through, he recognises that the right dose of legacy, design and brand is popular with the public. He committed to many aspects of Googie on the Penguin Coffee Shop refurb: flagstone walls were exposed, teardrop-light fixtures reproduced and the sign went back to full neon, with a plastic penguin perched on top for good measure. The landscaping is a desert-meets-jungle mishmash of foliage, a hallmark of these coffee shops.
Penguin Coffee Shop enjoyed a soft opening at the end of June. Its rebirth as a Mel's is proof not just that Los Angeles is starting to value its heritage but also that the mid-century coffee shop is more than architectural folly. These businesses from that booming epoch, with its supersonic rush towards modernity, continue to be a world unto themselves. They are refuges where people have time for proper conversation; they're democratic spaces where a suited businessman can read a broadsheet and a blue-collar family can enjoy their eggs sunny side up.
In an age of identikit fast-food joints, these coffee shops are also a reminder of a time when genuine thought went into design and experience. "There's a magic to this architecture," says preservationist Adriene Biondo.
Sign of the times:
Googie's neon signs stand out for their bright colours – especially at night, of course – and their sheer exuberance. The aim? Get passing drivers' attention by standing out from the crowd. Armét & Davis often went for angular, hand-drawn custom fonts. And then there's Harry Harrison's 1957 edifice, Chips, where the individual letters are mounted on the roof, angled to feel like they are moving with you.