Briefing / Global
Food
&

drink
Briefing
A tour of Turku, Finland, a Dublin coffee shop and our favourite new London local.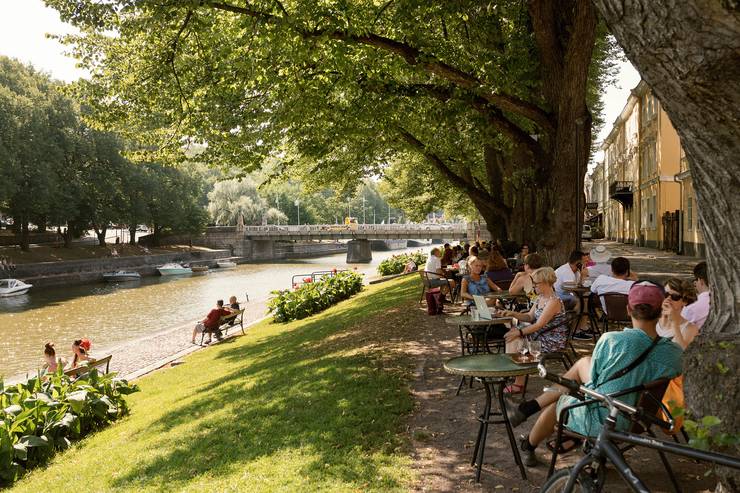 There's a smile on Jaana Heilimö's face as she tells Monocle that her restaurant Tintå attracts a growing clientele from Helsinki. There's an age-old rivalry between the two cities and Turku's emergent food scene fosters a strong sense of pride among its residents. Located on Finland's southwestern coast, Turku is surrounded by fertile lands and an archipelago with plenty of fish.

In recent years Turku has begun reeling in restaurateurs too. "It all started a few years ago when riverside properties became available and independent businesses moved in," says Heilimö. The riverside restaurants trained young chefs and fostered a new, more southern European dining culture where restaurants are places in which to linger.
Tintå is just this. The terrace is full of chit-chat and smiley people enjoying wine and Moroccan-style lamb skewers or raspberry and rhubarb salmon. "Living costs are lower in Turku than in Helsinki. This means people have more money to spend on pleasures such as food and wine," says Heilimö.
To get a sense of Turku's food scene, head to the central market square and the adjacent old market hall. At the square, booths selling fresh produce from nearby farms such as Deliverde Puutarhat are packed to the brim with fresh tomatoes and potatoes, salads and herbs, cabbage and radishes.
Across the square at the 19th-century market hall, architect Anna-Maija Aalto is enjoying fresh salmon from Kalaliike S Wallin, a fishmonger that's been in service for some 130 years. "We have lunch here almost every day. There's a lot to choose from and I love the atmosphere of an old market hall," says Aalto.
Speaking of tradition, take the Pippurimylly restaurant, which has been in the Ravantti family since 1974. It serves classics such as fried Baltic herring, garlic escargot and toasted Skagen (prawn bread with whitefish roe). But their signature dish is the pepper steak, which is known all around Turku. It was the favourite of Mauno Koivisto, a Turku native and Finland's former president, and is loved by dock workers from the nearby naval yard. Proof, if it were needed, that despite its rising fortunes, Turku has kept its open-to-all Finnish charm.
Address book:
1.
Centro Contemporary hotel in the heart of town.
+358 22 118 100
2.
Kuori Versatile vegetarian dishes inspired by Scandi and Asian cuisines.
+358 207 940 330
3.
Kaskis Seasonal Finnish flavours with foraged forest herbs, roots and berries.
+358 44 723 0200
4.
Tinta A laid-back wine bar by the river.
+358 22 307 023
5.
E Ekblom This restaurant's cocktail bar is among the best in the city.
+358 25 369 445
Laura Magahy started her ceramics shop in a Dutch Billy gable-fronted building in 2014. The spot has added a reason to visit beyond its seemly ceramics: a new coffee shop. Now serving the black stuff roasted by Two Fifty Square in nearby Rathmines, plus a selection of flaky pastries, the space lets patrons sip from the hand-thrown delights before they buy.
arranstreeteast.ie
Founded by a husband-and-wife Limor and Amir Chen, this family affair opened in Marylebone after a residency at Shoreditch House and a stand-alone Delamina East (formerly Strut and Cluck).
Chef Limor is inspired by Middle Eastern cuisine and her upbringing in Tel Aviv. "My dad would come to the kitchen, put things together and boom. He would use the ingredients and spices of the region in a nice creative way." Dishes lean toward the healthy but don't want for flavour: try the charred cauliflower and marinated squid.
delaminamarylebone.co.uk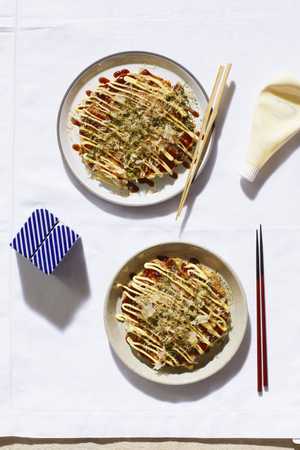 Okonomiyaki
Recipe —
midori house
Serves 4 (makes 4 large pancakes)
Ingredients
400g pointed spring cabbage or white cabbage
240g self-raising flour
2 tsp baking powder
4 eggs
320ml Japanese dashi stock
100g king prawns, shelled and deveined
200g pork belly, remove fat and bones
2 tbsp pickled ginger
4 tbsp sunflower oil
Toppings
360ml okonomiyaki sauce
8 tbsp Kewpie mayonnaise
16g bonito flakes
4g dried aonori seaweed powder
1.
Put pork belly pieces in a shallow tray and place it in freezer for 45 minutes to 1 hour, until partially frozen. While pork belly is freezing, thinly shred the cabbage, aiming for 1mm thick slices. Then roughly chop the long strips of cabbage.
2.
Mix the flour and baking powder in a bowl. Whisk the dashi stock and egg yolks together in a jug. Save egg whites in a bowl. When ready, remove the pork from the freezer and slice as thin as possible (2-3 mm).
3.
Pour the egg and dashi mixture into the flour, whisk it quickly, being careful not to overwork it. Add the cabbage, prawns and pickled ginger and mix well. Whisk the egg whites until soft peak stage and add 1 large spoonful of the egg white to the okonomiyaki mixture and mix gently with a metal spoon, then add the rest of the egg-white mixture and mix gently.
4.
Heat 1 tsp of oil in a medium-sized frying pan over a medium heat and pour a soup ladle of okonomiyaki mixture into the pan, lay a quarter of the sliced pork on the pancake, cover with a lid and cook for about 3 minutes until the pancake becomes golden. Turn over once and cook for another 3 minutes. Repeat for the other three pancakes, keeping the cooked ones warm.
5.
Place the okonomiyaki onto plate, pour the okonomiyaki sauce over, then draw a zig-zag shape with the mayonnaise. Sprinkle with bonito flakes and aonori powder.