Travel and hotels / Global
Get out of town
This month we round up some fine spots for weekend jaunts, whether it's a seaside stay in Japan, a reborn Massachusetts motel or a woodland retreat an hour from Paris. And for diehard urbanites there's an electrifying Copenhagen hotel and a collection of upscale apartments in Prague.
Coastal hideaway reborn
Japan
Hotel Aiaoi
Tucked away in an anonymous old building in the popular Japanese beach town of Kamakura, Aiaoi is the homeliest neighbourhood hotel in the area. It opened its doors in 2016 and if it weren't for a small handwritten sign on the door, you wouldn't know that this charming six-room inn was hidden upstairs. "I love travelling but I couldn't keep doing it," says Go Komuro, who founded Aiaoi together with his wife Yuko. "I realised that what I liked about travelling was meeting people." He came to realise that opening a hotel would be the solution.
Kamakura was the couple's favourite retreat from their life in Tokyo, where Yuko worked in real estate and Go in the food industry. In 2012 they decided to move there for good. Every day they would commute to Tokyo and in the evening return to Inamuragasaki, a refreshingly old-fashioned part of town where locals support independent butchers, fishmongers and grocers. "We buy things from the people we know; it's a direct, face-to-face trade," says Yuko.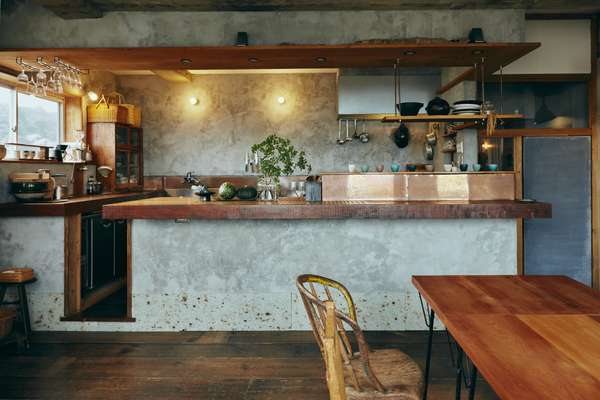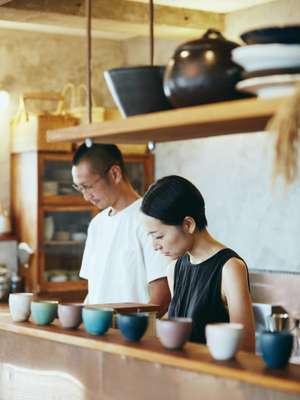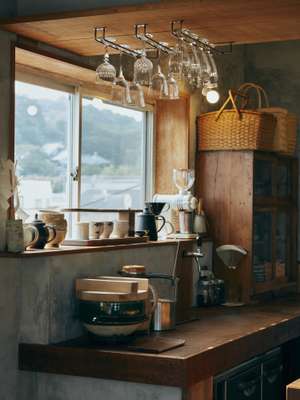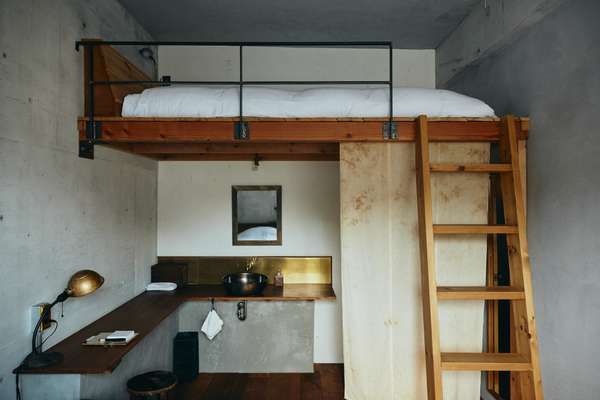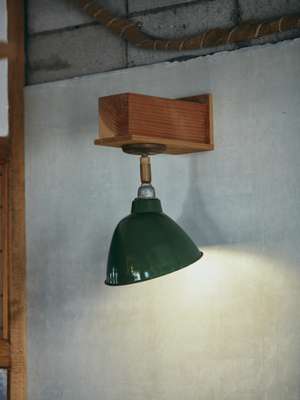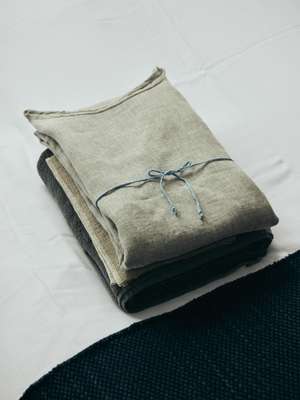 The two had heard of a ruined old hotel nearby but it took an eye-opening encounter in the US to give them the idea of developing it. "During our research trip on the west coast we came across a hotel in a renovated old building and it reminded us of this property," says Go.
On their return they rented the neglected property and commissioned carpenters to revamp the building's interior. They repurposed robust wooden ceiling boards salvaged from a centuries-old house in nearby Gokurakuji for the floor in the lounge and laid beautiful Oya-ishi stones in the kitchen. The rooms – a mix of a single, doubles and twins – are finished with natural materials and personal touches: seasonal flowers, shikkui plaster walls and hand-dyed curtains made by Yuko.
The lounge, overlooking Yuigahama Beach, is filled with natural light. Here, Yuko and Go serve everything from breakfast to drinks. Yuko's father provides rice that he grows himself, while a fisherman friend of Komuro's delivers the catch of the day. "I wanted to provide ryokan-style hands-on hospitality," says Go. It's a winner, hands down.
aiaoi.net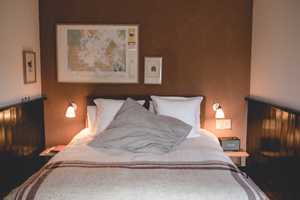 Trees lounge
France
Le Barn
Parisian residents have always lacked a leafy retreat to escape to of a weekend. That changed this summer when Le Barn opened in Bonnelles, less than an hour's drive from the French capital. Tucked away in the Rambouillet forest, it lies at the heart of a wooded estate covering more than 200 hectares. The hotel is housed in two large, red-painted sheds designed by French branding outfit Studio Be-poles, whose hospitality projects include the Four Seasons and Nomad. "Until Le Barn opened, Parisians who wanted a quick getaway had to drive two-and-a-half hours to Deauville; this is a game-changer," says Antoine Ricardou, founder of Studio Be-poles.
This new 71-room hotel is minimalist yet warm: the Shaker-inspired plywood furniture goes well with the cork wallpaper, waxed-cotton curtains and a mix of paintings, maps and framed herbariums. There's lots to explore on foot, horseback or by bike, while next door a former mill has been converted into a wellness centre with a sauna, hammam and outdoor hot tubs overlooking the woods and the horse paddock. Sunday brunch at the hotel's farm-to-table restaurant La Serre is worth the trip alone.
lebarnhotel.com
Sparky stay
Copenhagen
Herman K
For all Copenhagen's stellar restaurants, it's only over the past year that the city has received hotels to match. Following several five-star openings, Danish hotelier Brochner Hotels recently unveiled Herman K, a slick 31-room space that occupies a former electrical substation. The imposing concrete building has a brutalist appeal, with a dramatic façade made of dark-metal slats and large glass doors.
Inside, guest rooms have a cool, grey palette with marble bathrooms and hygge-ly touches, such as carpets to sink into and warm comforters. Even if you're not checking in for the night, it's worth dropping into the hotel's restaurant, the Roxie, from Michelin-starred Kadeau, for a bite and a tipple on the rooftop terrace.
brochner-hotels.com/hotel-herman-k
Q&A
Katherine Lo
Hotelier
Hong Kong
Visionary hotelier Katherine Lo is opening Eaton hotels in Hong Kong and Washington in autumn. Both are rooted in design and have a strong social philosophy. Her mission? To show that an ethical business can be profitable.
What is your approach to designing a hotel?
Eaton projects are informed by a shared ethos and a highly individualised, localised process for the interior design and architecture.
Why did you choose this business model?
By creating what I hope to be the ultimate gathering place for artists, visionaries, activists, entrepreneurs and change-makers, we're using the hospitality business model to support culture, media and impact initiatives.
How will Eaton bring people together?
We believe in the power of the collective and we designed our spaces to be purpose-driven for the community. We'll house artist and activist residencies, and run a radio station and a cinema, with programming from the community and emerging and established talent.
eatonhongkong.com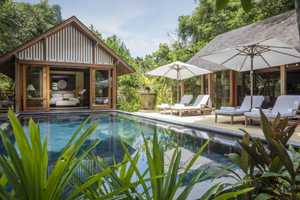 Welcome to the jungle
Malaysia
The Datai
Guests returning to The Datai, after the Langkawi hotel's €52m year-long renovation, will be greeted by two wooden Malay warrior horses that have stood in the lobby since the resort opened in 1993. They are a "pillar and icon of the hotel's interior" according to general manager Arnaud Girodon.
The original Kerry Hill-designed property in northern Malaysia preserved as much of the surrounding ancient rainforest as possible and drew inspiration from Malay culture and architecture. The result is a 121-room hotel with breathtaking views over the jungle canopy to the azure waters of the Andaman Sea; the venue sets the standard for resorts in Malaysia and beyond.
The refurbishment was overseen by Didier Lefort of Paris-based dl2a, who worked with Hill on the original Datai. He updated the rooms, public areas, spa and restaurants – and then set about adding three new villas and a nature centre. But one thing won't change: The Datai will remain, as it has for 25 years, an unmistakably Malaysian retreat, in harmony with the forest that surrounds it.
thedatai.com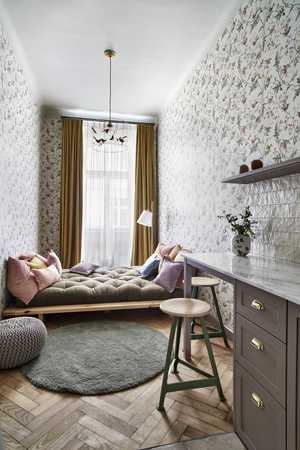 Time to Czech in
Prague
The Emerald
There's something dreamlike about this upscale rented-apartment-cum-hotel that recently opened in Prague. Set inside a five-storey art nouveau building in the city's Jewish Quarter, it is made up of 13 uniquely designed flats. "I was collecting the ideas since my childhood," says Pierre Emmanuel Dionnet, founder of Urbanium Concept, a project-management firm focused on property reconstructions. The Emerald is its first project.
Each floor has a name that communicates the essence of its particular style, such as Basho, named after Japanese poet Matsuo Basho. "Our responsibility was to make Pierre's vision real and functional," says Richard Heger, one half of Richardavid Architekti, the project's main architecture firm.
The team looked to the 1906 building to guide them; they used traditional materials and period techniques to preserve existing elements. The tone is set by custom furnishings made by Prague-based artisans and paired with antiques and modern pieces. The Emerald currently offers breakfast and housekeeping, with other services on the way.
the-emerald-prague.com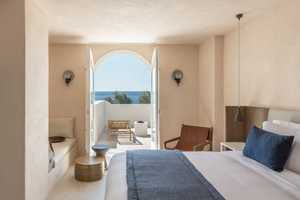 Fantasy Island
Greece
Istoria 
A hotel opening in Santorini is more likely to be met by an indifferent shrug than an inquisitive smile – it's a saturated world. But Istoria is different. The new boutique stay overlooking the black sands of Perissa, in the island's southeast, dispenses with all superfluous luxury for something more thoughtful and hospitable.
There are all the touches of a high-end getaway: private pools; a terrace for each of the 12 suites; handmade furniture; earthy textiles; and a shady courtyard restaurant serving fresh sea bream. But these elements contrast nicely with the rustic irregularities of the building, which have purposefully been kept in place: an odd flight of stairs here and low-arched entryways there. The building remains more farmhouse than hotel – and that's the idea.
The agenda here is "simplistic, fully respecting the Santorini landscape", says Stamos Hondrodimos, founder of Athenian architecture studio Interior Design Laboratorium, which worked on the hotel for a year before its unveiling this summer. When his team first encountered the former private home, complete with five stables, it was in a dilapidated state. But rather than demolish and create something with no cultural reference to Santorini, they revived the building while preserving as many original features as possible.
The basic structure, doorways, stone pillars and wooden beams have been left intact. Elsewhere, modern additions draw on materials that echo the island's geography, such as the black volcanic stone girdling the courtyard swimming pool. If authenticity has a recipe, this is it.
istoriahotel.gr
Worth a hike
Massachusetts
Tourists
Tourists is an evolving hotel project in the northern Berkshires, an idyllic part of Massachusetts populated by farms, rolling hills and chocolate-box towns. The partners are an eclectic bunch that include the founder of a Grammy-winning band, a journalist and former arts-fundraiser-turned-brewery-owner among their ranks. Ben Svenson, the project's designer, fell in love with the area and spent three years working on the concept. Besides his connection to the Massachusetts Museum of Contemporary Art, the venerable arts institution in North Adams where the hotel has opened, Svenson was lured by the town's incredible building stock. It dates from the US railway's peak years in the 19th century when, he says, the area was "like Silicon Valley".
Convinced that North Adams was primed for a quality hotel, the partners set about finding a site and "stumbled ass-backwards into the Redwood Motel". The 1962 building had seen better days but Svenson and his team realised they were onto a winner. At the rear of the property were a river and rolling hills but its windows pointed towards the road. Its charms were not being utilised. Svenson set about flipping the entire U-shaped edifice, creating giant windows that faced the landscape (complete with decking and an outdoor shower for each room). "The idea was to build the rooms from the ground up, to make them communicate clean and quiet, and to make them essentially big portals to look outdoors," says Svenson. "Let's not compete with nature. Let's make the nature be the art in the room."
Sitting amid 20 explorable hectares and near natural wonders including Mount Greylock and Cascade Waterfall, Tourists (named thus to rescue an out-of-fashion word and as an admission that this is an outsider project) is clearly a place for lovers of hiking and rambling. But it's also more than a mere modern refurb of a motel. For one, the partners have delved into the history of the place (each room has a "field guide" in it), giving themselves space for quirks in the common areas. The 1962 ranch house where the motel's former owners lived, for example, has been turned into a "museum piece" that houses the reception and a snug, earth-tone living room with a fireplace.
Hotly anticipated is the 48-room hotel's restaurant Loom, from chef Cortney Burns – formerly of San Francisco's Bar Tartine – which will open next year in a 100-year-old building that used to belong to the Welsh Temperance Society. For now, Burns is serving everything from charred halibut to burgers in the deck bar. What convinced her to swap city life for North Adams? "Aside from the majestic beauty it was the energy of the partners and the mission to create something humble," she says. "Humble in the sense of the etymology of the word: of the earth."
touristswelcome.com