Fashion / Paris
Heart of the city
Ami is the non-fashion brand – that's super fashion. Its easy Parisian style has won over men and now it's tackling the women's market.
Alexandre Mattiussi bounds around his office in brilliant-white kicks, answering questions with the efficiency of someone who is used to getting things done. In the atelier behind him some 80 staff work on new collections for his brand Ami as a track by the French-Egyptian diva Dalida blares in the background. "You have to know Dalida," he says. "She was the queen of the Paris club scene in the 1970s. There is a sculpture of her in Montmartre where she lived."
Mattiussi was born in Normandy but finds the French capital a constant source of inspiration. Ami is an homage to Parisian style: the menswear label is known for its relaxed elegance, selling striped shirts, scarlet beanies and roomy overcoats with Ami's red heart logo. "I have something special with Paris," he says. "I could sit for hours watching people; what they wear, how they act."
Mattiussi has found considerable success in the past five years selling his brand of fun-yet-commercial men's clothes, opening six shops in Paris, Tokyo, London and Hong Kong. Now he is launching a womenswear line and opening a dedicated women's shop in Paris' Saint-Germain-des-Prés: in his his quiet smiley way, he is building a tidy business for himself.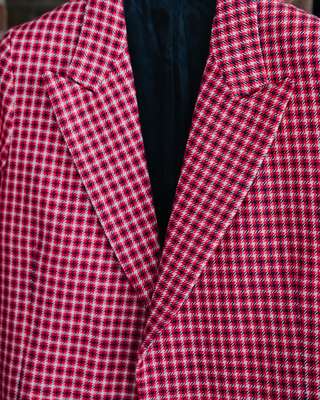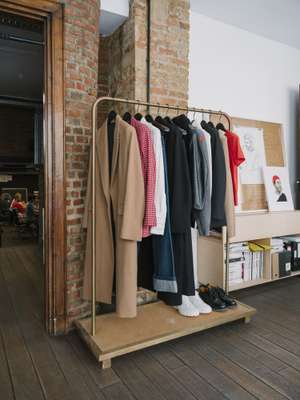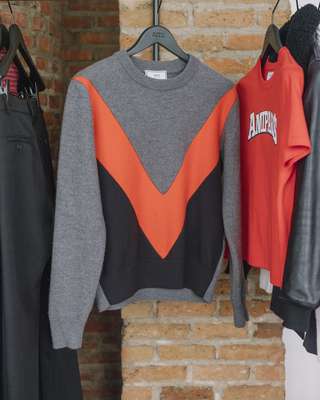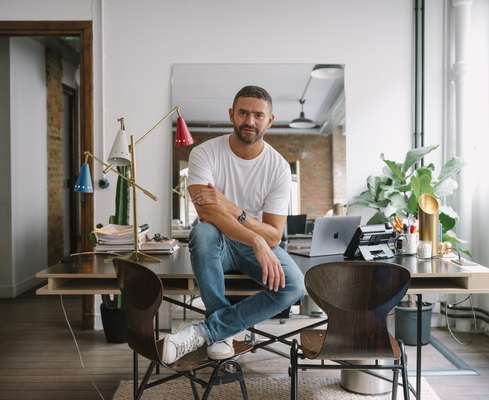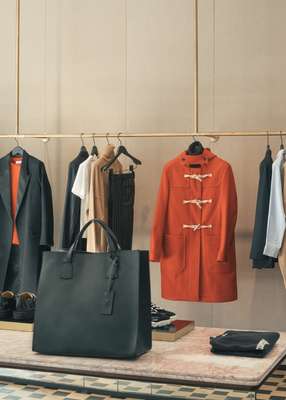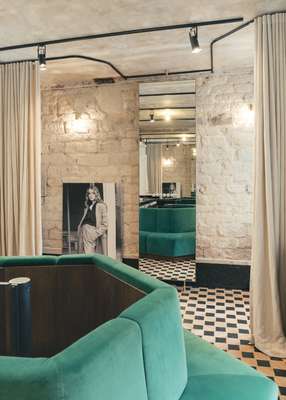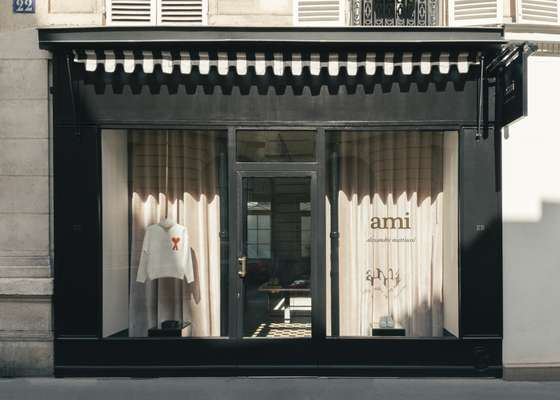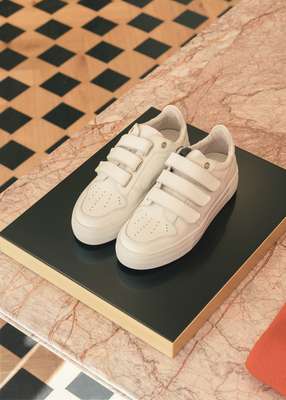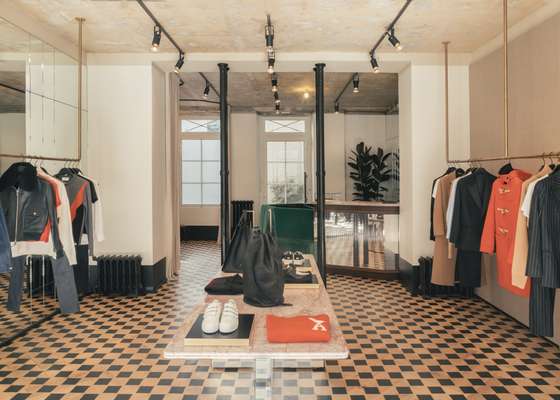 Despite his fondness for Paris, Ami sprung from a rejection of its high-fashion world. Mattiussi worked for Dior, Givenchy menswear and later Marc Jacobs. Yet his moment of reckoning came in a meeting with a stylist where he was presenting samples (while at Marc Jacobs). "He's a genius but he was screaming," recalls Mattiussi. "I couldn't understand why so much bad energy was going into creating something that's meant to be beautiful."
He resigned the next day and set up Ami. "Staying nice, staying respectful, enjoying every moment – that should come naturally," he says. "Spend time with people, listen, be curious, don't be judgemental. I have this philosophy."
He designed Ami's first collection in 2011 for people he knew and at a price they could afford. Initial investors were friends to whom he presented a "manifesto" of the brand; he shows us a copy on his desk with every detail from shop fittings to logo and potential customers sketched out. In 2013 he won France's Andam prize (with its €250,000 bonus) and Ami opened the first of its shops.
Ami's runway shows at Paris Fashion Week are sometimes criticised for their pedestrian tone but are ultimately praised for their vérité. His sets often recreate street scenes and his models are a mix of pros and street casting. "I go for models with personality, ideas and a point of view. I think, 'Do I want to dress them?'" His models wear ensembles that you could see a chic Parisian man wearing, in contrast to the highly conceptual creations seen in many runway shows.
It was a surprise when Ami announced a womenswear line – although Mattiussi insists, "It's l'homme pour la femme." He shows us a rail of tweed jackets, a tuxedo suit and wool jumpers that he says he has hardly changed from the men's line. These are useful investments rather than "this season's statement".
"I don't want to play the womenswear game," he says, explaining that 20 per cent of Ami's existing customers are women who want a boyish cut. "I just want to make my men's for women in a natural way. In womenswear the tendency is to fantasise, to create clothes for a creature, this goddess. In menswear you are confronted with a man who needs a wardrobe." He talks at length about the reasons that caused this rift between men's and women's dressing (from Disney princess archetypes to parental expectations) but insists he is not trying to be political. "Today there is a complex idea of what masculinity and femininity are. Actually I can say, 'I don't care.' I just know how to make a coat, a shirt." He's not ruling out dresses altogether, "but for the moment I like the idea of having my girls who come and pick a too-big shirt or coat", he says. "It's a kind of armour."
Mattiussi is adamant he's not making a statement against the industry, with its lofty ideas and work-place histrionics. But in his frank, clear-eyed way he is changing the mood and philosophy of the fashion world and bringing it back to earth.
---
Where it all began
How Ami started out – and where it's ended up.
Wise words:
Ami actually started life in 2002 when Mattiussi was 22 and had worked at Dior for a year. His collection of shirts and T-shirts were for men and women: "I still have a box of pieces from that label at home and they're beautiful but I was so young, I needed experience." Ami vanished in 2004 when Mattiussi won a position at Givenchy. "I remember thinking, 'I need some time to observe and to work in the industry.' I was lucky to find good mentors. They'd say, 'Come to this meeting,' and you would learn. It's something I'm trying to do here at Ami."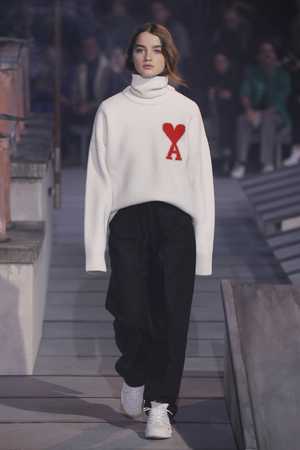 Men's sweater and torusers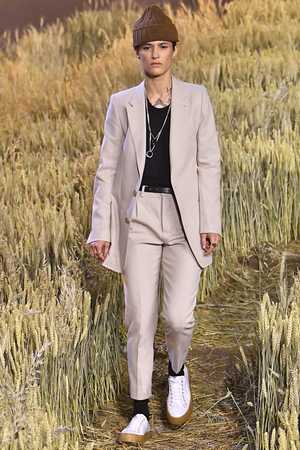 Women's long jacket and trousers, men's ribbed beanie, tank top, necklace, low-top trainers and belt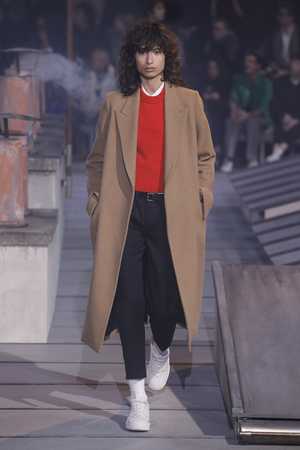 Women's shirt, sweater and double-breasted coat, men's straight-fit trousers and trainers
Men's sweater, women's double-breasted coat, men's leather trousers and trainers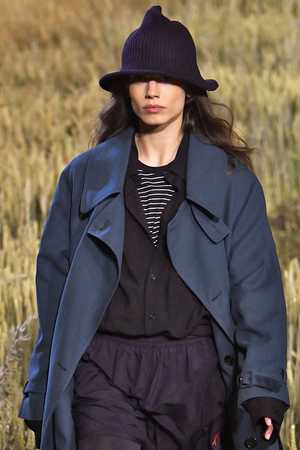 Women's trench coat, men's striped T-shirt, classic wide-fit shirt, swim shorts and rib-knitted bucket hat