Watches / Switzerland
History of time
We speak to the CEO of the International Watch Company keeping the 150-year-old brand timely, how the company's new production facility is more than just a workplace and why too much exclusivity doesn't help anyone.
Christoph Grainger-Herr
CEO of IWC Schaffhausen
Switzerland
The International Watch Company was launched in 1868 by American engineer and watchmaker Florentine Ariosto Jones. At its heart, the brand represented a marriage of Swiss craftsmanship and US engineering technology. This year IWC Schaffhausen – named for its home town in northern Switzerland – turns 150 and, to coincide with that milestone, it has opened a production facility that doubles as a visitor centre to showcase everything the brand has to offer.
Christoph Grainger-Herr has worked at IWC since 2006 but last year he was made CEO of the company, which is owned by the Richemont Group. He has been tasked with communicating the brand's history but also safeguarding its future, as the luxury landscape and the average luxury consumer change. After a tour of the new manufacturing facility, we sit down with Grainger-Herr in Schaffhausen to find out how he is tackling those tasks.
MONOCLE: Talk us through how you designed the new facility.
CHRISTOPH GRAINGER-HERR: We sketched the first layouts ourselves and had various design stages to understand how the building would work for the flow of the manufacturing, the brand and the visitor experience. We drew inspiration from the idea of an expo pavilion that showcases a country – but in our case it's the brand and the representation of the craftsmanship that sits behind IWC. I wanted to build a home for what we do here. [The visitor centre] is about showing our core values and our core product. We have a very efficient communications strategy but this is the place where we can show what it is really all about.
M: How is the authenticity of the brand maintained?
CGH: We're proud of our brand and we even carry the location, Schaffhausen, in our name. We can still show at the founding location all that goes into making a single watch. From the first sketch to the digital prototypes and the final product, we do everything here in Schaffhausen and I think it's rare that any industry can still show that amount of vertical integration in one single place. We don't have to say, 'Designed by IWC' – we say, 'Made in Schaffhausen'.
M: How do you attract future customers who are maybe not yet ready to buy a Swiss watch?
CGH: We are rethinking the traditional boutique. For example, we have done pop-up shops at airports (including Zürich) and a hospitality concept-cum-café at Causeway Bay in Hong Kong. Here we had a completely different approach compared to traditional boutiques. The focus point is to reach younger and local customers. But then when you explain to anyone the craftsmanship that goes into restoring an 1886 pocket watch, everyone is touched by the fact that we create products that are around for so long. Which smart device is around for such a long time? It is the same fascination as you see with vintage cars with their noisy engines. This is something that evokes emotion for all generations. The way we purchase or consume may change but the things we look for in life are not essentially changing. I'm hesitant to say that from one generation to another, all values just completely change.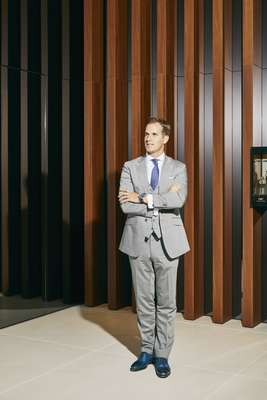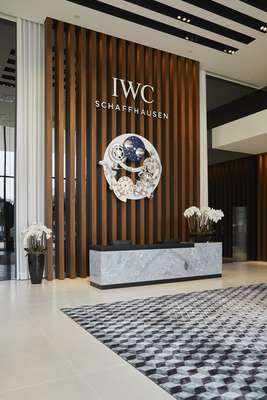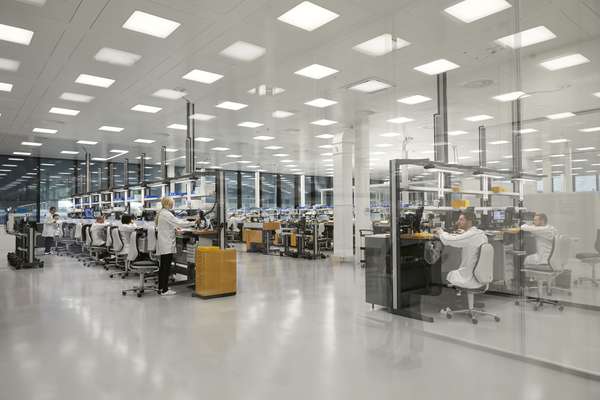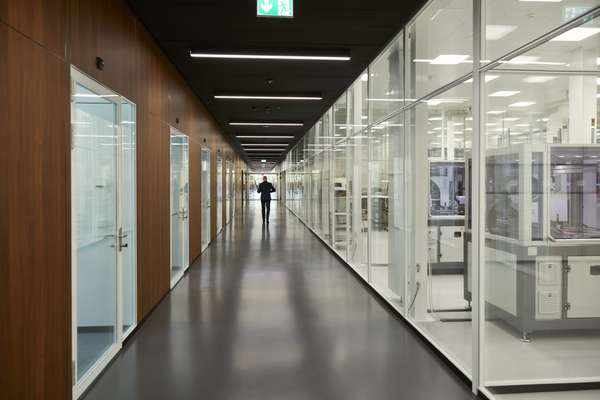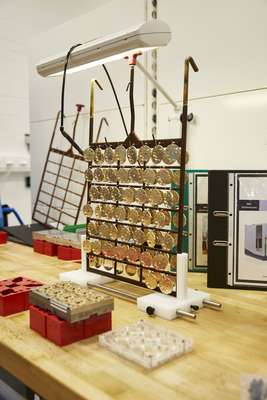 M: The watch sector is growing again after a few years of contraction. Where does IWC stand now?
CGH: We're in very good shape. When creating objects that are tied to emotional values, there's obviously a risk of consumers not wanting your products anymore, as with everything that isn't functional. It is after all a cyclical industry and a feel-good industry that is influenced by people's confidence in the future. We have to focus on the products we manufacture and tell a consistent story. This is where the new manufacturing centre plays an essential role. I don't see the idea of exclusivity as key anymore for the luxury industry – much more it's about [creating] a place where you can interact with the brand and share.
M: Looking at retail, what role will the traditional boutique play?
CGH: It is a physical manifestation of the brand. Bricks and mortar are a reality check, where you interact with the person and it's a very direct and important experience. However, I think the shop will be less important as a place where the final purchase is made; much more it will transform into a place where we put an emphasis on hospitality and experience. We're going away from static formats to more flexible and mobile formats simply because we can take the brand to our clients in a more flexible way and because we can find them in a better moment. Sometimes I still hear of customers who are actually afraid of, or reserved about, entering one of our shops. With a pop-up we can lower these barriers and create an easier access point.
M: Is there a point where these barriers would be too low?
CGH: I think we're far away from that. We're still not in mass-marketing and we're still in high-quality environments – but you simply reduce the amount of commitment from the client. One example is luxury areas in malls where only luxury brands are. We know that in these areas the traffic is actually very low. Making it too exclusive doesn't help anyone. People have to shop and want high-street names next to luxury names, next to food and beverage. This is what makes an interesting place to shop and spend time. Lives don't just consist of luxury. People do other things too, so segregating luxury from other parts isn't wise.
News in brief
Get online
Two of the watch industry's most highly regarded brands – Cartier and Vacheron Constantin – have launched on luxury e-commerce platforms in the past month. Around 50 Cartier models started selling on Net-a-Porter and Mr Porter at the end of August, while the latter site has also started hosting 18 Vacheron timepieces. These steps are further evidence that companies' attitudes towards online retail are changing. Traditional multibrand shops may well be alarmed but they'll be hoping greater exposure to watches in general will grow their audience rather than cannibalising it.
Women's collection
This August marked the 75th edition of the Venice Film Festival. Jaeger-LeCoultre has been the official partner of the event for 14 years and used the milestone to showcase a few of its new women's pieces from the 101 Joaillerie collection. Richemont, the umbrella company above Jaeger-LeCoultre, made Catherine Rénier (formerly Asia-Pacific president of Van Cleef & Arpels) CEO of the brand in May. The move reflected the growing importance of the female buyer in the watch industry.
Watch auctions
The vintage-watch scene has grown in the past couple of years, particularly when it comes to Rolex Daytonas. In May, Phillips hosted a Daytona-focused sale in Geneva and five watches fetched $1m or more. In spring alone, the auction house's watch sales netted an all-time high of $61m (€52m). Now a new player is entering the fray. Bob's Watches, an online dealer of pre-owned Rolexes, and Eric Wind, a former Christie's watch specialist, have teamed up and – as we went to press – were set to host their first online auction in September. Online art auctions are now common but it's still a relatively new format for this sector. Watch this space.
Q&A
Karl-Friedrich Scheufele
Co-president, Chopard
London
Swiss watch-and-jewellery brand Chopard has had a presence on London's Bond Street for nearly two decades but in many ways it's treating the reopening of its boutique there as a new launch. The shop has been closed for nearly two years while renovation and enlargement work has been undertaken and the property will finally be opening its doors again in November. As that date approaches, we speak to the brand's co-president Karl-Friedrich Scheufele about the importance of London as a market and the current state of the watch industry.
Your products are fairly small – why did you feel you need more space on Bond Street?
You're right, the product is small – but we need more space than you'd think. We have both watches and jewellery and you have to portray the story behind each product, its universe. The store will be nearly twice the size as before. We have much more space now for welcoming and sitting down with clients. The bottom floor is now more for clients who are passing through or curious; upstairs is for clients to sit down and feel at home. The design has to cater to both kinds of client.
Talk us through how your approach to boutique design has changed?
We wanted it to be different – particularly with this shop. There was a period when our stores worldwide all had the same concept but we wanted to personalise this one to its location – to give it a London touch, or more than that actually. We want our clients to know they're in London and not Hong Kong. It's relatively new for us but we'll be doing this around the world in future. We worked some years ago on the shop concept with architect Thierry Despont, who is French but based in New York. We've moved this on a bit now.
How important is London as a location for Chopard? Is it tailing off due to Brexit?
When it comes to [the luxury sector], London is still one of the key positions in Europe. It's still attractive to our clients; it remains a magnet for metropolitan luxury consumers. I think it has an edge on Milan and Paris – I'm in Milan right now and it's very quiet. Paris is a serious competitor but personally I've always felt more welcome in London.
How do you assess the state of the industry?
Starting in around 2015 or so, we faced a more difficult time. This had a lot to do with China [where anti-corruption laws hit watch sales]. We were never going all out towards Chinese clients, though. There were years when it was tough in Europe and we weren't getting as many sales; the temptation then is to cater to those clients [in China] but we have built our reputation on serving traditional clients, so we tried to retain them. That idea has paid off. Also, for us it was better, because jewellery sales went up as watch sales slowed. That was a conscious effort. We saw a good opportunity to grow because there are fewer world-renowned jewellery brands than watch brands and the jewellery market was growing. So we went for it.
What is the balance between watches and jewellery at Chopard?
The balance today is around 50-50 but it changes. Sometimes watches are more like 65 per cent but rarely more than that. This year we're seeing watches coming back. For us, it's important to be well balanced.
What's next on the horizon for the brand?
We will be renovating our Paris boutique on Place Vendôme in the next six months. These major renovations of our hubs are quite a big step for us. As a family company, we like to take one step at a time.