HQ audit / Germany
Made to last
Retailer Manufactum's HQ suits the company, with its anti-throwaway ethos, perfectly.
The story of Manufactum shares many parallels with the modern history of its home country, Germany. Thomas Hoof established the retailer back in 1987 to combat what he saw as the nation's rampant throwaway consumer culture, making a point of selling only products that were hardy, beautiful and made to last. The business's continued success into this century shows that this philosophy has chimed with a new generation of shoppers who are keen not to simply consume and discard.
With its assortment of more than 8,500 products – ranging from homeware to stationery, grooming products to gardening tools, clothing to home textiles and furniture to food – the retailer is a one-stop shop for modern life. Manufactum's catalogue, published every autumn, has gained a cult following. "The idea of our products is to make life more beautiful," says Markus Althaus, who's in charge of writing copy for the catalogue and Manufactum's website. It's almost a journalistic undertaking, as product descriptions involve site visits, interviews with the purveyors and in-depth research into each business. "The main catalogue remains at the core; it's an important medium. Many of our customers read the printed catalogue and then order online."
Managing director Max Heimann has been instrumental in overseeing the digitalisation and growth of the business. "We want to create a seamless experience for the customer," he says. While e-commerce is an important factor for Manufactum (it was, after all, bought out in 2008 by Otto Group, a leading global online retailer and service provider), its bricks-and-mortar retail spaces remain an integral part of the business. Each of its shops is a space to engage with customers, to s howcase wares – many of which have a tactile quality – and connect with local makers. The company just launched its 10th retail space and its first outside Germany, in Vienna's Old Town. While more international stores will follow, for now the focus is firmly on its home market, with the first shop opening in Hanover in November.
---
Architecture and identity
Rich heritage
Manufactum has never lost touch with the founding ethos of Hoof, so it's fitting that the company's headquarters in the town of Waltrop, just north of Dortmund, has given a second life to a disused colliery. The heritage-listed complex, built in 1902 to provide the former Prussian state with coal for its railroad and naval fleet, produced 1.13 million tonnes of coal and employed 2,021 workers at its height. When the site was decommissioned in 1979, the town's fortunes rested on the arrival of a number of big businesses, most notably Manufactum.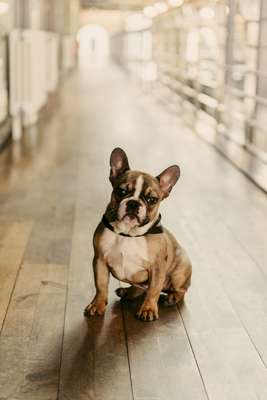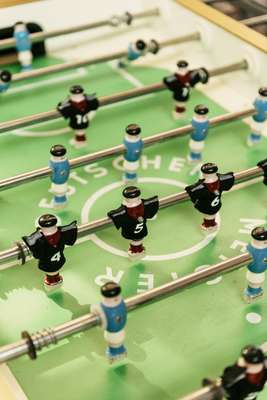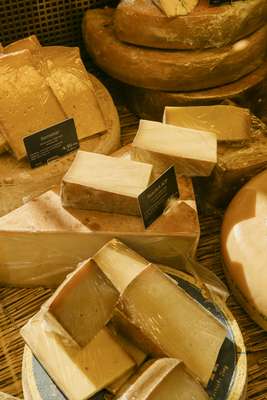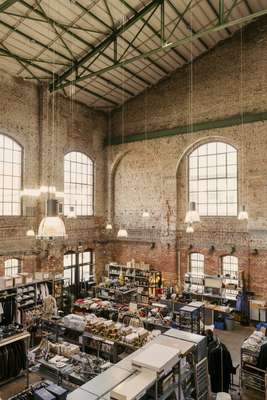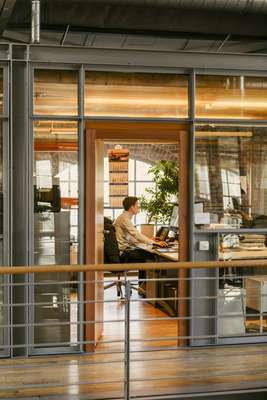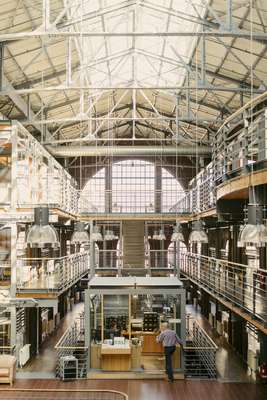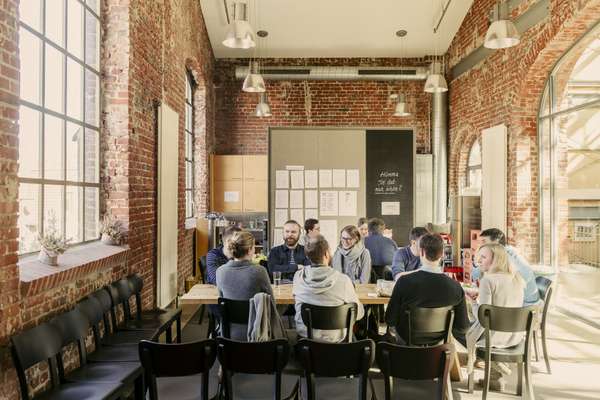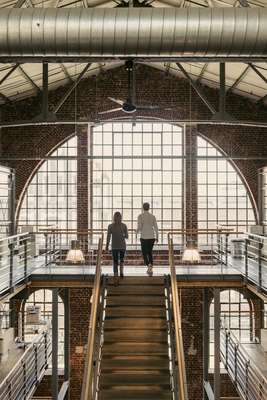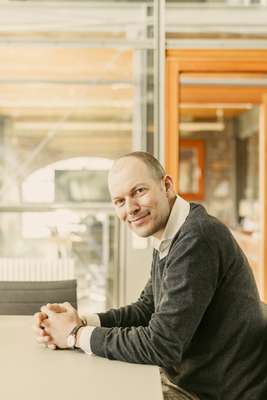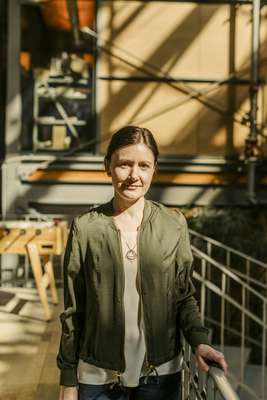 The retailer called on Coesfeld-based architect Klaus Dieter Luckmann to transform the former engine hall, winding house and pithead baths into a timeless HQ to suit the brand. The renovation, completed back in 1996, was awarded a number of architectural prizes, including the BDA award for exemplary commercial architecture. "It fits us like a glove," says Manufactum's managing director Heimann, as he takes a seat in one of the glass cubes that make up the office spaces inside the redbrick engine hall. "It's a symbiosis between tradition and innovation."
Sustainability is, of course, one of the company's core values. In this sense, the headquarters can't quite keep up with the high standards of the company. Heritage-listed buildings simply aren't the greenest, with their single-pane windows and high ceilings. However, Manufactum is going the extra mile to make sure the HQ is as eco-friendly as possible – that's why there's a vegetable patch out front, tended to by the staff, and e-bike and electric-car charging points on the way.
---
Workspace layout
Cube stations
Inside the red-brick building of the former engine hall, the interior architects stacked a series of glass cubes, each furnished with between two and four desks, offering employees both privacy and a sense of openness. This transparency reflects the company's flat hierarchy. "We like to leave our doors open," says Angele Zettner, head of purchasing. "We're connected and the atmosphere is open."
Zettner joined the company in 2004 and says she bought into the brand's philosophy. "Manufactum was born at a time when throwaway culture and mass consumption were at their peak. I want Manufactum to be a counterweight to that frame of mind and I'm happy to see a shift in the zeitgeist. We used to be counterculture but now we're on trend." Being in charge of Manufactum's product range is a big deal; it means that Zettner is often travelling the world looking for inspiration. "We evaluate our products a number of times a year to make space for new pieces," she says.
---
Canteen and social spaces
Made for mingling
The HQ encompasses a large retail outlet and a Brot&Butter shop and restaurant. "Our canteen is something special, although if I say 'canteen' the chef will hit me over the head with a pan," says Heimann, laughing. And he's right – although many staff members do eat in the Brot&Butter restaurant, it's a far cry from the average company canteen, serving freshly baked bread and dishes made from sustainably sourced seasonal produce. Here, staff mingle with members of the public. There is also a staff canteen (in the true sense of the word) for those who would rather bring in their own lunch and, in the summer, the grounds of the colliery become a great spot for a picnic. Elsewhere in the complex, there's a library and a lounge for reading and relaxation.
---
Customer service
Delivering the goods
Customer service remains a central pillar of the company. An elegant staircase leads from the ground floor of the former baths to the customer-service bureau, where agents are busy taking calls, answering letters and dealing with mail orders. In 2017, Manufactum received 193,343 calls, 120,808 emails and 31,003 letters. "At Christmas we get 2,000 calls a day," says Julia Merkl, head of the customer-service centre, who's worked here for six years. "Many curious things have happened over the years but we always manage to solve them," she says, with a smile, as she rifles through a pile of envelopes. A surprising amount of snail mail still gets processed here; even orders are still placed via post the old-fashioned way.
All staff members test the products before they're added to the range. "Every night I sleep on Manufactum bedding and fry my eggs in a Manufactum wrought-iron pan. I wear Manufactum shoes and jumpers," says Heimann, who has recently been putting Manufactum's new clothing line, Cradle to Cradle, which specialises in sustainable materials and zero-waste production, to the test. As customers are becoming more conscious about what they buy and where it comes from, Manufactum is eager to remain ahead of the pack.
"We want to stay a trailblazer. We don't follow trends; we want to offer what's sustainable and what will set us apart," says Heimann. "The pan gets better with time, doesn't it? I believe we're on the right path. The zeitgeist is playing into our hands." In November, Heimann will be joined at the helm by a second manager, Kai Steffan, who is being brought into the fold from Hamburg-based brand Tchibo. "We're a very opinionated organisation; that's what differentiates our product range," says Heimann. "It's important that we're authentic and honest; and that we don't stand still."
The verdict
The historic buildings of the old colliery have been restored and transformed into a unique work environment that suits Manufactum's brand identity. The stacked glass cubes in the engine hall offer employees both privacy and transparency. On the ground floor there's a staff canteen for those who would like to prepare their own lunch or don't fancy eating in the Brot&Butter restaurant next door. Common spaces at the entrance to the old engine hall offer spaces for brainstorming sessions, while conference rooms upstairs, named after cities in which Manufactum has shops, such as Köln and Vienna, offer space for private meetings. The old winding house features a Manufactum outlet (on top of the retail space in the adjacent old pithead baths) and functions as an events space, complete with the gleaming brass machinery that's reminiscent of days gone by.