Politics / Iceland
Recovery position
Katrin Jakobsdottir is a rare thing: a scandal-free, left-wing prime minister who believes in compromise. She takes a break to spread the word about Iceland's economic success.
A pacifist, environmentalist and feminist walk into the room. It sounds like the set up for a bad joke, but in this case all three happen to describe the same person: Katrin Jakobsdottir. Iceland's 42-year-old prime minister rushes into Government House, apologising for running late, wrapped in a thick navy wool coat, Apple headphones dangling from her ears.
Minutes later, she's composed in her sitting room. The bookshelves lining the room are stuffed with titles such as How Will Capitalism End?, Envisioning Real Utopias and The Nordic Model of Welfare. Government House, or Stjornarrad, was built in the 1700s, and was originally used as a prison. "Now it's just a political prison," Jakobsdottir jokes. The building sits right in the middle of a busy street in Reykjavík; there is no gate or visible guards protecting it.
It is tempting to think that this openness is a symbol of a trusting relationship between Iceland's political establishment and the public. That's not the case. Following the collapse of the country's banking system in 2008, Iceland's then-government pursued an agenda of austerity to turn its fortunes around. They were largely successful; by 2012 the IMF was praising the country's economic recovery and tiny Iceland, with a population of about 350,000, was held up all over the world as a beacon of success.
But along with the economy, trust in politicians also collapsed, and that has been much harder to rebuild. Iceland has had four prime ministers in five years, as a number of politicians have been brought down by scandals. In a poll, Icelanders said one of their major worries in everyday life is corruption.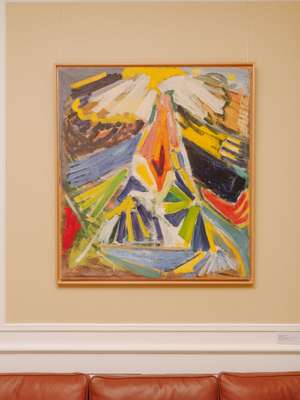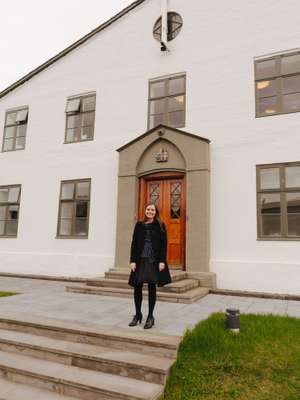 Jakobsdottir, however, is different. The leader of the Left-Green party, she is scandal-free and has been rated the most trusted politician in the country. Since becoming prime minister following a snap election last year, Jakobsdottir has also managed to balance a seemingly fragile coalition with the centre-right Progressive party and the conservative Independence party. "It's been a really interesting project because it's quite an innovative government in that you have such different parties working together from the right to the left," she says. Does she feel the pressure to balance competing interests? "It feels like being under a mountain," she says with a laugh. "So I try not to think about it too much."
Kidding aside, she's a rare recent example of a left-wing politician who has proved she can take power in Europe. This is down to myriad factors that set her apart, not least her competence and her easy charisma. Jakobsdottir first served in government as Iceland's education minister from 2009 to 2013. But she's no career politician. She was a journalist before she went into academia, writing her master's thesis on Icelandic crime fiction. (Asked if her expertise in crime fiction has aided her work in politics, she laughs but answers seriously: "I think crime fiction is about an interest of human nature and why people do things that are not right. I think that interest is very beneficial for people working in politics.")
Although she's decidedly on the left of the political spectrum, she's pragmatic when it comes to governing. Her party is staunchly against Iceland's existing Nato membership, for example, but she says she's decided not to pursue the issue because no other party takes a similar view. "We just need to recognise that we need to compromise if we want to create some sort of a political stability in Iceland," she says firmly. "Government's always about compromise."
That doesn't mean she hasn't been able to push real change. In her first year in power, Iceland has made international headlines for becoming the first country in the world where companies are required to prove that they pay men and women equally. She notes the legislation went through parliament before she became prime minister but "it's now my job to implement" equal pay. "[We're] starting with the ministries and the biggest public institutions and the biggest companies this year" before moving on to smaller companies, she says. "What's interesting in Iceland is that gender equality has become a mainstream political issue. And it wasn't when I entered politics. It was considered something that women should talk about, and definitely not on primetime TV."
Other policies she's determined to see implemented include improving infrastructure. "It's really important that, with the economic recovery that we've been experiencing, we invest in that for the benefit of the public." She says discussions for improved public transport are underway, as are talks about boosting education funding.
Another keen area of interest is grappling with the influx of tourists that have helped Iceland's economy recover. Jakobsdottir thinks better management of tourism, particularly when it comes to distributing crowds beyond Reykjavík and the southeast, is essential. "We need to invest in order to make tourism sustainable when it comes to influence on society, economy and the environment."
Yet the shadows of past political scandals still linger and, when you only have 350,000 citizens, people can often make surprising comebacks. Jakobsdottir's predecessor resigned following a scandal surrounding his father's involvement in the attempt to secure a pardon for a convicted paedophile, but he is now finance minister. The prime minister before that, who was brought down amid the Panama Papers fallout, is still an MP.
To rebuild trust, Jakobsdottir is keen on making her government as transparent as possible. "[We're establishing] new frameworks for the rules of moral conduct for the government and also for the highest officials here – rules of how we register our interests." Slowly but surely, she says, the current government has been reversing antipathy in Iceland. "I think we have been gradually gaining trust and I think we really need to keep focus on that. Because if we don't, we have problems for democracy." And that's no joke.
The CV:
1976 Born in Reykjavík
1999 Begins working for public broadcaster RUV
2004 Receives her master's after studying Icelandic crime fiction from the University of Iceland
2009 Named Iceland's minister of education, science and culture and of Nordic co-operation
2017 Elected prime minister of Iceland
Iceland's post-crash PMs:
Johanna Sigurðardottir
(February 2009 to May 2013)
The longest-serving member of parliament at the time she retired.
Sigmundur Davið Gunnlaugsson
(May 2013 to April 2016)
Resigned after undisclosed family assets were revealed in the Panama Papers.
Sigurður Ingi Johannsson
(April 2016 to January 2017)
Left office after his party, still smarting from the former PM's scandal, lost the general election.
Bjarni Benediktsson
(January to November 2017)
Stepped aside after his father's involvement in trying to secure a pardon for a convicted paedophile was revealed.