Briefing / Global
Business
Briefing
From a small soap-maker in Osaka to the Ikea competitors offering sustainable alternatives.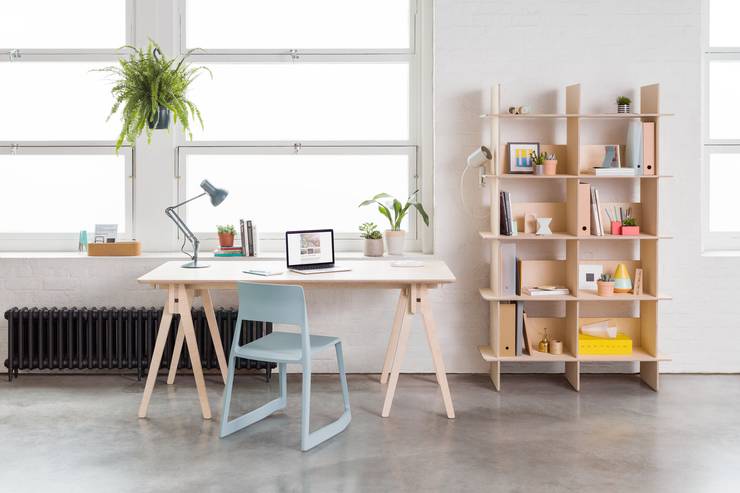 Watch this space
Global —
Furniture
The year that Ikea turns 75 seems a fitting time to assess the state of today's furniture industry. The Swedish giant has reigned supreme for decades but, as its customers become more sustainably minded and the mass-manufacturing model is scrutinised, it seems only right that new businesses are springing up to provide alternatives.
"There are great things about Ikea; we're trying to take those best bits and put them into a more sustainable business model," says Tom Allen of furniture start-up Grain. Running operations from a railway arch in north London, Allen and co-founder Robin Tyler use sustainably sourced wood to create customisable items. A key part of the business model is the idea of "space consciousness": recognising space-starved urban renters as a significant and underserved market who need to be able to customise their furnishings to fit awkward, cramped spaces.

This market is also targeted on the other side of the Atlantic by New York start-up Burrow. Its durable modular sofas are shipped in boxes direct to consumers and can be assembled in minutes. Buyers can select different components (all of which are made in the US) and latch them together to create furniture that's perfectly suited to their space.
Perhaps the most successful example of this direct-to-consumer model comes in the form of Opendesk, which connects makers and designers with businesses looking to furnish their offices. With an online database of designs, consumers select a model – the digital files of which are then sent to a maker working locally to the buyer. "We connect the dots behind the scenes," says co-founder Joni Steiner. "We send jobs to small-scale producers and help their businesses thrive. That's what really excites us."
---
Call of the wild
San Francisco —
F&B
Emily Simmons and Max Harden grew up in upstate New York and bonded over ski racing; years later, they had an idea. "We were driving to Aspen to ski," says Harden. "The idea for a s'mores food truck came up and we knew it would work." Little known outside North America, s'mores combine toasted marshmallows with biscuits and chocolate, and are for many associated with childhood camping holidays.
The pair launched their food truck, Camp Toasted, in May in San Francisco. The van brings a camping atmosphere – complete with fire pits and tree stumps – to downtown. They're also talking to ski resorts about franchising the model.
camptoasted.com
---
Whale of a time
London —
Travel
When adventure-travel company Cookson Adventures was looking for a new CEO last year, it couldn't have dreamed up a better candidate than Adam Sebba. He had spent seven years in the British army before doing a business degree and then embarking on a career working for brands including fashion label Antonio Berardi. He was brought on board in January to lead Cookson Adventures' global growth.
The company designs trips for high-net-worth individuals seeking new and unlikely travel experiences. "Conservation is a pillar of the business," says Sebba, who cites a trip that offered clients the opportunity to dive with marine scientists and tag sharks. "Luxury isn't an asset anymore and experiences are more important."
Q. What would you spend €5,000 on?
Answer: "€5,000 wouldn't go far on our budget so I'd donate the money to scientists we're working with who are researching orcas. They're helping us to better understand these animals."
Clean sweep
Osaka —
Retail
Kimura Soap in Osaka has produced environmentally friendly cleaning products and detergents for the past 90 years. "We've been a behind-the-scenes manufacturer for a long time," says fourth-generation president Shoichiro Kimura. "So we decided to launch our own brand."
To break through in the market, the 46-year-old worked with design agency Monogoto: "Our strategy was to attract people to niche cleaning products." Recognising that most cleaning products are stowed under sinks, Kimura invested in beautiful packaging that people wouldn't mind leaving on display. "Cleaning goods are cheap; we created a luxury line to differentiate," says creative director Ippei Iwahara, who opted for square bottles and smart labels. The result is & Soap, a product line that's cleaning up in Japan.
and-soap.com