Culture / Global
Culture
Briefing
Socially engaged art in Chicago, a televised Polish parallel universe and perusing the shelves of London's poetry bookshop.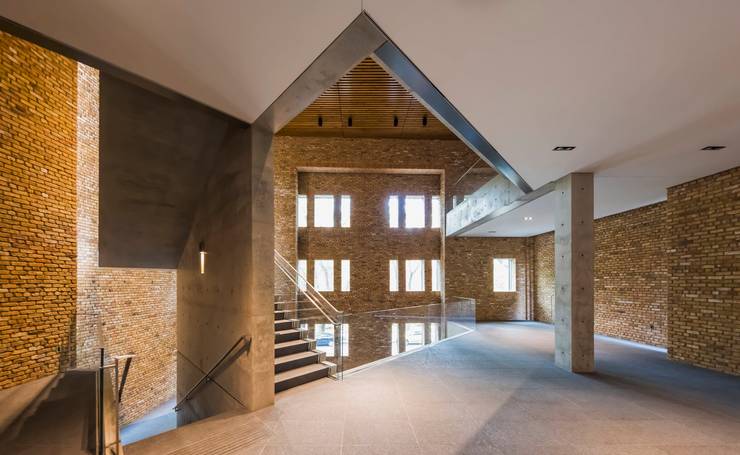 Buildings as art
Chicago —
Gallery
Pritzker prize-winning architect Tadao Ando has brought his minimalist aesthetics to Chicago with a new exhibition space inside a renewed 1920s building. Wrightwood 659 is a four-storey gallery for architecture displays and socially engaged art, founded by media mogul Fred Eychaner and architectural historian Dan Whittaker. The debut exhibition explores the careers of Ando and Le Corbusier through paintings, furniture and models.
wrightwood659.org
---
Moving images
Paris —
Photography
In November the Fondation Henri Cartier-Bresson is relocating from the quiet Montparnasse neighbourhood that's been its home for 15 years to a new venue in Le Marais by architecture studio Novo. The inaugural exhibition is a retrospective of Belgian documentary photographer Martine Franck, one of the museum's founders and one of the few women at Magnum Photos when she joined the agency in 1980.
henricartierbresson.org
---
As part of our regular feature, we ask artists from across the cultural spectrum to tell us about a career ambition that is, as yet, unfulfilled. Our latest contributor: UK singer Anna Calvi.

While Anna Calvi was recording her third album, Hunter, she kept asking herself one question. "I was always thinking, 'What would Iggy Pop do?'" This is, of course, not merely a mantra for life but a reliable guide when it comes to making records. Calvi's dream collaboration would put her in a position to ask the question for real.

"I'd really like to make an album with Iggy Pop. It would be an album of duets that would try to find a new way to do them, so it's not some romantic thing," she says. "Not that I'm dismissing his sex appeal; I'd just try and get away from a duet having that feeling."

A Calvi/Pop duets album appears an incongruous prospect: their voices operate at more or less opposite ends of the register. But Calvi thinks that could be an asset. "The older he gets, the lower and more gravelly his voice gets, and the more impressive it sounds." She sees what she describes as Pop's "hyper-masculinity" as something that the explorations of gender assumptions on her latest album could play off. "He acts in a way that's also very camp," she says. "There's something feminine about it, which I find very interesting."

Calvi's favourite Iggy Pop record is the 1977 David Bowie collaboration "The Idiot", but that shouldn't necessarily be a cue for the recordings they'd make together. "It should be something really different from what he does and what I do. It would have to be with a string quartet or slamming beats. Or both."
Well versed
London —
Books
"Poetry is fantastic for the digital age because it's hard to skim-read in the same way you would with internet pages; it demands a short, sharp burst of attention," says Rohan Silva, co-founder of shared workspace Second Home and the no-mobile-phones-allowed east London bookshop Libreria. He has now launched a poetry-only outpost in the west of London, which is inside Second Home's Holland Park co-working space. "There is something quite special about integrating poetry into the workspace," he says. "We are under so much pressure to be creative that it's amazing to lose yourself in something completely different, with a different rhythm, that can lead to new ideas."
The small space was born in collaboration with publishing house Faber & Faber, which supplies the vast majority of the 500-odd selection of titles that can be found on the shelves. "The narrative around books has defied all predictions over the past 10 years," says Faber & Faber CEO Stephen Page. "Online retail is good at getting you stuff you already like; it's not good at letting you collide with something you've never thought of. That's what bookshops do."
secondhome.io
Q&A
Leena Pasanen
Director, Dok Leipzig
Germany
About 300 features from around the world will be screened at documentary-film festival Dok, which is coming to Leipzig across October and November. Leena Pasanen has been at the helm since 2015.
How does Dok differ from other documentary festivals?
For us the emphasis is on the art of film-making. We like to promote poetic films that, quite often, are too demanding for broadcasters. We also try to keep a variety of European voices while staying away from grand narratives. We like to see the bigger picture through a smaller, personal story.
What's new this year?
Our mandate is to support up-and-coming talent so we've included a short-film category in our competition.
What trends are emerging from the selection this year?
People are really brave in finding concepts for their films – new ways of taking storytelling to another level. For example, we have the Polish film The Symphony of the Ursus Factory, where workers from a Soviet tractor factory recreate their experiences through choreographed movement.
dok-leipzig.de
Documentary picks:
1.
Heart by María Antón Cabot
2.
Sentenced to Death by Ahmad Jalili Jahromi
3. 
Srbenka by Nebojsa Slijepcevic
Thrilling times
Poland —
Television
Is 1983 the golden year for TV series set beyond the Iron Curtain? While spy series Deutschland 83 moves three years on this season with the launch of Deutschland 86, new Polish Netflix drama 1983 takes us back to that fateful year – sort of. "Strictly speaking our action takes place in 2003 but everything hinges on an event that happened 20 years before," says series co-director Agnieszka Holland. "We develop an alternative, dystopian reality where the Iron Curtain still exists."
The eight-episode thriller, about a conspiracy that halted Poland's liberation process in the early 1980s, is the first-ever Polish production by Netflix and has been realised by a team of four of the country's female directors. "In terms of film-making, Poland is in a very good shape," says Holland. "The past 10 years have seen a renewal for cinema and Pawel Pawlikowski was awarded best director in Cannes this year for Cold War. But TV series have not been so strong. This is going to be more complex than your average Polish series."
Co-executive producer Frank Marshall (of Jurassic World and Jason Bourne fame) brings an international sensibility to proceedings, as does US-born, Poland-based writer Joshua Long. "What happened in Poland in the 1980s changed the world," says Long. "Some of the things that came up in the writing process, such as questions of security and freedom, are relevant today."
Oscar-nominated Holland, who is also behind some episodes of House of Cards, also recognises the show's timely appeal. "The world has become very divided; the Iron Curtain could happen again. Often series anticipate what's going on in the world. With a few episodes of House of Cards I felt we were somehow anticipating changes in Washington – and, unfortunately, that was the case."
Fair watch: Dusseldorf
Germany —
Art
For three days in mid-November, Art Dusseldorf will take up residence in the city's Areal Böhler complex. Now in its second edition, the programme has grown by 12 galleries. The Post-Lehman section, which offers discounted booths to galleries established after the 2008 financial crisis, will be a particular draw. "Quite a few galleries dared to set up in the wake of the Lehman Brothers crisis and that was a very brave statement," says the fair's director, Walter Gehlen.
art-dus.de
1.
Galerie Eigen+Art, Berlin
The Berlin-based gallery's presence at Art Düsseldorf speaks to the regional, but not provincial, focus of the fair. The artist roster has an international reach from Ukraine to Mexico.
eigen-art.com
2.
Linn Lühn, Düsseldorf
Founded in 2006, this gallery is also on the selection committee for the fair. Lühn represents just nine artists, both established and emerging.
linnluehn.com
3.
Cristina Guerrera, Lisbon
This gallery is big on blunt installations, sculpture, and film from the likes of US conceptual artist John Baldessari and Portugal's Angela Ferreira.
cristinaguerra.com