Diplomacy / Global
Diplomacy
Briefing
Spain's new prime minister travels with a bold agenda, and Trump prepares his next excursion.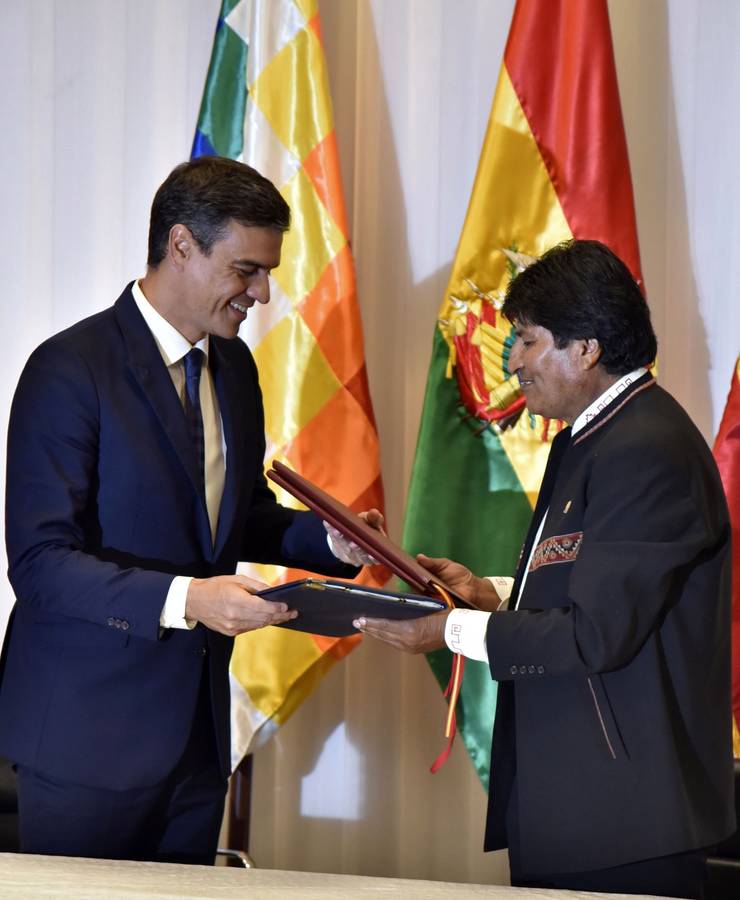 Spanish steps
Spain —
State visits
A more progressive politico has swept into Moncloa – Spain's presidential palace – and he wants the world to know it. Since toppling his reticent predecessor Mariano Rajoy in June, new prime minister Pedro Sánchez has jetted off for six state visits, layered on the charm at several summits and global conferences, and hosted a line-up of leaders back home.
In a break with convention – Spanish leaders usually make Morocco their first official stop – Sánchez flew to France to talk migration with Emmanuel Macron. In August sights were set on Latin America. In Chile there was a visit to Santiago's Museo de la Memoria, followed by a state visit to Bolivia (the first by a Spanish leader in two decades) where Sánchez was bestowed the Grand Collar of the Condor of the Andes: Bolivia's highest honour for eminent services to the nation.
After offering to broker the stalled Colombian peace process in Bogotá he rounded out the week with a warm welcome in Costa Rica and a tour of the headquarters of the Inter-American Court of Human Rights. The coming months will also see Sánchez travel to Cuba for the first official state visit by a Spanish leader in 32 years.
While Rajoy's linguistic fumbles and frequent faux pas on the world stage caused plenty of chagrin back home, Sánchez – the first Spanish leader who is fluent in English – has made time to cosy up to like-minded leaders such as Justin Trudeau and New Zealand's Jacinda Ardern on the sidelines of larger summits. Giving the interpreters a break also means a Spanish voice can easily reassert itself into the international conversation. Though the ranks of rousing, left-leaning leaders may be shrinking on the world stage, Spain's budding statesman is stepping up, using his majority-female cabinet and more compassionate attitude to refugee arrivals as capital to bolster a progressive profile abroad. Sánchez – whose minority government is less than assured – will be hoping an aggressive international agenda will start bearing political and economic fruit.
---
Q&A
Gerhard mangott
Professor of international relations, University of Innsbruck
Innsbruck
The relationship between Austria and Russia seems to be cosier than ever following a string of bilateral state visits that culminated with Vladimir Putin joining the wedding of Austrian foreign minister Karin Kneissl in August. monocle spoke with Gerhard Mangott, an adviser to the Austrian government on all things Russian, about the Austrian-Russian relationship and where it's going.
Austria and Russia seem to be very close all of a sudden.
Nothing sudden about it: they go back decades. The Soviet Union was instrumental in Austria gaining independence in 1955 and Vienna subsequently served as an important link between East and West. After the collapse of the ussr, Austrian business was quick to enter the Russian market, particularly in the steel industry, finance and banking. And that's why Austria has been opposed right from the start to EU sanctions against Russia over its actions in Ukraine.
So does Russia see Austria as its best friend in Europe?
I suspect that the real rationale for this friendship is financial; it's about Austria keeping its business interests in Russia. Moscow has no illusions about that but it is interested in Austrian money in these hard times for the Russian economy. At the same time, the Kremlin is delighted with Austria's conservative government because its ideology is close to its own.
Will the relationship change when Austria's EU presidency ends in December?
No. Russia will always stand to profit from its ties with Austria and many Austrians genuinely support Vladimir Putin. But I don't think the diplomatic visits will be quite as frequent.
---
Trump on tour
USA —
Foreign trips
Donald Trump is gearing up for a busy end to the year. He will visit Ireland and France in November before dropping in on the g20 summit in Buenos Aires. This will mark his first trip to South America as president after he cancelled visits to Colombia and Peru earlier in the year. After Argentina he will finally make it to Colombia for a chat with new president Iván Duque, without doubt the US's cosiest ally in the region. The two will talk drug-trafficking and the dire situation in Venezuela – two issues they see firmly eye to eye on.