Fashion / Global
Fashion
Briefing
A stellar new men's brand from New York, Prada gets sporty and Olsen twins brand The Row makes its move into menswear.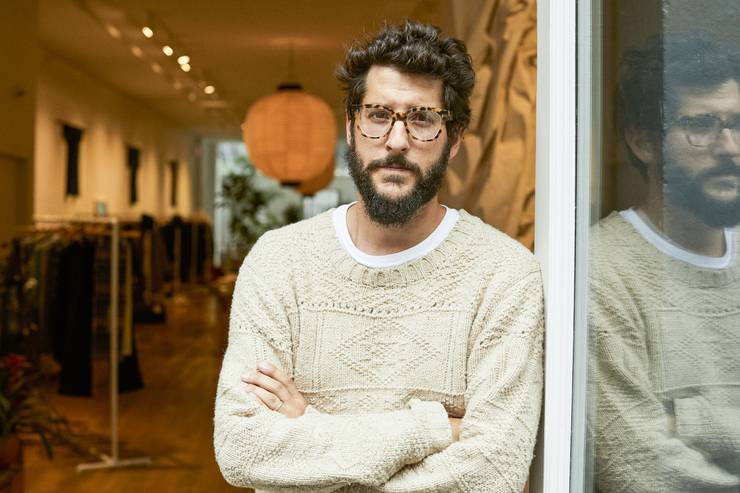 Making it right
18 east —
New York
"I'm trying to correct all these little things that don't make sense to me," says Antonio Ciongoli, the founder of new menswear brand 18 East, in a mild tone of voice that belies the fact he's referring to the entire fashion system. Ciongoli's personal style is laidback (tousled hair, paint-splattered Birkenstocks) but for five years he was creative director at Eidos, the Italian tailoring brand. While he enjoyed the job, it made him question the traditional wholesale model, with its "huge mark-ups" and "half your stock ending up on sale", and rethink manufacturing.
"If you want to do something casual – wash it in an interesting way, beat it up – Europe doesn't have a lot of expertise," says the designer, who is based in New York's Garment District. "You can do it but it's really hard and nobody's happy. The clothes don't look how you want and the factory doesn't want to make them, so they charge you through the nose."
So Ciongoli launched 18 East, a mostly straight-to-consumer brand that will produce 30-piece collections ("no filler") every two months and manufactures mainly in India and Nepal. (It has also been selling a few pieces in LA's Magasin, San Francisco's Unionmade and 180 The Store in New York.) Ciongoli is frank about the financial benefits of using his faraway fabricators ("You can pay people fairly and still make the prices accessible") but India and Nepal contribute as much to his label's aesthetic as they do to its bottom line. Ciongoli is "obsessed by process – it's the best bit of designing", and when he talks about Indian artisans he does so with the reverence he uses when discussing Italian tailors.
Traditional eastern techniques heavily inform his first collection. The key material in the Wainscott crewneck, for example, is Nepali yak wool, and what looks like Irish cable knit is, on closer inspection, a series of intricate stitches tracing Nepalese patterns. What Ciongoli calls "our standard blue-striped shirt" is woven from ikat (a type of dyed fabric), with kurta-inspired hidden pockets and a band collar. And the front and sleeves of a field jacket are made of khadi, an Indian cotton popularised by Mahatma Gandhi, while the back is a Nepalese textile that Ciongoli found in a Kathmandu market.
"There's handwork in every garment – real handwork, not two hands running something through a sewing machine," says Ciongoli. "Fabrics are woven without electricity, hand embroidered, printed and dyed." Some of his pieces, such as the T-shirts that combine block-printing and hand-painting, almost seem like ripostes to current trends. "A lot of fashion now doesn't seem to pay much deference to how things are made," he says. "So much streetwear is buying a blank tee, slapping a graphic on it, tie-dyeing it and calling it a day. For me it has to be more than that." That's another little thing that Ciongoli is trying to correct.
18east.co
Material world
Prada —
Milan
When Prada, known for using technical materials, launched its sportswear line Linea Rossa (then called Prada Sport) in 1997, it took the brand's high-performance offerings to new heights. Linea Rossa was embraced by club-goers, sports fans and fashionistas alike, although it was discontinued in the mid-2000s. It was ahead of its time: it hit the market before the athleisure boom and the now-widespread intersection of fashion and function.
Now it's back. The relaunched men's and women's collection includes jackets, vests, shoes and bucket-hats in black, white and acid pops, as well as kit for skiing and snowboarding. It's about the cutting-edge materials, which include soft padding made from graphene and recycled polyester, and Nylon 3L, the world's thinnest membrane. But it's also about the vibe: space-age sportswear, as only Prada can do.
prada.com
Eye candy
Maison bonnet —
London
This September, storied Parisian eyewear-maker Maison Bonnet opened its first shop outside France, in Mayfair. "London was a natural choice," says Franck Bonnet, who, along with his brothers, heads up the business that was founded by his grandfather in 1950.
The six-floor shop was the work of French artist and designer Pierre Bonnefille and every frame it sells is bespoke. "Our clientele has always been international. Some travel from the US, Brazil, Japan and Morocco," says Bonnet. Now they can come to London instead.
maisonbonnet.com
Quiet arrival
The row —
New York
Over the past 12 years The Row, the womenswear brand founded by Mary-Kate and Ashley Olsen, has become known as much for its understatement in a noisy industry as for its super-luxurious cashmere coats. It was natural, then, that its debut full menswear collection would launch quietly.
"We approached this collection very thoughtfully but menswear was always part of the plan when we started The Row," says Mary-Kate. "We launched a men's capsule in 2016," says Ashley, describing an earlier retail experiment that was done to test customer appetite. "We [then] took our time researching where to produce and approached each piece very specifically."
The Olsens spent two years traversing the globe in pursuit of the finest factories – makers that could imbue their men's products with the polish that their womenswear is famed for. "The suiting was produced in Japan to achieve a modern aesthetic," says Ashley. "The shirting [was done] in France, knitwear in Italy, and denim and T-shirts in the US." Ever-resistant to trends, The Row has also proposed the return of the tie: chunky, silken and striped. And there's not a logo or a pair of trainers in sight.
therow.com
Seeing is believing
By Jamie Waters
"Transparency" has become a buzzword. Whether it's food or fashion, customers want to know what they're buying and where it comes from, and more clothing brands are now revealing the provenance of their wares. Yet one area that has lagged is "price transparency": disclosure of why an item costs what it does.
Recently, an email with the subject line "Price Transparency – My Response" shot into my inbox from James Eden, founder of Manchester menswear label Private White VC. It revealed that the "actual cost" of a Private White VC mac, taking into account things such as cloth and linings, freight, packaging and labelling, was £210.45. The retail price was £495: an approximately 2x mark-up (in contrast, it said, to the usual luxury 5x mark-up).
Such a comprehensive breakdown was refreshing and illuminating. A few others have made similar moves, including start-up Everlane, which has made "radical transparency" trendy by listing the component costs of each item. For many shoppers this is a great comfort.

Yet price transparency, unlike manufacturing transparency (disclosure of where, and under what conditions, things are made) is not always helpful. To put it crudely, it whittles down an item to its individual threads (literally). It cannot accurately consider intangibles: the uniqueness of the design or the power of the brand.
I recently bought a fluoro-yellow Balenciaga T-shirt. I paid a lot for something that makes me look like an oversized highlighter, and that was made in Portugal, where manufacturing costs are generally cheaper than in Italy or France. A price breakdown would reveal I'd paid many multiples of the "actual cost". It wouldn't reveal what I'd really paid for: namely the design (low-slung sleeves, unusual hue) and, especially, to buy a piece of Balenciaga, a luxury label that has won prestige with provocateur Demna Gvasalia at the helm.
Sometimes clothes are worth the sum of their parts. But sometimes they are worth what people are prepared to pay. Such is the power of a brand.