Food & drink / Global
Food
&

drink
Briefing
Food scoops from a winery in the UK capital and a Korean joint in New York – plus a Colombian chocolate-maker.
Last year will undoubtedly be remembered by European wine producers as a tough one. Late, long frosts devastated vines and the resulting low yields caused the cost of grapes to swell. Hardly fertile conditions for a budding independent winery to produce its maiden batch. 
"It was a really hard year," says Lynsey Verrillo who, along with husband Sergio, (both pictured) launched London's Blackbook Winery in 2017. Despite the elements doing their best to sabotage the enterprise, the outcome was a fresh-tasting, zesty rosé that's drawing the attention of discerning wine buffs from far and wide.
Blackbook's wine is currently stocked in a smattering of London restaurants, including Chez Bruce, The Glasshouse and Kensington Wine Rooms. "There's a real buzz around British wine. It feels like the industry has really turned a corner," says Lynsey. "As more people taste it, it really is building its reputation." 
A professional sommelier and qualified oenologist, Connecticut-born Sergio used his years of experience in the trade to produce not just the wine that he wanted to see on the market but the wine that he actually wanted to quaff. Since last October the couple have run the operation from beneath a railway arch in south London, with the curved brick structure maintaining the steady temperature necessary to house a winery – even, it turns out, during the heatwave that took the city by surprise this summer. 
The space was renovated by Sergio and is now filled with stainless steel tanks and oak barrels from Burgundy, decorated with colourful chalk drawings courtesy of the couple's three-year-old daughter. For their 2017 vintage, the grapes were brought from vineyards in Essex and Oxfordshire and arrived in Battersea to be processed and bottled (the rosé is made using pinot noir grapes from Clayhill Vineyard in Essex). By being based in London, so the reasoning goes, the couple can more easily form closer connections with buyers in one of the biggest wine markets in the world. 
That said, the couple are adamant that they will not let the novelty of the winery's urban setting define their triumphant tipple. According to Sergio, "We're a quality English wine producer first and foremost, an urban winery second. But I'm striving to get London together as a community and make London wine a thing. It's much better to work with everyone." 
blackbookwinery.com
In numbers:
5,500: The number of bottles Blackbook Winery produced in 2017
20,000: The number  of bottles the couple are hoping to produce in 2018
£17.50 (€20): The price of a bottle of their rosé
5: The number of UK vineyards from which they source grapes 
25 August 2018: The date of the first public tour of the winery
4: The number of urban wineries in London
Gazing at the toffee-coloured tiling, vast wooden-framed windows and green-and-gold legend above Covent Garden fish restaurant Parsons, it would be easy to feel transported to another time – an older London. Well, it would be if the other patrons weren't all faithfully glued to the screens of their phones.
The small site on a busy one-way street has been one of constant change and was previously a greasy spoon called Diana's Diner, beloved by locals for offering burly breakfasts that yielded change from a £5 note. Last year it was transformed by owners Ian Campbell and Will Palmer into an infinitely more alluring affair.
"We were adamant that we'd do something we liked and were familiar with, as opposed to something on trend or suggested by designers," says Palmer. "It scares me how often people spend a fortune on interiors when it is the least important element. We had a small company to help with the structural elements but the layout and decor was down to us."
Despite Palmer's stated indifference to the tides of taste, the white-tiled space is brilliantly conceived, has a charming meant-to-be-here feel and buckets of quirk: the awning was made by a Norfolk sailmaker and the shellfish paintings behind the bar were daubed by Rosie Ramsden, inspired by the owners' favourite Madrid taberna. "Restaurant designers struggle as they are not used to working in restaurants," says Palmer. "One company's design programme said we would get 60 covers. We have 26 and that is very, very tight." Not cramped, mind.
Good looks aside, there's food to be discussed: and good food at that. Dreamed up in a fit of self-professed "selfishness" on Palmer's part, the fish-first hitlist creates tough choices between the likes of the brown crab pissaladière (akin to a small, delicate pizza with a sweet, light topping), potted-shrimp croquettes and sea trout tartare (just get the lot; the prices are more than fair). Meanwhile, meaty morsels impress in the form of crépinettes – rich sausage meatballs – and the surprise inclusion of Welsh rarebit (posh cheese on toast) beside puddings of apple tart or vanilla ice cream with sea buckthorn on the "Desserts and Savouries" chapter of the menu.
From an outdoor table you can also peer across Endell Street and spy Palmer's other venture, 10 Cases: a bistro, wine bar and neighbourhood favourite that sticks to a small (but reliable) number of tried-and-tested bottles. "We weren't looking for a site so close," says Palmer. "But I've always walked past and thought it would lend itself to a fish restaurant. We love the area and although we are in the West End, this street has its own identity, feels very local and has a very close-knit community." What Palmer might not have reckoned with was the number of new customers he'd net and bring into this bijou-but-beautiful new berth.
parsonslondon.co.uk
The couple behind New York's Korean favourite, Atoboy, have opened a sister restaurant a few blocks away, just north of the Flatiron district. At the 14-seat wraparound chef's counter, diners at Atomix are served 10 courses of Korean fare – delicate ceramic plates of duck with gochujang mole, halibut with foie gras and butternut squash – served by rising-star chef Junghyun Park. "Chef JP aims to showcase not only ingredients and culinary craft but also Korean design, culture and history," says co-founder Ellia Park.
atomixnyc.com
Former car importer Gustavo Pradilla admits that he didn't know much about cocoa when, aged 59, he started chocolate-making in 2015. "I didn't even know what a cocoa plant looked like; it was an adventure," he says. "Colombia is in a privileged location to grow cocoa but we weren't producing any good-quality chocolate."
Three years on, his company Tibitó is doing just that, with bars sold in 35 retailers across Bogotá and exported to the UK and Netherlands. "Everything with this product is Colombian; I deal directly with the growers," says Pradilla. "There's an important social element to this."
tibito.co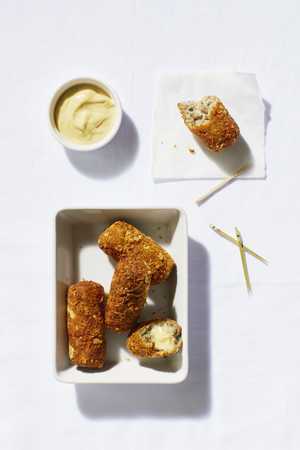 Dutch croquettes (Kalfskroketten)
Recipe —
midori house
Makes 18 croquettes
Ingredients
100g unsalted butter
100g plain flour
1 shallot, finely chopped
160ml whole milk
1 bay leaf
1 tbsp olive oil
2 garlic cloves, finely chopped
500g minced veal
2 tbsps parsley, finely chopped
Sea salt and crushed black pepper 
Coating
100g plain flour
3 eggs, whisked
100g panko breadcrumbs
750ml sunflower oil
Dipping sauce
8 tbsps mayonnaise
3 tsps dijon mustard
Zest of 1/2 lemon, 1 tsp lemon juice
1. Put the milk, chopped shallot and bay leaf in a small pan over medium heat. When the milk is just below boiling point, remove and strain the liquid over a sieve.
2. Melt the butter in a pan. Mix in flour, then add the strained milk slowly to incorporate it with the flour mixture. Stir continuously to make a lump-free white sauce. Cook through; when the sauce is thick enough to cover the back of the mixing spoon, remove from the heat.
3. Heat olive oil and garlic in a frying pan over medium heat, then add minced veal. Cook until veal is cooked through.
4. Add the white sauce to the veal mixture, then the parsley and season with salt and pepper. Take about 40g of the mixture and shape into a 5cm-long cylinder shape. Repeat until finished, making approximately 18 croquettes.
5. For the coating, prepare a tray each for the flour, beaten eggs and panko breadcrumbs. Coat each croquette shape with flour, egg then breadcrumbs.
6. Heat the sunflower oil to 180c in a deep medium-sized pan. While waiting for the oil to heat up, make the dipping sauce by mixing together the mayonnaise, mustard, lemon zest and lemon juice in a small bowl.
7. When the oil reaches the desired temperature, deep-fry the croquettes in small batches; cook until golden brown. Lift croquettes out with a slotted spoon and place on a tray with kitchen paper to remove excess oil. Serve with the mustard and lemon-mayonnaise sauce.