Designer / New York
Fresh look
How Amy Smilovic, the owner of womenswear brand Tibi, found success – and then found it again with a risky rebrand.
The 16th floor of 100 Broadway in Manhattan is a hive of activity. As sewing machines whirr in the background, three pattern-cutters are busy chopping up metres of checked fabrics to make prototypes for the pre-fall 2019 collections. Elsewhere, cotton toiles (test designs) are being fitted on mannequins by two seamstresses, while several interns from Central Saint Martins in London are sitting on the floor, assembling A4 pieces of floral paper like a jigsaw.
"They're learning how to position the print upon a garment," says Amy Smilovic, Tibi's designer and founder, as she ushers us around her vast studio space, currently occupied by 64 staff. "It's important that they come here and learn something useful for designing their own collections."
Practicality is at the heart of everything Smilovic does at Tibi, the womenswear brand she launched in Hong Kong in 1997. Now admired for its modern take on wardrobe staples, Tibi has 200 stockists worldwide, a flagship on Manhattan's Wooster Street and is one of Net-a-Porter's bestselling brands. So beloved is this somewhat quiet label that individual clients spend up to $60,000 (€51,000) a year on its clothes and the brand's annual revenue totals $60m (€51m). In 2013 it launched footwear and now, as Tibi turns 21, Smilovic is turning her attention to a handbag line. With the recent move into accessories (the breadwinner for most brands), there is room for growth.
"It's like Canal Street in here," says Smilovic, jokingly referencing the Manhattan strip that is famous for vendors selling fake luxury products. As she ushers us into her office we can see what she means: countless bags are lined up on the couch. The views from her window extend towards the Hudson River. "George Washington worked in the area; Alexander Hamilton is buried in the church opposite us," she says. "We've been looking at sites for the spring/summer '19 show on Wall Street around the corner; everything in New York started here."
Dressed in black dungarees, a blazer and Saint Laurent trainers, the US designer (who was raised in the state of Georgia) cuts a neat figure, with an easy style that permeates her collections. The handbags, designed in partnership with Paris-based Myriam Schaefer and made in Italy, are no exception: simple cross-body satchels with a sensible outer pocket that fits a subway card.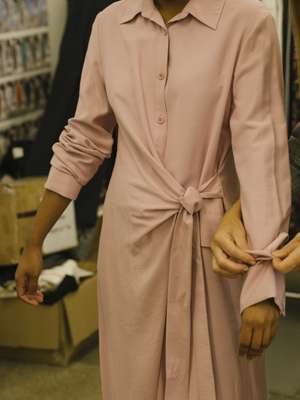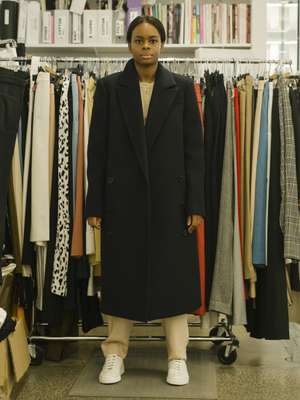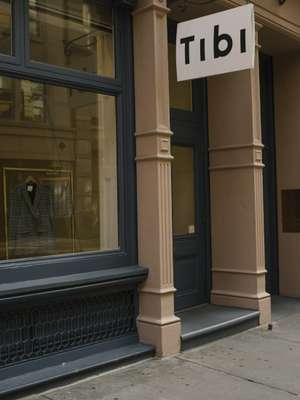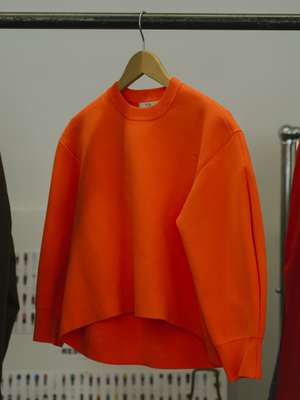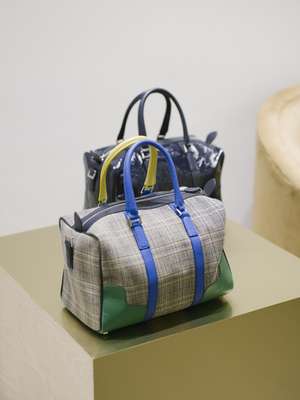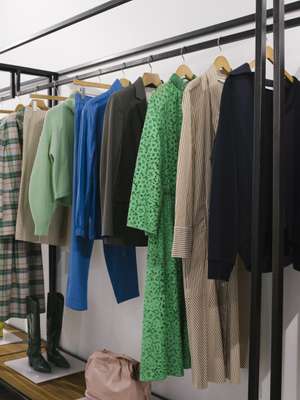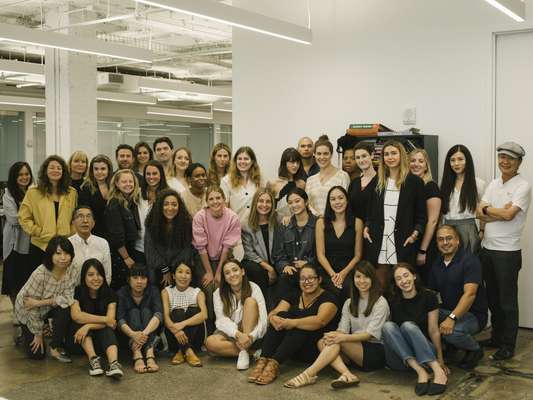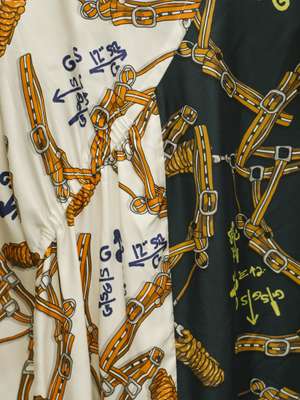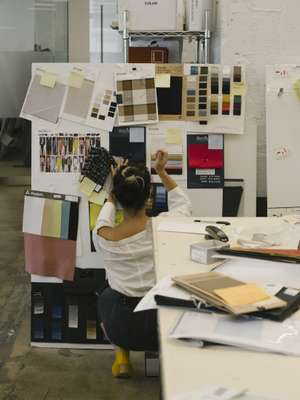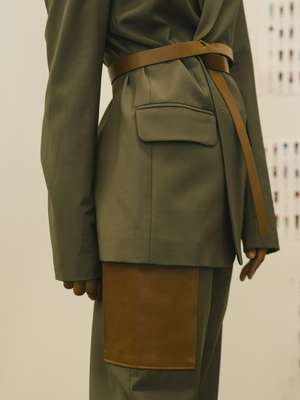 The line came about after Smilovic saw Schaefer's designs on the internet. "Myriam said she responded to my emails because it is so rare that she gets an outreach from the actual person," says Smilovic. It was a typical move from Tibi's founder, who has no assistant and books all her own transport. "By the time I explain to someone what I want, I might as well have just done it myself."
This down-to-earth approach may result from Smilovic's lack of design training. A former advertising associate who later worked for American Express, she started the self-funded label on her second day living in Hong Kong. Her experience and left-brain mentality were major assets. "I had so much exposure to different income levels and what people would spend. I can't work out how you would start a label with only a design degree. You need business, you need marketing – you need life experience."
The brand has had a remarkably colourful ride . Originally a label rooted in prints, Tibi catered to the country club set with its whimsical silk dresses. It was hugely successful; Bill Cunningham, the late New York Times photographer, once made an entire double-page spread of Tibi skirts he saw on the street. "I don't think he realised every design was ours," says a smiling Smilovic, who relocated to New York in 2000. But then came the problem: Smilovic began to hate the clothes. "I got so boxed in to being the print woman that it got out of control."
In 2010 she called a meeting in her office and announced that Tibi was undergoing a rebrand. "I told them, 'I want this to be the line we all want to wear.'" On one wall she had taped pictures of work by designers specialising in prints; on the other she'd pasted designs by Ann Demeulemeester, Helmut Lang and Isabel Marant. She tasked staff to name the designer behind each look. "They had no idea who was who when it came to the prints but on the other side, it was a no brainer. And I said, 'See, it's not about the print. It's about having a clear identity.'"
Tibi's top independent stockists:
Kick Pleat, Texas
Smart womenswear boutique.
kickpleat.com
Joan Shepp, Pensylvannia
The store has its own garden café.
joanshepp.com
McMullen, California
Mostly female-helmed brands.
mcmullen.com
Doing a 180 on what was, at the time, a $22.4m a year brand was risky. But in a canny business move, Smilovic put all her old Tibi designs into a new label, called 4Collective, and discreetly tipped off buyers. That line amassed $5m before she killed it. "It really did its job to sit there and earn money while we figured out what Tibi was going to be all about."
The new Tibi was to focus on versatile clothes that could be worn "three seasons a year, five different ways". They are practical pieces – jackets, shirts and trousers – with subtle design-focused nuances that distinguish Tibi from any other brand. Case in point: the blazer with a drawstring toggle waist that can be pulled in to create a peplum silhouette. Or the paperbag-waist midi-skirt with detachable dungaree straps.
The products are made in Italy, Portugal and Hong Kong using Italian fabrics; Smilovic road-tests every item for a year before it's put into production. The blazer she's wearing today has a raw hem with threads hanging loose, which was the result of her hacking the bottom off to see if she would wear a jacket so short. "It becomes part of the design consideration. If the jacket is this cropped, what waistline would we wear with it? What kind of top?" Her own wardrobe is filled with Dries Van Noten menswear and she's currently obsessed with a pair of Balenciaga trousers. Some designers exclusively wear their own pieces but having a mixed closet, and knowing how Tibi can be worn with other designs, helps keep the brand relevant, says Smilovic.
The rebrand would have been out of the question had Tibi not been privately owned. "Investors would never have let it happen; we had a huge stockist fall off in the beginning," says Smilovic, before joking that she's glad she doesn't have to worry about the ceo staging a coup: he's her husband. Smilovic retains tight control over the brand's e-commerce and distribution. "We see what's being returned and from where. We own all our own data." And while the brand's website is wildly successful, she believes the future is still in bricks and mortar. "Online it's a competitive bloodbath for customer-search acquisition. There's a perception that you can launch a direct-to-consumer brand and people will flock. But you turn on the light and nothing happens."
Yet Smilovic is not interested in opening any more Tibi shops. Instead she wants to work more closely with the third-party boutiques that stock her brand (see listing), introducing in-store iPads just for Tibi that allow customers to order clothes from the website and have them delivered to the boutique the next day.
"Women want advice and styling tips and you can't get that online," she says, slipping out of her trainers and into a pair of flat Balenciaga mules encrusted with sequins. The blazer is removed and with that, Smilovic is off to Penn Station to make her way to a friend's birthday. She's gone from work- to party-appropriate in one second flat. "That," she says, laughing as she makes her way towards the lift, "is Tibi's holy grail."