Hospitality / Australia, Japan, USA
Hotel openings
We visit a few new hotels, from The Calile in Brisbane to a former Buddhist temple in Kyoto.
Hotel opening: Brisbane
1.


Outdoor type
The Calile hotel is part of a new Brisbane architectural vernacular.
The Calile is part belle époque Beirut, part modernist Mexico City and part Miami resort – and, surprisingly, it's all Brisbane. The Queensland capital's newest resort rises as a solid concrete-and-brick structure, softened by breeze blocks, curves and palm trees. The 178-room, seven-storey hotel, which opened in late September, is the latest addition to Brisbane's retail, hospitality and dining precinct of James Street in Fortitude Valley. And, like its surrounding architecture, it draws on the city's vernacular of open-air spaces in a novel way, being, after all, designed by the firm that has shaped this idyllic part of the city.
It's the work of Brisbane architects Ingrid Richards and Adrian Spence from eponymous firm Richards & Spence, who have made a deliberate decision to pivot from Brisbane's traditional building style. "We are maturing as a city, trying to find our own place architecturally and not rely on a timber-and-tin architecture to define our civic vernacular," says Spence. "There is a misconception in our country about hot-weather architecture: that it has to be lightweight. We looked to other cities that have hot weather and have adapted a brick masonry palette for their climate – places such as Rio de Janeiro and Mexico City." This led to the breezy brick structures that have transformed James Street precinct from a bulky-goods retail area to a high-end shopping destination.
The Calile was built to fit right in. Its owner and developer, Cal Malouf of Calile Malouf Investments, wanted the $110m (€67m) hotel to retain the precinct's distinct local flavour while building on the nascent night-time economy. "We wanted it to feel like, 'You're in Brisbane now'," says Malouf, noting that he was keen for the property to blur the boundary between indoors and out.
"The thing that is unique about our place in the world is simply the fact that we live outside," says Spence. "For most of the year we don't need air-conditioning or heating. It is one of the few places in the world that supports an outdoor lifestyle."
Instead of feeling confined when stepping out of the sun and into The Calile, guests will find themselves in a soaring hall lined with travertine tiles and furnished with mid-century furniture, including chairs by Harry Bertoia and Fritz Hansen. These pieces are paired with contemporary Australian designs and made-to-fit pieces designed for the hotel by the architects.
In keeping with the surroundings, the floors of each guestroom are laid with light cork and feature solid timber furniture that's consciously "outdoorsy". The understated palette of timber and brass contrasts pleasingly with popping pinks, greens and blues in the form of ceramic tiles and marble elements. "There's a subtlety about making the rooms comfortable without making them plush," says Spence. "We resisted carpet and we resisted a bedspread or wallpaper. We would rather put a plant in the room than a painting because it reinforces this idea that it potentially could be an outdoor space. The biggest point of difference is that all the rooms can be naturally ventilated. You can open a window – that's uncommon now in a city hotel."
Upstairs on the pool deck, guests can take a dip or rest in a sunlounger shielded by green-and-white umbrellas. "We are pitching a pool-party vibe," says Spence. "I can't imagine many people will be swimming laps." Instead they may be found ordering Greek tapas from the Brisbane offshoot of Simon Gloftis's Gold Coast Hellenika restaurant to their cabanas overlooking the precinct. "There is something really lovely about getting beyond the façade and looking down to the street, and reciprocally for people on the street seeing such a lively scene," says Spence.
thecalilehotel.com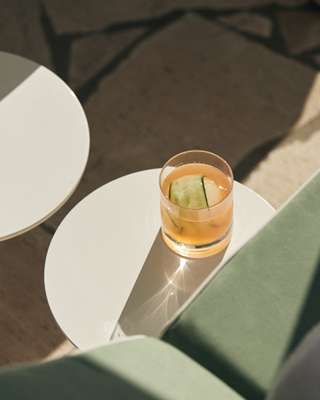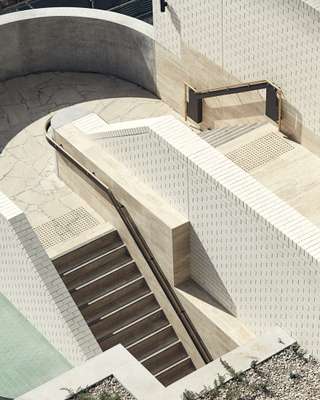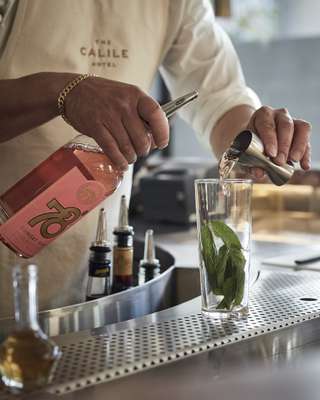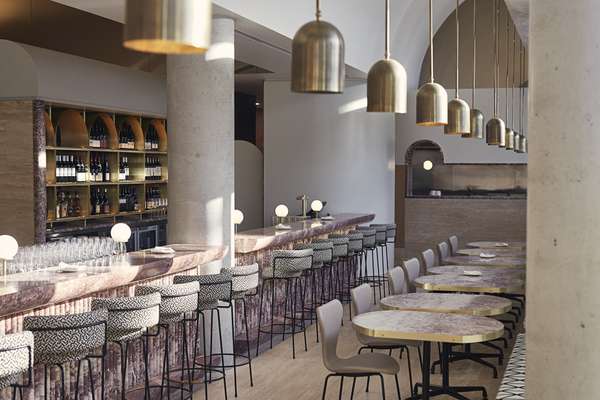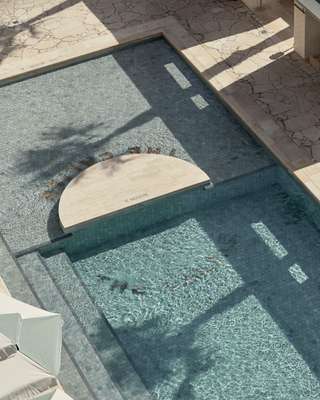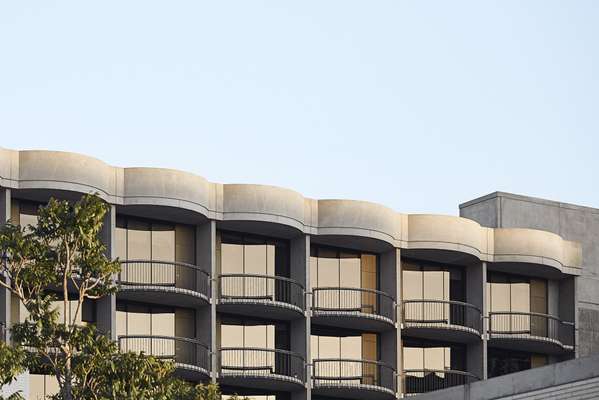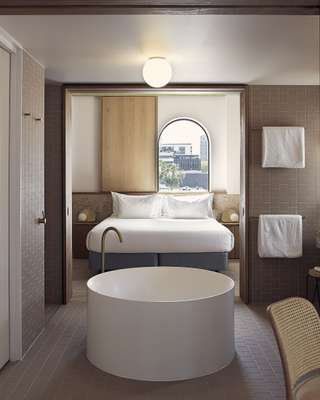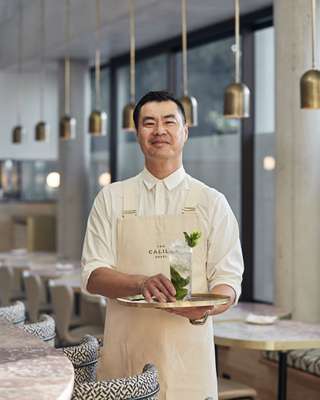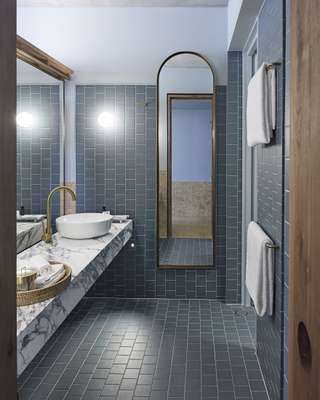 ---
Hotel opening: Shiga, Japan
2.


Spiritual awakening
An ancient buddhist temple offers perfect peace for an overnight stay.
Japanese temples have a long tradition of offering trainee monks and pilgrims a place to rest for the night. These humble lodgings, known as shukubo, vary in size and quality but tend to be on the, let's say, functional side. They certainly never looked like the new guesthouse at Miidera, a 1,300 year-old Buddhist temple close to the edge of Lake Biwa in Shiga prefecture. Only 30 minutes from bustling Kyoto, at the foot of Mount Hiei, Miidera is peaceful and unspoilt.
This new shukubo, which opened at Miidera in August, is a collaboration between a young firm called Waqoo and Tokyo architecture studio Intentionallies. Waqoo was set up three years ago to open up Japan's 77,000 temples and 80,000 shrines to tourism, helping those who want to welcome paying guests and connecting them with visitors looking for an authentic terahaku (temple stay).
No new architecture was required at Miidera since the temple has dozens of historic wooden buildings in its sprawling grounds. One suited perfectly: a beautiful 150-year-old sub-temple called Myogo-in. The interior was entirely refreshed with new tatami mats, washi paper walls and a hinoki cypress bath, but the structure was left untouched.
"This shukubo, which offers accommodation among so many important cultural treasures, is very special," says architect Shuwa Tei. "We introduced elements of modern design but we were careful not to interfere with the formal beauty of the temple."
Guests sleep on mattresses set on low wooden frames; slippers and pyjamas come from a temple supply company in Osaka, and green-tea infused amenities are from Kyoto brand Kotoshina. For dinner, guests can be booked into a restaurant such as Mameshin, a family-run traditional ryotei that has been in business for more than a century, offering regional dishes such as funazushi (fermented sushi made from Lake Biwa fish). No tourist would find such a place on their own.
Those who are interested can try a Buddhist activity such as Zen meditation or shakyo, copying sutras with a brush and ink. "We want people to enjoy the experience of being in a temple," says Miidera priest Toshihiko Fukuya. "It's a good way of explaining what we do." Guests will also want to explore the rest of the temple, which has some exceptionally fine architecture and a treasure house containing centuries-old sculptures and painted screens.
Waqoo has already completed a number of temple projects (and is working on many more) but Miidera is the flagship. Waqoo has settled on two models: converting existing temple buildings and building new, hotel-style accommodation from scratch, such as the one it is opening at the famous Nara temple Horyuji next year.
Staying at Miidera, which sleeps up to six people, is an enlightening experience, even for an old Japan hand. Intentionallies is now working on several more temple projects. "We are thrilled," says architect Shuwa Tei. "We're hoping to create a new kind of temple lodging where people can experience traditional crafts in a beautiful, natural environment."
wa-qoo.com
---
Hotel opening: Teton Village, USA
3.


Slopes and dreams
Caldera House in jackson hole: not your usual ski-resort property.
The landscape of Jackson Hole, Wyoming, is all rolling grassy plains and snow-capped mountains; cowboy country at its best and most bucolic. When Caldera House arrived in the valley's Teton Village it was the only accommodation of its kind; visitors had previously shuffled between tired five-star hotels and overpriced chalet-style digs. "When we started four years ago there were no other properties like this to follow as inspiration, so there was a lot of out-of-the-box thinking," says Pamela Lenci, Caldera's general manager.
Teton is a small place and establishing a good relationship with locals was crucial. "It was really important to have the project be accepted by the community, so finding the right people to join the team was key," says Lenci.
Many know Jackson Hole as a ski destination but it lures more visitors in the summertime, so hotels have to make guests feel at home year-round. "For inspiration we looked at the golden age of skiing in places such as St Moritz, Gstaad and Cortina, and combined an alpine feel with the casual comfort of the American West," says Roman Alonso, owner and creative director of LA-based design studio Commune, which was involved in the design.
"We wanted the spaces to feel luxurious but also casual," adds Alonso, whose favourite space is the Member's Lounge, in which you can rest on a shearling chair set by a roaring stone fireplace. "There are beautiful vintage Scandinavian pieces in there, as well as furniture by Michael Boyd, George Smith and Jean Prouvé. I love how the room opens up onto a large terrace. In winter the ski gondola comes so close it feels as though it's going to land right inside the room." Here, guests can enjoy the après-ski, while meals are served at the Italian restaurant, Old Yellowstone Garage or at the South Cable Cafe, which offers quick bites ranging from burritos to sandwiches.
Set at the base of the mountain with ski-in-ski-out access, Caldera House's location is unsurpassed. But Lenci believes that it's the design and staff that make it stand out. All too often, ski towns hire seasonal workers with little experience of or interest in the area. At Caldera House this is not the case.
"We have brought together a team of Jackson Hole enthusiasts, who are interesting and stoked to share their passion for the area," says Lenci. "I think we've achieved the perfect balance between being relevant and being bold and new."
calderahouse.com