Manufacturing / Japan
Made to measure
Metalworker Kikukawa's precision and meticulous attention to detail appeals to architects at home and abroad.
Columns, roofs, doorways, walls and ramps are those vital bits of buildings that rarely draw attention. They're supposed to be functional but who says they have to be generic? The question has led a growing list of architects and designers to make the pilgrimage to a factory in a gritty part of Shiroi, a city near the eastern edge of Tokyo.
This is where Kikukawa, an 85-year-old family-owned company with 200 employees, has sculpted exquisite steel, bronze, aluminium and titanium façades and interiors for luxury retailers, office buildings, train stations and museums around Japan. Its handiwork has gone into Japan's ancient temples and tallest towers. Despite its modest size, Kikukawa's name carries weight in the country's ¥52trn (€393bn) construction sector. Architects such as Kenzo Tange, Arata Isozaki, Kengo Kuma, Toyo Ito and Kazuyo Sejima have all commissioned the company for their building projects.
Kikukawa's global breakout, however, was a more recent move: the company produced the swirling central ramp and about 1,000 exterior fins – all in an auburn-coloured, hand-patinated bronze – for media giant Bloomberg's €1bn European headquarters in London. That project, led by London firm Foster + Partners, stretched over five years. "Bronze is an expensive and tricky material to work with," says Yoshihiko Utsuno, Kikukawa's president and the youngest son of its founder. Utsuno smiles as he says this: it's clearly a source of pride and one of his company's strengths, having spent decades manufacturing bronze doors and other decorative pieces for Buddhist temples.
The Bloomberg project was the big break that Utsuno, who took over in 2006, had been hoping for. As demand in Japan shrinks, he is leading the company that his father started into a niche sector of the global architecture market. "After the global financial meltdown and the 2011 [tsunami] disaster in Japan, builders here were only interested in recouping costs. They wanted generic glass towers; nobody was interested in iconic landmarks," says Utsuno. During trips to architecture firms in the UK, France and Germany he has been able to find a more receptive audience.
In some ways Kikukawa is an old-school manufacturer. Utsuno wears the factory uniform over his shirt and tie and eats in the canteen with everyone else. Throughout the day chimes notify the factory and office staff of designated breaks and in pep talks to his employees, Utsuno stresses the importance of genba: the manufacturing frontline.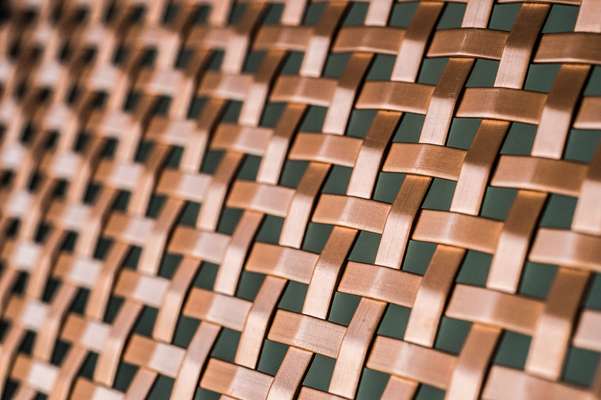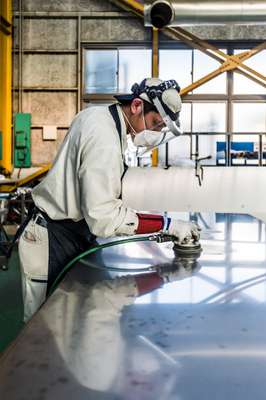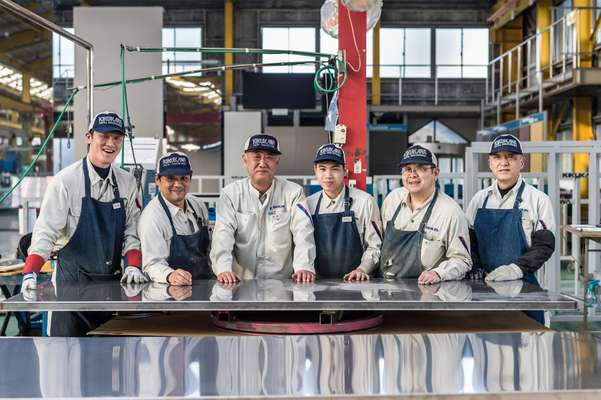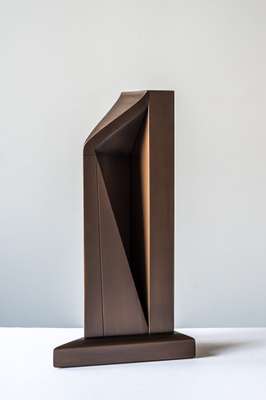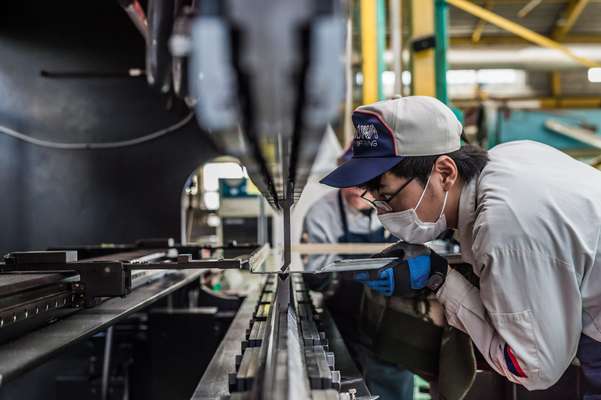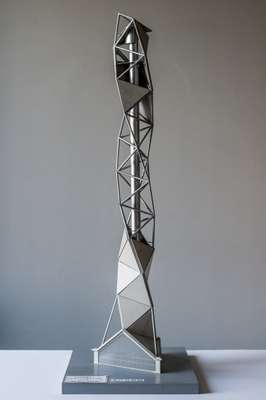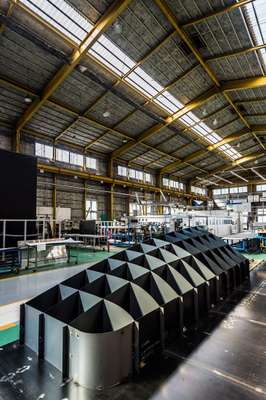 But he is also leading an ambitious modernisation drive, digitising archived materials, upgrading to the latest 3D architectural software and automating production whenever possible. "We are aiming to raise productivity by 10 times," he says. "There may come a day when our factory relies more on robots than people. We have to adapt to Japan's declining workforce."
At the moment, though, Kikukawa's production combines manual techniques with state-of-the-art machinery. In two warehouse-like factory buildings, workers cut, bend, polish and stamp patterns into metal sheets with the help of machines. There's a swivelling robotic arm that welds pieces together with lasers and a new metal-shaping machine; its technology is a company secret. At one end a crew is inspecting 150 steel columns, covered in blue plastic film to prevent scratching, that will soon be shipped out. It's not unlike the matte-metal skin that Kazuyo Sejima ordered as a wrapping for the Sumida Hokusai Museum in Tokyo.
Nearby, 69-year-old Noboru Senjo is working out the measurements of a sloping aluminium roof that will end up at the shop of a global technology brand. Although Kikukawa devotes an entire building to creating a material that's exclusively made for this particular brand, employees are not allowed to utter its name to outsiders. Luckily, their work is far from repetitive. "We almost never do the same thing twice so each project is a challenge," says Senjo, who has worked at Kikukawa for about five decades.
The irony of working on a large scale is that Kikukawa's staff fuss over millimetres. Yuji Tsuchiya, a veteran sales manager, leads us to a back corner of the main factory building. There, he runs his hands over a curved 2mm-thick sheet of bronze: a sample of the panels used for the Bloomberg project. "This was a reject," says Tsuchiya. He leans in and points out a welding seam so fine and faint that the untrained eye wouldn't have a chance of spotting it. "The architects spotted it," he says, shouting over the whining, clanging and buzzing sound of brute force being applied to metal, which comes from every direction.
When architects contact Kikukawa they usually hand over a drawing or a rough outline. Rarely are the requests straightforward. It falls on Kikukawa's team of designers and architects to come up with the exact measurements for the factory staff to work from. "We don't paint metal – it's aged or blasted – but the colour has to be consistent within a narrow spectrum," says Tsuchiya. Figuring out how to mount every piece onto the building's exterior is also Kikukawa's job.
The fact that Kikukawa is willing to go to such lengths to please architects is one reason that the company is attracting business overseas. The logistics are complex but Utsuno, the company's president, tells his staff to never decline a job that seems too difficult. Taking on assignments that are not part of Kikukawa's repertoire, he says, has kept the company nimble and a step ahead of the industry. It's something that he picked up from his father. "What we make does not have our brand name on it. But it is a visible part of building," says Utsuno. "As long as we do a great job architects and designers will find us."
---
Clad tidings
Building for the future
Architects and designers are hungry for new and flexible materials and innovative building methods. We profile five firms that are pushing the boundaries in the building industry.
1.
Jakob Rope Systems
Switzerland
Façades comprising greenery are very good for business: they minimise pollution and graffiti damage, as well as lowering air-conditioning and heating bills. For all their benefits, they can also be a pretty simple intervention: Swiss company Jakob offers Green Solutions, a range of marine-grade steel cables and wire grids that are employed as plant-training devices for climbers and creepers to wend their leafy way up exteriors. The systems are designed to be as simple as possible so that builders can put them in place without specialist tools; that way installation costs don't add to the bottom line.
jakob.ch
---
The Hungarian firm designs and makes concrete panels and has been having an enlivening effect on what is seen as a rather drab sector. The company specialises in façades, interior wall and floor coverings, furniture and bathware products. According to the Budapest brand, the future of concrete is the flexibility of the manufacturer, working to create custom shapes and configurations for architects who want to leave a greater fingerprint on their work. This has resulted in a range of previously unseen finishes, which has caught the eye of architecture firms such as Zaha Hadid.
ivankaconcrete.com
---
A comparatively small outfit, Bruag makes laser-cut patterned cladding from resin and paper composites. The 20-person firm is ideally situated on the shores of Switzerland's Lake Constance to reach the well-heeled ski resorts of central Europe, where its biggest market is in balconies. A project it is particularly proud of is the Valsana Hotel & Apartments in Arosa, near Davos. Last year turnover grew 20 per cent thanks to particular emphasis on Middle Eastern markets. "We are working very hard on increasing the properties of our wood-based, HPL and composite panels," says CEO Markus Brühwiler, who is concentrating efforts on bringing ever more flame-retardant cladding to the market.
bruag.com
---
Lunawood's treated timber, Thermowood, is suitable for most climates and the company is benefitting from a growing demand for renewable, natural and sustainable building materials in increasingly high-end markets – Barcelona's Lycée Français is one contented customer, for instance. Made from Scandinavian pine and spruce, the timber is heat-treated across three mills to improve its insulating properties and weather endurance and to make it resin-free, which means it is ideal for both exterior and interior use.
lunawood.com
---
Pilkington is something of an industry giant, with a 200-year history in manufacturing glass and glazing. It gave its name to the Pilkington float process, pioneered in the 1950s to make some of the clearest glass on the market. Its glass is in the roof of the British Museum's Great Court, designed by Foster + Partners, but the company also had a hand in the Danish Royal Library and supplies many leading car manufacturers, such as Jaguar Land Rover, with windscreens and glass roofs.
pilkington.com