Politics / Global
Politics
Briefing
A rising star of the left gains ground in Poland, plus Taiwan's upcoming elections.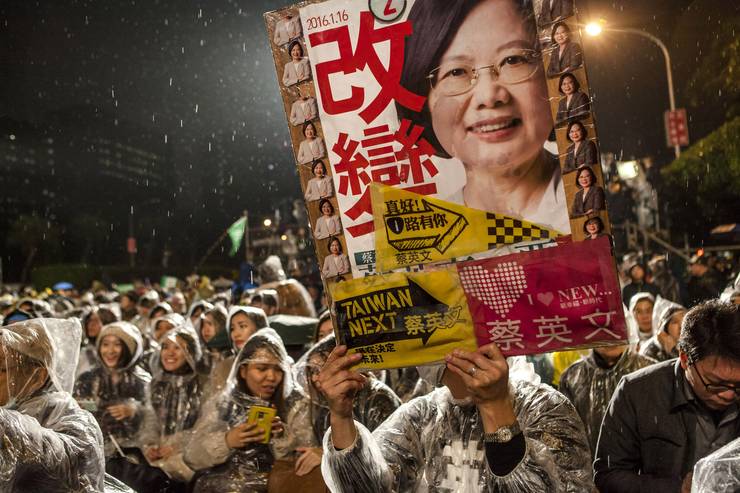 Chinese whispers
Taiwan —
Elections
Taiwan heads to the polls on 24 November to cast votes that will determine nearly 11,000 positions, including the mayors of six special municipal districts, county commissioners and local representatives. Seen as the first bout between the ruling Democratic Progressive party (DPP) and pro-China Kuomintang (KMT) ahead of the 2020 presidential and legislative elections, the result will provide feedback on President Tsai Ing-wen's recent drop in the polls.
Yet despite the chasm between the dpp and the kmt, one key race could offer voters an option other than an all-or-nothing attitude towards the mainland. Ko Wen-je is the mayor of Taipei – a position typically thought of as a stepping stone to president – and seeking a second term in office. Will his middle-of-the-road approach to China appeal to voters?
---
Rising star
Poland —
Elections
With politics dominated by social conservatives in Poland, the country's left-wing parties have been in crisis. That could all change in 2019. Robert Biedron, who has established himself as the icon of the country's liberal left, is leaving his current role as mayor of Slupsk to form his own progressive political initiative.
"His movement is already above the election threshold in polls," says Ryszard Luczyn, a political analyst at the think-tank Polityka Insight. "It is likely to win seats in the European Parliament elections in May, which will help it get into parliament that autumn."
---
Walking a tightrope
Turkey —
Sanctions
US companies operating in Turkey are treading lightly as tensions between the long-time Nato allies persist and boycotts of US firms continue. The Kecioren municipality in Ankara has stopped issuing licences to new US franchises, suggesting the biggest victim of the fallout could be big business. Though several Burger King, McDonald's and Starbucks branches operate in the district, no new outlets can open.
"By taking a national stance, our country will defeat this economic war waged on Turkey," Kecioren mayor Mustafa Ak recently said to the state-run Daily Sabah newspaper. "And we will further strengthen [Turkey's] identity as a sovereign and respectable country with the rule of law." Meanwhile, a steady stream of videos has been uploaded to social media showing Turkish citizens burning US dollar bills or smashing iPhones in response to the sanctions imposed on their country by Donald Trump. The spat boiled over in late August when several gunshots were fired at the US embassy in Ankara. No one was injured but the incident highlighted the growing anti-American sentiment felt across Turkey.
It was little wonder then that Amazon has deliberated over opening in Turkey in recent years, only settling for a soft launch this autumn. Though Turkish pundits have suggested that the country's current opposition to Brand America would be a disaster for Amazon, the ecommerce platform just might weather the backlash because it also offers many products from local Turkish businesses.
---
Q&A
Scott Miller
Acting professor and voice coach
New York
Scott Miller is the nyu graduate acting professor who created the Miller Voice Method. Most recently he has been hired by the Democratic Congressional Campaign Committee (DCCC) to voice-coach the 14 Democratic candidates most likely to turn seats across the country.
How did working with the DCCC come about?
Last year I wrote about how power and authority is conveyed in your voice. I predicted a Trump win because he has a better voice. That led to a major donor getting in touch to say that style over content is what the Democratic party need. He paved the way for me to get in front of the DCCC.
Do you believe voice and tone can change an election?
Democrats have the tones of a negotiator rather than an authority figure. The Republican mindset is: I like it simple, clear, real. Don't give me a lot of crap. They express themselves in specific opinions that are short, clear and unambiguous. The dilemma is, if voters are looking for a leader to be someone assured, with clear vision and direction, those tones are very parental and very Republican. Democratic tones are peer to peer.
Tell us about your method.
We are voice and breathing. The work deals with cognitive science and voice science that addresses why and how people pay attention to each other. We work on a candidate's verbal persuasiveness and remove any filters that are keeping them from influencing undecideds. We train the brain to breathe actively when other stimulus is being thrown at you. That's where the training comes in, to slow time through active breath, so that you become present and available to engage authentically. A great example is Trump at the UN: when they were laughing he stopped, took it in and interacted.