Gardening / Spain
Prickly clients
A garden of succulents near Madrid uses architecture and good design to support its plants, quietly showing them off to their full potential.
They're an unlikely duo: Jacobo García-Germán, a quixotic and exceedingly polite Madrileño architect, and Mercedes García, a former pharmaceuticals executive with an obsession for succulents. The flamboyant García contacted the architect in 2012 and asked him to build her a garden and a commerical nursery for about 400 species of succulents, on a plot of land off a motorway 30km outside Madrid. It was to be called Desert City.
"I was looking for a young person with crazy ideas; I wanted a building that would surround the plants like a cloister," says García. García-Germán, whose studio made its name in social-housing projects and has a reputation for tackling difficult plots, sensed that this could be his magnum opus.
"Mercedes' enthusiasm was contagious; she was extremely confident in the added value that architecture, as a way of thinking and as a discipline, could deliver," he says. But there was a catch: García had already planted many of the larger succulents and construction would have to take place around them.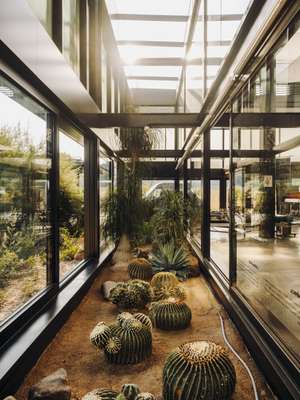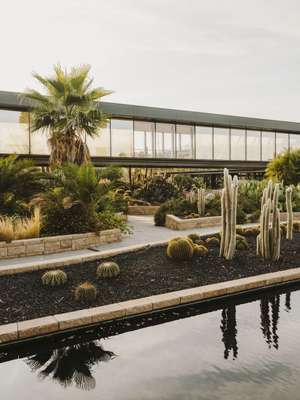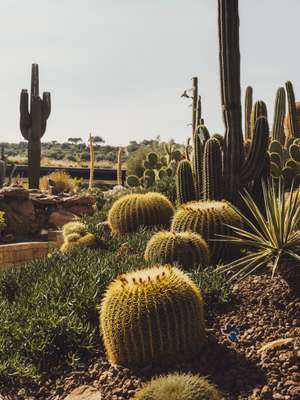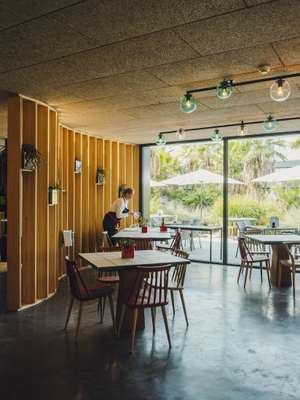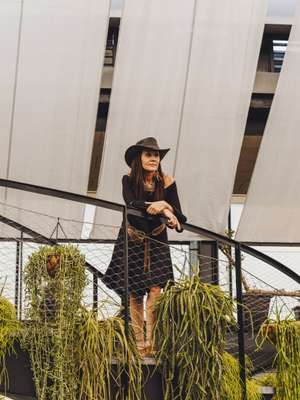 She takes the desert theme to its limits, dressing in a cowhide waistcoat and a leather cowboy hat, adorning her fingers with rings modelled on the Desert City logo: a three-pronged cactus. Walking around her flourishing business, which was completed last summer, she introduces each plant with the familiarity of an old friend. There are now 600 species altogether, from the ubiquitous echeveria – what García terms her "basic collection" – to the rare Dioscorea elephantipes, a bark-like succulent from the Kalahari desert.
Desert City is split into two cloisters. The nursery – for purchasing – is ordered by continents and then alphabetically by Latin name. The open-air gardens next door – for gawping at – are ordered by the temperate regions from which the plants hail: Sonora, Nevada and even Tuscany.

As García shows us around, two girls chat in the shade. Visitors are welcome to simply observe and enjoy the garden, and much work has gone into creating a sanctuary-like atmosphere. "We are searching for beauty, which is why we add rocks, water and landscape features," says García. Many of the plants come from her personal collection, which started with a small barrel cactus 33 years ago.
García spent decades in pharmaceuticals but always held an affection for horticulture – so at 45 she quit her job and obtained a degree in agricultural engineering from Universidad Politécnica de Madrid. Equipped with the requisite botanical knowledge to kickstart Desert City, she bought the land – a former roadside diner near her hometown of Santo Domingo – and started amassing succulents. Like artwork, they have their collectors and treasures: her centrepiece is a 90-year-old, four-tonne órgano cactus (so called as it resembles the musical instrument), obtained from the estate of her late friend and fellow horticulturalist Antonio Gómez. It stands some 15 metres tall and was one of the plants already standing when García-Germán first visited the site.
His goal was discretion: how to create a structure that would quietly put the plants on a pedestal. Seeing as both cloisters would be filled with them, central support pillars – or anything that would literally obscure the succulents – were undesirable. The result, therefore, is a vast expanse; the building unobtrusively girdles rather than contains the plants. What's more, the space is surrounded by elevated walkways that allow visitors to appreciate them from various angles. This gives Desert City solemnity – staring at a century-old cactus from up above suggests that you're looking at something rarefied, worth contemplating and preserving for posterity.
One of the biggest challenges was designing the roof above the nursery: it had to allow sunlight for the plants without sizzling the visitors. García-Germán's answer is a partly translucent, German-made polymer fibre – the same used for the roof of Munich's Allianz Arena – pulled over the skeletal arches of the roof like a tarpaulin. "We had to refer to an exotic science, something seldom used – tensegrity: the transformation of structural elements into cables when under tension," he says. Split into rectangular sections, the polymer can be controlled to either billow or sink, depending on weather conditions: if it's too sunny, they billow to reflect surplus light. García can even measure the photons per square metre within the building and calibrate the roof accordingly.
This summer García-Germán's design won a first prize at the 14th Bienal Española de Arquitectura y Urbanismo in Santander – a sound indicator of the success that Desert City has been enjoying. The attractive symbiosis of the natural and manmade has drawn admirers from all over the world. This year alone, BMW has launched its newest range of cars here, Cartier shot its latest collection in the gardens and Renault used it as a backdrop for a team-building game. What's more, a restaurant named Oasis Café opened next to the gardens this summer, where visitors enjoy dishes made from Desert City's own nopal cacti – a popular ingredient in Mexican cuisine.
Still, it's been a thorny climb to the top. Succulents are popular in the gentrified boroughs of London and New York but were surprisingly slow to catch on in Spain, despite being well suited to the climate. Much of García's work has been about changing minds, convincing people that succulents are beautiful and preferable to fashionable but water-demanding English gardens (Madrid is often close to the meteorological definition of a desert: less than 25cm of rain per year). So García has also been offering xeropaisajismo (literally "dry landscaping"), where she and her team will design a succulent garden for customers; visitors need only pop down to Desert City for inspiration. "When we opened, this was like a showroom," says García. "People would say, 'OK, I like this style, this is more minimalist.'" Of course, the business didn't blossom overnight: for the first six months there was a drought of work, but today there is a lengthy waiting list.