Cosy index / Japan
Swede dream
A wooden house made in Sweden but set in a Japanese forest. What could be more idyllic?
When it comes to design, the Japanese and Scandinavians share a penchant for warm, natural materials and utility over embellishment. As such, spotting a handsome Swedish-style timber lodge in the middle of a Japanese mountain range happens more frequently than you might imagine. Shoichiro Aiba, the owner and chef of popular Tokyo restaurant Life, fell for such a cabin when visiting the leafy Hokkaido region on a catering job. Its design came courtesy of Sweden House, a Japanese company that's built a cult audience around its quick-to-install cool-in-summer, warm-in-winter timber homes made of Scandinavian materials.
After reading up on the brand, Aiba started hunting for the perfect Sweden House of his own in Nasu, a three-hour drive from Tokyo. A mountainous landscape with clean streams of water and natural hot springs provides a refreshing retreat from the city. "The Imperial family have a retreat here but it's not as mainstream as Karuizawa," says Aiba, from the secondhand Sweden House he bought in Nasu in 2014. "We're not hardcore outdoor people so it's good to have a place like this to get out to," he adds of his family's comfortable second home. "It's not too close or too far. It gives you the sense that you are travelling."
The property is surrounded by trees and receives good doses of natural light filtering through the foliage and in through its big square windows. The 20-year-old wooden house is simple in its form, with two bedrooms, a sitting room and a wood-deck terrace. Aiba says that there is room enough for his family and a couple of guests (or even more when visitors sleep in tents on the terrace).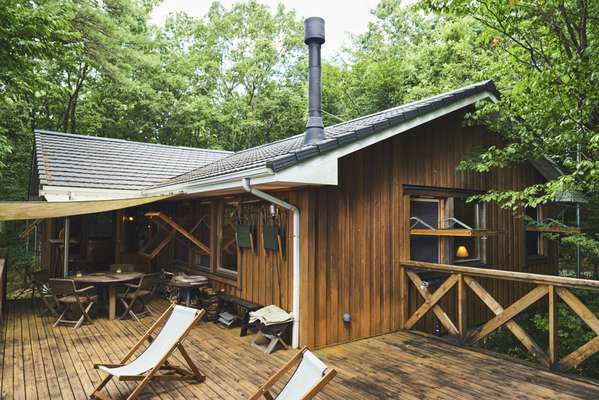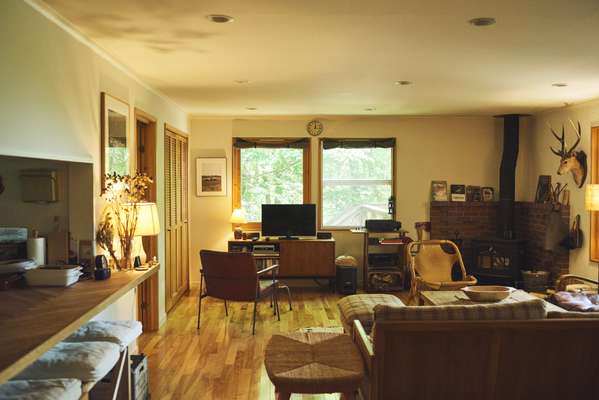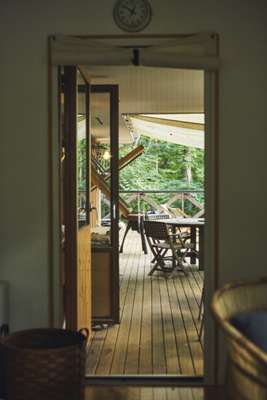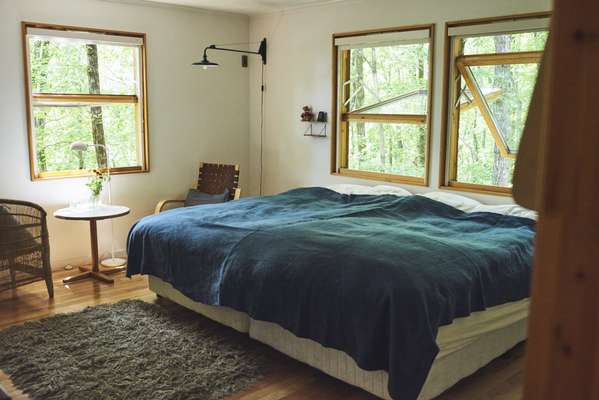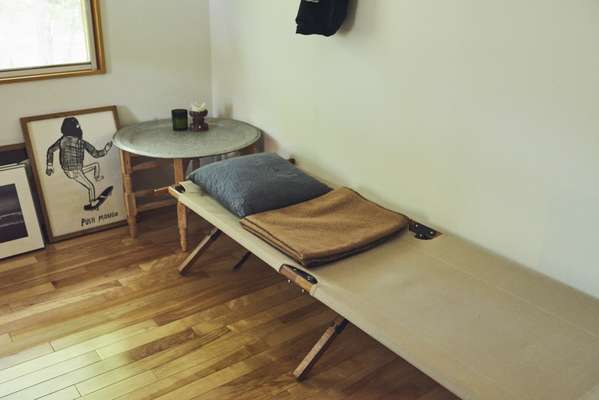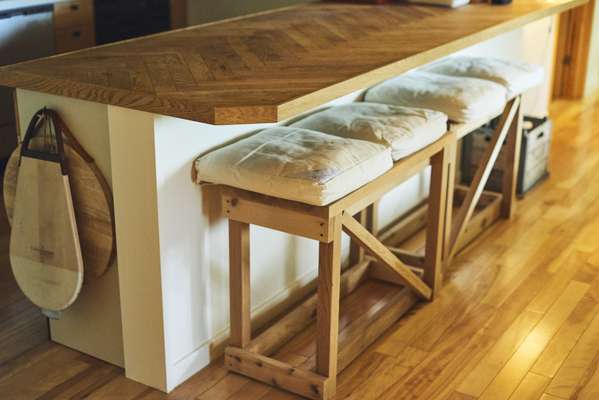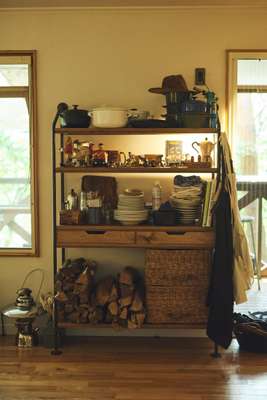 MONOCLE drops by as Aiba is preparing the house for a two-week family holiday stay. In the guest room we spot some children's toys and fireworks, and a handsome foldable bed by Mobley Works. "I love having a nap on this outside," he says, adding that he spends most of his time on the terrace while his children are running around the house.
The house was in excellent condition when Aiba acquired it and he gives credit to good maintenance by its previous owner. He did his part too, making minor refurbishments, removing flower-patterned wallpaper and painting the walls white. In the sitting room sit comfortable couches and a wooden coffee table from Truck Furniture in Osaka.
"I bought this in a garage sale," says Aiba, showing a bamboo and leather lounge chair. "Apparently it came from Provence. I thought it would be fun to have a chair from a French resort up in Nasu," he adds, smiling. Right by the TV sits a well-aged leather chair that Aiba bought from Truck 15 years ago, when he opened Life. "This tiny child's stool works as an ottoman; I like this set-up," he adds, taking us through more cosy furnishings.
Aiba is fascinated by the many clever design features of the house; he shows us revolving triple-glass window panels. They are versatile enough to let the breeze in, shut the humidity out and keep the house warm with the fireplace on. Helped by the cool climate, spending a summer here is a comfortable experience even without air-conditioning. During winter the high-quality insulation and the triple-glazed windows keep the cold out.
From the kitchen to the sitting room and out onto the terrace, the house has been set up for the gathering of people. Aiba has replaced a high bar counter in the kitchen with a lower warm wooden countertop and benches made by craftsman Takanori Ota. By the terrace door, a made-to-order rack by Truck is full of crockery and aprons. "We cook on the counter and take the food straight outside," says Aiba. "We love to eat on the terrace with guests." From the wooden deck Aiba points to the lush woods and says that within them lies a river that's perfect for summer swims. The sound of rushing water and the chirping of birds certainly make this home a relaxed spot, but when they need to escape it Aiba and his children fly-fish for iwana (char) and yamame (trout) in the river.
The 43-year-old chef says he enjoys having the two worlds of Tokyo and Nasu to call home. "Tokyo is convenient but I grew up in the countryside," he says. "Here I can relax my mind." Although his business keeps him in the capital, he unwinds in Nasu and comes to tinker with the house whenever he can. With his kids getting bigger, he says the next step is to extend the terrace along the side of the master bedroom. "It will be interesting to see which environment our children prefer when they grow up."
Home truths:
Founded in 1984, Sweden House is a Japanese housing maker that specialises in cosy wooden homes that you'd find in Scandinavia (at least, that's how it's advertised). The brand's story dates back to the 1970s when a delegation from its parent company avisited northern Europe seeking inspiration for a housing project in Hokkaido. Here they saw a robust, wooden airtight structure on a construction site in Sweden; unlike country lodges in Japan, it was built to last generation after generation.
Today Sweden House has its own factory in Dalarna (which is in Sweden) and builds wooden structures suited for the warmer and more humid Japanese climate, using Swedish-made materials such as insulated wall panels and triple- glass windows.
There are 35,000 Sweden House owners in Japan, with some 1,000 more every year. Sweden Houses range from residences to b&bs, bakeries and even hair salons.